Abstract
Rainfall over West Africa shows strong interannual variability related to changes in Sea Surface Temperature (SST). Nevertheless, this relationship seem to be non-stationary. A particular turning point is the decade of the 1970s, which witnessed a number of changes in the climatic system, including the climate shift of the late 1970s. The first aim of this study is to explore the change in the interannual variability of West African rainfall after this shift. The analysis indicates that the dipolar features of the rainfall variability over this region, related to changes in the Atlantic SST, disappear after this period. Also, the Pacific SST variability has a higher correlation with Guinean rainfall in the recent period. The results suggest that the current relationship between the Atlantic and Pacific El Niño phenomena is the principal responsible for these changes. A fundamental goal of climate research is the development of models simulating a realistic current climate. For this reason, the second aim of this work is to test the performance of Atmospheric General Circulation models in simulating rainfall variability over West Africa. The models have been run with observed SSTs for the common period 1957–1998 as part of an intercomparison exercise. The results show that the models are able to reproduce Guinean interannual variability, which is strongly related to SST variability in the Equatorial Atlantic. Nevertheless, problems in the simulation of the Sahelian interannual variability appear: not all models are able to reproduce the observed negative link between rainfall over the Sahel and El Niño-like anomalies in the Pacific, neither the positive correlation between Mediterranean SSTs and Sahelian rainfall.
Access options
Buy single article
Instant access to the full article PDF.
US$ 39.95
Tax calculation will be finalised during checkout.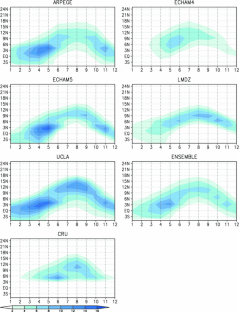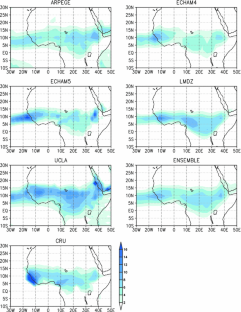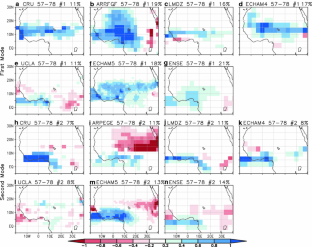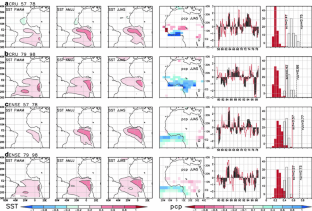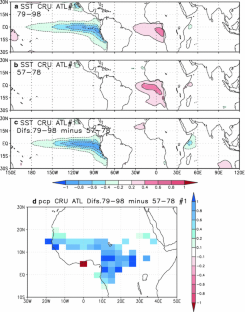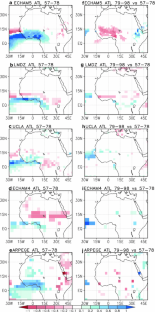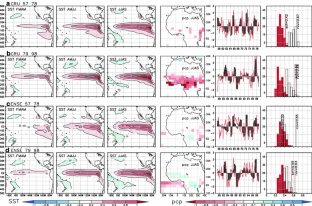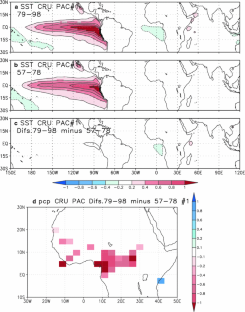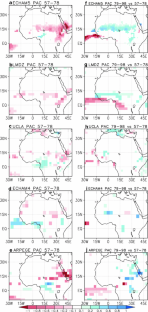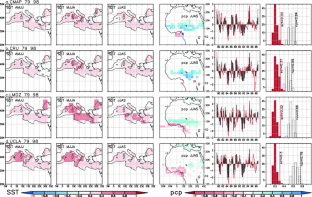 References
Bader J, Latif M (2003) The impact of decadal scale Indian Ocean SST anomalies on Sahelian rainfall and the North Atlantic oscillation. Geophys Res Lett 30:2169. doi:10.1029/2003GL018426

Bader J, Latif M (2010) The 1983 drought in the West Sahel: a case study. Clim Dyn. doi:10.1007/s00382-009-0700-y

Bretherton CS, Smith C, Wallace JM (1992) An intercomparison of methods for finding coupled patterns in climate data. J Clim 5:541–560

Camberlin P, Janicot S, Poccard I (2001) Seasonality and atmospheric dynamics of the teleconnection between African rainfall and tropical sea-surface temperature: Atlantic vs. ENSO. Int J Climatol 21:973–1005. doi:10.1002/joc.673

Caminade C, Terray L (2010) Twentieth century Sahel rainfall variability as simulated by the ARPEGE AGCM, and future changes. Clim Dyn 35:75–94

Cane MA, Clement AC, Kaplan A, Kushnir Y, Pozdnyakov D, Seager R, Zebiak SE, Murtugudde R (1997) Twentieth-century sea surface temperature trends. Science 275:957–960. doi:10.1126/science.275.5302.957

Cook K (2008) The mysteries of Sahel droughts. Nature Geosci 1:647–648

Déqué M, Dreveton C, Braun A, Cariolle D (1994) The ARPEGE/IFS atmosphere model: a contribution to the French community climate modeling. Clim Dyn 10:249–266

Fiorino (2000) Web document: http://www-pcmdi.llnl.gov/projects/amip/AMIP2EXPDSN/BCS_OBS/amip2_bcs.htm

Folland CK, Palmer TN, Parker DE (1986) Sahel rainfall and worldwide sea temperatures, 1901–85. Nature 320:602–607. doi:10.1038/320602a0

Folland CK, Owen J, Ward MN, Colman A (1991) Prediction of seasonal rainfall in the Sahel region using empirical and dynamical methods. J Forecast 10(1–2):21–56

Fontaine B, Janicot S (1996) Near-global sea surface temperature variability associated with West African rainfall anomaly types. J Clim 9:2935–2940

Fontaine B, Janicot S, Moron V (1995) Rainfall anomaly patterns and wind field signals over West Africa in August (1958–1989). J Climate 8:1503–1510

Fontaine B, Garcia-Serrano J, Roucou P, Rodriguez-Fonseca B, Losada T, Chauvin F, Gervois S, Sijikumar S, Ruti P, Janicot S (2010) Impacts of warm and cold situations in the Mediterranean basins on the West African monsoon: observed connection patterns (1979–2006) and climate simulations. Clim Dyn 35:95–114. doi:10.1007/s00382-009-0599-3

Frankignoul C, Kestenare E (2005) Observed Atlantic SST anomaly impact on the NAO: an update. J Clim 18:4089–4094

Giannini A, Saravannan R, Chang P (2003) Oceanic forcing of Sahel rainfall on interannual to interdecadal time scales. Science 302:1027–1030

Giannini A, Saravannan R, Chang P (2005) Dynamics of the boreal summer African monsoon in the NSIPP1 atmospheric model. Clim Dyn 25:517–535. doi:10.1007/s00382-005-0056

Graham NE (1994) Decadal-scale climate variability in the tropical and North Pacific during the 1970 s and 1980 s: observations and model results. Clim Dyn 10:135–162

Haarsma RJ, Selten FM, Weber SL, Kliphuis M (2005) Sahel rainfall variability and response to greenhouse warming. Geophys Res Lett 32:L17702. doi:10.1029/2005GL023232

Hoerling M, Hurrell JW, Eischeid J, Phillips AS (2006) Detection and attribution of twentieth-century Northern and Southern African rainfall change. J Clim 19:3989–4008

Hourdin F, Musat I, Bony S, Braconnot P, Codron F, Dufresne JL, Fairhead L, Filiberti MA, Friedlingstein P, Grandpeix JY, Krinner G, LeVan P, Li ZX, Lott F (2006) The LMDZ4 general circulation model: climate performance and sensitivity to parametrized physics with emphasis on tropical convection. Clim Dyn 27:787–813

Hulme M (1992) A 1951–80 global land precipitation climatology for the evaluation of general circulation models. Clim Dyn 7:57–72

Janicot S (1992a) Spatio-temporal variability of West African rainfall. Part I: regionalization and typings. J Clim 5:489–497

Janicot S (1992b) Spatio-temporal variability of West African rainfall. Part II: associated surface and airmass characteristics. J Clim 5:499–511

Janicot S, Moron V, Fontaine B (1996) ENSO dynamics and Sahel droughts. Geophys Res Lett 23(5):515–518

Janicot S, Harzallah A, Fontaine B, Moron V (1998) West African monsoon dynamics and eastern equatorial Atlantic and Pacific SST anomalies (1970–1988). J Clim 11:1874–1882

Janicot S, Trzaska S, Poccard I (2001) Summer Sahel-ENSO teleconnection and decadal time scale SST variations. Clim Dyn 18:303–320

Janowiak JE (1988) An investigation of interannual rainfall variability in Africa. J Clim 1:240–255

Joly M, Voldoire A (2010) Role of the Gulf of Guinea in the inter-annual variability of the West African Monsoon: what do we learn from CMIP3 coupled simulations? Int J Clim 12:1843–1856. doi:10.1003/joc.2026

Joly M, Voldoire A, Douville H, Terray P, Royer JF (2007) African monsoon teleconnections with tropical SSTs: validation and evolution in a set of IPCC4 simulations. Clim Dyn 29:1–20. doi:10.1007/s00382-006-0215-8

Jung T, Ferranti L, Tompkins AM (2006) Response to the summer of 2003 Mediterranean SST anomalies over Europe and Africa. J Clim 19:5439–5454

Kaiser HF (1958) The varimax criterion for analytic rotation in factor analysis. Psychometrika 23:187–200

Kamga AF, Jenkins GS, Gaye AT, Garba A, Sarr A, Adedoyin A (2005) Evaluating the National Center for Atmospheric Research climate system model over West Africa: present-day and the 21st century A1 scenario. J Geophys Res 110:D03106. doi:10.1029/2004JD004689

Krishnamurti TN, Kishtawal CM, Zhang Z, LaRow T, Bachiochi D, Williford E, Gadgil S, Surendran S (2000a) Multimodel ensemble forecasts for weather and seasonal climate. J Clim 13:4196–4216

Krishnamurti TN, Kishtawal CM, Shin DW, Williford CE (2000b) Improving tropical precipitation forecasts from a multianalysis superensemble. J Clim 13:4217–4227

Kucharski F, Bracco A, Yoo JH, Molteni F (2007) Low-frequency variability of the Indian Monsoon-ENSO relationship and the Tropical Atlantic: the "Weakening" of the 1980 s and 1990 s. J Clim 20:4255–4266

Kucharski F, Bracco A, Yoo JH, Molteni F (2008) Atlantic forced component of the Indian monsoon interannual variability. Geophys Res Lett 35:L04706. doi:10.1029/2007GL033037

Kumar KK, Rajagopalan B, Cane MA (1999) On the weakening relationship between the Indian Monsoon and ENSO. Nature 284:2156–2159

Losada T, Rodriguez-Fonseca B, Janicot S, Gervois S, Chauvin F, Ruti P (2010) A multi-model approach to the Atlantic Equatorial mode: impact on the West African monsoon. Clim Dyn 35:29–43. doi:10.1007/s00382-009-0625-5

Lu J, Delworth TL (2005) Oceanic forcing of the late 20th century Sahel drought. Geophys Res Lett 32:L22706. doi:10.1029/2005GL023316

Miller AJ, Cayan DR, Barnett TP, Graham NE, Oberhuber JM (1994) The 1979–77 climate shift of the Pacific Ocean. Oceanography 7:21–26

Mohino E, Janicot S, Bader J (2010) Sahel rainfall and decadal to multi-decadal sea surface temperature variability. Climate Dyn. doi:10.1007/s00382-010-0867-2

Mohino E, Rodriguez-Fonseca B, Mechoso CR, Gervois S, Ruti P, Chauvin F (2011) Impacts of the tropical Pacific/Indian Oceans on the seasonal cycle of the West African Monsoon. J Clim. doi:10.1175/2011JCLI3988.1

Moron V, Philippon N, Fontaine B (2003) Skill of Sahel rainfall variability in four atmospheric GCMs forced by prescribed SST. Geophys Res Lett 30:2221. doi:10.1029/2003GL018006

Moron V, Philippon N, Fontaine B (2004) Simulation of West African monsoon circulation in four atmospheric general circulation models forced by prescribed sea surface temperature. J Geophys Res 209. doi:10.1029/2004JD004760

Motha RP, Leduc SK, Steyaert LT, Sakamoto CM, Strommen ND (1980) Precipitation patterns in West Africa. Mon Wea Rev 108:1567–1578

Paeth H, Hense A (2004) SST versus climate change signals in West African rainfall: 20th century variations and future projections. Clim Change 65:179–208

Palmer TN (1986) Influence of the Atlantic, Pacific, and Indian Oceans on Sahel rainfall. Nature 322:251–253

Philippon N, Doblas-Reyes FJ, Ruti PM (2010) Skill, reproducibility and potential predictability of the West African monsoon in coupled GCMs. Clim Dyn 35:53–74

Polo I, Rodriguez-Fonseca B, Losada T, Garcia Serrano J (2008) Tropical Atlantic Climate variability and Atlantic extratropical teleconnections. Part I: air sea interactions. J Clim 21:6457–6475

Rayner NA, Horton EB, Parker DE, Folland CK, Hackett RB (1996) Version 2.2 of the global sea-ice and sea surface temperature data set, 1903–1994. Climate research technical note no. 74. Hadley Centre for Climate Prediction and Research. Meteorological Office, UK

Rayner NA, Parker DE, Horton EB, Folland CK, Alexander LV, Rowell DP, Kent REC, Kaplan A (2003) Global analyses of sea surface temperature, sea ice, and night marine air temperature since the late nineteenth century. J Geophys Res 108:4407. doi:10.1029/2002JD002670

Reynolds RW, Smith TM (1994) Improved global sea surface temperature analyses using optimum interpolation. J Clim 7:929–948

Reynolds RW, Rayner NA, Smith TM, Stokes DC, Wang W (2002) An improved in situ satellite SST analysis for climate. J Clim 15:1609–1625

Richter I, Mechoso CR, Robertson AW (2008) What determines the position and intensity of the South Atlantic anticyclone in austral winter?—An AGCM study. J Clim 21:214–229

Robertson AW, Ferrara JD, Mechoso CR (2003) Simulations of the atmospheric response to south Atlantic sea surface temperature anomalies. J Clim 16:2540–2551

Rodriguez-Fonseca B, Polo I, Garcia-Serrano J, Losada T, Mohino E, Mechoso CR, Kucharski F (2009) Are Atlantic Niños enhancing Pacific ENSO events in recent decades? Geophys Res Lett 36:L20705. doi:10.1029/2009GL040048

Rodriguez-Fonseca B, Janicot S, Mohino E, Losada T, Bader J, Caminade C, Chauvin F, Fontaine B, Garcia-Serrano J, Gervois S, Joly M, Polo I, Ruti P, Roucou P, Voldoire A (2010) Interannual and decadal SST-forced responses of the West African monsoon. Atmos Sci Let. doi:10.1002/asl.308

Roeckner E, Bäuml G, Bonaventura L, Brokopf R, Esch M, Giorgetta M, Hagemann S, Kirchner I, Kornblueh L, Manzini E, Rhodin A, Schlese U, Schulzweida U, Tompkins A (2003) The atmosphere general circulation model ECHAM5, part I: model description. Max–Planck Institute for Meteorology

Rowell DP (2001) Teleconnections between the tropical Pacific and the Sahel. Q J R Meteorol Soc 127:1683–1706

Rowell DP (2003) The impact of the Mediterranean SSTs on the Sahelian rainfall season. J Clim 16:849–862

Rowell DP, Folland CK, Maskell K, Owen JA, Ward NM (1992) Modelling the influence of global sea surface temperatures on the variability and predictability of seasonal Sahel rainfall. Geophys Res Lett 19:905–908

Rowell DP, Folland CK, Maskell K, Ward NM (1995) Variability of summer rainfall over tropical North Africa (1906–92): observations and modelling. Q J R Meteorol Soc 121:669–704

Ruti PM, Di Rocco D, Gualdi S (2006) Vertical resolution impact on the simulation of the Tropical Climate'. Theor Appl Climatol 85:61–80. doi:10.1007/s00704-005-0174-8

Smith TM, Reynolds W (2004) Improved extended reconstruction of SST (1854–1997). J Clim 17:2466–2477

Sultan B, Janicot S (2000) Abrupt shift of the ITCZ over West Africa and intra-seasonal variability. Geophys Res Lett 27:3353–3356

Sultan B, Janicot S (2003) The West African monsoon dynamics. Part II: the "preonset" and "onset" of the summer monsoon. J Clim 16:3389–3406

Tennant W (2003) An assessment of intraseasonal variability from 13-Yr GCM simulations. Mon Wea Rev 131:1975–1991

Tippett MK (2006) Filtering of GCM simulated Sahel precipitation. Geophys Res Lett 33:L01804. doi:10.1029/2005GL024923

Trenberth KE, Caron JM, Stepaniak DP, Worley S (2002) Evolution of El Niño-Southern Oscillation and global atmospheric surface temperatures. J Geophys Res 107. doi:10.1029/2000JD000298

Trenberth KE, Jones PD, Ambenje P, Bojariu R, Easterling D, Klein Tank A, Parker D, Rahimzadeh F, Renwick JA, Rusticucci M, Soden B, Zhai P (2007) Observations: surface and atmospheric climate change. In: Solomon S, Qin D, Manning M, Chen Z, Marquis M, Averyt KB, Tignor M, Miller HL (eds.) Climate change 2007: the physical science basis. Contribution of working group I to the fourth assessment report of the intergovernmental panel on climate change. Cambridge University Press, Cambridge

Vizy EK, Cook KH (2001) Mechanisms by which Gulf of Guinea and Eastern North Atlantic Sea surface temperature anomalies can influence African rainfall. J Clim 14:795–821

Vizy EK, Cook KH (2002) Development and application of a mesoscale climate model for the tropics: influence of sea surface temperature anomalies on the West African monsoon. J Geophys Res 107(D3). doi:10.1029/2001JD000686

Von Storch H, Navarra A (1995) Analysis of climate variability: applications of statistical techniques. Springer, Berlin

Ward MN (1998) Diagnosis and short-lead time prediction of summer rainfall in tropical North Africa at interannual and multidecadal timescales. J Clim 11:3167–3191

Xie P, Arkin PA (1997) Global precipitation: a 17-year monthly analysis based on gauge observations, satellite estimates, and numerical model outputs. Bull Amer Meteor Soc 78:2539–2558

Zebiak SE (1993) Air-sea interaction in the equatorial Atlantic region. J Clim 6:1567–1586
Acknowledgments
We would like to thank the anonymous reviewers for their comments and suggestions that helped improved the manuscript. This project has been funded by the EU-AMMA project. Based on French initiative, AMMA was built by an international scientific group and is currently funded by a large number of agencies, especially from France, UK, US and Africa. It has been the beneficiary of a major financial contribution from the European Community's Sixth Framework Research Programme. Detailed information on scientific coordination and funding is available on the AMMA International website http://www.amma-international.org. EM would like to thank the support from the programme POSDEXT-MEC of the Spanish Ministry for Science and Innovation. JB would also want to thank the support from the COMPAS project funded by the research council of Norway. This study was supported also by the Spanish projects: MEC CGL2006-04471, MEC CGL2009-10285 and MMA MOVAC:200800050084028. GR58/08 program (supported by BSCH and UCM) has also partially financed this work through the Research Group "Micrometeorology and Climate Variability" (no. 910437).
Electronic supplementary material
Below is the link to the electronic supplementary material.
About this article
Cite this article
Mohino, E., Rodríguez-Fonseca, B., Losada, T. et al. Changes in the interannual SST-forced signals on West African rainfall. AGCM intercomparison. Clim Dyn 37, 1707–1725 (2011). https://doi.org/10.1007/s00382-011-1093-2
Received:

Accepted:

Published:

Issue Date:
Keywords
Interannual climate variability

West African Monsoon

Atmospheric general circulation models