Abstract
Monthly snow water equivalent (SWE) station observations and gridded temperature data are used to identify mechanisms by which warming affects the temporal and geographical structure of changes in western North American mountain snowpack. We first exploit interannual variability to demonstrate the sensitivity of snowpack to temperature during the various phases of the snow season. We show that mechanisms whereby temperature affects snowpack emerge in the mid to late portion of the snow season (March through May), but are nearly absent during the earliest phase (February), when temperatures are generally well below freezing. The mid to late snow season is precisely when significant loss of snowpack is seen at nearly all locations over the past few decades, both through decreases in snow accumulation and increases in snowmelt. At locations where April 1st SWE has been increasing over the past few decades, the increase is entirely due to a significant enhancement of accumulation during the earliest phase of the snow season, when the sensitivity analysis indicates that temperature is not expected to affect snowpack. Later in the snow season, these stations exhibit significant snowpack loss comparable to the other stations. Based on this analysis, it is difficult to escape the conclusion that recent snowpack changes in western North America are caused by regional-scale warming. Given predictions of future warming, a further reduction in late season snowpack and advancement in the onset of snowmelt should be expected in the coming decades throughout the region.
Access options
Buy single article
Instant access to the full article PDF.
US$ 39.95
Tax calculation will be finalised during checkout.
Subscribe to journal
Immediate online access to all issues from 2019. Subscription will auto renew annually.
US$ 119
Tax calculation will be finalised during checkout.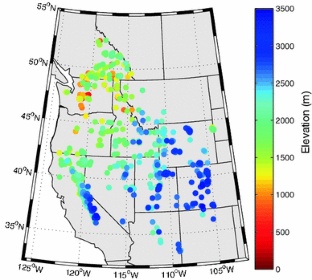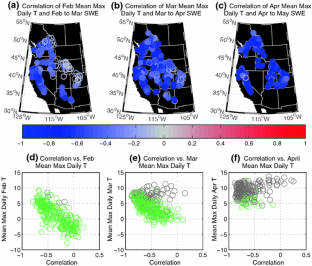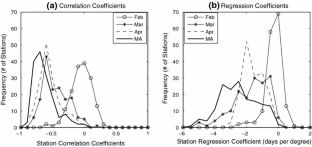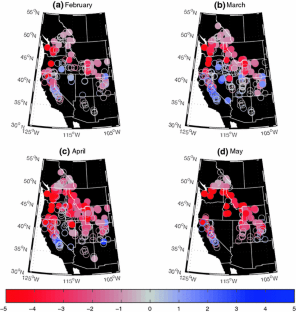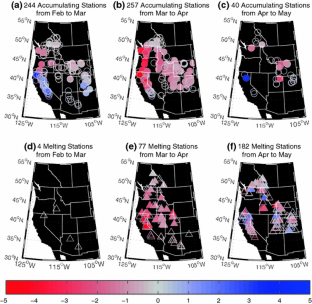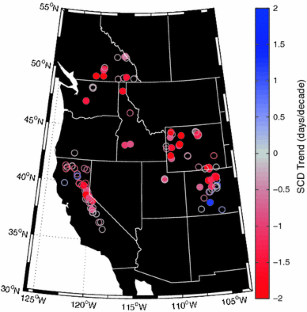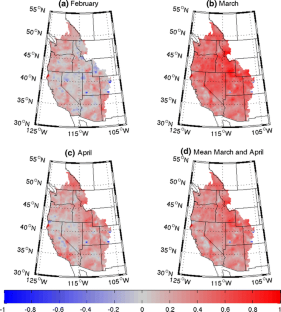 References
Barnett T, Adam J, Lettenmaier D (2005) Potential impacts of a warming climate on water availability in snow-dominated regions. Nature 438:303–309

Barnett T, Pierce D, Hidalgo H, Bonfils C, Santer B, Das T, Bala G, Wood A, Nozawa T, Mirin A, Cayan D, Dettinger M (2008) Human-induced changes in the hydrology of the Western United States. Science 319:1080–1083

Bonfils C, Duffy P, Lobell D (2007) Comments on "methodology and results of calculating Central California surface temperature trends: evidence of human-induced climate change?". J Clim 20:4486–4489

Bonfils C, Santer B, Pierce D, Hidalgo H, Bala G, Das T, Barnett T, Cayan D, Doutriaux C, Wood A, Mirin A, Nozawa T (2008) Detection and attribution of temperature changes in the mountainous Western United States. J Clim 21:6404–6424

Brekke L, Kiang J, Olsen J, Pulwarty R, Raff D, Turnipseed D, Webb R, White K (2009) Climate change and water resources management: a federal perspective. US Geological Survey Circular (1331):65. http://pubs.usgs.gov/circ/1331/

Brown R, Mote P (2009) The response of northern hemisphere snow cover to a changing climate. J Clim 22:2124–2145

Casola J, Cuo L, Livneh B, Lettenmaier D, Stoelinga M, Mote P, Wallace J (2009) Assessing the impacts of global warming on snowpack in the Washington cascades. J Clim 22(10):2758–2772

Cayan D (1996) Interannual climate variability and snowpack in the Western United States. J Clim 9:928–948

Cayan D, Kammerdiener S, Dettinger M, Caprio J, Peterson D (2001) Changes in the onset of spring in the Western United States. Bull Am Meteorol Soc 82:339–415

Christensen N, Wood A, Voisin N, Lettenmaier D, Palmer R (2004) The effects of climate change on the hydrology and water resources of the Colorado River Basin. Clim Change 62:337–363

Christy J, Hnilo J (2010) Changes in snowfall in the Southern Sierra Nevada of California since 1916. Energy Environ 21(3):223–234

Clark M, Serreze M, McCabe G (2001) The historical effect of el niño and la niña events on the seasonal evolution of the montane snowpack in the Columbia and Colorado River Basins. Water Resour Res 37:741–757

Das T, Hidalgo H, Pierce D, Barnett T, Dettinger M, Cayan D, Bonfils C, Bala G, Mirin A (2009) Structure and detectability of trends in hydrological measures over the Western United States. J Hydrometeorol 10(4):871–892

Feng S, Hu Q (2007) Changes in winter snowfall/precipitaiton ratio in the contiguous United States. J Geophys Res 112, art no. D15109, 12 pp. http://www.agu.org/journals/ABS/2007/2007JD008397.shtml. doi:10.1029/2007JD008397

Gleick P, Palaniappan M (2010) Peak water: conceptual and practical limits to freshwater withdrawal and use. In: Proceedings of the National Academy of Sciences (10.1073/pnas.1004812107) (in press)

Hall A (2004) Role of surface albedo feedback in climate. J Clim 17:1550–1568

Hamlet A, Lettenmaier D (2005) Production of temporally consistent gridded precipitation and temperature fields for the continental United States. J Hydrometeorol 6:330–336

Hamlet A, Mote P, Clark M, Lettenmaier D (2005) Effects of temperature and precipitation variability on snowpack trends in the Western United States. J Clim 18:4545–4560

Howat I, Tulaczyk S (2005) Climate sensitivity of spring snowpack in the Sierra Nevada. J Geophys Res 110, art.no F04021, 9 pp. http://www.agu.org/journals/ABS/2005/2005JF000356.shtml. doi:10.1029/2005JF000,356

Jost G, Weiler M, Gluns DR, Alila Y (2007) The influence of forest and topography on snow accumulation and melt at the watershed-scale. J Hydrometeorol 347(1–2):101–115

Kapnick S, Hall A (2010) Observed climate-snowpack relationships in California and their implications for the future. J Clim 23(13):3446–3456

Kim J, Chao Y, Eldering A, Fovell R, Hall A, Li Q, Liou K, McWilliams J, Waliser D, Xue Y, Kapnick S (2009) A projection of the cold season hydroclimate in California in mid-21st century under the sres-a1b emission scenario. California Environmental Protection Agency and California Energy Commission Report (CEC-500-2009-029-F)

Knowles N, Dettinger M, Cayan D (2006) Trends in snowfall versus rainfall in the Western United States. J Clim 19:4545–4559

Leathers D, Robinson D (1997) Abrupt changes in the seasonal cycle of North American snow cover. J Clim 10:2569–2585

Leung R, Qian Y, Bian X, Washington W, Han J, Roads J (2004) Mid-century ensemble regional climate change scenarios for the Western United States. Clim Change 6:75–113

Lundquist J, Cayan D, Dettinger M (2004) Spring onset in the Sierra Nevada: when is snowmelt independent of elevation. J Hydrometeorol 5:327–342

Maurer E (2007) Uncertainty in hydrologic impacts of climate change in the Sierra Nevada, California, under two emissions scenarios. Clim Change 82(3-4):309–325

McCabe G, Wolock D (2010) Long-term variability in northern hemisphere snow cover and associations with warmer witners. Clim Change 99:141–153

McCabe G, Hay L, Clark M (2007) Rain-on-snow events in the western United States. Bull Am Meteorol Soc 88:319–328

Minder J, Mote P, Lundquist J (2010) Surface temperature lapse rates over complex terrain: lessons from the cascade mountains. J Geophys Res 115, art no. D14122, 13 pp. http://www.agu.org/pubs/crossref/2010/2009JD013493.shtml. doi:10.1029/2009JD013,493

Mote P (2003) Trends in snow water equivalent in the pacific northwest and their climatic causes. Geophys Res Lett 30(12), art no. 1601, 4 pp. http://www.agu.org/journals/ABS/2003/2003GL017258.shtml. doi:10.1029/2003GL017,258

Mote P (2006) Climate-driven variability and trends in mountain snowpack in Western North America. J Clim 19:6209–6220

Mote P, Hamlet A, Clark M, Lettenmaier D (2005) Declining mountain snowpack in Western north America. Bull Am Meteorol Soc 86:39–49

Pierce D, Barnett T, Hidalgo H, Das T, Bonfils C, Santer B, Bala G, Dettinger M, Cayan D, Mirin A, Wood A, Nozawa T (2008) Attribution of declining Western U.S. snowpack to human effects. J Clim 21:6425–6444

Rajagopalan B, Nowak K, Prairie J, Hoerling M, Harding B, Barsugli J, Ray A, Udall B (2009) Water supply risk on the Colorado River: can management mitigate? Water Res Res 45, art no. W08201, 7 pp. http://www.agu.org/journals/ABS/2009/2008WR007652.shtml. doi:10.1029/2008WR007652

Regonda S, Rajagopalan B, Clark M, Pitlick J (2005) Seasonal cycle shifts in hydroclimatology over the Western United States. J Clim 18:372–384

Serreze M, Clark M, Armstrong R, McGinnis D, Pulwarty R (1999) Characteristics of the Western United States snowpack from snowpack telemetry (snotel) data. Water Res Res 35:2145–2160

Solomon, S, Qin, D, Manning, M, Chen, Z, Marquis, M, Averyt, K, Tignor, M, Miller, H (eds) (2007) Climate change 2007: the physical science basis. Cambridge University Press, Cambridge

Stewart I, Cayan D, Dettinger M (2004) Changes in snowmelt runoff timing in western north America under a 'business as usual' climate change scenario. Clim Change 62:217–232

Stewart I, Cayan D, Dettinger M (2005) Changes toward earlier streamflow timing across Western North America. J Clim 18:1136–1155

Vicuna S, Leonardson R, Hanemann M, Dale L, Dracup J (2008) Climate change impacts on high elevation hydropower generation in California's Sierra Nevada: a case study on the Upper American River. Clim Change 87(S1):123–137

Westerling A, Hidalgo H, Cayan D, Swetnam T (2006) Warming and earlier spring increase western U.S. forest wildfire activity. Science 313:940–943
Acknowledgments
The authors would like to thank Philip Mote and one anonymous reviewer for their comments that greatly improved this manuscript. We are grateful to Christopher Cham for his help in compiling SWE observations for all stations used in this analysis. Sarah Kapnick's work was supported by NASA headquarters under the NASA Earth and Space Science Fellowship Program—Grant #07-Earth07F-0232 and a 2010 Switzer Environmental Fellowship. Alex Hall is supported by NSF grant AGS-0735056. The writers would also like to gratefully acknowledge funding provided by JPL (#1312546) under a project entitled: "Evaluating key uncertainties in IPCC Climate Change projection of California snowpack: Topography, snow, physics and aerosol deposition."
About this article
Cite this article
Kapnick, S., Hall, A. Causes of recent changes in western North American snowpack. Clim Dyn 38, 1885–1899 (2012). https://doi.org/10.1007/s00382-011-1089-y
Received:

Accepted:

Published:

Issue Date:
Keywords
Snow water equivalent

Climate change

Climate sensitivity

Trends

Surface observations