Abstract
The interdecadal variation of the association of the stratospheric quasi-biennial oscillation (QBO) with tropical sea surface temperature (SST) anomalies (SSTA) and with the general circulation in the troposphere and lower stratosphere is examined using the ERA40 and NCEP/NCAR reanalyses, as well as other observation-based analyses. It is found that the relationship between the QBO and tropical SSTA changed once around 1978–1980, and again in 1993–1995. During 1966–1974, negative correlation between the QBO and NINO3.4 indices reached its maximum when the NINO3.4 index lagged the QBO by less than 6 months. Correspondingly, the positive correlations were observed when the NINO3.4 index led the QBO by about 11–13 months or lagged by about 12–18 months. However, maximum negative correlations were shifted from the NINO3.4 index lagging the QBO by about 0–6 months during 1966–1974 to about 3–12 months during 1985–1992. During 1975–1979, both the negative and positive correlations were relatively small and the QBO and ENSO were practically unrelated to each other. The phase-based QBO life cycle composites also confirm that, on average, there are two phase (6–7 months) delay in the evolution of the QBO-associated anomalous Walker circulation, tropical SST, atmospheric stability, and troposphere and lower stratosphere temperature anomalies during 1980–1994 in comparison with those in 1957–1978. The interdecadal variation of the association between the QBO and the troposphere variability may be largely due to the characteristic change of El Niño-Southern Oscillation. The irregularity of the QBO may play a secondary role in the interdecadal variation of the association.
Access options
Buy single article
Instant access to the full article PDF.
USD 39.95
Price excludes VAT (USA)
Tax calculation will be finalised during checkout.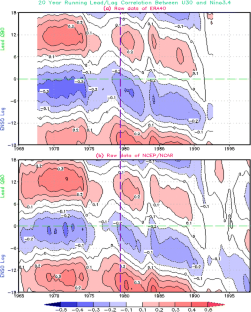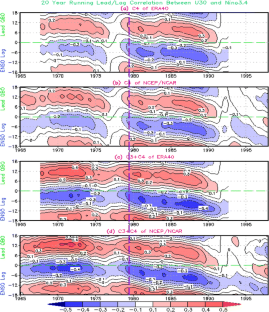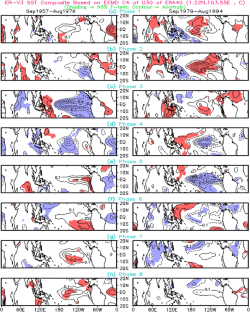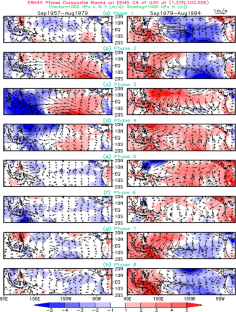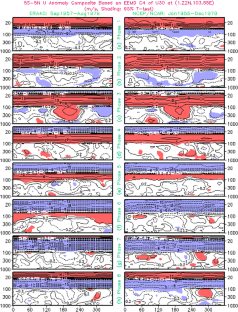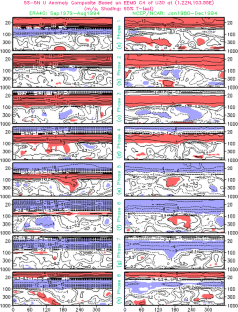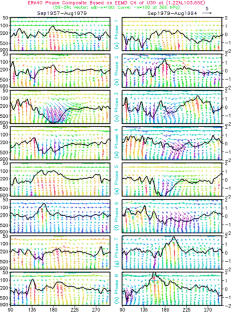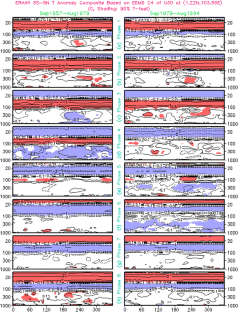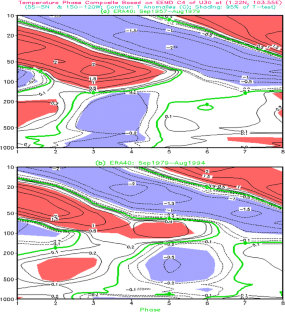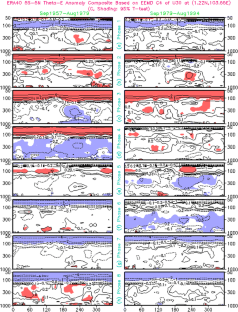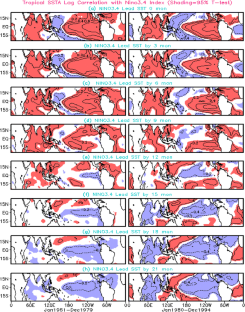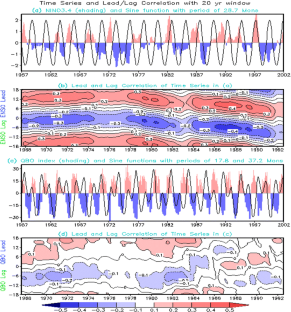 References
An S-I, Wang B (2000) Interdecadal change of the structure of the ENSO mode and its impact on the ENSO frequency. J Clim 13:2044–2055

Angell JK (1992) Evidence of a relation between El Niño and QBO, and for an El Niño in 1991–92. Geophys Res Lett 19:285–288

Barnett TP (1991) The interaction of multiple time scales in the tropical climate system. J Clim 4:269–285

Gettelman A, Forster PMF (2002) A climatology of the tropical tropopause layer. J Meteor Soc Jpn 80(4):911–924

Gray WM, Sheaffer JD, Knaff JA (1992a) Hypothesized mechanism for stratospheric QBO influence on ENSO variability. Geophys Res Lett 19:107–110

Gray WM, Sheaffer JD, Knaff JA (1992b) Influence of the stratospheric QBO on ENSO variability. J Meteor Soc Jpn 70:975–995

Holton JR, Tan T-C (1980) The influence of the equatorial quasi-biennial oscillation on the global circulation at 50 mb. J Atmos Sci 37:2200–2208

Huang B, Hu Z-Z, Kinter III JL, Wu Z, Kumar A (2011) Connection of the stratospheric QBO with global atmospheric general circulation and tropical SST. Part I: methodology and composite life cycle. Clim Dyn (submitted)

Huesmann A, Hitchman MH (2001) The stratospheric quasi-biennial oscillation in the NCEP reanalyses: Climatological structures. J Geophys Res 106:11, 859–11, 870

Huesmann A, Hitchman MH (2003) The 1978 shift in the NCEP reanalysis stratospheric quasi-biennial oscillation. Geophys Res Lett 30:1048. doi:10.1029/2002GL016323

Jin F-F, Hu Z-Z, Latif M, Bengtsson L, Roeckner E (2001) Dynamics and cloud-radiation feedbacks in El Niño and greenhouse warming. Geophys Res Lett 28(8):1539–1542

Kessler WS, Kleeman R (2000) Rectification of the Madden-Julian oscillation into the ENSO cycle. J Clim 13:3560–3575

Kinter JL III, Fennessy MJ, Krishnamurthy V, Marx L (2004) An evaluation of the apparent interdecadal shift in tropical divergent circulation in the NCEP-NCAR reanalysis. J Clim 17:349–361

Maruyama T, Tsuneoka Y (1988) Anomalously short duration of the easterly wind phase of the QBO at 50 hPa in 1987 and its relationship to an El Niño event. J Meteor Soc Jpn 66:629–634

Meehl GA, Washington WM (1996) El Niño-like climate change in a model with increased atmospheric CO2 concentrations. Nature 382:56–60

Nitta T, Yamada S (1989) Recent warming of tropical sea surface temperature and its relationship to the Northern Hemisphere circulation. J Meteor Soc Jpn 67:375–383

Pawson S, Fiorino M (1999) A comparison of reanalyses in the tropical stratosphere, part 3: inclusion of the pre-satellite data era. Clim Dyn 15:241–250

Quiroz RS (1983) Relationships among the stratospheric and tropospheric zonal flows and the southern oscillation. Mon Wea Rev 111:143–154

Randel WJ, Wu F, Gaffen DJ (2000) Interannual variability of the tropical tropopause derived from radiosonde data and NCEP reanalyses. J Geophys Res 105:15509–15523

Taguchi M (2010) Observed connection of the stratospheric quasi-biennial oscillation with El Niño–Southern oscillation in radiosonde data. J Geophys Res 115:D18120. doi:10.1029/2010JD014325

Timmermann A, Latif M, Bacher A, Oberhuber J, Roeckner E (1999) Increased El Niño frequency in a climate model forced by future greenhouse warming. Nature 398:694–696

Trenberth KE, Hurrell JW (1994) Decadal atmosphere–ocean variation in the Pacific. Clim Dyn 9:303–319

Wallace JM, Panetta L, Estberg J (1993) A phase-space representation of the equatorial-stratospheric Quasi-Biennial oscillation. J Atmos Sci 50:1751–1762

Wang B (1995) Interdecadal changes in El Niño onset in the last four decades. J Clim 8:258–267

Wang R, Fraedrich K, Pawson S (1995) Phase-space characteristics of the tropical Stratospheric Quasibiennial oscillation. J Atmos Sci 52(24):4482–4500

Xu J-S (1992) On the relationship between the stratospheric quasi- biennial oscillation and the tropospheric southern oscillation. J Atmos Sci 49:725–734

Yasunari T (1989) A possible link of the QBOs between the stratosphere, troposphere and sea surface temperature in the tropics. J Meteor Soc Jpn 67:483–493
Acknowledgments
Thanks go to James M. Wallace, Shuntai Zhou, Amy Butler, Michelle L'Heureux, Cristiana Stan, Xiaosong Yang, and Jian Lu for their useful discussion and suggestions. This work was supported by the NOAA CVP Program (NA07OAR4310310) (Hu and Huang), as well as NSF ATM-0830062 (Huang and Kinter), NSF ATM-0830068, NOAA NA09OAR4310058, NASA NNX09AN50G (Hu, Huang, and Kinter), and NSF ATM-0917743 (Wu).
About this article
Cite this article
Hu, ZZ., Huang, B., Kinter, J.L. et al. Connection of the stratospheric QBO with global atmospheric general circulation and tropical SST. Part II: interdecadal variations. Clim Dyn 38, 25–43 (2012). https://doi.org/10.1007/s00382-011-1073-6
Received:

Accepted:

Published:

Issue Date:

DOI: https://doi.org/10.1007/s00382-011-1073-6
Keywords