Abstract
The characteristics of Southern Cut-off Lows (CoLs) are studied for the period 1979–2008. The systematic identification of CoLs is realized by applying an original automated scheme using mean daily geopotential height and air temperature at 500 hPa NCEP-DOE II Reanalysis data. From closed lows' trajectories established from the Equator to the polar jet stream, extratropical lows are analyzed and the stage of cut-off is defined as a secluded low presenting a cold core. From 4,843 cases the general CoL features are presented and confirm several previous results such as the geographic distribution which shows that they are more frequent in the latitudinal band contained between 20°S and 45°S and in close proximity to the continents. On a seasonal time scale, CoLs are more numerous from late summer to autumn, with a maximum of frequency in March/April. In winter (June–July–August), they are fewer but deeper than during the rest of the year. In the median domain (~32.5°S), the annual cycle of the frequency is bimodal and present two peaks during transitional seasons. In this zone, the seasonal cycle varies in accordance with the Semiannual Oscillation. Thereby, when the meridional gradient of temperature/pressure is reinforced between mid and high latitudes, CoLs are more frequent in the median domain. Over the period 1979–2008, the annual CoLs' frequency exhibits a positive trend of about 25%. This increase is associated with a widening of the latitudinal domain of occurrence equatorward as well as poleward. The trend is linked with an abrupt positive shift in the number of CoLs' generation between 1998 and 1999. The geographical distribution of CoLs frequency varies significantly in accordance with El Niño Southern Oscillation with more CoL's at lower (higher) latitudes during La Niña (El Niño) events, principally in the Southern Pacific.
Access options
Buy single article
Instant access to the full article PDF.
US$ 39.95
Tax calculation will be finalised during checkout.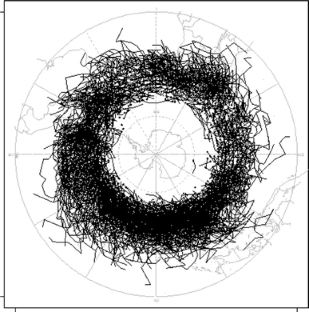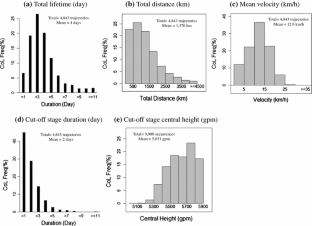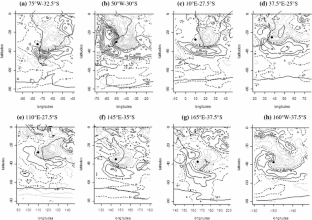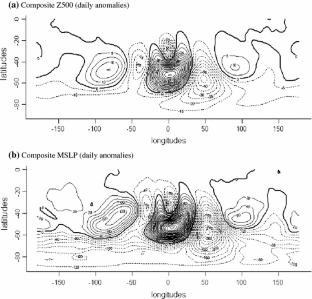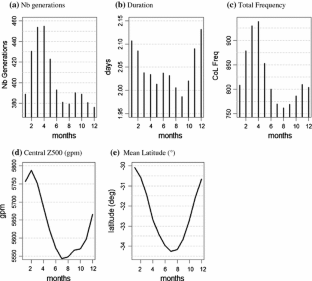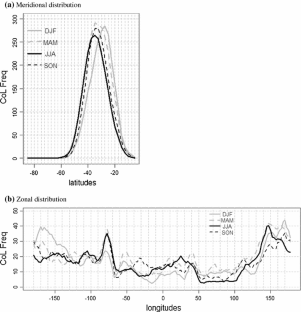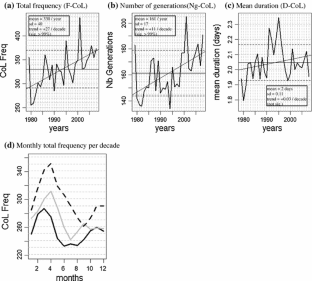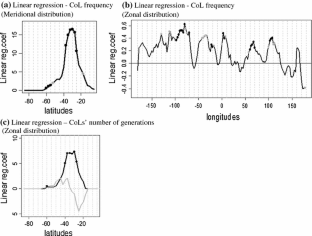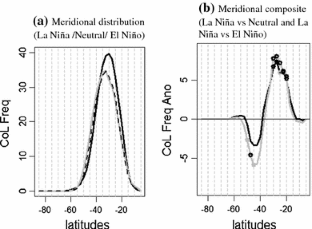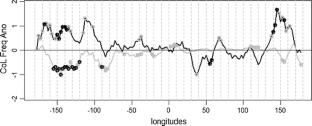 References
Bjerknes J, Solberg H (1922) Life cycle of cyclones and the polar front theory of atmospheric circulation. Geofys Publ 3(1):1–18

Burnett AW, McNicoll A (2000) Interannual variations in the Southern Hemisphere winter circumpolar vortex: relationships with semiannual oscillation. J Clim 13:991–999

Campetella CM, Possia NE (2006) Upper-level cut-off lows in southern South America. Meteorol Atmos Phys 96:181–191

Caruso SJ, Businger S (2006) Subtropical cyclogenesis over the central North Pacific. Weather Forecast 21:193–205

Coughlan MJ (1983) A comparative climatology of blocking action in the two hemispheres. Aust Met Mag 31:3–13

Delgado G, Redano A, Lorente J, Nieto R, Gimeno L, Ribera P, Barriopedro D, Garcia-Herrera R, Serrano A (2007) Cloud cover analysis associated to cut-off low-pressure systems over Europe using Meteosat imagery. Meteorol Atmos Phy 96:141–157

Favre A, Gershunov A (2006) Extra-tropical cyclonic/anticyclonic activity in North-Eastern Pacific and air temperature extremes in Western North America. Clim Dyn 26:617–629

Favre A, Gershunov A (2009) North Pacific cyclonic and anticyclonic transients in a global warming context: possible consequences for Western North American daily precipitation and temperature extremes. Clim Dyn 32:969–987

Fuenzalida HA, Sánchez R, Garreaud RD (2005) A climatology of cutoff lows in the Southern Hemisphere. J Geophys Res 110. doi:10.1029/2005JD005934

Garreaud RD, Fuenzalida HA (2007) The influence of the andes on cutoff lows: a modeling study. Mon Wea Rev 135:1596–1613

Hines KM, Bromwich DH, Marshall GJ (2000) Artificial surface pressure trends in the NCEP-NCAR reanalysis over the Southern ocean and Antarctica. J Clim 13:3940–3952

Holland GJ, Lynch AH, Leslie LM (1987) Australian east-coast cyclones. Part I: synoptic overview and case study. Mon Wea Rev 115:3024–3036

Hoskins BJ, Hodges KI (2005) A new perspective on Southern Hemisphere storm tracks. J Clim 18:4108–4129

Hoskins BJ, McIntyre ME, Robertson AW (1985) On the use and significance of isentropic potential vorticity maps. QJR Meteorol Soc 111:437–471

Hu K, Lu R, Wang D (2010) Seasonal climatology of cut-off lows and associated precipitation patterns over Northeast China. Meteorol Atmos Phys 106:37–48

Hurrell JW, Van Loon H (1994) A modulation of the atmospheric annual cycle in the Southern Hemisphere. Tellus 46A:325–338

IPCC (2007) Climate change 2007: the physical science basis. Contribution of working group I to the fourth assessment. In: Solomon S, Qin D, Manning M, Chen Z, Marquis M, Averyt KB, Tignor M, Miller HL (eds) Report of the intergovernmental panel on climate change. Cambridge University Press, Cambridge, United Kingdom and New York, NY, USA, pp 996

Kalnay E, Kanamitsu M, Kitsler R, Collins W, Deaven D, Gandin L, Iredell M, Saha S, White G, Woollen J, Zhu Y, Leetmaa A, Reynolds B, Chelliah M, Ebisuzaki W, Higgins W, Janowiak J, Mo KC, Ropelewski C, Wang J, Jenne R, Joseph D (1996) The NCEP/NCAR 40-year reanalysis project. Bull Amer Meteor Soc 77:437–471

Kanamitsu M, Ebisuzaki W, Woollen J, Yang S-K, Hnilo JJ, Fiorino M, Potter GL (2002) NCEP-DOE AMIP-II reanalysis (R-2). Bull Amer Met Soc 83:1631–1643

Katzfey JJ, McInnes KL (1996) GCM simulations of Eastern Australian cutoff lows. J Clim 9:2337–2355

Keable M, Simmonds I, Keay K (2002) Distribution and temporal variability of 500 hPa cyclone characteristics in the Southern Hemisphere. Int J Climatol 22:131–150

Kistler R, Kalnay E, Collins W, Saha S, White G, Woollen J, Chelliah M, Ebisuzaki W, Kanamitsu M, Kousky V, van den Dool H, Jenne R, Fiorino M (2001) The NCEP–NCAR 50–year reanalysis: monthly means CD–ROM and documentation. Bull Amer Meteor Soc 82:247–267

Liebmann B, Smith CA (1996) Description of a complete interpolated outgoing longwave radiation. Bull Amer Meteor Soc 77:1275–1277

Lim EP, Simmonds I (2009) Effect of tropospheric temperature change on the zonal mean circulation and SH winter extratropical cyclones. Clim Dyn 33:19–32

McInnes KL, Leslie LM, McBride JL (1992) Numerical simulation of cut-off lows on the Australian east coast: sensitivity to sea-surface temperature. Int J Climatol 12:21–31

Mo KC (2000) Relationships between low-frequency variability in the Southern Hemisphere and sea surface temperature anomalies. J Clim 13:3599–3610

Ndarana T, Waugh DW (2010) The link between cut-off lows and Rossby wave breaking in the Southern Hemisphere. Quart J Roy Meteor Soc 136:869–885

Nieto R, Gimeno L, De la Torre L, Ribera P, Gallego D, Garcia-Herrera R, Garcia JA, Nunez M, Redano A, Lorente J (2005) Climatological features of cutoff low systems in the Northern Hemisphere. J Clim 18:3085–3103

Porcù F, Carrassi A, Medaglia CM, Prodi F, Mugnai A (2007) A study on cut-off low vertical structure and precipitation in the Mediterranean region. Meteorol Atmos Phys 96:121–140

Reboita MS, Nieto R, Gimeno L, da Rocha RP, Ambrizzi T, Garreaud R, Kruger LF (2010) Climatological features of cutoff low systems in the Southern Hemisphere. J Geophys Res 115:D17104. doi:10.1029/2009JD013251

Simmonds I (2003) Modes of atmospheric variability over the Southern ocean. J Geophys Res 108:NO.C4, 8078. doi:10.1029/2000JC000542

Simmonds I, Jones DA (1998) The mean structure and temporal variability of the semiannual oscillation in the southern extratropics. Int J Climatol 18:473–504

Simmonds I, Keay K (2000) Mean Southern Hemisphere extratropical cyclone behavior in the 40-year NCEP-NCAR reanalysis. J Clim 13:873–885

Simmonds I, Murray RJ, Leighton RM (1999) A refinement of cyclone tracking methods with data from FROST. Aust Met Mag Special Edition:35–49

Singleton AT, Reason CJ (2007) Variability in the characteristics of cut-off low pressure systems over subtropical southern Africa. Int J Climatol 27:295–310

Taljaard JJ (1985) Cut-off lows in the South African region. South African weather bureau technical paper, vol 14, pp 153

Trenberth KE, Mo KC (1985) Blocking in the Southern Hemisphere. Month Wea Rev 113:3–21

Van Loon H (1967) The half-yearly oscillations in middle and high southern latitudes and coreless winter. J Atmos Sci 24:472–486

Van Loon H, Rogers JC (1984) Interannual variations in the half-yearly cycle of pressure gradients and zonal wind at sea level on the Southern Hemisphere. Tellus 36A:76–86

Wang XL, Swail VR, Zwiers FW (2006) Climatology and changes of extratropical cyclone activity: comparison of ERA-40 with NCEP-NCAR reanalysis for 1958–2001. J Clim 19:3145–3166

Winkler R, Zwatz-Meise (2001) Manual of synoptic satellite meteorology. Conceptual models. Version 6.0. [Available at Central Institute for Meteorology and Geodynamics Hohe Warte 38, 1190 Vienna, Austria]

Zhao S, Sun J (2007) Study on cut-off low-pressure systems with floods over Northeast Asia. Meteorol Atmos Phys 96(1–2):159–180. doi:10.1007/s00703-006-0226-3
Electronic supplementary material
Below is the link to the electronic supplementary material.
About this article
Cite this article
Favre, A., Hewitson, B., Tadross, M. et al. Relationships between cut-off lows and the semiannual and southern oscillations. Clim Dyn 38, 1473–1487 (2012). https://doi.org/10.1007/s00382-011-1030-4
Received:

Accepted:

Published:

Issue Date:
Keywords
Cut-off low

Southern hemisphere

Semiannual oscillation

ENSO