Abstract
Distinct differences of the storm track–jet relationship over the North Pacific and North Atlantic are investigated in terms of barotropic and baroclinic energetics using NCEP-2 reanalysis data for the period of 1979–2008. From fall to midwinter the Pacific storm track (PST) activity weakens following the southward shift of the Pacific jet, whereas the Atlantic storm track (AST) activity remains steady in position and intensifies regardless of the slight southward shift of the Atlantic jet. This study is devoted to seeking for the factors that can contribute to this conspicuous difference between the two storm tracks on climatological subseasonal variation by analyzing eddy properties and local energetics. Different eddy properties over the two oceans lead to different contribution of barotropic energy conversion to the initiation of storm tracks. In the North Atlantic, meridionally elongated eddies gain kinetic energy efficiently from stretching deformation of the mean flow in the jet entrance. On the other hand, the term associated with shearing deformation is important for the initiation of PST. Analysis of baroclinic energetics reveals that the intensification of the AST activity in midwinter is mainly attributed to coincidence between location of maximum poleward and upward eddy heat fluxes and that of the largest meridional temperature gradient over slight upstream of the AST. The relatively large amount of precipitable water and meridional eddy moisture flux along baroclinic energy conversion axis likely provides a more favorable environment for baroclinic eddy growth over the North Atlantic than over the North Pacific. In the meantime, the midwinter minimum of the PST activity is attributable to the southward shift of the Pacific jet stream that leads to discrepancy between core region of poleward and upward heat fluxes and that of meridional thermal gradient. Weakening of eddy-mean flow interaction due to eddy shape and reduction of moist effect are also responsible for the weakening of storm track activities in midwinter when the strongest baroclinicity exists over the North Pacific.
Access options
Buy single article
Instant access to the full article PDF.
USD 39.95
Price excludes VAT (USA)
Tax calculation will be finalised during checkout.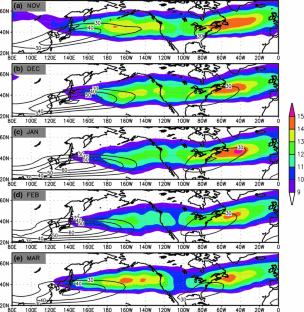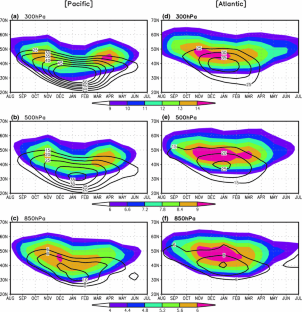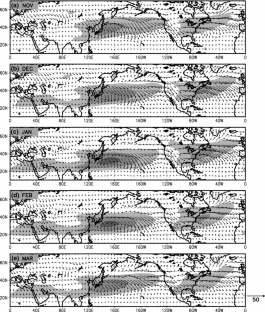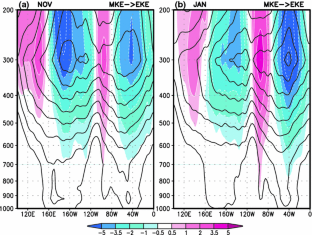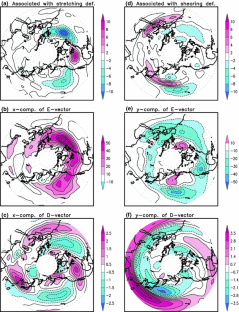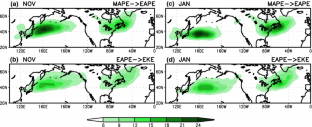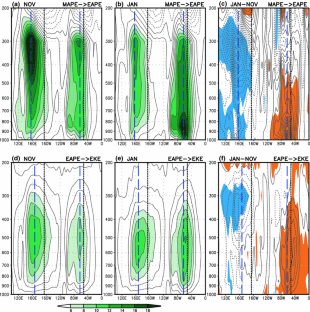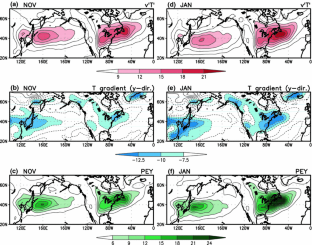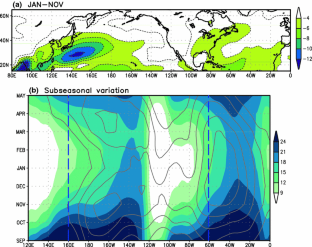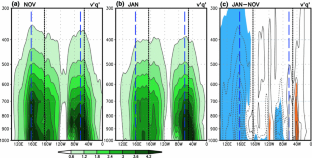 References
Black RX, Dole RM (2000) Storm tracks and barotropic deformation in climate models. J Clim 13:2712–2728

Blackmon ML, Wallace JM, Lau NC, Mullen SL (1977) An observational study of the northern hemisphere wintertime circulation. J Atmos Sci 34:1040–1053

Branstator G (1995) Organization of storm track anomalies by recurring low-frequency circulation anomalies. J Atmos Sci 15:207–226

Cai M, Mak M (1990) On the basic dynamics of regional cyclogenesis. J Atmos Sci 47:1417–1442

Cai M, Yang S, Van den Dool HM, Kousky VE (2007) Dynamical implications of the orientation of atmospheric eddies: a local energetics perspective. Tellus 59A:127–140

Chang EKM (2001) GCM and observational diagnoses of the seasonal and interannual variations of the Pacific storm track during the cool season. J Clim 58:1784–1800

Chang EKM (2009) Are band-pass variance statistics useful measures of storm track activity? Re-examining storm track variability associated with the NAO using multiple storm track measures. Clim Dyn 33:277–296

Chang EMK, Fu Y (2002) Interdecadal variations in northern hemisphere winter storm track intensity. J Clim 15:642–658

Chang EMK, Guo Y (2007) Dynamics of the stationary anomalies associated with the interannual variability of the midwinter Pacific storm track-the roles of tropical heating and remote eddy forcing. J Atmos Sci 64:2442–2461

Chang EMK, Lee S, Swanson KL (2002) Storm track dynamics. J Clim 15:2163–2183

Deng Y, Mak M (2005) An idealized model study relevant to the dynamics of the midwinter minimum of the Pacific storm track. J Atmos Sci 62:1209–1225

Deng Y, Mak M (2006) Nature of the differences in the intraseasonal variability of the Pacific and Atlantic storm tracks: a diagnostic study. J Atmos Sci 63:2602–2615

Frisius T, Lunkeit F, Fraedric K, James IN (1998) Storm-track organization and variability in a simplified atmospheric global circulation model. Q J R Meteorol Soc 124:1019–1043

Greeves CZ, Pope VD, Stratton RA, Martin GM (2007) Representation of northern hemisphere winter storm tracks in climate models. Clim Dyn 28:683–702

Hayashi Y, Golder DG (1981) The effects of condensational heating on midlatitude transient waves in their mature stage: control experiments with a GFDL GCM. J Atmos Sci 38:2532–2539

Hoskins BJ, James IN, White GH (1983) The shape, propagation, and mean-flow interaction of large-scale weather systems. J Atmos Sci 40:1595–1612

Hurrell JW, van Loon H (1997) Decadal variations in climate associated with the North Atlantic oscillation. Clim Change 36:301–326

Kanamitsu M, Ebisuzaki W, Woollen J, Yang SK, Hnilo JJ, Fiorino M, Potter GL (2002) NCEP-DOE AMIP-II reanalysis (R-2). Bull Am Meteorol Soc 83:1631–1643

Lee S (2000) Barotropic effects on atmospheric storm tracks. J Atmos Sci 57:1420–1435

Lindzen RS, Farrell BJ (1980) A simple approximate result for the maximum growth rate of baroclinic instabilities. J Atmos Sci 37:1648–1654

Mak M, Cai M (1989) Local barotropic instability. J Atmos Sci 46:3289–3311

Mak M, Deng Y (2007) Diagnostic and dynamical analyses of two outstanding aspects of storm tracks. Dyn Atmos Oceans 43:80–99

Nakamura H (1992) Midwinter suppression of baroclinic wave activity in the Pacific. J Atmos Sci 49:1629–1642

Nakamura H, Sampe T (2002) Trapping of synoptic scale disturbances into the North Pacific subtropical jet core in midwinter. Geophys Res Lett 29:1761. doi:10.1029/2002GL015535

Nakamura H, Izumi T, Sampe T (2002) Interannual and decadal modulations recently observed in the Pacific storm track activity and East Asian winter monsoon. J Clim 15:1855–1874

Nie J, Wang P, Yang W, Tan B (2008) Northern hemisphere storm tracks in strong AO anomaly winters. Atmos Sci Lett 9:153–159

Nonaka M, Nakamura H, Taguchi B, Komori N, Yoshida-Kuwano A, Takaya K (2009) Air-sea heat exchanges characteristic to a prominent midlatitude oceanic front in the South Indian Ocean as simulated in a high-resolution coupled GCM. J Clim 22:6515–6535

O'Gorman PA, Schneider T (2008) The hydrological cycle over a wide range of climates simulated with an idealized GCM. J Clim 21:3815–3832

Orlanski I (2005) A new look at the Pacific storm track variability: sensitivity to tropical SSTs and to upstream seeding. J Atmos Sci 62:1367–1390

Pierrehumbert RT, Swanson KL (1995) Baroclinic instability. Annu Rev Fluid Mech 27:419–467

Raphael MN (1997) The relationship between the transient, meridional eddy sensible and latent heat flux. J Geophys Res 102:13487–13494

Sampe T, Nakamura H, Goto A, Ohfuchi W (2010) Significance of a midlatitude SST frontal zone in the formation of a storm track and an eddy-driven westerly jet. J Clim 23:1793–1814

Sanders F, Gyakum JR (1980) Synoptic-dynamic climatology of the bomb. Mon Wea Rev 108:1589–1606

Taguchi B, Nakamura H, Nonaka M, Xie SP (2009) Influences of the Kuroshio/Oyashio extensions on air–sea heat exchanges and storm-track activity as revealed in regional atmospheric model simulations for the 2003/04 cold season. J Clim 22:6536–6560

Trenberth KE (1986) An assessment of the impact of transient eddies on the zonal flow during a blocking episode using localized Eliassen-Palm flux diagnostics. J Atmos Sci 43:2070–2087

Trenberth KE (1991) Storm tracks in the Southern Hemisphere. J Atmos Sci 48:2159–2178

Wang B, Barcilon A (1986) Moist stability of a baroclinic zonal flow with conditionally unstable stratification. J Atmos Sci 43:705–719

Williams RG, Wilson C, Hughes CW (2007) Ocean and atmosphere storm tracks: the role of eddy vorticity forcing. J Phys Oceanogr 37:2267–2289
Acknowledgments
This work was supported by a grant from the Korean Ministry of Environment as "Eco-technopia 21 project" and the second stage of the Brain Korea 21 Project. J.-Y. Lee and Wang acknowledge support from Korean Meteorological Administration Research and Development Program under grant RACS 2010-2017 and from IPRC, which is in part supported by JAMSTEC, NOAA, and NASA. This is SOEST publication number 8089 and IPRC publication number 750.
About this article
Cite this article
Lee, SS., Lee, JY., Wang, B. et al. A comparison of climatological subseasonal variations in the wintertime storm track activity between the North Pacific and Atlantic: local energetics and moisture effect. Clim Dyn 37, 2455–2469 (2011). https://doi.org/10.1007/s00382-011-1027-z
Received:

Accepted:

Published:

Issue Date:

DOI: https://doi.org/10.1007/s00382-011-1027-z
Keywords
Pacific and Atlantic storm tracks

Eddy-mean flow interaction

Barotropic and baroclinic energy conversion

Moisture effect