Abstract
During summer, the northern Indian Ocean exhibits significant atmospheric intraseasonal variability associated with active and break phases of the monsoon in the 30–90 days band. In this paper, we investigate mechanisms of the Sea Surface Temperature (SST) signature of this atmospheric variability, using a combination of observational datasets and Ocean General Circulation Model sensitivity experiments. In addition to the previously-reported intraseasonal SST signature in the Bay of Bengal, observations show clear SST signals in the Arabian Sea related to the active/break cycle of the monsoon. As the atmospheric intraseasonal oscillation moves northward, SST variations appear first at the southern tip of India (day 0), then in the Somali upwelling region (day 10), northern Bay of Bengal (day 19) and finally in the Oman upwelling region (day 23). The Bay of Bengal and Oman signals are most clearly associated with the monsoon active/break index, whereas the relationship with signals near Somali upwelling and the southern tip of India is weaker. In agreement with previous studies, we find that heat flux variations drive most of the intraseasonal SST variability in the Bay of Bengal, both in our model (regression coefficient, 0.9, against ~0.25 for wind stress) and in observations (0.8 regression coefficient); ~60% of the heat flux variation is due do shortwave radiation and ~40% due to latent heat flux. On the other hand, both observations and model results indicate a prominent role of dynamical oceanic processes in the Arabian Sea. Wind-stress variations force about 70–100% of SST intraseasonal variations in the Arabian Sea, through modulation of oceanic processes (entrainment, mixing, Ekman pumping, lateral advection). Our ~100 km resolution model suggests that internal oceanic variability (i.e. eddies) contributes substantially to intraseasonal variability at small-scale in the Somali upwelling region, but does not contribute to large-scale intraseasonal SST variability due to its small spatial scale and random phase relation to the active-break monsoon cycle. The effect of oceanic eddies; however, remains to be explored at a higher spatial resolution.
Access options
Buy single article
Instant access to the full article PDF.
US$ 39.95
Tax calculation will be finalised during checkout.
Subscribe to journal
Immediate online access to all issues from 2019. Subscription will auto renew annually.
US$ 119
Tax calculation will be finalised during checkout.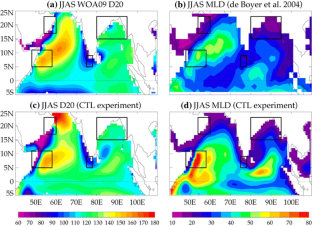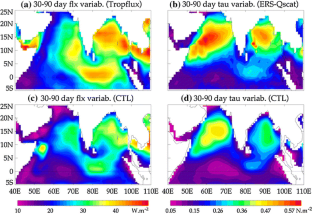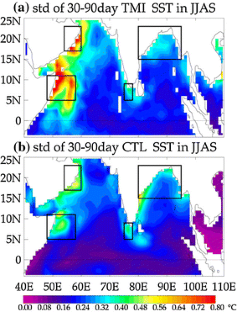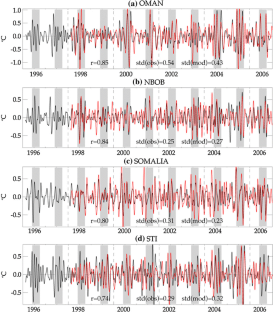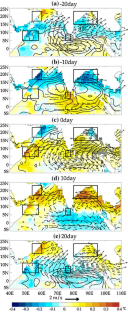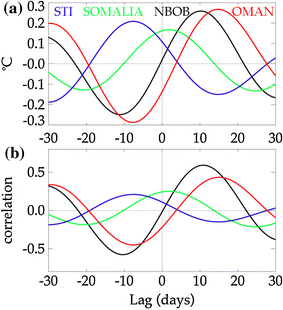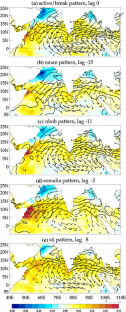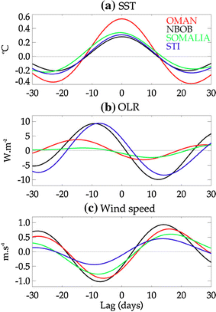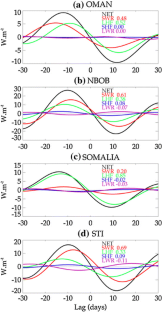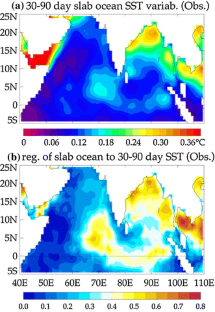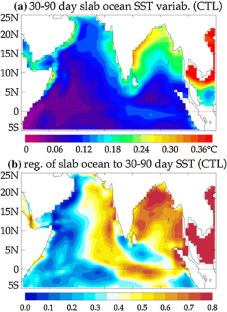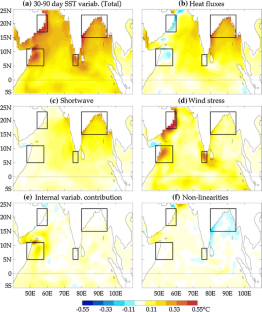 References
Annamalai H, Slingo JM (2001) Active/break cycles: diagnosis of the intraseasonal variability of the Asian summer monsoon. Clim Dyn 18:85–102

Ajaya Mohan RS, Goswami BN (2003) Potential predictability of the Asian summer monsoon on monthly and seasonal time scales. Met Atmos Phys, doi:10.1007/s00703-002-0576-4

Bellon G, Sobel AH, Vialard J (2008) Ocean-atmosphere coupling in the monsoon intraseasonal oscillation: a simple model study. J Clim 21:5254–5270

Bentamy A, Katsaros KB, Alberto M, Drennan WM, Forde EB, Roquet H (2003) Satellite estimates of wind speed and latent heat flux over the global oceans. J Clim 16:637–656

Brandt P, Dengler M, Rubino A, Quadfasel D, Schott F (2003) Intraseasonal variability in the southwestern Arabian Sea and its relation to the seasonal circulation. Deep Sea Res II 50:2129–2142

Bryan K, Lewis LJ (1979) A water mass model of the world ocean. J Geophys Res 84:2502–2517

Chatterjee P, Goswami BN (2004) Structure, genesis and scale selection of the tropical quasi-biweekly mode. Q J R Meteorol Soc 130:1171–1194

Chelton DB, Schlax MG, Samelson RM, de Szoeke RA (2007) Global observations of large oceanic eddies. Geophys Res Lett 34:L15606. doi:10.1029/2007GL030812

de Boyer Montégut C, Madec G, Fischer AS, Lazar A, Iudicone D (2004) Mixed layer depth over the global ocean: an examination of profile data and a profile-based climatology. J Geophys Res 109:C12003. doi:10.1029/2004JC002378

de Boyer Montégut C, Vialard J, Shenoi SSC, Shankar D, Durand F, Ethé C, Madec G (2007) Simulated seasonal and interannual variability of mixed layer heat budget in the northern Indian Ocean. J Clim 20:3249–3268

Dee DP, Uppala S (2009) Variational bias correction of satellite radiance data in the ERA-Interim reanalysis. Q J R Meteorol Soc 135:1830–1841

Duncan B, Han W (2009) Indian Ocean intraseasonal sea surface temperature variability during boreal summer: Madden-Julian Oscillation versus submonthly forcing and processes. J Geophys Res 114:C05002. doi:10.1029/2008JC004958

Duvel JP, Vialard J (2007) Indo-Pacific sea surface temperature perturbations associated with intraseasonal oscillations of the tropical convection. J Clim 20:3056–3082

Fu X, Wang B, Li T, McCreary JP (2003) Coupling between northward propagating, intraseasonal oscillations and sea-surface temperature in the Indian Ocean. J Atmos Sci 60:1733–1783

Gadgil S (2003) The Indian Monsoon and its variability. Annu Rev Earth Planet Sci 31:429–467

Gopalakrishna VV, Durand F, Nisha K, Lengaigne M, Costa J, Rao RR, Ravichandran M, Amrithash S, John L, Girish K, Ravichandran C, Suneel V (2009) Observed intra-seasonal to interannual variability of the upper ocean thermal structure in the South-Eastern Arabian Sea during 2002–2008. Deep Sea Res 57:739–754

Gopalan AKS, GopalaKrishna VV, Ali MM, Sharma R (2000) Detection of Bay of Bengal eddies from TOPEX and insitu observations. J Mar Res 58:721–734

Goswami BN (2005) South Asian Monsoon. In: Lau WKM, Waliser DE (eds) Intraseasonal variability in the atmosphere-ocean climate system. Praxis Springer, Berlin, pp 19–55

Goswami BN, Ajaya Mohan RS (2001) Intraseasonal oscillations and interannual variability of the Indian summer monsoon. J Clim 14:1180–1198

Griffies SM, Hallberg RW (2000) Biharmonic friction with a Smagorisky viscosity for use in large scale eddy-permitting ocean models. Mon Wea Rev 128:2935–2946

Hendon HH, Glick J (1997) Intraseasonal Air-Sea interaction in the Tropical Indian and Pacific Oceans. J Clim 10:647–662

Ingram KT, Roncoli MC, Kirshen PH (2002) Opportunities and constraints for farmers of west Africa to use seasonal precipitation forecasts with Burkina Faso as a case study. Agr Syst 74:331–349

Jayakumar A, Vialard J, Lengaigne M, Gnanaseelan C, McCreary JP, Praveen Kumar B (2011) Processes controlling the surface temperature signature of the Madden-Julian Oscillation in the thermocline ridge of the Indian Ocean. Clim Dyn (in press)

Joseph PV, Sabin TP (2008) An ocean–atmosphere interaction mechanism for the active break cycle of the Asian summer monsoon. Clim Dyn 30:553–566

Joseph PV, Sijikumar S (2004) Intraseasonal variability of the low-level jet stream of the Asian summer monsoon. J.Clim. 17:1449–1458

Kalnay et al (1996) The NCEP/NCAR 40-year reanalysis project. Bull Am Meteor Soc 77:437–470

Kanamitsu M, Ebisuzaki W, Woollen J, Yang S-K, Hnilo JJ, Fiorino M, Potter GL (2002) NCEP-DEO AMIP-II Reanalysis (R-2), Bul Atmos Met Soc 1631-1643

Krishnamurti TN, Oosterhof DK, Mehta AV (1988) Air-Sea interaction on the time scale of 30 to 50 days. J Atmos Sci 45:1304–1322

Large WG, Yeager SG (2004) Diurnal to decadal global forcing for ocean and sea-ice models: the data sets and flux climatologies NCAR/TN-460+STR, 111 pp

Large WG, McWilliams JC, Doney SC (1994) Oceanic vertical mixing: a review and a model with a no local boundary layer parametrization. Rev Geophys 32:363–403

Lawrence DM, Webster PJ (2002) The boreal summer intraseasonal oscillation: relationship between eastward and northward movement of convection. J Atmos Sci 59:1593–1606

Levitus S (1998) Climatological atlas of the world ocean, Tech Rep, NOAA, Rockville, Md

Locarnini RA, Mishonov AV, Antonov JI, Boyer TP, Garcia HE, Baranova OK, Zweng MM, Johnson DR (2010) World Ocean Atlas 2009, vol 1: Temperature. S. Levitus (ed) NOAA Atlas NESDIS 68. U.S. Government Printing Office, Washington, D.C.

Prasad TG (2004) A comparison of mixed-layer dynamics between the Arabian Sea and Bay of Bengal: one-dimensional model results. J Geophys Res 109:C03035. doi:10.1029/2003JC002000

Praveen Kumar B, Vialard J, Lengaigne M, Murty VSN, McPhaden MJ (2010) TropFlux: air-sea fluxes for the global tropical oceans—description and evaluation against observations. Clim Dyn (submitted)

Roxy M, Tanimoto Y (2007) Role of SST over the Indian ocean in influencing intraseasonal variability of the Indian summer monsoon. J Met Soc Jpn 85:349–358

Sengupta D, Ravichandran M (2001) Oscillations of Bay of Bengal sea surface temperature during the 1998 summer monsoon. Geophys Res Lett 28:2033–2036

Sengupta D, Goswami BN, Senan R (2001) Coherent intraseasonal oscillations of ocean and atmosphere during the Asian summer monsoon. Geophys Res Lett 28:4127–4130, doi:10.1029/2001GL013587

Seo H, Murtugudde R, Jochum M (2008) Coupled modeling of the oceanatmosphere interactions in the Western Arabian Sea. Ocean Model 25:120–131

Shinoda T, Hendon HH (1998) Mixed layer modeling of intraseasonal variability in the tropical western Pacific and Indian Oceans. J Clim 11:2668–2685

Shenoi SSC, Shankar D, Shetye SR (2002) Differences in heat budgets of the near-surface Arabian Sea and Bay of Bengal: implications for the summer monsoon. J Geophys Res 107:3052. doi:10.1029/2000JC000679

Smith SR, Legler DM, Verzone KV (2001) Quantifying uncertainties in NCEP re-analyses using high-quality research vessel observations. J Clim 14:4062–4072

Thompson B, Gnanaseelan C, Salvekar PS (2006) Variability in the Indian Ocean circulation and salinity and its impact on SST anomalies during dipole events. J Mar Res 64:853–880

Vecchi GA, Harrison DE (2002) Monsoon breaks and subseasonal sea surface temperature variability in the Bay of Bengal. J Clim 15:1485–1493

Vecchi GA, Xie S-P, Fischer A (2004) Air-sea coupling over Western Arabian sea cold filaments. J Clim 17:1213–1224

Vinayachandran PN, Yamagata T (1998) Monsoon response of the sea around Sri Lanka: generation of thermal domes and anticyclonic vortices. J Phys Oceanogr 28:1946–1950

Waliser DE, Murtugudde R, Lucas LE (2004) Indo-Pacific Ocean response to atmospheric intraseasonal variability: 2. Boreal summer and the intraseasonal oscillation. J Geophys Res 109:C03030. doi:10.1029/2003JC002002

Wang B, Webster P, Kikuchi K, Yasunari T, Qi Y (2006) Boreal summer quasi-monthly oscillation in the global tropics. Clim Dyn 27:661–675

Webster PJ, Magana VO, Palmer TN, Shukla J, Tomas RA, Yanai M, Yasunari T (1998) Monsoons: processes, predictability, and the prospects for prediction. J Geophys Res 103:14451–14510

Wentz FJ, Gentemann C, Smith D, Chelton D (2000) Satellite measurements of sea-surface temperature through clouds. Science 288:847–850

Yu L, Weller RA (2007) Objectively analyzed air-sea heat fluxes (OAFlux) for the global oceans. Bull Am Meteor Soc 88:527–539

Zhang Y, Rossow WB, Lacis AA, Oinas V, Mishchenko MI (2004) Calculation of radiative fluxes from the surface to top of atmosphere based on ISCCP and other global data sets: Refinments of the radiative trasfer model and the input data. J Geophys Res 109, doi:10.1029/2003JD004457
Acknowledgments
Jérôme Vialard and Matthieu Lengaigne are funded by Institut de Recherche pour le Développement (IRD). Matthieu Lengaigne produced his contribution to this paper while visiting the National Institute of Oceanography (NIO) in Goa, India. A. Jayakumar thanks the Council of Scientific Industrial Research (CSIR), India for Senior Research fellowship. The authors acknowledge financial support of Space Application Center (SAC), Ahmedabad, India and Indian National Centre for Ocean Information Services (INCOIS), Hyderabad, India.
About this article
Cite this article
Vialard, J., Jayakumar, A., Gnanaseelan, C. et al. Processes of 30–90 days sea surface temperature variability in the northern Indian Ocean during boreal summer. Clim Dyn 38, 1901–1916 (2012). https://doi.org/10.1007/s00382-011-1015-3
Received:

Accepted:

Published:

Issue Date:
Keywords
Northern Indian Ocean

Intraseasonal variability

Air–sea interactions

Monsoon active and break phases

Heat budget