Abstract
An increase in atmospheric carbon dioxide concentration has both a radiative (greenhouse) effect and a physiological effect on climate. The physiological effect forces climate as plant stomata do not open as wide under enhanced CO2 levels and this alters the surface energy balance by reducing the evapotranspiration flux to the atmosphere, a process referred to as 'carbon dioxide physiological forcing'. Here the climate impact of the carbon dioxide physiological forcing is isolated using an ensemble of twelve 5-year experiments with the Met Office Hadley Centre HadCM3LC fully coupled atmosphere–ocean model where atmospheric carbon dioxide levels are instantaneously quadrupled and thereafter held constant. Fast responses (within a few months) to carbon dioxide physiological forcing are analyzed at a global and regional scale. Results show a strong influence of the physiological forcing on the land surface energy budget, hydrological cycle and near surface climate. For example, global precipitation rate reduces by ~3% with significant decreases over most land-regions, mainly from reductions to convective rainfall. This fast hydrological response is still evident after 5 years of model integration. Decreased evapotranspiration over land also leads to land surface warming and a drying of near surface air, both of which lead to significant reductions in near surface relative humidity (~6%) and cloud fraction (~3%). Patterns of fast responses consistently show that results are largest in the Amazon and central African forest, and to a lesser extent in the boreal and temperate forest. Carbon dioxide physiological forcing could be a source of uncertainty in many model predicted quantities, such as climate sensitivity, transient climate response and the hydrological sensitivity. These results highlight the importance of including biological components of the Earth system in climate change studies.
Access options
Buy single article
Instant access to the full article PDF.
USD 39.95
Price includes VAT (USA)
Tax calculation will be finalised during checkout.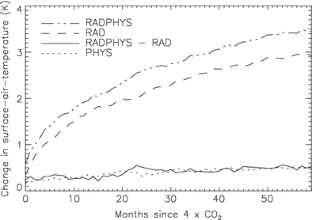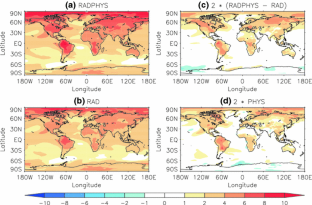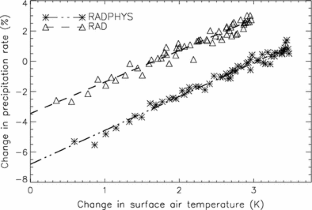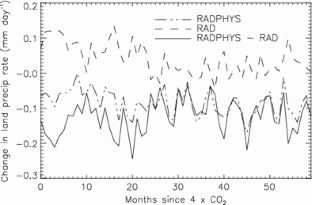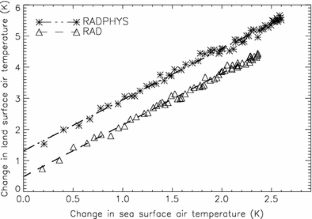 References
Allen MR, Ingram WJ (2002) Constraints on future changes in climate and the hydrological cycle. Nature 419:224–232. doi:10.1038/nature01092

Andrews T (2009) Forcing and response in simulated 20th and 21st century surface energy and precipitation trends. J Geophys Res 114:D17110. doi:10.1029/2009JD011749

Andrews T, Forster PM, Gregory JM (2009) A surface energy perspective on climate change. J Climate 22:2557–2570. doi:10.1175/2008JCLI2759.1

Bala G, Caldeira K, Miran A, Wickett M, Delire C, Phillips TJ (2006) Biogeophysical effects of CO2 fertilization on global climate. Tellus 58B:620–627. doi:10.1111/j.1600-0889.2006.00210.x

Bala G, Caldeira K, Nemani R (2009) Fast versus slow response in climate change: implications for the global hydrological cycle. Clim Dyn. doi:10.1007/s00382-009-0583-y

Betts RA, Cox PM, Lee SE, Woodward FI (1997) Contrasting physiological and structural vegetation feedbacks in climate change simulations. Nature 387:796–799

Betts RA, Boucher O, Collins M, Cox PM, Fallon PD, Gedney N, Hemming DL, Huntingford C, Jones CD, Sexton DMH, Webb MJ (2007) Projected increase in continental runoff due to plant responses to increasing carbon dioxide. Nature 448:1037–1042. doi:10.1038/nature06045

Boucher O, Jones A, Betts RA (2009) Climate response to the physiological impact of carbon dioxide on plants in the Met Office Unified Model HadCM3. Clim Dyn 32:237–249. doi:10.1007/s00382-008-0459-6

Cao L, Bala G, Caldeira K, Nemani R, Ban-Weiss G (2009) Climate response to physiological forcing of carbon dioxide simulated by the coupled Community Atmosphere Model (CAM3.1) and Community Land Model (CLM3.0). Geophys Res Lett 36:L10402. doi:10.1029/2009GL037724

Cox PM, Betts RA, Bunton CB, Essery RLH, Rowntree PR, Smith J (1999) The impact of new land surface physics on the GCM simulation of climate and climate sensitivity. Clim Dyn 15:183–203

Dong B, Gregory JM, Sutton RT (2009) Understanding land-sea warming contrast in response to increasing greenhouse gases. Part I: Transient adjustment. J Climate 22:3079–3097. doi:10.1175/2009JCLI2652.1

Doutriaux-Boucher M, Webb MJ, Gregory JM, Boucher O (2009) Carbon dioxide induced stomatal closure increases radiative forcing via a rapid reduction in low cloud. Geophys Res Lett 36:L02703. doi:10.1029/2008GL036273

Field CB, Jackson RB, Mooney HA (1995) Stomatal responses to increased CO2: implications from the plant to the global scale. Plant Cell Environ 18:1214–1225

Forster P et al (2007) Changes in atmospheric constituents and in radiative forcing. In: Solomon S et al (eds) Climate change 2007: the physical science basis contribution of working group 1 to the fourth assessment report of the Intergovernmental Panel on Climate Change. Cambridge University Press, Cambridge, pp 131–234

Gedney N, Cox PM, Betts RA, Boucher O, Huntingford C, Stott PA (2006) Detection of a direct carbon dioxide effect in continental river runoff records. Nature 439:835–838. doi:10.1038/nature04504

Gregory JM, Webb M (2008) Tropospheric adjustment induces a cloud component in CO2 forcing. J Clim 21:58–71

Gregory JM et al (2004) A new method for diagnosing radiative forcing and climate sensitivity. Geophys Res Lett 31:L03205. doi:10.1029/2003GL018747

Joshi M, Gregory J (2008) Dependence of the land-sea contrast in surface climate response on the nature of the forcing. Geophys Res Lett 35:L24802. doi:10.1029/2008GL036234

Joshi MM, Gregory JM, Webb MJ, Sexton DMH, Johns TC (2008) Mechanisms for the land/sea warming contrast exhibited by simulations of climate change. Clim Dyn 30:455–465. doi:10.1007/s00382-007-0306-1

Kergoat L, Lafont S, Douville H, Berthelot B, Dedieu G, Planton S, Royer J-F (2002) Impact of doubled CO2 on global-scale leaf area index and evapotranspiration: Conflicting stomatal conductance and LAI responses. J Geophys Res 107(D24):4808. doi:10.1029/2001JD001245

Lambert FH, Webb MJ (2008) Dependence of global mean precipitation on surface temperature. Geophys Res Lett 35:L16706. doi:10.1029/2008GL034838

O'Ishi R, Abe-Ouchi A, Prentice IC, Sitch S (2009) Vegetation dynamics and plant CO2 responses as positive feedbacks in a greenhouse world. Geophys Res Lett 36:L11306. doi:10.1029/2009GL038217

Randall DA et al (2007) Climate models and their evaluation. In: Solomon S et al (eds) Climate change 2007: the physical science basis contribution of working group 1 to the fourth assessment report of the Intergovernmental Panel on Climate Change. Cambridge University Press, Cambridge, pp 591–662

Sellers PJ, Bounoua L, Collatz GJ, Randall DA, Dazlich DA, Los SO, Berry JA, Fung I, Tucker CJ, Field CB, Jensen TG (1996) Comparison of radiative and physiological effect of doubled atmospheric CO2 on climate. Science 271:1402–1406. doi:10.1126/science.271.5254.1402

Williams KD, Ingram WJ, Gregory JM (2008) Time variation of effective climate sensitivity in GCMs. J Clim 21:5076–5090. doi:10.1175/2008JCLI2371.1

Yang F, Kumar A, Schlesinger ME, Wang W (2003) Intensity of hydrological cycles in warmer climates. J Clim 16:2419–2423
Acknowledgments
TA was funded by a NERC open CASE award with the Met Office. MDB and OB were supported by the Joint DECC and Defra Integrated Climate Programme, DECC/Defra (GA01101). We thank two anonymous reviewers for their constructive comments.
About this article
Cite this article
Andrews, T., Doutriaux-Boucher, M., Boucher, O. et al. A regional and global analysis of carbon dioxide physiological forcing and its impact on climate. Clim Dyn 36, 783–792 (2011). https://doi.org/10.1007/s00382-010-0742-1
Received:

Accepted:

Published:

Issue Date:
Keywords
Carbon dioxide physiological forcing

Climate response

Hydrological cycle

Surface energy balance

Fast responses