Abstract
This study examines regional atmospheric circulation changes associated with a reversal in the sign of the relationship between the Southern Annular Mode (SAM) and near-surface temperatures at Halley station, East Antarctica, during the 1980s. We show that the key factor affecting the regional SAM–temperature relationship (STR) is the relative magnitude of two climatological low pressure centres to the west and east of the area, which determines the source region of air masses advected into the locality. The principal difference affecting the STR is shown to be a trend towards a significantly weaker climatological low (higher pressure) at ~20°E during a positive phase of the SAM. Specifically, it is variations in the phase and magnitude of the wave number three patterns of atmospheric circulation, the non-annular component of the SAM, which are the principal factors governing the regional STR. A similar reversal is observed in the sign of the correlation between the SAM and oxygen-isotope values from an ice core located some 1,200 km east of Halley. This relationship is examined throughout the 20th Century, by comparing the isotope data to SAM reconstructions, and demonstrates marked decadal variability. Thus, these data suggest that switches in the STR are more likely to reflect natural variability in the long-wave patterns over the Southern Ocean rather than the influence of an anthropogenic forcing. This finding is important when considering the potential utility of Antarctic isotope data as a proxy for the SAM.
Access options
Buy single article
Instant access to the full article PDF.
USD 39.95
Price excludes VAT (USA)
Tax calculation will be finalised during checkout.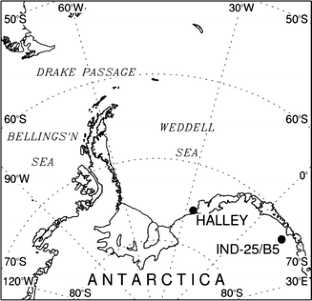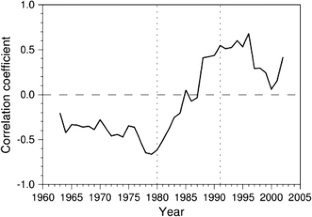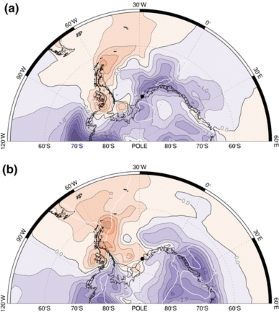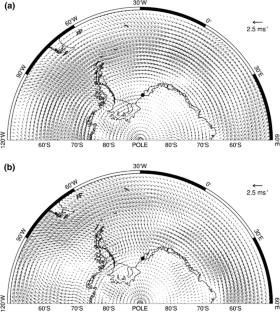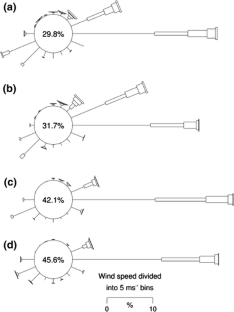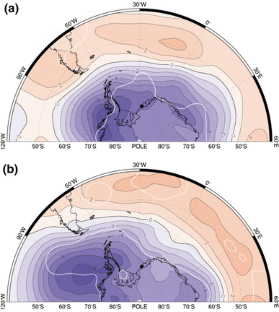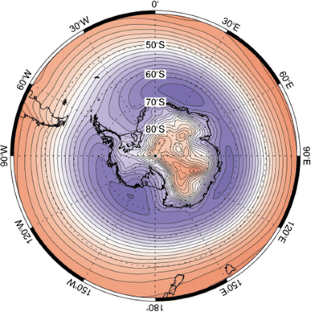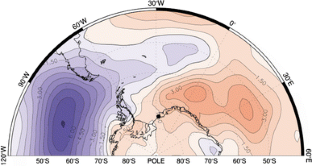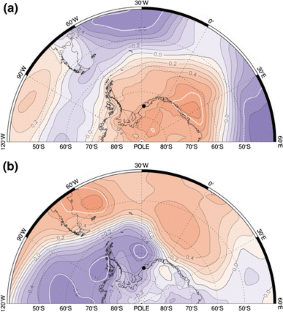 References
Arblaster JM, Meehl GA (2006) Contributions of external forcings to Southern Annular Mode trends. J Clim 19:2896–2905

Bromwich DH, Fogt RL (2004) Strong trends in the skill of the ERA-40 and NCEP–NCAR reanalyses in the high and midlatitudes of the Southern Hemisphere, 1958–2001. J Clim 17:4603–4619

Connolley WM (1997) Variability in annual mean circulation in southern high latitudes. Clim Dyn 13:745–756

Coplen TB (1996) More uncertainty than necessary. Paleoceanography 11:569–570

Fogt RL, Perlwitz J, Monaghan AJ, Bromwich DH, Jones JM, Marshall GJ (2009) Historical SAM variability. Part II: 20th Century SAM variability and trends from reconstructions, observations, and the IPCC AR4 models. J Clim. doi:10.1175/2009JCLI2786.1

Fyfe JC, Lorenz DJ (2005) Characterizing midlatitude jet variability: lessons from a simple GCM. J Clim 18:3400–3404

Jones JM, Widmann M (2004) Early peak in Antarctic oscillation index. Nature 432:290–291

Jones JM, Fogt RL, Widmann M, Marshall GJ, Jones PD, Visbeck M (2009) Historical SAM variability. Part I: century length seasonal reconstructions. J Clim. doi:10.1175/2009JCLI2785.1

King JC (1989) Low-level wind profiles at an Antarctic coastal station. Ant Sci 1:169–178

Kwok R, Comiso JC (2002) Spatial patterns of variability in Antarctic surface temperature: connections to the Southern Hemisphere Annular Mode and the Southern Oscillation. Geophys Res Lett 29. doi:10.1029/2002GL015415

L'Heureux ML, Thompson DWJ (2006) Observed relationships between the El-Niño-Southern Oscillation and the extratropical zonal-mean circulation. J Clim 19:276–287

Marshall GJ (2003) Trends in the Southern Annular Mode from observations and reanalyses. J Clim 16:4134–4143

Marshall GJ (2007) Half-century seasonal relationships between the Southern Annular Mode and Antarctic temperatures. Int J Climatol 27:373–383

Marshall GJ, Orr A, van Lipzig NPM, King JC (2006) The impact of a changing Southern Hemisphere Annular Mode on Antarctic Peninsula summer temperatures. J Clim 19:5388–5404

Miller RL, Schmidt GA, Shindell DT (2006) Forced annular variations in the 20th Century Intergovernmental Panel on Climate Change Fourth Assessment Report models. J Geophys Res 111. doi:10.1029/2005JD006323

Perlwitz J, Pawson S, Fogt RL, Nielsen JE, Neff WD (2008) Impact of stratospheric ozone hole recovery on Antarctic climate. Geophys Res Lett 35. doi:10.1029/2008GL033317

Raphael MN (2004) A zonal wave 3 index for the Southern Hemisphere. Geophys Res Lett 31. doi:10.1029/2004GL020365

Schlosser E, Duda MG, Powers JG, Manning KW (2008) Precipitation regime of Dronning Maud Land, Antarctica, derived from Antarctic Mesoscale Prediction System (AMPS) archive data. J Geophys Res 113. doi:10.1029/2008JD009968

Schneider DP, Noone DC (2007) Spatial covariance of water isotope records in a global network of ice cores spanning twentieth-century climate change. J Geophys Res 112. doi:10.1029/2007JD008652

Schneider DP, Steig EJ, Comiso JC (2004) Recent climate variability in Antarctica from satellite-derived temperature data. J Clim 17:1569–1583

Schneider DP, Steig EJ, van Ommen TD, Dixon DA, Mayewski PA, Jones JM, Bitz CM (2006) Antarctic temperatures over the past two centuries from ice cores. Geophys Res Lett 33. doi:10.1029/2006GL027057

Silvestri G, Vera C (2009) Interdecadal variations of the Southern Annular Mode and its impact on South America. J. Clim. doi:10.1175/2009JCLI3036.1

Son S-W, Polvani LM, Waugh DW, Akiyoshi H, Garcia R, Kinnison D, Pawson S, Rozanov E, Shepherd TG, Shibata K (2008) The impact of ozone recovery on the Southern Hemisphere westerly jet. Science 320:1486–1489

Stammerjohn SE, Martinson DG, Smith RC Yuan X, Rind D (2008) Trends in Antarctic annual sea ice retreat and advance and their relation to EL Niño-Southern Oscillation and Southern Annular Mode variability. J Geophys Res 113. doi:10.1029/2007JC004269

Thompson DWJ, Solomon S (2002) Interpretation of recent Southern Hemisphere climate change. Science 296:895–899

Thompson DWJ, Wallace JM (2000) Annular modes in the extratropical circulation. Part I: month-to-month variability. J Clim 13:1000–1016

Turner J (2004) The El Niño-Southern Oscillation and Antarctica. Int J Climatol 24:1–31

Uppala SM, Kållberg PW, Simmons AJ, Andrae U, da Costa Bechtold V, Fiorino M, Gibson JK, Haseler J, Hernandez A, Kelly GA, Li X, Onogi K, Saarinen S, Sokka N, Allan RP, Andersson E, Arpe K, Balmaseda MA, Beljaars ACM, van de Berg L, Bidlot J, Bormann N, Caires S, Chevallier F, Dethof A, Dragosavac M, Fisher M, Fuentes M, Hagemann S, Hólm E, Hoskins BJ, Isaksen L, Janssen PAEM, Jenne R, McNally AP, Mahfouf J-F, Morcrette J-J, Rayner NA, Saunders RW, Simon P, Sterl A, Trenberth KE, Untch A, Vasiljevic D, Viterbo P, Woollen J (2005) The ERA-40 re-analysis. Quart J Roy Met Soc 131:2961–3012

van den Broeke MR, van Lipzig NPM (2003) Response of wintertime Antarctic temperatures to the Antarctic Oscillation: results of a regional climate model. In: Domack E, Leventer A, Burnett A, Bindschadler R, Convey P, Kirby M (eds) Antarctic Peninsula climate variability: historical and paleoenvironmental perspectives, Ant Res Ser 79. AGU, Washington, DC, pp 43–58

van den Broeke M, van Lipzig N, Marshall G (2004) On Antarctic climate and change. Weather 59:3–7

Visbeck M (2009) A station-based Southern Annular Mode index from 1884 to 2005. J Clim 22:940–950

Yuan X, Martinson DG (2000) Antarctic sea ice extent variability and its global connectivity. J Clim 13:1697–1717
Acknowledgments
We thank Dr. Julie Jones of the University of Sheffield and Dr. Ryan Fogt of Ohio University for supplying their annual SAM indices. In addition we thank the two anonymous referees for their constructive reviews that helped improve the paper.
About this article
Cite this article
Marshall, G.J., Di Battista, S., Naik, S.S. et al. Analysis of a regional change in the sign of the SAM–temperature relationship in Antarctica. Clim Dyn 36, 277–287 (2011). https://doi.org/10.1007/s00382-009-0682-9
Received:

Accepted:

Published:

Issue Date:

DOI: https://doi.org/10.1007/s00382-009-0682-9
Keywords
Antarctica

Temperature

Southern Annular Mode

Variability

Climate change

Atmospheric circulation