Abstract
Relative sea level rise (RSLR) due to climate change and geodynamics represents the main threat for the survival of Venice, emerging today only 90 cm above the Northern Adriatic mean sea level (msl). The 25 cm RSLR occurred over the 20th century, consisting of about 12 cm of land subsidence and 13 cm of sea level rise, has increased the flood frequency by more than seven times with severe damages to the urban heritage. Reasonable forecasts of the RSLR expected to the century end must be investigated to assess the suitability of the Mo.S.E. project planned for the city safeguarding, i.e., the closure of the lagoon inlets by mobile barriers. Here we consider three RSLR scenarios as resulting from the past sea level rise recorded in the Northern Adriatic Sea, the IPCC mid-range A1B scenario, and the expected land subsidence. Available sea level measurements show that more than 5 decades are required to compute a meaningful eustatic trend, due to pseudo-cyclic 7–8 year long fluctuations. The period from 1890 to 2007 is characterized by an average rate of 0.12 ± 0.01 cm/year. We demonstrate that linear regression is the most suitable model to represent the eustatic process over these 117 year. Concerning subsidence, at present Venice is sinking due to natural causes at 0.05 cm/year. The RSLR is expected to range between 17 and 53 cm by 2100, and its repercussions in terms of flooding frequency are associated here to each scenario. In particular, the frequency of tides higher than 110 cm, i.e., the value above which the gates would close the lagoon to the sea, will increase from the nowadays 4 times per year to a range between 20 and 250. These projections provide a large spread of possible conditions concerning the survival of Venice, from a moderate nuisance to an intolerable aggression. Hence, complementary solutions to Mo.S.E. may well be investigated.
This is a preview of subscription content, log in to check access.
Access options
Buy single article
Instant access to the full article PDF.
US$ 39.95
Price includes VAT for USA
Subscribe to journal
Immediate online access to all issues from 2019. Subscription will auto renew annually.
US$ 199
This is the net price. Taxes to be calculated in checkout.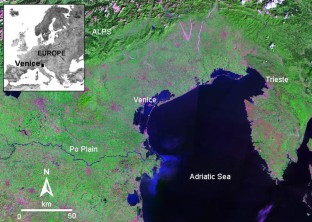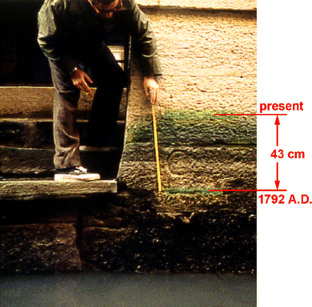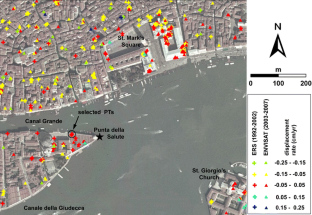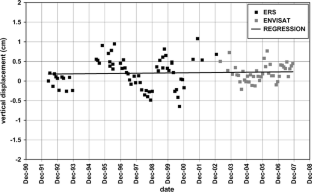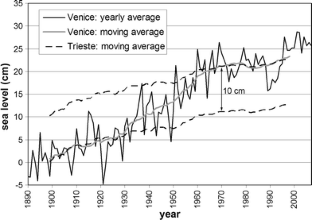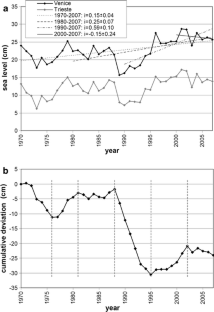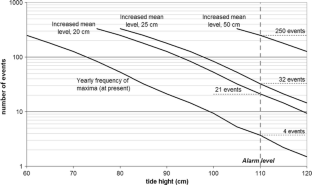 References
Brambati A, Carbognin L, Quaia T, Teatini P, Tosi L (2003) The Lagoon of Venice: geological setting, evolution and land subsidence. Episodes 26:264–268

Camuffo D, Sturaro G (2003) Sixty-cm submersion of Venice discovered thanks to Canaletto's paintings. Clim Change 58:333–343

Carbognin L, Taroni G (1996) Eustasy at Venice and Trieste in the last century (in Italian). Atti Istituto Veneto SSLLAA Classe di Scienze Fis Mat e Nat 154:33–52

Carbognin L, Gatto P, Mozzi G, Gambolati G, Ricceri G (1977) New trend in the subsidence of Venice. In: Rodda JC (ed) Land subsidence. IAHS Publ no 121, Washington, DC, USA, pp 65–81

Carbognin L, Teatini P, Tosi L (2004) Relative land subsidence in the lagoon of Venice, Italy, at the beginning of the new millennium. J Mar Syst 51:345–353

Carbognin L, Teatini P, Tosi L (2005) Land subsidence in the Venetian area: known and recent aspects. Ital J Eng Geol Environ 1:5–11. doi:10.1474/GGA.2005-01.0-01.0001

Castelletto N, Ferronato M, Gambolati G, Putti M, Teatini P (2008) Can Venice be raised by pumping water underground? A pilot project to help decide. Water Resour Res 44:W01408. doi:10.1029/2007WR006177

Cazenave A, Cabanes C, Dominh K, Mangiarotti S (2001) Recent sea level changes in the Mediterranean Sea revealed by TOPEX/Poseidon satellite altimetry. Geophys Res Lett 28:1607–1610

Comerlati A, Ferronato M, Gambolati G, Putti M, Teatini P (2004) Saving Venice by seawater. J Geophys Res 109:F03006. doi:10.1029/2004JF000119

Cooper MJP, Beevers MD, Oppenheimer M (2008) The potential impacts of sea level rise on the coastal region of New Jersey, USA. Clim Change 90:475–492

Gabriel AK, Goldstein RM, Zebker HA (1989) Mapping small elevation changes over large areas: differential radar interferometry. J Geophys Res 94:9183–9191

Gatto P, Carbognin L (1981) The lagoon of Venice: natural environmental trend and man-induced modification. Hydrol Sci Bull 26:379–391

Gentilomo M, Cecconi G (1997) Flood protection system designed for Venice. Hydropower Dams 2:46–52

Gregory JM, Church JA, Boer GJ, Dixon KW, Flato GM, Jackett DR, Lowe JA, O'Farrell SP, Roeckner E, Russell GL, Stouffer RJ, Winton M (2001) Comparison of results from several AOGCMs for global and regional sea-level change 1900–2100. Clim Dyn 18:225–240

Harleman DRF (2002) Saving Venice from the sea. J Hydraul Res 40:81–85

Holgate SJ (2007) On the decadal rates of sea level change during the twentieth century. Geophys Res Lett 34:L01602. doi:10.1029/2006GL028492

Intergovernmental Panel on Climate Change (IPCC) (2007) Climate change 2007: Synthesis Report. IPCC, Geneva, p 52

Jeftic L, Keckes S and Pernetta JC (1996) Implications of future climatic changes for the Mediterranean coastal region. In Climate change and the Mediterranean, vol 2. Edward Arnold, London, pp 1–25

Kent VD, Rio D, Massari F, Kukla G, Lanci L (2002) Emergence of Venice during the Pleistocene. Quat Sci Rev 21:1719–1727

Lionello P, Boldrin U, Giorgi F (2007) Future changes in cyclone climatology over Europe as inferred from a regional climate simulation. Clim Dyn 30:657–671. doi:10.1007/s00382-007-0315-0

Pirazzoli PA, Tomasin A (2008) Sea level and surges in the Adriatic Sea area. Atti Istituto Veneto SSLLAA Classe di Scienze Fis Mat e Nat 166:61–83

Ross T, Garrett C, Le Traon P-Y (2000) Western Mediterranean sea-level rise: changing exchange flow through the Strait of Gibraltar. Geophys Res Lett 27(18):2949–2952

Serandrei-Barbero R, Albani A, Donnici S, Rizzetto F (2006) Past and recent sedimentation rates in the Lagoon of Venice, Northern Italy. Estuar Coast Shelf Sci 69:255–269

Teatini P, Strozzi T, Tosi L, Wegmüller U, Werner C, Carbognin L (2007) Assessing short- and long-time displacements in the Venice coastland by synthetic aperture radar interferometric point target analysis. J Geophys Res 112:F01012. doi:10.1029/2006JF000656

Tosi L, Carbognin L, Teatini P, Strozzi S, Wegmüller U (2002) Evidence of the present relative land stability of Venice, Italy, from land, sea, and space observations. Geophys Res Lett 29:1562. doi:10.1029/2001GL013211

Tosi L, Teatini P, Carbognin L, Brancolini G (2009) Using high resolution data to reveal depth-dependent mechanisms that drive land subsidence: the Venice coast, Italy, Tectonophysics. doi:10.1016/j.tecto.2009.02.026

Tsimplis MN, Baker TF (2000) Sea level drop in the Mediterranean Sea: an indicator of deep water salinity and temperature changes? Geophys Res Lett 27:1731–1734

Tsimplis MN, Josey SA (2001) Forcing of the Mediterranean Sea by atmospheric oscillations over the North Atlantic. Geophys Res Lett 28:803–806

Tsimplis MN, Rixen M (2002) Sea level in the Mediterranean Sea: the contribution of temperature and salinity changes. Geophys Res Lett 29:2136. doi:10.1029/2002GL015870

Zanchettin D, Rubino A, Traverso P, Tomasino M (2009) Teleconnections force interannual-to-decadal tidal variability in the Lagoon of Venice (northern Adriatic). J Geophys Res 114:D07106. doi:10.1029/2008JD011485
Acknowledgments
Part of the study was supported by the CNR "curiosity driven" Project DG.RSTL.080.027 and the INLET Project supported by the Venice Water Authority. ERS and ENVISAT SAR data have been processed by GAMMA Remote Sensing Research and Consulting AG (Switzerland).
About this article
Cite this article
Carbognin, L., Teatini, P., Tomasin, A. et al. Global change and relative sea level rise at Venice: what impact in term of flooding. Clim Dyn 35, 1039–1047 (2010). https://doi.org/10.1007/s00382-009-0617-5
Received:

Accepted:

Published:

Issue Date:
Keywords
Eustatic rise

Northern Adriatic

Geodynamics

Venice

Flooding