Abstract
This study presents the first 19th century cold season climate chronology for the Kingdom of Lesotho in southern Africa. The chronology is constructed using a variety of documentary sources including letters, diaries, reports, monographs and newspaper articles obtained from southern African and British archives. Information relating to cold season weather phenomena during the austral autumn, winter and early spring months were recorded verbatim. Each of the cold seasons from 1833 to 1900 was then classified as "very severe", "severe" or "normal/mild", with a confidence rating ranging from low (1) to high (3) awarded against each annual classification. The accuracy of the document-derived chronology was verified against temperature data for Maseru for the period 1893–1900. Excellent correspondence of the document-derived chronology with the Maseru instrumental data and also with other global proxy temperature records for the 19th century is achieved. The results indicate 12 (18% of the total) very severe, 16 (23%) severe and 40 (59%) normal/mild cold seasons between 1833 and 1900. The overall trend is for more severe and snow-rich cold seasons during the early part of the study period (1833–1854) compared with the latter half of the 19th century (with the exception of the 1880s). A reduction in the duration of the frost season by over 20 days during the 19th century is also tentatively identified. Several severe to very severe cold seasons in Lesotho follow after major tropical and SH volcanic eruptions; such years are usually characterized by early frosts, and frequent and heavy snowfalls. The blocking of solar radiation and the enhanced northward displacement of polar fronts that are directly or indirectly associated with volcanic events, may account for many of the most severe Lesotho winters during the 19th century.
Access options
Buy single article
Instant access to the full article PDF.
US$ 39.95
Tax calculation will be finalised during checkout.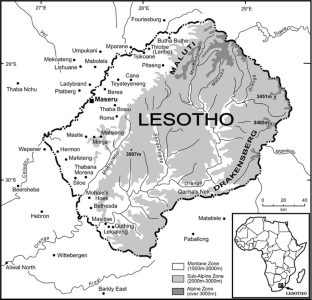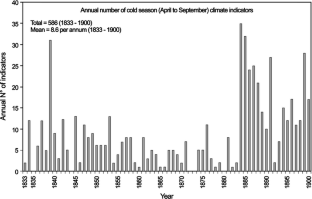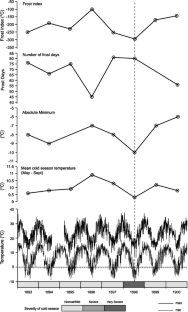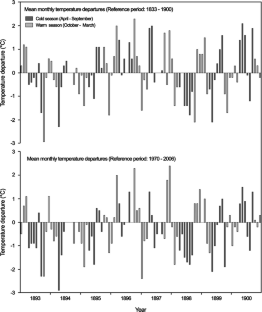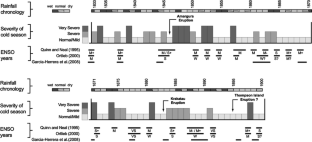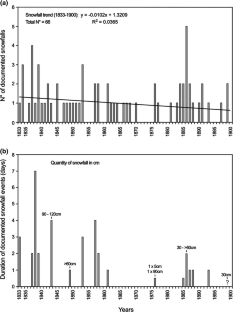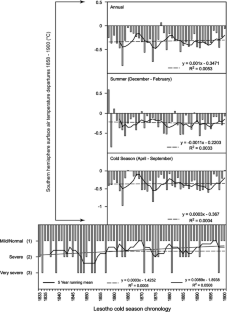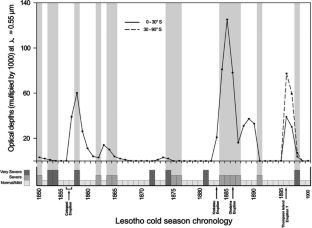 References
Adams JB, Mann ME, Ammann CM (2003) Proxy evidence for an El Niño-like response to volcanic forcing. Nature 426:274–278. doi:10.1038/nature02101

Ammann CM, Meehl GA, Washington WM (2003) A monthly and latitudinally varying volcanic forcing dataset in simulations of 20th century climate. Geophys Res Lett 30:1657. doi:10.1029/2003GL016875

Arbousset T (1842) Voyages d'Exploration aux Montagnes Bleues. Société des Missions Evangéliques, Paris

Arbousset T (1991) Missionary excursion into the Blue Mountains, being an account of King Moshoeshoe's expedition from Thaba-Bosiu to the sources of the Malibamatso River in the year 1840 (edited and translated by Ambrose D and Brutsch A). Unpublished manuscript, Morija Archives, Morija

Arbousset T, Daumas F (1968) Narrative of an exploratory tour to the north–east of the colony of the Cape of Good Hope. Struik, Cape Town

Assel RA (1980) Maximum freezing degree-days as a winter severity index for the Great Lakes, 1897–1977. Mon Weather Rev 108:1440–1445. doi:10.1175/1520-0493(1980)108<1440:MFDDAA>2.0.CO;2

Backhouse J (1844) A narrative of a visit to the Mauritius and South Africa. Hamilton, Adams and Co, London, pp 1–5

Ball T (1992) Historical and instrumental evidence of climate: western Hudson Bay, Canada 1714–1850. In: Bradley RS, Jones PD (eds) Climate since a.d. 1500. Routledge, London, pp 40–73

Ballard C (1986) Drought and economic distress: South Africa in the 1800s. J Interdiscip Hist 17:359–378. doi:10.2307/204770

Barkly F (1894) Among Boers and Basutos. Remington, London

Bertrand C, van Ypersele J-P, Berger A (1999) Volcanic and solar impacts on climate since 1700. Clim Dyn 15:355–367. doi:10.1007/s003820050287

Bodri L, Čermák V (1999) Climate change of the last millennium inferred from borehole temperatures: regional patterns of climatic changes in the Czech Republic—Part III. Global Planet Change 21:225–235. doi:10.1016/S0921-8181(99)00044-2

Böhm RI, Auer M, Brunetti M, Maugeri M, Nanni T, Schöner W (2001) Regional temperature variability in the European Alps: 1760–1998 from homogenized instrumental time series. Int J Climatol 21:1779–1801. doi:10.1002/joc.689

Borisenkov YP (1992) Documentary evidence from the U.S.S.R. In: Bradley RS, Jones PD (eds) Climate since ad 1500. Routledge, London, pp 171–183

Bradley RS (1988) The explosive volcanic eruption signal in northern hemisphere continental temperature records. Clim Change 12:221–243. doi:10.1007/BF00139431

Bradley RS (1991) Pre-instrumental climate: How has climate varied during the past 500 years? In: Schlesinger ME (ed) Greenhouse-gas-induced climatic change: a critical appraisal of simulations and observations. Elsevier, Amsterdam, pp 391–410

Bradley RS (1994) Reconstructions of climate from a.d. 1000 to the present. In: Speranza A, Tibaldi S, Fantechi R (eds) In: Proceedings of the First Demetra Meeting, Chianciano Terme, pp 123–137

Bradley RS (1999) Paleoclimatology: reconstructing climates of the quaternary, 2nd edn. Academic Press, New York

Bradley RS, Jones PD (1992) Climate since AD 1500: introduction. In: Bradley RS, Jones PD (eds) Climate since ad 1500. Routledge, London, pp 1–16

Bradley RS, Jones PD (1993) 'Little Ice Age' summer temperature variations: their nature and relevance to global warming trends. Holocene 3:367–376. doi:10.1177/095968369300300409

Bradley RS, Hughes MK, Diaz HF (2003) Climate in medieval time. Science 302:404–405. doi:10.1126/science.1090372

Briffa KR, Jones PD, Schweingruber FH, Osborn TJ (1998) Influence of volcanic eruptions on Northern Hemisphere summer temperature over the past 600 years. Nature 393:450–454. doi:10.1038/30943

Casalis E (1889) My life in Basutoland: a story of missionary enterprise in South Africa (translated from the French by J Brierley). Religious Tract Society, London

Casty C, Wanner H, Luterbacher J, Esper J, Böhm R (2005) Temperature and precipitation variability in the European Alps since 1500. Int J Climatol 25:1855–1880. doi:10.1002/joc.1216

Chuine I, Yiou P, Viovy N, Seguin B, Daux V, Ladurie EL (2004) Historical phenology: grape ripening as a past climate indicator. Nature 432:289–290. doi:10.1038/432289a

Church JA, White NJ, Arblaster JM (2005) Significant decadal-scale impact of volcanic eruptions on sea level and ocean heat content. Nature 438:74–77. doi:10.1038/nature04237

Collins WW (1907) "Free Statia" or reminiscences of a lifetime in the Orange Free State, South Africa from 1852 to the end of 1875. Friend Printing and Publishing Company, Bloemfontein

Colony of Cape of Good Hope (1875) Blue book for 1874. Saul Solomon and Co, Cape Town

Cook ER, Buckley BM, D'Arrigo RD, Peterson MJ (2000) Warm-season temperatures since 1600 b.c. reconstructed from Tasmanian tree rings and their relationship to large-scale sea surface temperature anomalies. Clim Dyn 16:79–91. doi:10.1007/s003820050006

Cumming RG (1909) The lion hunter of South Africa. John Murray, London

Danziger C (1979) A trader's century: the fortunes of Frasers. Purnell, Cape Town

de Vries J (1977) Histoire du climat et economie: des faits nouveaux, une interpretation differente. Annales: Economie, Sociétés. Civilizations 32:198–228

Dunwiddie PW, La Marche V (1980) A climatologically-responsive tree-ring record from Widdringtonia cedarbergensis, Cape Province, South Africa. Nature 286:796–797. doi:10.1038/286796a0

Ellenberger DF (1912) History of the Basuto: ancient and modern (translated by MacGregor JM). Caxton, London

Endfield GH, Nash DJ (2002) Drought, desiccation and discourse: missionary correspondence and nineteenth century climate change in central southern Africa. Geogr J 168:33–47. doi:10.1111/1475-4959.00036

Fichtler E, Trouet V, Beeckman H, Coppin P, Worbes M (2004) Climatic signals in tree rings of Burkea africana and Pterocarpus angolensis from semiarid forests in Namibia. Trees (Berl) 18:442–451. doi:10.1007/s00468-004-0324-0

Freeman JJ (1851) A tour of South Africa, with notices of Natal, Mauritius, Madagascar, Ceylon, Egypt, and Palestine. John Snow, London

Fritts HC, Shao XM (1992) Mapping climate using tree-rings from western North America. In: Bradley RS, Jones PD (eds) Climate since a.d. 1500. Routledge, London, pp 269–295

Garcia-Herrera R, Diaz HF, Garcia RR, Prieto MR, Barriopedro D, Moyano R, Hernández E (2008) A chronology of El Niño events from primary documentary sources in northern Peru. J Clim 21:1948–1962. doi:10.1175/2007JCLI1830.1

Germond RC (1967) Chronicles of Basutoland: a running commentary on the events of the years 1830–1902 by the French protestant missionaries in Southern Africa. Morija Sesuto Book Depot, Morija

Glaser R, Brázdil R, Pfister C, Dobrovolný P, Vallvé MB, Bokwa A, Camuffo D, Kotyza O, Limanówka D, Rácz L, Rodrigo FS (1999) Seasonal temperature and precipitation fluctuations in selected parts of Europe during the sixteenth century. Clim Change 43:169–200. doi:10.1023/A:1005542200040

Gleckler PJ, Wigley TML, Santer BD, Gregory JM, AchutaRao K, Taylor KE (2006) Krakatoa's signature persists in the ocean. Nature 439:675. doi:10.1038/439675a

Grab SW (1997) Analysis and characteristics of high altitude air temperature data from northern Lesotho: implications for cryogeomorphic occurrences. GeoOkoPlus 4:109–118

Grab SW, Simpson A (2000) Climatic and environmental impacts of cold fronts over KwaZulu-Natal and the adjacent interior of southern Africa. S Afr J Sci 96:602–608

Gray C (1876) Life of Robert Gray, Bishop of Cape Town and Metropolitan of Africa. vol 1. Rivingtons, London. Great Britain (1894) Basutoland: Annual Reports for 1893–94. Colonial Reports—Annual, No. 123. HMSO, London. Great Britain (1895) Basutoland: Annual Reports for 1894–95. Colonial Reports—Annual, No. 152. HMSO, London. Great Britain (1896) Basutoland: Annual Reports for 1895–96. Colonial Reports—Annual, No. 186. HMSO, London. Great Britain (1898) Basutoland: Annual Reports for 1896–97. Colonial Reports—Annual, No. 224. HMSO, London. Great Britain (1899) Basutoland: Annual Reports for 1897–98. Colonial Reports—Annual, No. 255. HMSO, London

Hansen J, Lacis A, Ruedy R, Sato M (1992) Potential climate impact of Mount Pinatubo eruption. Geophys Res Lett 19:215–218. doi:10.1029/91GL02788

Headlam C (1931) The Milner papers: South Africa 1897–1899. Cassell and Company, London

Hughes WS, Balling RC (1996) Urban influences on South African temperature trends. Int J Climatol 16:935–940. doi:10.1002/(SICI)1097-0088(199608)16:8<935::AID-JOC64>3.0.CO;2-V

Hydén L (2002) The influence on summer rainfall in the Lesotho Lowlands from Indian Ocean SSTs. Nord Hydrol 33:305–318

Ingram MJ, Underhill DJ, Farmer G (1981) The use of documentary sources for the study of past climates. In: Wigley TML, Ingram MJ, Farmer G (eds) Climate and history. Cambridge University Press, Cambridge, pp 180–213

IPCC (2007) Summary for Policymakers. In: Qin SD, Manning M, Chen Z, Marquis M, Averyt KB, Tignor M, Miller HL (eds) Climate Change 2007: the physical science basis. Contribution of Working Group I to the Fourth Assessment Report of the Intergovernmental Panel on Climate Change. Cambridge University Press, Cambridge

Jevrejeva S (2001) Severity of winter seasons in the northern Baltic Sea between 1529 and 1990: reconstruction and analysis. Clim Res 17:55–62. doi:10.3354/cr017055

Jones PD, Bradley RS (1992) Climatic variations over the last 500 years. In: Bradley RS, Jones PD (eds) Climate since ad 1500. Routledge, London, pp 649–665

Jones PD, Raper SCB, Wigley TML (1986) Southern hemisphere surface air temperature variations: 1851–1984. J Clim Appl Meteorol 25:1213–1230. doi:10.1175/1520-0450(1986)025<1213:SHSATV>2.0.CO;2

Jones PD, Briffa KR, Schweingruber FH (1995) Tree-ring evidence of the widespread effects of explosive volcanic eruptions. Geophys Res Lett 22:1333–1336. doi:10.1029/94GL03113

Jones PD, Osborn TJ, Briffa KR (1997) Estimating sampling errors in large-scale temperature averages. J Clim 10:2548–2568. doi:10.1175/1520-0442(1997)010<2548:ESEILS>2.0.CO;2

Kelly PM, Jones PD, Pengqun J (1996) The spatial response of the climate system to explosive volcanic eruptions. Int J Climatol 16:537–550. doi:10.1002/(SICI)1097-0088(199605)16:5<537::AID-JOC23>3.0.CO;2-F

Kelso C, Vogel CH (2007) The climate of Namaqualand in the nineteenth century. Clim Change 83:357–380. doi:10.1007/s10584-007-9264-1

King WR (1853) Campaigning in Kaffirland, or scenes and adventures in the Kaffir War of 1851–52. Saunders and Otley, London

Kirby PR (1939) The diary of Dr. Andrew Smith, vol 1. Van Riebeeck Society, Cape Town

Kirby PR (1965) Sir Andrew Smith, M.D., K.C.B.: his life, letters and works. A.A. Balkema, Rotterdam

Koslowski G (1989) Die flächenbezogene Eisvolumensumme, eine neue Masszahl für die Bewertung des Eiswinters an der Ostseeküste Schleswig-Holsteins und ihr Zusammenhang mit dem Charakter des meteorologischen Winters. Ocean Dyn 42:61–80

Koslowski G, Glaser R (1999) Variations in reconstructed ice winter severity in the western Baltic from 1501 to 1995, and their implications for the North Atlantic Oscillation. Clim Change 41:175–191. doi:10.1023/A:1005466226797

La Marche VC, Hirschboek KK Jr (1984) Frost rings in trees as records of major volcanic eruptions. Nature 307:121–126. doi:10.1038/307121a0

Lagden G (1909) The Basutos: the Mountaineers and their Country, vol 1 and 2. Hutchison, London

Lamb HH (1965) The early Medieval warm epoch and its sequel. Palaeogeogr Palaeoclimatol Palaeoecol 1:13–37. doi:10.1016/0031-0182(65)90004-0

Lamb HH (1970) Volcanic dust in the atmosphere; with a chronology and assessment of its meteorological significance. Philos Trans R Soc Lond Ser A 266:425–533. doi:10.1098/rsta.1970.0010

Lamb HH, Johnson AI (1961) Climatic variation and observed changes in the general circulation. Geogr Ann 43:363–400. doi:10.2307/520133

Linsley BK, Wellington GM, Schrag DP (2000) Decadal sea surface temperature variability in the subtropical South Pacific from 1726 to 1997 A.D. Science 290:1145–1148. doi:10.1126/science.290.5494.1145

Lucas TJ (1878) Camp life and sport in South Africa. Chapman and Hall, London

Lye WF (1975) Andrew Smith's Journal of his expedition into the interior of South Africa, 1834–36. A.A. Balkema, Rotterdam

MacIntosh CW (1907) Coillard of the Zambesi. Fisher Unwin, London

Manley G (1959) Mean temperature of Central England 1698–1952. Q J R Meteorol Soc 79:242–261. doi:10.1002/qj.49707934006

Manley G (1974) Central England temperatures: monthly means 1659 to 1973. Q J R Meteorol Soc 100:389–405. doi:10.1002/qj.49710042511

Masiokas M, Villalba R (2004) Climatic significance of intra-annual bands in the wood of Nothofagus pumilio in southern Patagonia. Trees (Berl) 18:696–704. doi:10.1007/s00468-004-0355-6

Moeletsi ME (2004) Agroclimatic Characterization of Lesotho for Dryland Maize Production. Unpublished M.Sc. thesis, University of the Free State, Bloemfontein

Montgomery HH (1925) Francis Balfour of Basutoland. Society for the Propagation of the Gospel in Foreign Parts, London

Mühlenbruch-Tegen A (1992) Long-term surface temperature variations in South Africa. S Afr J Sci 88:197–205

Mulder N, Grab SW (2009) Contemporary spatio-temporal patterns of snow cover over the Drakensberg. S Afr J Sci (in review)

Nash DJ, Endfield GH (2002a) A nineteenth century climate chronology for the Kalahari region of central southern Africa derived from missionary correspondence. Int J Climatol 22:821–841. doi:10.1002/joc.753

Nash DJ, Endfield GH (2002b) Historical flows in the dry valleys of the Kalahari identified from missionary correspondence. S Afr J Sci 98:244–248

Nash DJ, Endfield GH (2008) 'Splendid rains have fallen': Links between El Niño and rainfall variability in the Kalahari, 1840–1900. Clim Change 86:257–290. doi:10.1007/s10584-007-9274-z

Nash DJ, Grab SW (2009) 'A sky of brass and burning winds': documentary evidence of rainfall variability in the kingdom of Lesotho, southern Africa, 1824–1900. Clim Change (in review)

Nicholson SE (1978) Climatic variations in the Sahel and other African regions during the past five centuries. J Arid Environ 1:3–24

Nicholson SE (1979) The methodology of historical climatic reconstruction and its application to Africa. J Afr Hist 20:31–49. doi:10.1017/S0021853700016704

Nicholson SE (1981) The historical climatology of Africa. In: Wigley T, Ingram M, Farmer G (eds) Climate and history. Cambridge University Press, Cambridge, pp 249–270

Nicholson SE (1995) Environmental change within the historical period. In: Adams WM, Goudie AS, Orme AR (eds) The physical geography of Africa. Oxford University Press, Oxford, pp 60–87

Nicholson SE (2000) The nature of rainfall variability over Africa on time scales of decades to millennia. Global Planet Change 26:137–158. doi:10.1016/S0921-8181(00)00040-0

Nicholson SE (2001) Climatic and environmental change in Africa during the last two centuries. Clim Res 17:123–144. doi:10.3354/cr017123

Ogilvie A (1992) Documentary evidence for changes in the climate of Iceland, a.d. 1500–1800. In: Bradley RS, Jones PD (eds) Climate since a.d. 1500. Routledge, London, pp 92–117

Oppenheimer C (2003) Climatic, environmental and human consequences of the largest known historic eruption: Tambora volcano (Indonesia) 1815. Prog Phys Geogr 27:230–259. doi:10.1191/0309133303pp379ra

Ortlieb L (2000) The documented historical record of El Niño events in Peru: an update of the Quinn record (Sixteenth through Nineteenth centuries). In: Diaz HF, Markgraf V (eds) El Niño and the southern oscillation. Multiscale variability and global and regional impacts. Cambridge University Press, Cambridge, pp 207–295

Palmer JG, Xiong L (2004) New Zealand climate over the last 500 years reconstructed from Libocedrus bidwillii Hook. F. tree-ring chronologies. Holocene 14:282–289. doi:10.1191/0959683604hl679rr

Parker DE, Legg TP, Folland CK (1992) A new daily Central England temperature series, 1772–1991. Int J Climatol 12:317–342. doi:10.1002/joc.3370120402

Pfister C (1984) Das Klima der Schweiz von 1525 bis 1863 und seine Bedeutung in der Geschichte von Bevolkerung und Landwirtschaft. Habil Schrift, University of Bern, Bern

Pfister C, Schwarz-Zanetti G, Wegmann M (1996) Winter severity in Europe: the fourteenth century. Clim Change 34:91–108. doi:10.1007/BF00139255

Pfister C, Luterbacher J, Schwarz-Zanetti G, Wgmenn M (1998) Winter air temperature variations in western Europe during the Early and High Middle Ages (ad 750–1300). Holocene 8:535–552. doi:10.1191/095968398675289943

Pfister C, Brázdil R, Glaser R, Barriendos M, Camuffo D, Deutsch M, Dobrovolný P, Enzi S, Guidoboni E, Kotyza O, Militzer S, Rácz L, Rodrigo FS (1999) Documentary evidence on climate in sixteenth century Europe. Clim Change 43:55–110. doi:10.1023/A:1005540707792

Quinn WH, Neal VT (1995) The historical record of El Niño events. In: Bradbury RS, Jones P (eds) Climate since ad 1500 (revised edition). Chapman and Hall, London, pp 623–648

Rampino MR, Self S, Stothers RB (1988) Volcanic winters. Annu Rev Earth Planet Sci 16:73–99. doi:10.1146/annurev.ea.16.050188.000445

Repapis CC, Schuurmans CJE, Zerefos CS, Ziomas J (1989) A note on the frequency of occurrence of severe winters as evidenced in monastery and historical records from Greece during the period 1200–1900 a.d. Theor Appl Climatol 39:213–217. doi:10.1007/BF00867950

Robock A, Mao J (1992) Winter warming from large volcanic eruptions. Geophys Res Lett 19:2405–2408. doi:10.1029/92GL02627

Robock A, Mao J (1995) The volcanic signal in surface temperature observations. J Clim 8:1086–1103. doi:10.1175/1520-0442(1995)008<1086:TVSIST>2.0.CO;2

Salinger MJ (1980) The New Zealand temperature series. Clim Monit 9:112–118

Sato M, Hansen JE, McCormick MP, Pollack JB (1993) Stratospheric aerosol optical depths 1850–1990. J Geophys Res 98(D12):22987–22994. doi:10.1029/93JD02553

Sauer JW, Theal GM (1883) Basutoland records: copies of official documents of various kinds, accounts of travellers, etc, vol 1. WA Richards and Sons, Cape Town, pp 1833–1852

Schulze RE (1997) South African atlas of agrohydrology and -climatology. Report TT82/96, Water Research Commission, Pretoria

Sene KJ, Jones DA, Meigh JR, Farquharson FAK (1998) Rainfall and flow variations in the Lesotho Highlands. Int J Climatol 18:329–345. doi:10.1002/(SICI)1097-0088(19980315)18:3<329::AID-JOC251>3.0.CO;2-5

Smith EW (1996) The Mabilles of Basutoland. Morija Museums and Archives, Morija

Stommel H, Stommel E (1983) Volcano weather. RI: Stevens Seas, Newport

Talma AS, Vogel JC (1992) Late Quaternary paleotemperatures derived from a speleothem from Cango Caves, Cape Province, South Africa. Quat Res 37:203–213. doi:10.1016/0033-5894(92)90082-T

Tarussov A (1992) The Arctic and Svalbard to Severnaya Zemlya: climatic reconstructions from ice cores. In: Bradley RS, Jones PD (eds) Climate since a.d. 1500. Routledge, London, pp 505–516

Taylor BL, Gal-Chen T, Schneider S (1980) Volcanic eruptions and long-term temperature records: An empirical search for cause and effect. Q J R Meteorol Soc 106:175–199. doi:10.1002/qj.49710644712

Theal GM (1908) History of South Africa since September 1795, vol 1 and 3. Swan Sonnenschein & Co, London

Therrell MD, Stahle DW, Ries LP, Shugart HH (2006) Tree-ring reconstructed rainfall variability in Zimbabwe. Clim Dyn 26:677–685. doi:10.1007/s00382-005-0108-2

Tylden G (1950) The rise of the Basuto. Juta & Co, Cape Town

Tyson PD (1986) Climatic change and variability in Southern Africa. Oxford University Press, Cape Town

Tyson PD, Lindesay JA (1992) The climate of the last 2000 years in southern Africa. Holocene 2:271–278. doi:10.1177/095968369200200310

Tyson PD, Preston-Whyte RA (2000) The weather and climate of Southern Africa. Oxford University Press, Cape Town

Tyson PD, Preston-Whyte RA, Schulze RE (1976) The climate of the Drakensberg. Natal Town and Regional Planning Commission, Pietermaritzburg

Tyson PD, Mason SJ, Jones MQW, Cooper GRJ (1998) Global warming and geothermal profiles: the surface rock-temperature response in South Africa. Geophys Res Lett 25:2711–2713. doi:10.1029/98GL01990

Vogel CH (1988a) Climatic change in the Cape Colony, 1820–1900. S Afr J Sci 84:11

Vogel CH (1988b) 160 years of rainfall in the Cape—has there been a change? S Afr J Sci 84:724–726

Vogel CH (1989) A documentary-derived climatic chronology for southern Africa, 1820–1900. Clim Change 14:291–306. doi:10.1007/BF00134967

Weather Bureau (1991) CAELUM—a history of notable weather events in South Africa: 1500–1990. The Weather Bureau, Pretoria

Widdicombe J (1891) Fourteen years in Basutoland: a sketch of African Mission Life. Church Printing Company, London

Widdicombe J (1895) In the Lesuto: A sketch of African mission life. Society for Promoting Christian Knowledge, London

Wigley TML, Ammann CM, Santer BD, Raper SCB (2005) Effect of climate on the response to volcanic forcing. J Geophys Res 110:D09107. doi:10.1029/2004JD005557

Wilson AT, Hendy CH, Reynolds CP (1979) Short-term climate change and New Zealand temperatures during the last millennium. Nature 279:315–317. doi:10.1038/279315a0

Zhang D, Liu C (1987) Reconstruction of summer temperature series (1724–1903) in Beijing. Kexue Tongbao 32:1046–1049

Zinke J, W-Chr Dullo, Heiss GA, Eisenhauer A (2004) ENSO and Indian Ocean subtropical dipole variability is recorded in a coral record off southwest Madagascar for the period 1659 to 1995. Earth Planet Sci Lett 228:177–194. doi:10.1016/j.epsl.2004.09.028
Acknowledgments
This research was funded by British Academy Small Grant SG-40838. The Council for World Mission, United Society for the Propagation of the Gospel, and the Département Français pour l'Action Apostolique are thanked for their permission to use quotations. Extracts from Wesleyan Methodist Missionary Society materials are copyright of the Trustees for Methodist Church Purposes in Great Britain, and are used with permission. Prof. David Ambrose gave considerable help in locating documentary sources, and Dr Stephanie Mills and Ms Puleng Morake provided invaluable assistance during the analysis of French and Sesotho-language materials. Ricardo Garcia-Herrera is thanked for providing us with access to the chronological list and description of historical El Niño events in northern Peru. Wendy Phillips kindly assisted in preparing several of the Figures. Thanks to the staff at the Special Collections Reading Room (SOAS, University of London), Bodleian Library of Commonwealth and African Studies at Rhodes House (University of Oxford), Lesotho National Archive (Maseru) and the Morija Museum and Archives for their help. Finally, we would like to express our appreciation to the anonymous referees who provided valuable comments and suggestions on an earlier draft of the paper.
About this article
Cite this article
Grab, S.W., Nash, D.J. Documentary evidence of climate variability during cold seasons in Lesotho, southern Africa, 1833–1900. Clim Dyn 34, 473–499 (2010). https://doi.org/10.1007/s00382-009-0598-4
Received:

Accepted:

Published:

Issue Date:
Keywords
Cold season chronology

19th century

Lesotho

Volcanic forcing