Abstract
We carry out climate simulations for 1880–2003 with GISS modelE driven by ten measured or estimated climate forcings. An ensemble of climate model runs is carried out for each forcing acting individually and for all forcing mechanisms acting together. We compare side-by-side simulated climate change for each forcing, all forcings, observations, unforced variability among model ensemble members, and, if available, observed variability. Discrepancies between observations and simulations with all forcings are due to model deficiencies, inaccurate or incomplete forcings, and imperfect observations. Although there are notable discrepancies between model and observations, the fidelity is sufficient to encourage use of the model for simulations of future climate change. By using a fixed well-documented model and accurately defining the 1880–2003 forcings, we aim to provide a benchmark against which the effect of improvements in the model, climate forcings, and observations can be tested. Principal model deficiencies include unrealistically weak tropical El Nino-like variability and a poor distribution of sea ice, with too much sea ice in the Northern Hemisphere and too little in the Southern Hemisphere. Greatest uncertainties in the forcings are the temporal and spatial variations of anthropogenic aerosols and their indirect effects on clouds.
Access options
Buy single article
Instant access to the full article PDF.
USD 39.95
Price excludes VAT (USA)
Tax calculation will be finalised during checkout.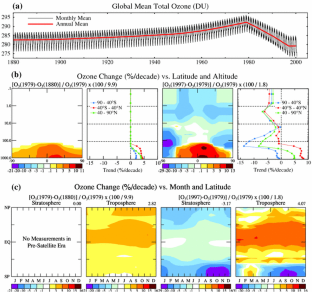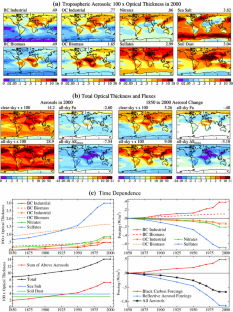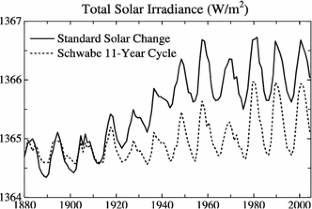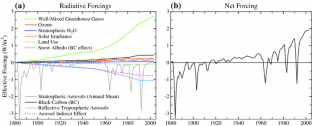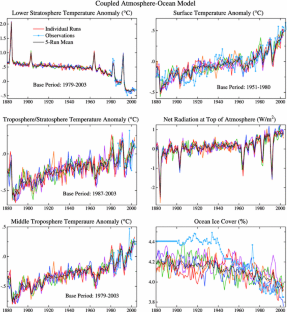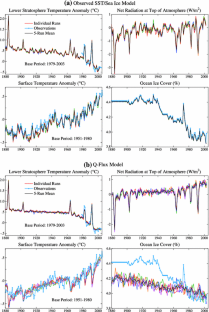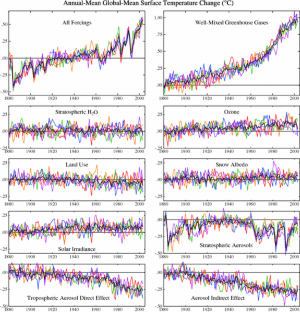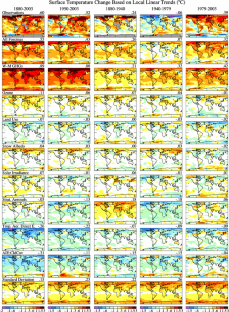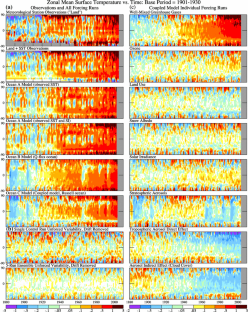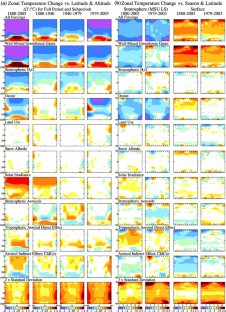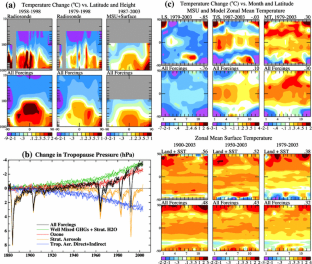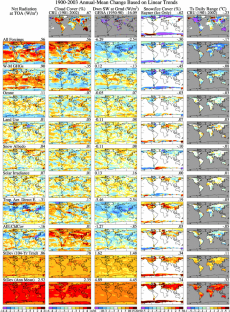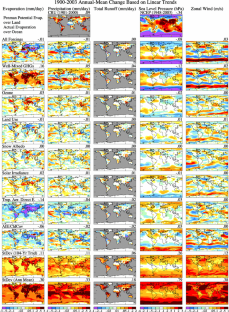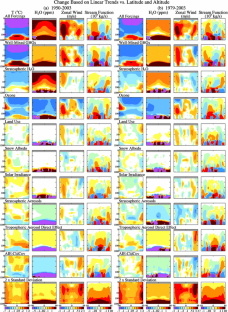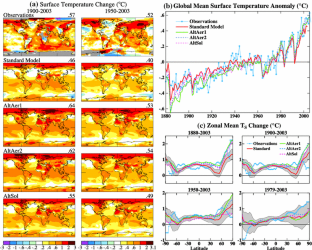 References
Andreae MO, Jones CD, Cox PM (2005) Strong present-day aerosol cooling implies a hot future. Nature 435:1187–1190

Andreae MO, Gelencser A (2006) Black carbon or brown carbon? The nature of light-absorbing carbonaceous aerosols. Atmos Chem Phys 6:3131–3148

Baldwin MP, Dunkerton TJ (2005) The solar cycle and stratosphere-troposphere dynamical coupling. J Atmos Sol Terr Phys 67:71–82

Bauer SE, D Koch (2005) Impact of heterogeneous sulfate formation at mineral dust surfaces on aerosol loads and radiative forcing in the Goddard Institute for Space Studies general circulation model. J Geophys Res 110:D17202. doi:10.1029/2005JD005870

Betts RA (2001) Biogeophysical impacts of land use on present-day climate: Near-surface temperature and radiative forcing. Atmos Sci Lett 2:39–51

Bitz CM, Goosse H (2006) Transient polar amplification in twentieth century observations and climate simulations. Geophys Res Lett (submitted). Accessed 24 Jan 2007 at http://www.atmos.washington.edu/∼bitz/bitz_goosse.pdf

Bleck R (2002) An oceanic general circulation model framed in hybrid isopycnic-Cartesian coordinates. Ocean Model 4:55–88

Bohren CF (1986) Applicability of effective-medium theories to problems of scattering and absorption by nonhomogeneous atmospheric particles. J Atmos Sci 43:468–475

Bond TC, Streets DG, Yarber KF, Nelson SM, Woo JH, Klimont Z (2004) A technology-based global inventory of black and organic carbon emissions from combustion. J Geophys Res 109:D14203. doi:10.1029/2003JD003697

Cai W, Whetton PH, Karoly DJ (2003). The response of the Antarctic Oscillation to increasing and stabilized atmospheric CO2. J Clim 16:1525–1538

Cane MA, Clement AC, Kaplan A, Kushnir Y, Pozdnyakov D, Seager R, Zebiak SE, Murtugudde R (1997) Twentieth century sea surface temperature trends. Science 275:957–960

Carril AF, Menendez CG, Navarra A (2005) Climate response associated with the Southern Annular Mode in the surroundings of Antarctic Peninsula: A multimodel ensemble analysis. Geophys Res Lett 32:L16713. doi:10.1029/2005GL023581

Chapin FS et al (2005) Role of land-surface changes in Arctic summer warming. Science 310:657–660

Che HZ, Shi GY, Zhang XY, Arimoto R, Zhao JQ, Xu L, Wang B, Chen ZH (2005) Analysis of 40 years of solar radiation data from China, 1961–2000. Geophys Res Lett 32:L06803. doi:10.1029/2004GL022322

Christy JR, Spencer RW, Braswell WD (2000) MSU tropospheric temperatures: Data set construction and radiosonde comparisons. J Atmos Oceanic Technol 17:1153–1170

Chylek P, Videen G, Ngo D, Pinnick RG, Klett JD (1995) Effect of black carbon on the optical properties and climate forcing of sulfate aerosols. J Geophys Res 100:16325–16332

Clarke AD, Noone KJ (1985) Soot in the Arctic snowpack: a cause for perturbations in radiative transfer. Atmos Environ 19:2045–2053

Cohen S, Liepert B, Stanhill G (2004) Global dimming comes of age. EOS Trans Amer Geophys Union 85:362

Collins M et al (2005) El Nino or La Nina-like climate change?. Clim Dyn 24:89–104

Collins WD et al (2006) Radiative forcing by well-mixed greenhouse gases: Estimates from climate models in the IPCC AR4. J Geophys Res 111:D14317. doi:10.1029/2005JD006713

Cook ER, Woodhouse C, Eakin CM, Meko DM, Stahle DW (2004) Long-term aridity changes in the western United States. Science 306:1015–1018

Del Genio AD, Kovari W, Yao MS, Jonas J (2005) Cumulus microphysics and climate sensitivity. J Clim 18:2376–2387

Delworth TL, Ramaswamy V, Stenchikov GL (2005) The impact of aerosols on simulated ocean temperature and heat content in the 20th century. Geophys Res Lett 32:L24709. doi:10.1029/2005GL024457

Dubovik O, Holben B, Eck TF, Smirnov A, Kaufman YJ, King MD, Tanré D, Slutsker I (2002) Variability of absorption and optical properties of key aerosol types observed in world-wide locations, J Atmos Sci 59:590–608

Eddy J (1976) The Maunder minimum. Science 192:1189–1202

Fleming EL, Jackman CH, Stolarski RS, Considine DB (1999) Simulation of stratospheric tracers using an improved empirically based two-dimensional model transport formulation. J Geophys Res 104:23911–23934

Foley JA et al (2005) Global consequences of land use. Science 309:570–574

Forest CE, Stone PH, Sokolov AP (2006) Estimated PDFs of climate system properties including natural and anthropogenic forcings. Geophys Res Lett 33:L01705. doi:10.1029/2005GL023977

Free M, Seidel DJ (2005) Causes of differing temperature trends in radiosonde upper air data sets. J Geophys Res 110:D07101. doi:10.1029/2004JD005481

Fu Q, Johanson CM (2005) Satellite-derived vertical dependence of tropical tropospheric temperature trends. Geophys Res Lett 32:L10703. doi:10.1029/2004GL022266

Fyfe JC, Boer GJ, Flato GM (1999) The Arctic and Antarctic Oscillations and their projected changes under global warming. Geophys Res Lett 26:1601–1604

Gauss M et al (2003) Radiative forcing in the 21st century due to ozone changes in the troposphere and lower stratosphere. J Geophys Res 108(D9):4292. doi:10.1029/2002JD002624

Gent PR, Willebrand J, McDougall TJ, McWilliams JC (1995) Parameterizing eddy-induced tracer transports in ocean circulation models. J Phys Oceanogr 25:463–474

Gilgen H, Wild M, Ohmura A (1998) Means and trends of shortwave irradiance at the surface estimated from global energy balance archive data. J Clim 11:2042–2061

Gillett NP, Thompson DWJ (2003) Simulation of recent Southern Hemisphere climate change. Science 302:273–275

Grenfell TC, Light B, Sturm B (2002) Spatial distribution and radiative effects of soot in the snow and sea ice during the SHEBA experiment. J Geophys Res 107(C10):8031. doi:10.1029/2000JC000414

Griffies SM (1998) The Gent-McWilliams skew flux. J Phys Oceanogr 28:831–841

Haigh JD (1994) The role of stratospheric ozone in modulating the solar radiative forcing of climate. Nature 370:544–546

Hansen J, Nazarenko L (2004). Soot climate forcing via snow and ice albedos. Proc Natl Acad Sci 101:423–428

Hansen J, Sato M (2004) Greenhouse gas growth rates. Proc Natl Acad Sci 101:16109–16114

Hansen J, Lacis A, Rind D, Russell G, Stone P, Fung I, Ruedy R, Lerner J (1984) Climate sensitivity: Analysis of feedback mechanisms. In: Hansen JE, Takahashi T (eds) Climate processes and climate sensitivity, Geophys Monograph Series No. 29. American Geophysical Union, Washington, pp 130–163

Hansen J, Lacis A, Ruedy R, Sato M, Wilson H (1993) How sensitive is the world's climate?. Natl Geogr Res Explor 9:142–158

Hansen J et al (1997a) Forcings and chaos in interannual to decadal climate change. J Geophys Res 102:25679–25720

Hansen J, Sato M, Ruedy R (1997b) Radiative forcing and climate response. J Geophys Res 102:6831–6864

Hansen JE, Sato M, Lacis A, Ruedy R, Tegen I, Matthews E (1998a) Climate forcings in the Industrial Era. Proc Natl Acad Sci 95:12753–12758

Hansen JE, Sato M, Ruedy R, Lacis A, Glascoe J (1998b) Global climate data and model: a reconciliation. Science 281:930–932

Hansen J, Ruedy R, Sato M, Imhoff M, Lawrence W, Easterling D, Peterson T, Karl T (2001) A closer look at United States and global surface temperature change. J Geophys Res 106:23947–23963

Hansen J et al (2002) Climate forcings in Goddard Institute for Space Studies SI2000 simulations. J Geophys Res 107(D18):4347. doi:10.1029/2001JD001143

Hansen J, Bond T, Cairns B, Gaeggler H, Liepert B, Novakov T, Schichtel B (2004) Carbonaceous aerosols in the Industrial Era. EOS Trans Am Geophys Union 85:241, 244

Hansen J et al (2005a) Efficacy of climate forcings. J Geophys Res 110:D18104. doi:10.1029/2005JD005776

Hansen J et al (2005b) Earth's energy imbalance: confirmation and implications. Science 308:1431–1435

Hansen J, Sato M, Ruedy R, Lo K, Lea DW, Medina-Elizade M (2006a) Global temperature change. PNAS 103:14288–14293

Hansen J et al (2006b) Dangerous human-made interference with climate: A GISS modelE study. Atmos Chem Phys Discuss 6:12549–12610

Hartmann DL, Wallace JM, Limpasuvan V, Thompson DWJ, Holton JR (2000) Can ozone depletion and global warming interact to produce rapid climate change? Proc Natl Acad Sci 97:1412–1417

Harvey LDD (2000) Global warming: the hard science. Prentice Hall, Englewood Cliffs, 336 pp

Harvey LDD, Kaufmann RK (2002) Simultaneously constraining climate sensitivity and aerosol radiative forcing. J Clim 15:2837–2861

Harvey LDD (2004) Characterizing the annual-mean climatic effect of anthropogenic CO2 and aerosol emissions in eight coupled atmosphere–ocean GCMs. Clim Dyn 23:569–599

Held IM, Soden BJ (2006) Robust responses of the hydrological cycle to global warming. J Clim 19:5686–5699

Hoffert MI, Covey C (1992) Deriving global climate sensitivity from paleoclimate reconstructions. Nature 360:573–576

Holben BN et al (2001) An emerging ground-based aerosol climatology: Aerosol optical depth from AERONET. J Geophys Res 106:12067–12098

Hoyt D, Schatten K (1993) A discussion of plausible solar irradiance variations. J Geophys Res 98:18895–18906

Intergovernmental Panel on Climate Change (IPCC) (1996) Climate Change 1995: The Science of Climate Change. Houghton JT, Meira Filho LG, Callender BA, Harris, N, Kattenberg, Maskell K (eds) Cambridge University Press, Cambridge

Intergovernmental Panel on Climate Change (IPCC) (2001) Climate Change 2001: The Scientific Basis. Houghton JT, Ding Y, Griggs DJ, Noguer M, van der Linden PJ, Dai X, Maskell K, Johnson CA (eds) Cambridge University Press, Cambridge

Johannessen OM et al (2004) Arctic climate change: Observed and modeled temperature and sea-ice variability. Tellus 56A:328–341

Jones PD, New M, Parker DF, Martin S, Rigor LG (1999) Surface air temperature and its changes over the past 150 years. Rev Geophys 37:173–199

Kalnay E et al (1996) The NCEP/NCAR 40-year reanalysis project. Bull Am Meteorol Soc 77:437–471

Karl TR, Jones PD, Knight RW, Kukla G, Plummer N, Razyiuvayev V, Gallo KP, Lindseay J, Charlson RJ, Peterson TC (1993) A new perspective on recent global warming—asymmetric trends of daily maximum and minimum temperature. Bull Am Meteorol Soc 74:1007–1023

Karl TR, Hassol SJ, Miller CD, Murray WL (eds) (2006) Temperature trends in the lower atmosphere: Steps for understanding and reconciling differences—Synthesis and assessment product 1.1. Climate Change Science Program and the Subcommittee on Global Change Research, Washington DC. Accessed 24 Jan 2007 at http://www.climatescience.gov/Library/sap/sap1-1/finalreport/

Kim DH, Nakashiki N, Yoshida Y, Maruyama K, Bryan FO (2005) Regional cooling in the South Pacific sector of the Southern Ocean due to global warming. Geophys Res Lett 32:L19607. doi:10.1029/2004GL023708

Kindem IT, B Christiansen (2001) Tropospheric response to stratospheric ozone loss. Geophys Res Lett 28:1547–1550

Kirchstetter TW, Novakov T, Hobbs PH (2004) Evidence that the spectral dependence of light absorption by aerosols is affected by organic carbon. J Geophys Res 109:D21208. doi:10/1029/2004JD004999

Knutson TR, Manabe S (1995) Time-mean response over the Tropical Pacific to increased CO2 in a coupled ocean–atmosphere model. J Clim 8:2181–2199

Koch D (2001) Transport and direct radiative forcing of carbonaceous and sulfate aerosols in the GISS GCM. J Geophys Res 106:20311–20332

Koch D, Hansen J (2005) Distant origins of Arctic black carbon: A Goddard Institute for Space Studies ModelE experiment. J Geophys Res 110:D04204. doi:10.1029/2004JD005296

Kushner PJ, Held IM, Delworth TL (2001) Southern Hemisphere atmospheric circulation response to global warming. J Clim 14:2238–2249

Lacis A, Hansen J, Sato M (1992) Climate forcing by stratospheric aerosols. Geophys Res Lett 19:1607–1610

Large WG, McWilliams JC, Doney SC (1994) Oceanic vertical mixing: a review and a model with a nonlocal boundary layer parameterization. Rev Geophys 32:363–403

Lean J (2000) Evolution of the sun's spectral irradiance since the Maunder Minimum. Geophys Res Lett 27:2425–2428

Lean JL, Wang YM, Sheeley NR (2002) The effect of increasing solar activity on the Sun's total and open magnetic flux during multiple cycles: implications for solar forcing of climate. Geophys Res Lett 29(24):2224. doi:10.1029/2002GL015880

Lohmann U, Feichter J (2005) Global indirect aerosol effects: A review. Atmos Chem Phys 5:715–737

Levitus S, Anatov JI, Boyer TP (2005) Warming of the world ocean, 1955–2003. Geophys Res Lett 322:L02604. doi:10.1029/2004GL021592

Liao H, Seinfeld JH, Adams PJ, Mickley LJ (2004) Global radiative forcing of coupled tropospheric ozone and aerosols in a unified general circulation model. J Geophys Res 109:D16207. doi:10.1029/2003JD004456

Liepert BG (2002) Observed reductions of surface solar radiation at sites in the United States and worldwide from 1961 to 1990. Geophys Res Lett 29(10):1421. doi:10.1029/2002GL014910

Liepert BG, Tegen I (2002) Multidecadal solar radiation trends in the United States and Germany and direct tropospheric aerosol forcing. J Geophys Res 107(D12):4153. doi:10.1029/2001JD000760

Liousse C, Penner JE, Chuang C, Walton JJ, Eddleman H, Cachier H (1996) A global thre-dimensional model study of carbonaceous aerosols. J Geophys Res 101:19411–19432

Liu J, Schmidt GA, Martinson DG, Rind D, Russell GL, Yuan X (2003) Sensitivity of sea ice to physical parameterizations in the GISS global climate model. J Geophys Res 108(C2):3053. doi:10.1029/2001JC001167

Lyman JM, Willis JK, Gregory GC (2006) Recent cooling of the upper ocean. Geophys Res Lett 33:L18604. doi:10.1029/2006GL027033

Manabe S, Stouffer RJ, Spelman MJ, Bryan K (1991) Transient responses of a coupled ocean–atmosphere model to gradual changes of atmospheric CO2, Part I: Annual mean response. J Clim 4:785–818

Mears CA, Wentz FJ (2005) The effect of diurnal correction on satellite-derived lower tropospheric temperature. Science 309:1548–1551

Mears CA, Schabel M, Wentz FJ (2003) A reanalysis of the MSU Channel 2 tropospheric temperature record. J Clim 16:3650–3664

Menon S, Del Genio A (2006) Evaluating the impacts of carbonaceous aerosols on clouds and climate. In: Schlesinger ME et al (eds) Human-induced climate change: an interdisciplinary assessment. Cambridge University Press, Cambridge (in press)

Miller RL, Schmidt GA, Shindell DT (2006) Forced annular variability in the 20th century Intergovernmental Panel on Climate Change Fourth Assessment Report models. J Geophys Res 111:D18101. doi:10.1029/2005JD006323

Mishchenko MI, Cairns B, Hansen JE, Travis LD, Burg R, Kaufman YJ, Martins JV, Shettle EP (2004) Monitoring of aerosol forcing of climate from space: Analysis of measurement requirements. J Quant Spec Rad Trans 88:149–161

Mishchenko MI, Cairns B, Kopp G, Schueler CF, Fafaul BA, Hansen JE, Hooker RJ, Itchkawich T, Maring HB, Travis LD (2006) Precise and accurate monitoring of terrestrial aerosols and total solar irradiance: Introducing the Glory mission. Bull Am Meteorol Soc (submitted)

Mitchell TD, Carter TR, Jones PD, Hulme M, New M (2004) A comprehensive set of high-resolution grids of monthly climate for Europe and the globe: the observed record (1901–2000) and 16 scenarios (2001–2100). Tyndall Working Paper 55. Tyndall Centre for Climate Change Research, Norwich and Oxford, UK. Accessed 24 Jan 2007 at http://www.tyndall.ac.uk/publications

Montzka SA, Butler JH, Elkins JW, Thompson TM, Clarke AD, Lock LT (1999) Present and future trends in the atmospheric burden of ozone-depleting halogens. Nature 398:690–694

Myhre G, Myhre A (2003) Uncertainties in radiative forcing due to surface albedo changes caused by land use changes. J Clim 16:1511–1524

Myhre G, Govaerts Y, Haywood JM, Berntsen TK, Lattanzio A (2005) Radiative effect of surface albedo change from biomass burning. Geophys Res Lett 32:L20812. doi:10.1029/2005GL022897

Novakov T, Ramanathan V, Hansen JE, Kirchstetter TW, Sato M, Sinton JE, Sathaye JA (2003) Large historical changes of fossil-fuel black carbon aerosols. Geophys Res Lett 30(6):1324. doi:10.1029/2002GL016345

Novakov T, Menon S, Kirchstetter TW, Koch D, Hansen JE (2005) Aerosol organic carbon to black carbon ratios: analysis of published data and implications for climate forcing. J Geophys Res 110:D21205. doi:10.1029/2005JD005977

Ohmura A, Wild M (2002) Is the hydrological cycle accelerating. Science 298:1345–1346

Palmer KF, Williams D (1975) Optical constants of sulfuric acid. Appl Opt 14:208–219

Parker DE, Gordon M, Cullum DPN, Sexton DMH, Folland CK, Rayner N (1997) A new global gridded radiosonde temperature database and recent temperature trends. Geophys Res Lett 24:1499–1502

Penner JE, Quaas J, Storelvmo T, Takemura T, Boucher O, Guo H, Kirkevåg A, Kristjánsson JE, Seland Ø (2006) Model intercomparison of indirect aerosol effects. Atmos Chem Phys 6:3391–3405

Preunkert S, Legrand M, Wagenbach D (2001) Sulfate trends in a col du Dome (French alps) ice core: A record of anthropogenic sulfate levels in the European midtroposphere over the twentieth century. J Geophys Res 106:31991–32004

Quaas J, Boucher O (2005) Constraining the first aerosol indirect radiative forcing in the LMDZ GCM using POLDER and MODIS satellite data. Geophys Res Lett 32:L17814. doi:10.1029/2005GL023850

Ramankutty N, Foley JA (1999) Estimating historical changes in global land cover: croplands from 1700 to 1992. Global Biogeochem Cycles 13:997–1027

Ramaswamy V et al (2001) Radiative forcing of climate change. In: Houghton et al (eds) Climate change 2001: the scientific basis, Chap. 6. Cambridge University Press, Cambridge, pp 349–416

Randel WJ, Wu F (1999) A stratospheric ozone trends data set for global modeling studies. Geophys Res Lett 26:3089–3092

Rayner NA, Parker DE, Horton EB, Folland CK, Alexander LV, Rowell DP, Kent EC, Kaplan A (2003) Global analyses of SST, sea ice and night marine air temperatures since the late nineteenth century. J Geophys Res 108(D14):4407. doi:10.1029/2002JD002670

Reichler T, Dameris M, Sausen R, Nodorp D (1996) A global climatology of the tropopause height based on ECMWF analyses. Institutsreports des Institut für Physik der Atmosphäre 57. Deutsches Zentrum für Luft- und Raumfahrt, Wessling, Germany

Rind D, Rosenzweig C, Stieglitz M (1997) The role of moisture transport between ground and atmosphere in global change. Ann Rev Energy Environ 22:47–74

Roderick ML, Farquhar GD (2002) The cause of decreased pan evaporation over the past 50 years. Science 298:1410–1411

Russell GL, Miller JR, Tsang LC (1985) Seasonal oceanic heat transports computed from an atmospheric model. Dyn Atmos Oceans 9:253–271

Russell GL, Miller JR, Rind DH (1995) A coupled atmosphere-ocean model for transient climate change. Atmos Ocean 33:683–730

Santer BD, Wehner MF, Wigley TML, Sausen R, Meehl GA, Taylor KE, Ammann C, Arblaster J, Washington WM, Boyle JS, Bruggemann W (2003) Contributions of anthropogenic and natural forcing to recent tropopause height changes. Science 301:479–483

Santer BD et al (2005a) Amplification of surface temperature trends and variability in the tropical atmosphere. Science 309:1551–1556

Santer BD, Wigley TML, Taylor KE, Thorne PW, Wehner MF, Boyle JS, Collins W, Dixon KW, Doutriaux C, Gleckler PJ, Hansen JE, Karl TR, Klein SA, Lanzante JR, Mears C, Meehl GA, Ramaswamy V, Seidel DJ, Wentz FJ (2005b) Modeled and observed lapse-rate changes in the deep tropics. Science 309:1551–1556

Sato M, Hansen J, McCormick MP, Pollack JP (1993) Stratospheric aerosol optical depths, 1850–1990. J Geophys Res 98:22987–22994

Sato M, Hansen J, Koch D, Lacis A, Ruedy R, Dubovik O, Holben B, Chin M, Novakov T (2003) Global atmospheric black carbon inferred from AERONET. Proc Natl Acad Sci 100:6319–6324

Schmidt GA et al (2006) Present day atmospheric simulations using GISS ModelE: Comparison to in-situ, satellite and reanalysis data. J Clim 19:153–192

Schwikowski M, Brutsch S, Gaggeler HW, Schotterer U (1999) A high resolution air chemistry record from an Alpine ice core (Fiescherhorn glacier, Swiss Alps). J Geophys Res 104:13709–13720

Sexton DMH (2001) The effect of stratospheric ozone depletion on the phase of the Antarctic Oscillation. Geophys Res Lett 28:3697–3700

Shah KP, Rind D (1998) Comparing upper tropospheric and lower stratospheric temperatures. J Geophys Res 103:31569–31591

Sharma S, Lavoue D, Cachier H, Barrie LA, Gong SL (2004) Long-term trends of the black carbon concentrations in the Canadian Arctic. J Geophys Res 109:D15203. doi:10.1029/2003JD004331

Sherwood SC, Lanzante JR, Meyer CL (2005) Radiosonde daytime biases and late-20th century warming. Science 309:1556–1559

Shindell DT, Schmidt GA (2004) Southern Hemisphere climate response to ozone changes and greenhouse gas increases. Geophys Res Lett 31:L18209. doi:10.1029/2004GL020724

Shindell D, Rind D, Balachandran N, Lean J, Lonergan P (1999) Solar cycle variability, ozone, and climate. Science 284:305–308

Shindell D, Schmidt GA, Miller RL, Rind D (2001) Northern Hemisphere winter climate response to greenhouse gas, volcanic, ozone and solar forcing. J Geophys Res 106:7193–7210

Shindell DT, Fulavegi G, Bell N (2003) Preindustrial-to-present-day radiative forcing by tropospheric ozone from improved simulations with the GISS chemistry-climate GCM. Atmos Chem Phys 3:1675–1702

Smith SJ, Pitcher H, Wigley TML (2005) Future sulfur dioxide emissions. Clim Change 73:267–318

Sorteberg A, Furevik T, Drange H, Kvamsto NG (2005) Effects of simulated natural variability on Arctic temperature projections. Geophys Res Lett 32:L18708. doi:10.1029/2005GL023404

Stanhill G, Cohen S (2001) Global dimming: a review of the evidence for a widespread and significant reduction in global radiation with a discussion of its probable causes and agricultural consequences. Agr Forest Meteorol 107:255–278

Sun S, Bleck R (2006) Geographical distribution of the diapycnal component of thermohaline circulations in coupled climate models. Ocean Model 15:177–199

Tang IN (1996) Chemical and size effects of hygroscopic aerosols on light scattering coefficients. J Geophys Res 101:19245–19250

Tang IN, Munkelwitz HR (1991) Simultaneous determination of refractive index and density of an evaporating aqueous solution droplet. Aerosol Sci Technol 15:201–207

Ten Brink HM, Kruisz C, Kos GPA, Berner A (1997) Composition/size of the light-scattering aerosol in the Netherlands. Atmos Environ 31:3955–3962

Tett SFB, Stott PA, Allen MR, Ingram WJ, Mitchell JFB (1999) Causes of twentieth-century temperature change near the Earth's surface. Nature 399:569–572

Tett SFB, Jones GS, Stott PA, Hill DC, Mitchell JFB, Allen MR, Ingram WJ, Johns TC, Johnson CE, Jones A, Roberts DL, Sexton DMH, Woodage MJ (2002) Estimation of natural and anthropogenic contributions to twentieth century temperature change. J Geophys Res 107(D16):4306. doi:10.1029/2000JD000028

Thomas R et al (2004) Accelerated sea-level rise from West Antarctica. Science 306:255–258

Thompson DWJ, Solomon S (2002) Interpretation of recent Southern Hemisphere climate change. Science 296:895–899

Thompson DWJ, Solomon S (2005) Recent stratospheric climate trends as evidenced in radiosonde data: global structure and troposphere linkages. J Clim 18:4785–4795

Thompson DWJ, Wallace JM (2000) Annular modes in the extratropical circulation. Part I: Month-to-month variability. J Clim 13:1000–1016

Tourpali K, Schuurmans CJE, van Dorland R, Steil B, Bruhl C, Manzini E (2005) Solar cycle modulation of the Arctic Oscillation in a chemistry-climate model. Geophys Res Lett 32:L17803. doi:10.1029/2005GL023509

Turner J, Colwell SR, Marshall GJ, Lachlan-Cope TA, Carleton AM, Jones PD, Lagun V, Reid PA, Iagovkina S (2005) Antarctic climate change during the last 50 years. Int J Climatol 25:279–294

United Nations (1992) United Nations Framework Convention on Climate Change. United Nations, New York. Accessed 24 Jan 2007 at http://www.unfccc.int/

Warren SG, Hahn CJ (2003) Clouds: climatology. In: Holton J, Pyle J, Curry J (eds) Encyclopedia of atmospheric sciences. Elsevier, New York, pp 476–483

Warren SG, Wiscombe WJ (1985) Dirty snow after nuclear war. Nature 313:467–470

Wild M, Gilgen H, Roesch A, Ohmura A, Long CN, Dutton EG, Forgan B, Kallis A, Russak V, Tsvetkov A (2005) From dimming to brightening: decadal changes in solar radiation at Earth's surface. Science 308:847–850

Willis JK, Roemmich D, Cornuelle B (2004) Interannual variability in upper ocean heat content, temperature, and thermosteric expansion on global scales. J Geophys Res 109:C12036. doi:10.1029/2003JC002260

Wong T, Wielicki BA, Lee RB (2004) Decadal variability of Earth radiation budget deduced from satellite altitude corrected ERBE/ERBS nonscanner data. Presentation P6.32 at 13th Conference on Satellite Meteorology and Oceanography, Amer. Meteorol. Soc., 20–24 Sep 2004, Norfolk, VA. Accessed 24 Jan 2007 at http://asd-www.larc.nasa.gov/∼tak/wong/r-publications.html

Wong T, Wielicki BA, Lee RB, Smith GL, Bush KA (2006) Re-examination of the observed decadal variability of Earth radiation budget using altitude-corrected ERBE/ERBS nonscanner WFOV data. J Clim 19:4028–4040. doi:10.1175/JCL13838

World Meteorological Organization (WMO) (1957) Meteorology: A three-dimensional science: Second session of the commission for aerology. WMO Bull 4(4):134–138

Zhou XL, Geller MA, Zhang M (2001) The cooling trend of the tropical cold point tropopause temperatures and its implications. J Geophys Res 106:1511–1522
Acknowledgments
Data that we use for recent greenhouse gas amounts are from the NOAA Earth System Research Laboratory, Global Monitoring Division, where we are particularly indebted to Ed Dlugokencky, Steve Montzka, and Jim Elkins for up-to-date data. We thank Ellen Baum, Tom Boden, Curt Covey, Oleg Dubovik, Hans Gilgen, Danny Harvey, Brent Holben, Phil Jones, John Lanzante, Judith Lean, Forrest Mims, Bill Randel, Eric Rignot for data and helpful suggestions, and Darnell Cain for technical assistance. Research support from Hal Harvey of the Hewlett Foundation, Gerry Lenfest, and NASA Earth Science Research Division managers Jack Kaye, Don Anderson, Waleed Abdalati, Phil DeCola, Tsengdar Lee, and Eric Lindstrom is gratefully acknowledged.
Electronic supplementary material
Below is the link to the electronic supplementary material.
About this article
Cite this article
Hansen, J., Sato, M., Ruedy, R. et al. Climate simulations for 1880–2003 with GISS modelE. Clim Dyn 29, 661–696 (2007). https://doi.org/10.1007/s00382-007-0255-8
Received:

Accepted:

Published:

Issue Date:

DOI: https://doi.org/10.1007/s00382-007-0255-8
Keywords