Abstract
Annually resolved ice core records from different regions over the Greenland ice sheet (GrIS) are used to investigate the spatial and temporal variability of calcium (Ca2+, mainly from mineral dust) and sodium (Na+, mainly from sea salt) deposition. Cores of high common inter-annual variability are grouped with an EOF analysis, resulting in regionally representative Ca2+ and Na+ records for northeastern and central Greenland. Utilizing a regression and validation method with ERA-40 reanalysis data, these common records are associated with distinct regional atmospheric circulation patterns over the North American Arctic, Greenland, and Central to Northern Europe. These patterns are interpreted in terms of transport and deposition of the impurities. In the northeastern part of the GrIS sea salt records reflect the intrusion of marine air masses from southeasterly flow. A large fraction of the Ca2+ variability in this region is connected to a circulation pattern suggesting transport from the west and dry deposition. This pattern is consistent with the current understanding of a predominantly Asian source of the dust deposited over the GrIS. However, our results also indicate that a significant fraction of the inter-annual dust variability in NE and Central Greenland is determined by the frequency and intensity of wet deposition during the season of high atmospheric dust loading, rather than representing the variability of the Asian dust source and/or long-range transport to Greenland. The variances in the regional proxy records explained by the streamfunction patterns are high enough to permit reconstructions of the corresponding regional deposition regimes and the associated circulation patterns.
This is a preview of subscription content, log in to check access.
Access options
Buy single article
Instant access to the full article PDF.
US$ 39.95
Price includes VAT for USA
Subscribe to journal
Immediate online access to all issues from 2019. Subscription will auto renew annually.
US$ 199
This is the net price. Taxes to be calculated in checkout.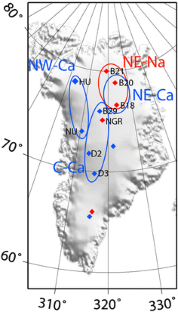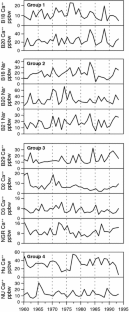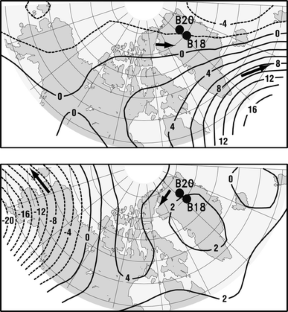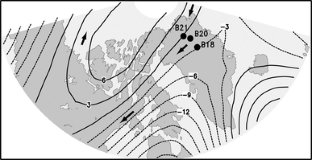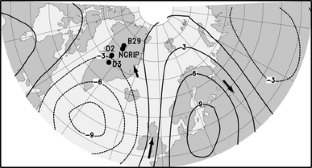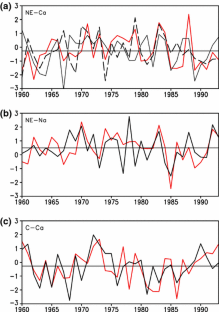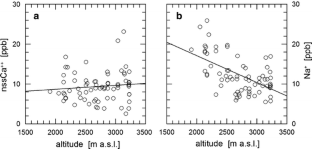 References
Alley RB, Finkel RC, Nishiizumi K, Anandarkishnan S, Shuman CA, Mershon G, Zielinski GA, Mayewski PA (1995) Changes in continental and sea-salt atmospheric loadings in central Greenland during the most recent deglaciation: model-based estimates. J Glaciol 41(139):503–514

Anklin M, Bales RC, Mosley-Thompson E, Steffen K (1998) Annual accumulation at two sites in Northwest Greenland during recent centuries. J Geophys Res 103(D22):28775–28783

Appenzeller C, Stocker TF, Anklin M (1998) North Atlantic Oscillation dynamics recorded in Greenland ice cores. Science 282:446–449

Bales RC, McConnell JR, Mosley-Thompson E, Lamorey G (2001) Accumulation map for the Greenland ice sheet: 1971–1990. Geophys Res Lett 28:2967–2970

Barnston AG, Livezey RE (1987) Classification, seasonality and persistence of low-frequency atmospheric circulation patterns. Mon Wea Rev 115:1083–1126

Beer J, Finkel RC, Bonani G, Gäggeler H, Glach U, Jacob P, Klockow D, Langway CCJ, Neftel A, Oeschger H, Schotterer U, Schwander J, Siegenthaler U, Suter M, Wagenbach D, Wölfli W (1991) Seasonal variations in the concentrations of 10Be, Cl−, NO −3 , SO 2−4 , H2O2, 210Pb, 3H, mineral dust, and δ18O in Greenland snow. Atmos Environ 25(19):899–904

Bergin MH, Pandis SN, Davidson CI, Jaffrezo J-L, Dibb JE, Russell AG, Kuhns HD (1996) Modeling of the processing and removal of trace gas and aerosol species by Arctic radiation fogs and comparison with measurements. J Geophys Res 101(D9):14465–14478

Bergin MH, Jaffrezo J-L, Davidson CI, Dibb JE, Pandis SN, Risto Hillamo, Maenhaut W, Kuhns HD, Mäkelä T (1995) The contribution of snow, fog, and dry deposition to the summer flux of anions and cations at Summit, Greenland. J Geophys Res 100(D8):16275–16288

Bory AJ-M, Biscaye PE, Svensson A, Grousset FE (2002) Seasonal variability in the origin of recent atmospheric mineral dust at NorthGRIP, Greenland. Earth Planet Sci Lett 196(3–4):123–134

Bory AJ-M, Biscaye PE, Piotrowski AM, Steffensen JP (2003) Regional variability of ice core dust composition and provenance in Greenland. Geochem Geophy Geosys 4(12). DOI 10.1029/2003GC000627

Burkhart JF, Bales RC, McConnell JR, Hutterli MA (2006) Influence of the North Atlantic Oscillation on anthropogenic transport recorded in Northwest Greenland ice cores. J Geophys Res (in press)

Burkhart JF, Hutterli MA, Bales RC, McConnell JR (2004) Seasonal accumulation timing and preservation of nitrate in firn at Summit, Greenland. J Geophys Res 109(D19302). DOI 10.1029/2004JD004658

Casty C, Raible CC, Stocker TF, Wanner H, Luterbacher J (2006) European climate pattern variability since 1766. Clim Dyn (in press)

Cook ER, D'Arrigo RD, Mann ME (2002) A well-verified, multiproxy reconstruction of the winter North Atlantic Oscillation index since AD 1400. J Clim 15(13):1754–1764

Crüger T, von Storch H (2002) Creation of "artificial ice core" accumulation from large-scale GCM data: description of the downscaling method and application to one north Greenland ice core. Clim Res 20:141–151

Crüger T, Fischer H, von Storch H (2004) What do accumulation records of single ice cores in Greenland represent? J Geophys Res 109(D21110). DOI 10.1029/2004JD005014

Davidson CI, Bergin MH, Kuhns HD (1996) The deposition of particles and gases to ice sheets. In: Wolff EW, Bales RC (eds) Chemical exchange between the atmosphere and polar snow. NATO ASI Series, I43 Springer, Berlin Heidelberg New York, 275–306

Dethloff K, Schwager M, Christensen JH, Kiilsholm S, Rinke A, Dorn W, Jung-Rothenhäusler F, Fischer H, Kipstuhl S, Miller H (2002) Recent Greenland accumulation estimated from regional climate model simulations and ice core results. J Clim 15:2821–2832

Fischer H (1997) Räumliche Variabilität in Eiskernzeitreihen Nordostgrönlands - Rekonstruktion klimatischer und luftchemischer Langzeittrends seit 1500 AD. PhD thesis, Institut für Umweltphysik, Universität Heidelberg

Fischer H, Mieding B (2005) A 1,000-year ice core record of annual to multidecadal variations in atmospheric circulation over the North Atlantic. Clim Dyn 25:65–74. DOI 10.1007/s00382_00005_00011_x

Fischer H, Wagenbach D (1996) Large-scale spatial trends in recent firn chemistry along an east-west transect through central Greenland. Atmos Environ 30(19):3227–3238

Ginoux P, Chin M, Tegen I, Prospero JM, Holben B, Dubovik O, Lin S-J (2001) Sources and distributions of dust aerosols simulated with the GOCART model. J Geophys Res 106(D17):20255–20274. DOI 10.1029/2000JD000053

Gong D, Wang S (1999) Definition of Antarctic Oscillation index. Geophys Res Lett 26(4):459–462

Hurrell JW, Kushnir Y, Visbeck M (2001) The North Atlantic Oscillation. Science 291:603–605

Hutterli MA, Raible CC, Stocker TF (2005) Reconstructing climate variability from Greenland ice sheet accumulation: an ERA-40 study. Geophys Res Lett 32(L23712). DOI 23710.21029/22005GL024745

Kahl JDW, Martinez DA, Kuhns H, Davidson CI, Jaffrezo J-L, Harris JM (1997) Air mass trajectories to Summit, Greenland: a 44 year climatology and some episodic events. J Geophys Res 102(C12):26861–26875

Kalnay E, et al. (1996) The NCEP/NCAR 40 year reanalysis project. Bull Am Meteorol Soc 77:437–471

Kreutz KJ, Mayewski PA, Meeker LD, Twickler MS, Whitlow SI (2000) The effect of spatial and temporal accumulation rate variability in West Antarctica on soluble ion deposition. Geophys Res Lett 27(16):2517–2520

Laj P, Palais JM, Sigurdsson H (1992) Changing sources of impurities to the Greenland ice sheet over the last 250 years. Atmos Environ 26(14):2627–2640

Legrand M (1987) Chemistry of Antarctic snow and ice. J Phys 48(C1):77–86

Legrand M, Mayewski P (1997) Glaciochemistry of polar ice cores: a review. Rev Geophys 35:219–243

Luterbacher J, Xoplaki E, Dietrich D, Jones PD, Davis TD, Portis D, Gonzalez-Ruoco JF, von Storch H, Gyalistras D, Casty C, Wanner H (2002) Extending the North Atlantic Oscillation reconstruction back to 1500. Atmosph Sci Lett (2):114–124. DOI 10.1006/asle.2001.0044

Mayewski PA, Spencer MJ, Lyons WB, Twickler MS (1987) Seasonal and spatial trends in south Greenland snow chemistry Atmos Environ 21(4):863–869

McConnell JR, Lamorey GW, Lambert SW, Taylor KC (2002a) Continuous ice-core chemical analyses using inductively coupled plasma mass spectrometry. Environ Sci Techn 36(1):7–11

McConnell JR, Lamorey GW, Hutterli MA (2002b) A 250-year high-resolution record of Pb flux and crustal enrichment in central Greenland. Geophys Res Lett 29(23):2130. DOI 10.1029/2002GL016016

Michaelsen J (1987) Cross-validation in statistical climate forecast models. J Clim Appl Meteorol 26:1589–1600

Mieding B (2005) Rekonstruktion tausendjähriger aerosolchemischer Eiskernzeitreihen aus Nordostgrönland: quantifizierung zeitlicher Veränderungen in Atmosphärenzirkulation. Emission and Deposition, PhD thesis, Universität Bremen, 1–119 pp

Mosley-Thompson E, Readinger CR, Craigmile P, Thompson LG, Calder CA (2005) Regional sensitivity of Greenland precipitation to NAO variability. Geophys Res Lett 32(L24707). DOI 24710.21029/22005GL024776

North Greenland Ice-Core Project (NorthGRIP) Members (2004) High-resolution climate record of the northern hemisphere reaching into the last interglacial period. Nature 431(7005):147–151

Philander SG (1990) El Niño, La Niña, and the Southern Oscillation. Academic, San Diego

Raible CC, Casty C, Luterbacher J, Pauling A, Esper J, Frank DC, Büntgens U, Roesch AC, Wild M, Tschuck P, Vidale P-L, Schär C, Wanner H (2006) Climate variability—observations, reconstructions and model simulations model simulations for the Atlantic-European and Alpine Region from 1500–2100 AD. Clim Change. DOI 10.1007/s10584-006-9061-2

Röthlisberger R, Bigler M, Hutterli MA, Sommer S, Junghans HG, Wagenbach D (2000) Technique for continuous high-resolution analysis of trace substances in firn and ice cores. Environ Sci Techn 34:338–342

Savarino J (1996) Chimie de la carotte EUROCORE (Groenland central): variabilite des emissions biologiques au cours du dernier millenaire. PhD thesis, Universite Joseph Fourier, LGGE, CNRS Grenoble, France, 336p

Simmons AJ, Gibson JK (2000) The ERA-40 project plan. Eur Cent for Med-Range Weather Forecasting, Reading, UK, 63pp

Sommer S (1996) Hochauflösende Spurenstoffuntersuchungen an eisbohrkernen aus Nord-Grönland, MS thesis, University of Bern, Switzerland

Steffensen JP (1988) Analysis of the seasonal variation in dust, Cl−, NO −3 , and SO −4 in two central Greenland firn cores. Ann Glaciol 10:171–177

Sun JM, Zhang MY, Liu TS (2001) Spatial and temporal characteristics of dust storms in China and its surrounding regions 1960–1999: relations to source area and climate. J Geophys Res 106:10325–10333

Sverdrup HU, Johnson MW, Flemming RH (1942) The Oceans. Prentice Hall Inc. New York, p 1087

Thompson DWJ, Wallace G (2000) Annular modes in the extratropical circulation. Part I: Month-to-month variability. J Clim 13:1000–1016

Vinther BM, Clausen HB, Johnsen SJ, Rasmussen SO, Andersen KK, Buchardt SL, Seierstad IK, Siggaard-Andersen M-L, Steffensen JP, Svensson AM, Olsen J, Heinemeier J (2006) A synchronized dating of three Greenland ice cores throughout the Holocene. J Geophys Res. DOI 10.1029/2005JD006921 (in press)

Vinther BM, Johnsen SJ, Andersen KK, Clausen HB, Hansen AW (2003) NAO signal recorded in the stable isotopes of Greenland ice cores. Geophys Res Lett 30(7):1387. DOI 1310.1029/2002GL016193

Wallace JM, Thompson DWJ (2002) Annular modes and climate prediction. Phys Today 55(2):28–33

Whitlow S, Mayewski PA, Dibb JE (1992) A comparison of major chemical species seasonal concentration and accumulation at the South Pole and Summit Greenland. Atmos Environ 26(11):2045–2054

Wolff EW, Fischer H, Fundel F, Ruth U, Twarloh B, Littot GC, Mulvaney R, Röthlisberger R, De Angelis M, Boutron CF, Hansson M, Jonsell U, Hutterli MA, Lambert F, Kaufmann P, Stauffer B, Stocker T, Steffensen JP, Bigler M, Siggaard-Andersen M-L, Udisti R, Becagli S, Castellano E, Severi M, Wagenbach D, Barbante C, Gabrielli P, Gaspari V (2006) Southern ocean sea-ice extent, productivity and iron flux over the past eight glacial cycles. Nature 440: 491–496. DOI 10.1038/nature04614
Acknowledgments
This work was supported by the Project entitled ''Patterns of Climate Variability in the North Atlantic (PACLIVA)'' funded the by European Commission under the Fifth Framework Programme Contract Nr. EVR1-2002-000413, and the National Centre for Competence in Research (NCCR) on Climate funded by the Swiss National Science Foundation. KKA thanks the Carlsberg foundation for funding. Collection and analyses of the D2, D3, NASA-U, DAS1, and UAK1 cores was supported by grants from NASA's Cryospheric Sciences Program and the Summit99 core by grants from NSF's Arctic Natural Sciences program. R.C.B. and J.F.B. were supported by NASA grants NAG5-6779, NAG5-10264 and NASA Earth System Science Fellowship awarded to J.F.B. ERA-40 re-analysis data were provided by European Centre for Medium-Range Weather Forecasts (ECMWF, http://www.data.ecmwf.int/data/index.html). We thank D. Wagenbach and R. Röthlisberger for helpful discussions and M. Frey and D. Belle-Oudry for help with ice core analyses.
About this article
Cite this article
Hutterli, M.A., Crueger, T., Fischer, H. et al. The influence of regional circulation patterns on wet and dry mineral dust and sea salt deposition over Greenland. Clim Dyn 28, 635–647 (2007). https://doi.org/10.1007/s00382-006-0211-z
Received:

Accepted:

Published:

Issue Date:
Keywords
Empirical Orthogonal Function

Circulation Pattern

Mineral Dust

Regional Time Series

Asian Dust Source