Abstract
An integrated use of independent palaeoclimatological proxy techniques that reflect different components of the climate system provides a potential key for functional analysis of past climate changes. Here we report a 10,000 year quantitative record of annual mean temperature (T ann), based on pollen-climate transfer functions and pollen-stratigraphical data from Lake Flarken, south-central Sweden. The pollen-based temperature reconstruction is compared with a reconstruction of effective humidity, as reflected by a δ18O record obtained on stratigraphy of lacustrine carbonates from Lake Igelsjön, c. 10 km from Lake Flarken, which gives evidence of pronounced changes in effective humidity. The relatively low T ann, and high effective humidity as reflected by a low evaporation/inflow ratio suggest a maritime early Holocene climate (10,000–8,300 cal year BP), seemingly incompatible with the highly seasonal solar insolation configuration. We argue that the maritime climate was due to the stronger-than-present zonal flow, enhanced by the high early Holocene sea-surface temperatures in the North Atlantic. The maritime climate mode was disrupted by the abrupt cold event at 8,200 cal year BP, followed at 8,000 cal year BP by a stable Holocene Thermal Maximum. The latter was characterized by T ann values about 2.5°C higher than at present and markedly dry conditions, indicative of stable summer-time anti-cyclonic circulation, possibly corresponding with modern blocking anticyclonic conditions. The last 4,300 year period is characterized by an increasingly cold, moist, and unstable climate. The results demonstrate the value of combining two independent palaeoclimatic proxies in enhancing the reliability, generality, and interpretability of the palaeoclimatic results. Further methodological refinements especially in resolving past seasonal climatic contrasts are needed to better understand the role of different forcing factors in driving millennial-scale climate dynamics.
Access options
Buy single article
Instant access to the full article PDF.
US$ 39.95
Tax calculation will be finalised during checkout.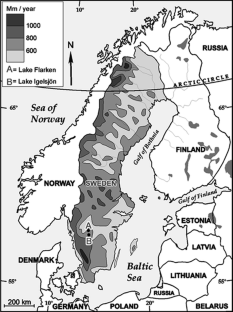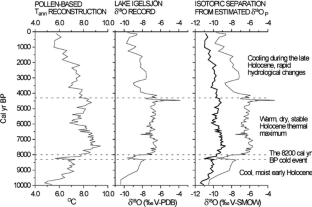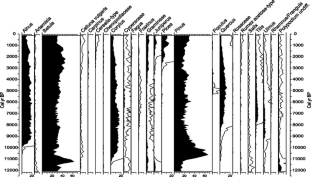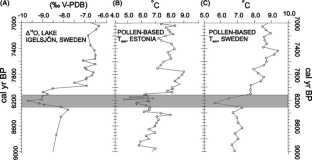 References
Alley RB, Mayewski PA, Sowers T, Stuiver M, Taylor KC, Clark PU (1997) Holocene climatic instability: a prominent, widespread event 8,200 year ago. Geology 25:483–486

Almquist-Jacobson H (1995) Lake-level fluctuations at Ljustjärnen, central Sweden and their implications for the Holocene climate of Scandinavia. Palaeogeogr Palaeoclimatol Palaeoecol 118:269–290

Barber DC, Dyke A, Hillaire-Marcel C, Jennings AE, Andrews JT, Kerwin MW, Bilodeau G, McNeely R, Southon J, Morehead MD, Gagnon J-M (1999) Forcing of the cold event of 8,200 years ago by catastrophic drainage of Laurentide lakes. Nature 400:344–348

Berger A, Loutre MF (1991) Insolation values for the climate of the last 10 million years. Q Sci Rev 10:297–317

Bianchi GG, McCave IN (1999) Holocene periodicity in North Atlantic climate and deep-ocean flow south of Iceland. Nature 397:515–517

Birks CJA, Koç N (2002) A high-resolution diatom record of late-quaternary sea-surface temperatures and oceanographic conditions from the eastern Norwegian Sea. Boreas 31:323–344

Birks HJB (1995) Quantitative palaeoenvironmental reconstructions. In: Maddy D, Brew JS (eds) Statistical modeling of quaternary science data, Technical Guide 5. Quaternary Research Association, Cambridge, pp 161–254

Birks HJB (1998) Numerical tools in quantitative palaeolimnology—progress, potentialities, and problems. J Paleolimnol 20:301–332

Birks HJB, Seppä H (2004) Pollen-based reconstructions of late-Quaternary climate in Europe—progress, problems, and pitfalls. Acta Palaeobotanica 44:317–334

Bradshaw RHW, Holmqvist BH, Cowling SA, Sykes MT (2000) The effects of climate change on the distribution and management of Picea abies in southern Scandinavia. Can J For Res 30:1992–1998

Broecker WS (2003) Does the Trigger for Abrupt Climate Change Reside in the Ocean or in the Atmosphere? Science 300:1519–1522

Calvo E, Grimalt J, Jansen E (2002) High resolution UK 37 sea surface temperature reconstruction in the Norwegian Sea during the Holocene. Q Sci Rev 21:1385–1394

Chen D (2000) A monthly circulation climatology for Sweden and its application to winter temperature case study. Int J Climatol 20:1067–1076

Chen D, Hellström C (1999) The influence of the North Atlantic Oscillation on the regional temperature variability in Sweden: spatial and temporal variations. Tellus 51A:505–516

Clark PU, Marshall SJ, Clarke GKC, Hostetler SW, Licciardi JM, Teller JT (2001) Freshwater forcing of abrupt climate change during the last glaciation. Science 293:283–287

Clark PU, Pisias NG, Stocker TS, Weaver AJ (2002) The role of the Atlantic thermohaline circulation in abrupt climate change. Nature 415:863–869

Craig H (1965) The measurement of oxygen isotope palaeotemperatures. In: Tongiorgi E (ed) Stable isotopes in oceanographic studies and palaeotemperatures. Consiglio Nazionale delle Ricerche, Pisa, pp 161–182

Crucifix M, Loutre M-F, Tulkens P, Fichefet T, Berger A (2002) Climate evolution during the Holocene: a study with an Earth system model of intermediate complexity. Clim Dyn 19:43–60

Dahl E (1998) The phytogeography of Northern Europe. Cambridge University Press, Cambridge, p 297

Dahl SO, Nesje A (1996) A new approach to calculating Holocene winter precipitation by combining glacier equilibrium-line altitudes and pine-tree limits: a case study from Hardangerjøkulen, central southern Norway. Holocene 6:381–398

Davis MB, Shaw RG (2001) Range shifts and adaptive responses to quaternary climate change. Science 292:673–679

Dean W, Forester RM, Platt Bradbury J (2002) Early Holocene change in atmospheric circulation in the Northern Great Plains. An upstream view of the 8.2 ka cold event. Q Sci Rev 21:1763–1775

Digerfeldt G (1977) The Flandrian development of Lake Flarken. Regional vegetation history and palaeoclimatology. University of Lund, Department of Quaternary Geology, Report 13

Digerfeldt G (1988) Reconstruction and regional correlation of Holocene lake-level fluctuations in Lake Bysjön, South Sweden. Boreas 17:165–182

Fisher TG, Smith DG, Andrews JT (2002) Preboreal oscillation caused by a glacial Lake Agassiz flood. Q Sci Rev 21:873–878

Friedman I, O'Neil JR (1977) Compilation of stable isotope fractionation factors of geochemical interest. In: Chapter KK (ed) Data of geochemistry, 6th edn. United States Geological Survey Professional Paper 440-KK, Washington DC

Giesecke T, Bennett K (2004) The Holocene spread of Picea abies (L.) Karst. in Fennoscandia and adjacent areas. J Biogeogr 31:1523–1548

von Grafenstein U, Erlenkeuser H, Müller J, Jouzel J, Johnsen S (1998) The cold event 8200 years ago documented in oxygen isotope records of precipitation in Europe and Greenland. Clim Dyn 14:73–81

von Grafenstein U, Erlenkeuser H, Brauer A, Jouzel J, Johnsen S (1999) A mid-European decadal isotope-climate record from 15,500 to 5000 years B.P. Science 284:1654–1657

Granlund E (1932) De svenska högmossarnas geologi. Sveriges Geologiska Undersökning C 373. Å rsbok 26:1–193

Grimm EC (1990) TILIA and TILIA.GRAPH. PC spreadsheet and graphics software for pollen data. INQUA Working Group on Data-Handling Methods. Newsletter 4:5–7

Gunnarsson BE, Borgmark A, Wastegård S (2003) Holocene humidity fluctuations in Sweden inferred from dendrochronology and peat stratigraphy. Boreas 32:347–360

Hald M, Husum K, Vorren TO, Grøsfjeld K, Jensen HB, Sharapova A (2003) Holocene climate in the subarctic fjord Malangen, northern Norway: a multi-proxy study. Boreas 32:543–559

Hall IR, Bianchi GG, Evans JR (2004) Centennial to millennial scale Holocene climate-deep water linkage in the North Atlantic. Q Sci Rev 23:1529–1536

Hammarlund D, Edwards TWD, Björck S, Buchardt B, Wohlfarth B (1999) Climate and environment during the Younger Dryas (GS-1) as reflected by composite stable isotope records of lacustrine carbonates at Torreberga, southern Sweden. J Q Sci 14:17–28

Hammarlund D, Barnekow L, Birks HJB, Buchardt B, Edwards TWD (2002) Holocene changes in atmospheric circulation recorded in the oxygen-isotope stratigraphy of lacustrine carbonates from northern Sweden. Holocene 12:339–351

Hammarlund D, Björck S, Buchardt B, Israelson C, Thomsen, CT (2003) Rapid hydrological changes during the Holocene revealed by stable isotope records of lacustrine carbonates from Lake Igelsjön, southern Sweden. Q Sci Rev 22:353–370

Hammarlund D, Velle G, Wolfe BB, Edwards TWD, Barnekow L, Bergman J, Holmgren S, Lamme S, Snowball I, Wohlfarth B, Possnert G (2004) Palaeolimnological and sedimentary responses to Holocene forest retreat in the Scandes Mountains, west-central Sweden. Holocene 14:862–876

Harrison SP, Prentice IC, Guiot J (1993) Climatic control on Holocene lake-level changes in Europe. Clim Dyn 8:189–200

Heikkilä M, Seppä H (2003) A 11,000 yr palaeotemperature reconstruction from the southern boreal zone of Finland. Q Sci Rev 22:541–554

Hintikka V (1963) Über das Grossklima einiger Pflanzenareale in zwei Klimakoordinatensystemen dargestellt. Ann Bot Soc Zool Bot Fenn Vanamo 34:1–63

Hu FS, Slawinski D, Wright HE Jr, Ito E, Johnson RG, Kelts KR, McEwan RF, Boedigheimer A (1999) Abrupt changes in North American climate during early Holocene times. Nature 400:437–440

Hultén E (1971) Atlas of the distribution of vascular plants in Northwestern Europe. 2nd edn. Kartografiska institutionen, Stockholm

Jacobeit J, Jönsson P, Bärring L, Beck C, Ekström M (2001) Zonal indices for Europe 1780–1995 and running correlation with temperature. Clim Change 48:219–241

Jacobeit J, Wanner H, Luterbacher J, Beck C, Philipp A, Sturm K (2003) Atmospheric circulation variability in the North-Atlantic-European area since the mid-seventeenth century. Clim Dyn 20:341–352

Johannessen RW (1970) The Climate of Scandinavia. In: Wallén CC (ed) Climates of Northern and Western Europe. World Survey of Climatology, volume 5 (Editor in Chief: H.E. Landsberg). Elsevier, Amsterdam, pp 23–80

Jönsson P, Bärring L (1994) Zonal index variations, 1899–1992: links to air temperature in southern Scandinavia. Geogr Ann 76A:207–219

Junge MM, Stephenson DB (2003) Mediated and direct effects of the North Atlantic Ocean on winter temperatures in northwest Europe. Int J Climatol 23:245–261

Keigwin LD, Boyle EA (2000) Detecting Holocene changes in thermohaline circulation. Proc Natl Acad Sci USA 97:1343–1346

Klitgaard-Kristensen D, Sejrup HP, Haflidason H (2001) The last 18 kyr fluctuations in Norwegian Sea surface conditions and implications for the magnitude of climate change: Evidence from the North Sea. Paleoceanography 16:455–467

Koç N, Jansen E, Haflidason H (1993) Paleoceanographic reconstructions of surface ocean conditions in the Greenland, Iceland and Norwegian seas through the last 14 ka based on diatoms. Q Sci Rev 12:115–140

Kozuchowski K, Wibig J, Maheras P (1992) Connections between air temperature and precipitation and the geopotential height of the 500 hPa level in a meridional cross-section in Europe. Int J Climatol 12:343–352

Kullman L, Kjällgren L (2000) A coherent postglacial tree-limit chronology (Pinus sylvestris L.) for the Swedish Scandes: aspects of paleoclimate and 'recent warming', based on megafossil evidence. Arctic Antarctic Alpine Res 32:419–428

Lau NC (1997) Interaction between global SST anomalies and the mid-latitude atmospheric circulation. Bull Am Meteorol Soc 78:21–33

Lauritzen SE, Lundberg J (1999) Calibration of the speleothem delta function: an absolute temperature record for the Holocene in northern Norway. Holocene 9:659–669

Lupo AR, Oglesby RJ, Mokhov II (1997) Climatological features of blocking anticyclones: a study of Northern Hemisphere CCM1 model blocking events in present-day and double CO2 concentration atmospheres. Clim Dyn 13:181–195

Marchal O, Cacho I, Stocker TF, Grimalt JO, Calvo E, Martrat B, Shackleton N, Vautravers M, Cortijo E, van Kreveld S, Andersson C, Koç N, Chapman M, Sbaffi L, Duplessy JC, Sarnthein M, Turon J-C, Duprat J, Jansen E (2002) Apparent long-term cooling of the sea surface in the northeast Atlantic and Mediterranean during the Holocene. Q Sci Rev 21:455–483

Marshall J, Kushnir Y, Battisti D, Chang P, Czaja A, Dickson R, Hurrell J, McCartney M, Saravan R, Visbeck M (2001) North Atlantic climate variability: phenomena, impacts and mechanisms. Int J Climatol 21:1863–1898

McDermott F, Mattey DP, Hawkesworth C (2001) Centennial-scale holocene climate variability revealed by a high-resolution speleothem δ18O record from SW Ireland. Science 294:328–1331

Moore PD, Webb JA, Collinson, MA (1991) Pollen analysis. Blackwell, Oxford, p 216

Mörner NA, Wallin B (1977) A 10,000-year temperature record from Gotland, Sweden. Palaeogeogr Palaeoclimatol Palaeoecol 21:113–138

Nesje A, Matthews JA, Dahl SO, Berrisford MS, Andersson C (2001) Holocene glacier fluctuations and winter-precipitation changes in the Jostedalsbreen region, western Norway, based on glaciolacustrine sediment records. Holocene 11:267–280

Nesje A, Dahl SO, Bakke J (2004) Were abrupt Lateglacial and early-Holocene climatic changes in northwestern Europe linked to freshwater outbursts to the North Atlantic and Arctic Oceans? Holocene 14:299–310

Ojala AE, Tiljander M (2003) Testing the fidelity of sediment chronology: comparison of varve and paleomagnetic results from Holocene lake sediments from central Finland. Q Sci Rev 22:1787–1803

Oppo, DW, McManus JF, Cullen JL (2003) Deepwater variability in the Holocene epoch. Nature 422:277–278

Pigott CD (1981) Nature of seed sterility and natural regeneration of Tilia cordata near its northern limit in Finland. Ann Bot Fenn 18:255–263

Pigott CD, Huntley JP (1978) Factors controlling the distribution of Tilia cordata at the northern limits of its geographical range. I. Distribution in North-West England. New Phytol 81:429–441

Plunkett GM, Whitehouse NJ, Hall VA, Brown DM, Baillie MGL (2004) A precisely-dated lake level rise marked by diatomite formation in northeastern Ireland. J Q Sci 19:3–7

von Post L (1924) Ur de sydsvenska skogarnas regionala historia under post-arktisk tid. Geologiska Föreningen i Stockholm Förhandlingar 46:83–128

von Post L (1925) Gotlandsagen (Cladium mariscus R Br.) i Sveriges postarktikum. Ymer 30:295–312

Post E (2003) Climate-vegetation dynamics in the fast lane. Trends Ecol Evol 18:551–553

Prentice IC (1980) Multidimensional scaling as a research tool in Quaternary palynology: a review of theory and methods. Rev Palaeobot Palynol 31:71–104

Prentice IC, Helmisaari H (1991) Silvics of north European trees: compilation, comparisons and implication for forest succession modelling. For Ecol Manage 42:79–93

Prentice IC, Bartlein PJ, Webb T III (1991) Vegetational and climate change in eastern North America since the last glacial maximum. Ecology 72:2038–2056

Rahmstorf S (2000) The thermohaline ocean circulation: a system with dangerous thresholds? Clim Change 46:247–256

Renssen H, Goosse H, Fichefet T, Campin J-M (2001) The 8.2 kyr BP event simulated by a global atmosphere-sea-ice-ocean model. Geophys Res Lett 28:1567–1570

Rex DF (1950) Blocking action in the middle troposphere and its effect upon regional climate: II. The climatology of blocking action. Tellus 2:275–301

Risebrobakken B, Jansen E, Andersson C, Mjelde E, Hevrøy K (2003) A high-resolution study of Holocene paleoclimatic and paleoceanographic changes in the Nordic Seas. Paleoceanography 18(1017):1–14

Rodwell MJ, Rodwell DP, Folland CK (1999) Oceanic forcing of the wintertime North Atlantic oscillation and European climate. Nature 398:320–323

Rozanski K, Araguas-Araguas L, Gonfiantini R (1992) Relation between long-term trends of oxygen-18 isotope composition of precipitation and climate. Science 258:981–985

Seager R, Battisti DS, Yin J, Gordon N, Naik N, Clement AC, Cane MA (2002) Is the Gulf Stream responsible for Europe's mild winters? Q J R Meteorol Soc 128:2563–2586

Seppä H, Bennett KD (2003) Quaternary pollen analysis: recent progress in palaeoecology and palaeoclimatology. Progr Phys Geogr 27:580–611

Seppä H, Poska A (2004) Holocene annual mean temperature changes in Estonia and their relationship to solar insolation and atmospheric circulation patterns. Q Res 61:22–31

Seppä H, Birks HJB, Odland A, Poska A, Veski S (2004) A modern pollen-climate calibration set from northern Europe: testing and developing a tool for palaeoclimatological reconstructions. J Biogeogr 31:251–267

Shuman B, Newby P, Huang Y, Webb III T (2004) Evidence for the close climatic control of New England vegetation history. Ecology 85:1297–1310

Sjörs H (1967) Nordisk Växtgeografi. Scandinavian University Books, Stockholm, p 229

Skre O (1979) The regional distribution of vascular plants in Scandinavia with requirements for high summer temperatures. Norwegian J Bot 26:295–318

Slonosky VC, Jones PD, Davies TD (2000) Variability of the surface atmospheric circulation over Europe, 1774–1995. Int J Climatol 20:1875–1897

Slonosky VC, Jones PD, Davies TD (2001) Atmospheric circulation and surface temperature in Europe from the 18th century to 1995. Int J Clim 21:63–75

Stuiver M, Reimer PJ (1993) Extended 14C data base and revised CALIB 3.2 14C calibration program. Radiocarbon 35:215–230

Stuiver M, Reimer PJ, Bard E, Beck JW, Burr GS, Hughen KA, Kromer B, McCormac G, van der Plicht J, Spurk M (1998) 1998 INTCAL98 radiocarbon age calibration, 24,000–0 cal BP. Radiocarbon 40:1041–1083

Sutton RT, Hodson DLR (2003) Influence of the Ocean on North Atlantic Climate Variability 1871–1999. J Clim 16:3296–3313

Sykes MT, Prentice IC, Cramer W (1996) A bioclimatic model for the potential distribution of northern European tree species under present and future climates. J Biogeogr 23:203–233

Talbot MR (1990) A review of the palaeohydrological interpretation of carbon and oxygen isotopic ratios in primary lacustrine carbonates. Chem Geol (Isotope Geosci Sect) 80:261–279

Tallantire P (1972) The regional spread of spruce (Picea abies (L)Karst.) within Fennoscandia: a reassessment. Norwegian J Bot 19:1–16

Teller JT, Leverington DW, Mann JD (2002) Freshwater outbursts to the oceans from glacial Lake Agassiz and climate change during the last deglaciation. Q Sci Rev 21:879–887

ter Braak CJF (1987) Calibration. In: Jongman RHG, ter Braak CJF, van Tongeren OFR (eds) Data analysis in community and landscape ecology. Pudoc, Wageningen, pp 78–90

ter Braak CJF, Juggins S (1993). Weighted averaging partial least squares regression (WA-PLS): an improved method for reconstructing environmental variables from species assemblages. Hydrobiologia 269/270:485–502

Vedin H (1995) Air temperature. In: Raab B, Vedin H (eds) Climate, lakes and rivers. Swedish Meteorological and Hydrological Institute, Norrköping, pp 44–57

Vellinga M, Wood RA (2002) Global climatic impacts of a collapse of the Atlantic thermohaline circulation. Clim Change 54:251–267

Veski S, Seppä H, Ojala AEK (2004). Cold event at 8200 yr B.P. recorded in annually laminated lake sediments in eastern Europe. Geology 32:681–684

Weaver AJ, Hillaire-Marcel C (2004) Global warming and the next ice age. Science 304:400–402

Werner PC, Gerstengarbe F-W, Fraedrich K, Oesterle H (2000) Recent climate change in the North Atlantic/European sector. Int J Climatol 20:463–471

Wolfe BB, Edwards TWD, Elgood RJ, Beuning KRM (2001) Carbon and oxygen isotope analysis of lake sediment cellulose: methods and applications. In: Last WM, Smol JP (eds) Tracking environmental changes using lake sediments. Physical and geochemical methods, vol 2. Kluwer, Dordrecht, pp 373–400

Yu G, Harrison SP (1995) Holocene changes in atmospheric circulation patterns as shown by lake status changes in northern Europe. Boreas 24:260–268
Acknowledgements
We wish to thank John Birks, Hans Renssen, and an anonymous reviewer for valuable comments on the manuscript. Financial support provided by the Swedish Research Council is gratefully acknowledged.
About this article
Cite this article
Seppä, H., Hammarlund, D. & Antonsson, K. Low-frequency and high-frequency changes in temperature and effective humidity during the Holocene in south-central Sweden: implications for atmospheric and oceanic forcings of climate. Clim Dyn 25, 285–297 (2005). https://doi.org/10.1007/s00382-005-0024-5
Received:

Accepted:

Published:

Issue Date:
Keywords
Holocene

Atlantic Meridional Overturn Circulation

Zonal Flow

North Atlantic Deep Water

Atmospheric Circulation Pattern