Abstract
Based on coupled modelling evidence we argue that topographically-induced modifications of the large-scale atmospheric circulation during the last glacial maximum may have led to a reduction of the westerlies, and a slowdown of the Pacific subtropical gyre as well as to an intensification of the Pacific subtropical cell. These oceanic circulation changes generate an eastern North Pacific warming, an associated cooling in the Kuroshio area, as well as a cooling of the tropical oceans, respectively. The tropical cooling pattern resembles a permanent La Niña state which in turn forces atmospheric teleconnection patterns that lead to an enhancement of the subtropical warming by reduced latent and sensible cooling of the ocean. In addition, the radiative cooling due to atmospheric CO2 and water vapor reductions imposes a cooling tendency in the tropics and subtropics, thereby intensifying the permanent La Niña conditions. The remote North Pacific response results in a warming tendency of the eastern North Pacific which may level off the effect of the local radiative cooling. Hence, a delicate balance between oceanic circulation changes, remotely induced atmospheric flux anomalies as well local radiative cooling is established which controls the tropical and North Pacific temperature anomalies during the last glacial maximum. Furthermore, we discuss how the aftermath of a Heinrich event may have affected glacial temperatures in the Pacific Ocean.
Access options
Buy single article
Instant access to the full article PDF.
USD 39.95
Price excludes VAT (USA)
Tax calculation will be finalised during checkout.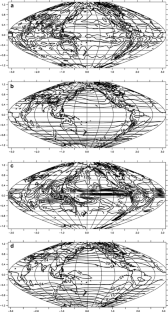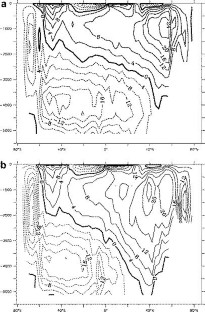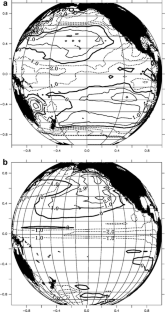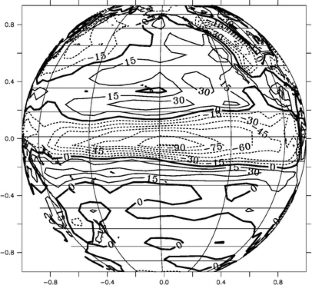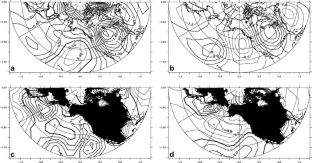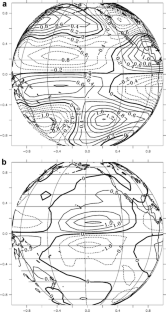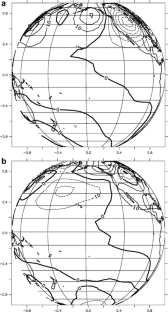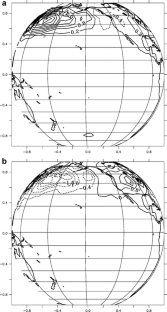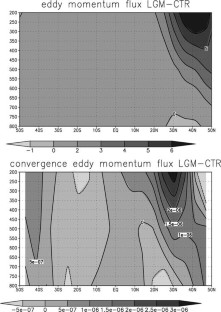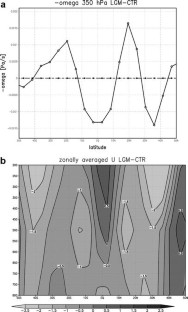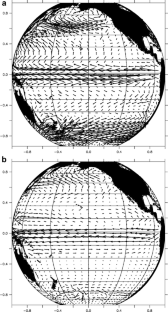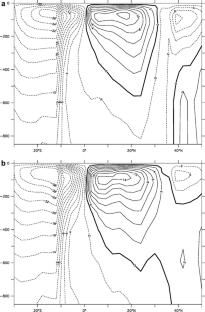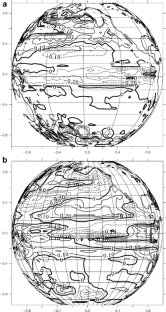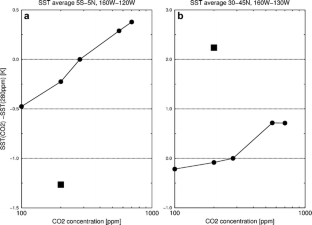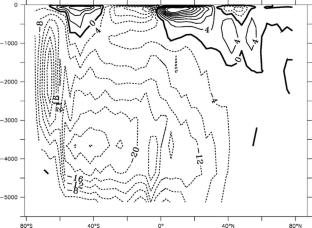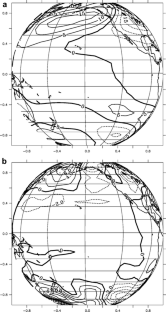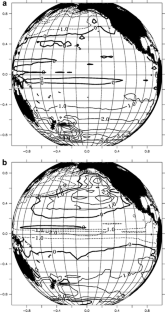 References
Andreasen D, Ravelo A (1997) Tropical Pacific Ocean thermocline depth reconstructions for the last glacial. Paleoceanography 12: 395–414

Bjerknes J (1969) Atmospheric teleconnections from the equatorial Pacific. Mon Weather Rev 97: 163–172

Blunier T, Chappellaz J, Schwader J, Dällenbach A, Stauffer B, Stocker T, Raynaud D, Jouzel J, Clausen H, Hammer C, Johnsen S (1998) Asynchrony of Antarctica and Greenland during the Last Glacial. Nature 394: 739–743

Broccoli A, Manabe S (1987) The influence of continental ice, atmospheric CO2 and land albedo on the climate of the last glacial maximum. Clim Dyn 1: 87–99

Bush A (2001) Simulating climates of the last glacial maximum and of the mid-holocene: wind changes, atmosphere-ocean interactions, and the tropical thermocline. AGU Monograph series (Oceans and rapid past and future climate changes: North-South connections)

Bush ABG, Philander SGH (1998) The role of ocean-atmosphere interactions in tropical cooling during the last glacial maximum. Science 279: 1341–1344

Campin J, Goosse H (1999) A parameterization of dense overflow in large-scale ocean models in z coordinate. Tellus 51A: 412–430

Clark P, Pisias N, Stocker T, Weaver A (2002) The role of the thermohaline circulation in abrupt climate change. Nature 415: 863–869

CLIMAP (1981) Seasonal reconstruction of the Earth's surface of the last glacial maximum. Geol Soc Am Map Chart Ser, MC-36: 1–18

Cook K, Held I (1988) Stationary waves of the ice age climate. J Clim 1: 807–819

Crowley T (2000) ClLMAP SSTs re-revisited. Clim Dyn 16: 241–245

Crowley T, Baum S (1997) Effect of vegetation on an ice-age climate model simulation. J Geophys Res 102: 16,463–16,480

Farrera I (1999) Tropical palaeoclimates at the last glacial maximum: a new synthesis of terrestrial data. Clim Dyn 15: 823–856

Gent P, McWilliams J (1990) Isopycnal mixing in ocean general circulation models. J Phys Oceanogr 20: 150–155

Goosse H, Fichefet T (1999) Importance of ice-ocean interactions for the global ocean circulation: a model study. J Geophys Res 104(C10):23,337–23,355

Goosse H, Deleersnijder E, Fichefet T, England M (1999) Sensitivity of a global coupled ocean-sea ice model to the parameterization of vertical mixing. J Geophys Res 104(C6): 13,681–13,695

Goosse H, Selten F, Haarsma R, Opsteegh J (2002) Large sea-ice volume anomalies simulated in a coupled climate model. Clim Dyn 10, DOI: 10.1007/s00382-002-0290-4

Guilderson T, Fairbanks R, Rubenstone J (1994) Tropical temperature variations since 20 000 years ago: modulating interhemispheric climate change. Science 263: 663–665

Heinrich H (1988) Origin and consequences of cyclic ice rafting in the North West Atlantic Ocean during the past 130 000 years. Quat Res 29: 143–152

Held I, Suarez M (1978) A two-level primitive equation atmosphere model designed for climate sensitivity experiments. J Atmos Sci 35: 206–229

Hewitt CD, Broccoli A, Mitchell J, Stouffer RJ (2001) A coupled model of the last glacial maximum: was part of the North Atlantic relatively warm? Geophys Res Lett 28: 1571–1574

Hostetler S, Mix A (1999) Reassessment of ice-age cooling of the tropical ocean and atmosphere. Nature 399: 673–676

Houghton EJT, Ding Y, Griggs D, Noguer M, Linden PV, Dai X, Maskell K, Johnson CA (eds) (2001) Climate change 2001. The scientific basis. Cambridge University Press, Cambridge, UK, pp 881

Jones PD (1994) Hemispheric surface air temperature variations: a reanalysis and an update to 1993. J Clim 7: 1794–1802

Kerr R (1995) Chilly ice-age tropics could signal climate sensitivity. Science 267: 961

Kim S, Flato G, Boer G (2003) A coupled climate model simulation of the last glacial maximum, part 2: approach to equilibrium. Clim Dyn 20: 635–661

Kitoh A, Muakami S, Koide H (2001) A simulation of the last glacial maximum with a coupled atmosphere-ocean GCM. Geophys Res Lett 28: 2221–2224

Klinger B, McCreary J, Kleeman R (2002) The relationship between oscillating subtropical wind stress and equatorial temperature. J Phys Oceanogr 32: 1507–1521

Knutson T, Manabe S, Gu D-F (1997) Simulated ENSO in a global coupled ocean-atmosphere model: multi-decadal amplitude modulation and CO2 sensitivity. J Clim 10: 138–161

Kohlfeld K, Harrison S (2000) How well can we simulate past climates? Evaluating the models using palaeo-environmental datasets. Quat Sci Rev 19: 321–346

Koutavas A, Lynch-Stieglitz J, Marchitto JT, Sachs J (2002) El Niño-like pattern in ice age tropical Pacific sea surface temperature. Science 297: 226–230

Kuo H (1956) Forced and free meridional circulations in the atmosphere. J Meteorol 13: 561–568

Lau N, Nath M (1996) The role of the "atmospheric bridge" in linking tropical Pacific ENSO events to extratropical SST anomalies. J Clim 9: 2036–2057

Lea D, Pak DK, Spero HJ (2000) Climate impact of late Quaternary Equatorial Pacific sea surface temperature variations. Science 289: 1719–1724

Lee K, Slowey N (1999) Cool surface waters of the subtropical north Pacific during the last glacial. Nature 397: 512–514

Liu Z, Kutzbach J, Wu L (2000) modelling climate shift of El Niño variability in the Holocene. Geophys Res Lett 27: 2265–2268

Liu Z, Philander S (1995) How different wind stress patterns affect the tropical-subtropical circulations of the upper ocean. J Phys Oceanogr 25: 449–462

Liu Z, Shin S, Otto-Bliesner B, Kutzbach J, Brady E (2002) Enhanced tropical cooling at the last glacial maximum by extratropical ocean ventilation. Geophys Res Lett 29, doi:10.1029/2001GL013938

Marshall J, Molteni F (1993) Toward a dynamic understanding of planetary-scale flow regimes. J Atmos Sci 50: 1792–1818

McCreary J, Lu P (1994) Interaction between the subtropical and the equatorial ocean circulations: the subtropical cell. J Phys Oceanogr 24: 466–497

Mellor G, Yamada T (1982) Development of a turbulence closure model for geophysical fluid problems. Rev Geophys Space Phys 20: 851–875

Oberhuber JM (1988) An atlas based on 'COADS' data set Tech Rep 15, Max Planck Institut für Meteorologie, Hamburg, Germany

Opsteegh J, Haarsma R, Selten F, Kattenberg A (1998) ECBILT: A dynamic alternative to mixed boundary conditions in ocean models. Tellus 50A: 348–367

Peltier W (1994) Ice age paleotopography. Science 265: 195–201

Pflaumann U, Sarnthein M, Chapman M, D'Abreu L, Funnell B, Huels M, Kiefer T, Maslin M, Schulz H, Swallow J, van Kreveld S, Vautravers M, Vogelsang E, Weinelt M (2003) Glacial North Atlantic: sea-surface conditions reconstructed by GLAMAP 2000. Paleoceanography 18: 1065, doi: 10.1029/2002PA000774

Pisias N, Mix A (1997) Spatial and temporal oceanographic variability of the eastern equatorial Pacific during the late Pleistocene: evidence from radiolaria microfossils. Paleoceanography 12: 381–393

Pisias N, Rea R (1988) Late Pleistocene paleoclimatology of the central equatorial Pacific: sea surface response to the southeast trade winds. Paleoceanography 3: 21–38

Porter S (1979) Hawaiian glacial climates. Quat Res 12: 161–187

Rind D (1987) Components of the ice age circulation. J Geophys Res 92: 4241–4281

Rind D, Peteet D (1985) Terrestrial conditions at the last glacial maximum and CLIMAP sea-surface temperature estimates, are they consistent? Quat Res 24: 1–22

Sarnthein M, Pflaumann U, Weinelt M (2003) Past extent of sea ice in the northern North Atlantic inferred from foraminiferal paleotemperature estimates. Paleoceanography 18: 1047, doi:10.1029/2002PA000771

Shin SI, Liu Z, Bliesner BLO, Kutzbach EB, Kutzbach JE, Harrison SP (2003) A simulation of the last glacial maximum climate using the NCAR CSM. Clim Dyn 20: 127–151

Stute M, Forster A, Frishkorn A, Serejo J, Clark R, Schlosser P, Broecker W, Bonani G (1995) Cooling of tropical Brazil (5 °C) during the last glacial maximum. Science 269: 379–383

Sun D, Lindzen R (1993) Water vapor feedback and the ice age snow line record. Ann Geophysicae 11: 204–215

Timmermann A, Latif M, Voss R (1999) Modes of climate variability as simulated by the coupled atmosphere-ocean model ECHAM3/LSG, Part 1: ENSO-like climate variability and its low-frequency modulation. Clim Dyn, 15: 605–618

Xie S, Liu W, Liu Q, Nonaka M (2001) Far-reaching effects of the Hawaiian islands on the Pacific ocean-atmosphere. Science 292: 2057–2060
Acknowledgements
This work is supported by the Deutsche Forschungsgemeinschaft (DFG) through the Collaborative Research Project SFB460 and CAPES-Brasilia, Grant 0794023. We thank Dr. A. Bush and an anonymous reviewer for their help comments on this work.
About this article
Cite this article
Timmermann, A., Justino, F., Jin, FF. et al. Surface temperature control in the North and tropical Pacific during the last glacial maximum. Climate Dynamics 23, 353–370 (2004). https://doi.org/10.1007/s00382-004-0434-9
Received:

Accepted:

Published:

Issue Date:

DOI: https://doi.org/10.1007/s00382-004-0434-9
Keywords
Teleconnection Pattern

Subtropical Gyre

Subpolar Gyre

Kuroshio Area

Eddy Momentum Flux