Abstract
Human activity increases the atmospheric water vapour content in an indirect way through climate feedbacks. We conclude here that human activity also has a direct influence on the water vapour concentration through irrigation. In idealised simulations we estimate a global mean radiative forcing in the range of 0.03 to +0.1 Wm–2 due to the increase in water vapour from irrigation. However, because the water cycle is embodied in the climate system, irrigation has a more complex influence on climate. We also simulate a change in the temperature vertical profile and a large surface cooling of up to 0.8 K over irrigated land areas. This is of opposite sign than expected from the radiative forcing alone, and this questions the applicability of the radiative forcing concept for such a climatic perturbation. Further, this study shows stronger links than previously recognised between climate change and freshwater scarcity which are environmental issues of paramount importance for the twenty first century.
Access options
Buy single article
Instant access to the full article PDF.
US$ 39.95
Tax calculation will be finalised during checkout.
Subscribe to journal
Immediate online access to all issues from 2019. Subscription will auto renew annually.
US$ 119
Tax calculation will be finalised during checkout.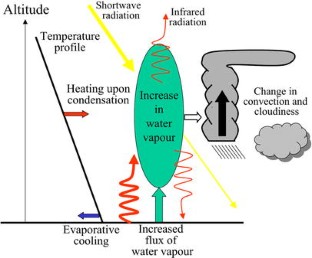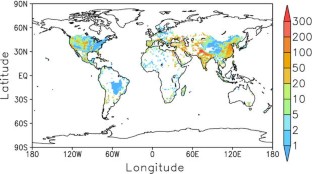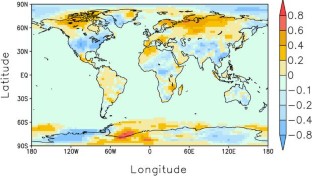 References
Ackerman AS, Toon OB, Stevens DE, Heymsfield AJ, Ramanathan V, Welton EJ (2000) Reduction of tropical cloudiness by soot. Science 288: 1042–1047

Adegoke JO, Pielke RA Sr, Eastman J, Mahmood R, Hubbard KG (2003) Impact of irrigation on midsummer surface fluxes and temperature under dry synoptic conditions: a regional atmospheric model study of the U.S. high plains. Mon Weather Rev 131: 556–564

Allen MR, Ingram WJ (2002) Constraints on future changes in climate and the hydrological cycle. Nature 419: 224–232

Barnston AG, Schickedanz PT (1984) The effect of irrigation on warm season precipitation in the southern Great Plains. J Clim Appl Meteorol 23: 865–888

Boucher O, Pham M (2002) History of sulfate aerosol radiative forcings. Geophys Res Lett 29(9): 1308, doi:10.1029/2001GL014048

Boucher O, Pham M, Venkataraman C (2002) Simulation of the atmospheric sulfur cycle in the Laboratoire de Météorologie Dynamique General Circulation Model. Model description, model evaluation, and global and European budgets. Note Technique de l'IPSL 23. Available from http://www.ipsl.jussieu.fr/poles/Modelisation/NotesSciences.htm

Döll P (2002) Impact of climate change and variability on irrigation requirements: a global perspective. Clim Change 54: 269–293

Döll P, Siebert S (2000) A digital global map of irrigated areas. ICID J 49: 55–66

Döll P, Siebert S (2002) Global modeling of irrigation water requirements. Water Resources Res 38: 1037

Gaffen DJ, Ross RJ (1999) Climatology and trends of US surface humidity and temperature. J Clim 12: 811–828

Hansen J, Sato M, Ruedy R (1997) Radiative forcing and climate response. J Geophys Res 102: 6831–6864

Hourdin F, Armangaud A (1999) The use of finite-volume methods for atmospheric advection of trace species. Part I. Test of various formulations in a general circulation model. Mon Weather Rev 127: 822–837

Intergovernmental Panel on Climate Change (IPCC) (1999) Aviation and the global atmosphere. In: JE Penner et al. (eds) Cambridge University Press, Cambridge, UK and New York, NY, USA, pp 373

Intergovernmental Panel on Climate Change (IPCC) (2001) The Scientific Basis. In: JT Houghton et al. (eds) Contribution of Working Group I to the Third Assessment Report of the Intergovernmental Panel on Climate Change. Cambridge University Press, Cambridge, UK and New York, USA, pp 881

Jianping Z, Zhong Y, Daojie W, Xinbao Z (2002) Climate change and causes in the Yuanmou dry-hot valley of Yunnan China. J Arid Environ 51: 153–162

Kaufman YJ, Tanré D, Boucher O (2002) A satellite view of aerosols in the climate system. Nature 419: 215–223

Kiehl JT, Trenberth KE (1997) Earth's annual global mean energy budget. Bull Am Meteorol Soc 78: 197–208

Kite G, Droogers P (2000) Comparing estimates of actual evapotranspiration from satellites, hydrological models, and field data: a case study from western Turkey. International Water Management Institute (IWMI) Research Report 42, pp 32

Le Treut H, Forichon M, Boucher O, Li Z-X (1998) Sulfate aerosol indirect effect and CO2 greenhouse forcing: equilibrium response of the LMD GCM and associated cloud feedbacks. J Clim 11: 1673–1684

Lohar D, Pal B (1995) The effect of irrigation on premonsoon season precipitation over south west Bengal, India. J Clim 8: 2567–2570

Milly PCD, Dunne KA (1994) Sensitivity of the global water cycle to the water-holding capacity of land. J Clim 7: 506–526

Molden D (1997) Accounting for water use and productivity. System – wide initiative for water management (SWIM) SWIM Paper 1, pp 16

Moore N, Rojstaczer S (2001) Irrigation-induced rainfall and the Great Plains. J Appl Meteorol 40: 1297–1309

Myhre G, Stordal F (1997) Role of spatial and temporal variations in the computation of radiative forcing and GWP. J Geophys Res 102: 11,181–11,200

Pielke RA Sr, Marland G, Betts RA, Chase TN, Eastman JL, Niles JO, Niyogi DDS, Running SW (2002) The influence of land-use change and landscape dynamics on the climate system: relevance to climate-change policy beyond the radiative effect of greenhouse gases. Philos Trans R Soc London A 360: 1705–1719

Postel S (1999) Pillar of sand. A worldwatch book. W.W. Norton and Company, pp 263

de Ridder K, Gallée H (1998) Land surface-induced regional climate change in southern Israel. J Appl Meteorol 37: 1470–1485

Rotstayn LD, Penner JE (2001) Indirect aerosol forcing, quasi-forcing, and climate response. J Clim 14: 2960–2975

Seckler D, Amarasinghe U, Molden D, de Silva R, Barker R (1998) World water demand and supply, 1990 to 2025: scenarios and issues. International Water Management Institute (IWMI) Research report 19, pp 40

Segal M, Pan Z, Turner RW, Takle ES (1998) On the potential impact of irrigated areas in North America on summer rainfall caused by large-scale systems. J Appl Meteorol 37: 325–331

Shiklomanov IA, Markova OL (1987) Problems of water supply and transfers of river flow in the world. Gidrometeoizdat, pp 294 (in Russian)

Soden BJ, Wetherald RT, Stenchikov GL, Robock A (2002) Global cooling after the eruption of Mount Pinatubo: a test of climate feedback by water vapor. Science 296: 727–730

de Vries DA (1959) The influence of irrigation on the energy balance and the climate near the ground. J Meteorol 16: 256–270

Tiedtke M (1989) A comprehensive mass flux scheme for cumulus parametrization in large-scale models. Mon Weather Rev 117: 1779–1800

van Leer B (1977) Towards the ultimate conservative difference scheme. Part IV. A new approach to numerical convection. J Comput Phys 23: 276–299

Zhou T-J, Li Z-X (2002) Simulation of the east Asian summer monsoon using a variable resolution atmospheric GCM. Clim Dyn 19: 167–180
Acknowledgements
We thank P. Döll for providing the data of irrigated areas and the LMD for supporting the LMDZT model. Computing time was provided by the "Institut du Développement et des Ressources en Informatique Scientifique" of the CNRS under project 021167. The Laboratoire d'Optique Atmosphérique is an institute of the "Fédération de Recherche" FR1818 of the CNRS. Dr. Chris Milly and an anonymous reviewer are acknowledged for their helpful comments.
About this article
Cite this article
Boucher, O., Myhre, G. & Myhre, A. Direct human influence of irrigation on atmospheric water vapour and climate. Climate Dynamics 22, 597–603 (2004). https://doi.org/10.1007/s00382-004-0402-4
Received:

Accepted:

Published:

Issue Date:
Keywords
Water Vapour

Land Surface Temperature

Radiative Force

Precipitable Water

Evaporative Cool