Abstract
Purpose
Pineal anlage tumor is an extremely rare tumor which was considered as a subtype of pineovlatoma with an overall poor prognosis. This case-based review further summarize the clinical profile.
Methods
A patient with pineal anlage tumor was reported, her clinical data and gene analysis results were recorded.
Results
An 8-month-old girl, with an obvious enhancing pineal occupancy and obstructive hydrocephalus. Her histological and immunohistochemical findings contained rhabdomyoblastic, melanin pigment and cartilage island. The wholeexpme sequencing and genome-wide copy number variation sequencing were performed, no mutations associated with pineoblatoma as well as copy number variants were identified. In terms of treatment, our patient underwent subtotal resection without radiotherapy or chemotherapy, and the residual tumor enlarged 4 months after surgery. We have followed her up for 10 months, and the child is still alive.
Conclusion
Surgery combined radiotherapy and chemotherapy is still the best treatment currently,and genetic testing for patients is necessary.
Access options
Buy single article
Instant access to the full article PDF.
USD 39.95
Price excludes VAT (USA)
Tax calculation will be finalised during checkout.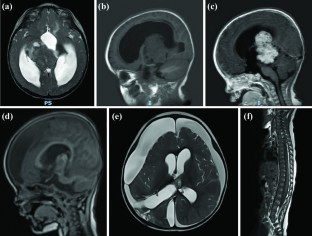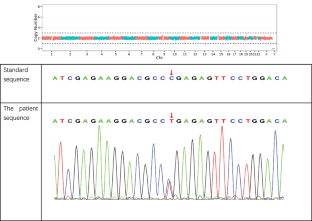 Data availability
The datasets are generated from the electronic database of the pediatric neurologic ward of Beijing Children's Hospital.
References
Favero G, Bonomini F, Rezzani R (2021) Pineal gland tumors: a review. Cancers 13(7):1547. https://doi.org/10.3390/cancers13071547

Louis DN, Perry A, Reifenberger G, von Deimling A, Figarella-Branger D, Cavenee WK, Ohgaki H, Wiestler OD, Kleihues P, Ellison DW (2016) The 2016 World Health Organization classification of tumors of the central nervous system: a summary. Acta Neuropathol 131(6):803–820. https://doi.org/10.1007/s00401-016-1545-1

Schmidbauer M, Budka H, Pilz P (1989) Neuroepithelial and ectomesenchymal differentiation in a primitive pineal tumor ("pineal anlage tumor"). Clin Neuropathol 8(1):7–10

Raisanen J, Vogel H, Horoupian DS (1990) Primitive pineal tumor with retinoblastomatous and retinal/ciliary epithelial differentiation: an immunohistochemical study. J Neurooncol 9(2):165–170. https://doi.org/10.1007/BF02427838

McGrogan G, Rivel J, Vital C, Guerin J (1992) A pineal tumour with features of "pineal anlage tumour." Acta Neurochir 117(1–2):73–77. https://doi.org/10.1007/BF01400641

Gudinaviciene I, Pranys D, Zheng P, Kros JM (2005) A 10-month-old boy with a large pineal tumor. Brain Pathol (Zurich, Switzerland) 15(3):263–267. https://doi.org/10.1111/j.1750-3639.2005.tb00530.x

Olaya JE, Raghavan R, Totaro L, Zouros A (2010) Pineal anlage tumor in a 5-month-old boy. J Neurosurg Pediatr 5(6):636–640. https://doi.org/10.3171/2010.2.PEDS09294

Ahuja A, Sharma MC, Suri V, Sarkar C, Sharma BS, Garg A (2011) Pineal anlage tumour - a rare entity with divergent histology. J Clin Neurosci: Official J Neurosurg Soc Australasia 18(6):811–813. https://doi.org/10.1016/j.jocn.2010.09.016

Zhang Y-Z, Li W-H, Zhang Z-Y, Wu X-R, Ma J (2012) Imaging and pathologic findings of a pineal anlage tumor in a child. Neurosurg Q 22:168–170. https://doi.org/10.1097/WNQ.0b013e318240013c

Rodríguez-Velasco A, Ramírez-Reyes AG (2014) Tumor pineal anlage en un niño de 8 meses. Primer caso informado en lengua hispana [Pineal anlage tumor in a 8-month-old boy. The first case reported in Spanish language]. Revista medica del Instituto Mexicano del Seguro Social 52 Suppl 2:S90–S93

Cambruzzi E, Medeiros MS, da Silva J, Nascimento G, Zandoná NB, Kus WP (2022) Pineal anlage tumor: a case report and review of the literature. Child's Nerv Syst: ChNS : Official J Int Soc Pediatric Neurosurg 38(8):1625–1629. https://doi.org/10.1007/s00381-021-05441-z

Ramdasi R, Kothari K, Goel N, Mahore A (2015) An unusual variant of anlage tumor of pineal region in an infant. Brain Tumor Res Treat 3(1):52–55. https://doi.org/10.14791/btrt.2015.3.1.52

Homma T, Hemmi A, Ohta T, Kusumi Y, Yoshino A, Hao H (2017) A rare case of a pineoblastoma with a rhabdomyoblastic component. Neuropathology: Official J Japanese Soc Neuropathol 37(3):227–232. https://doi.org/10.1111/neup.12346

Lopez-Nunez O, Alaggio R, John I, Ciolfi A, Pedace L, Mastronuzzi A, Gianno F, Giangaspero F, Rossi S, Donofrio V, Cinalli G, Surrey LF, Tartaglia M, Locatelli F, Miele E (2021) Melanotic neuroectodermal tumor of infancy (MNTI) and pineal anlage tumor (PAT) harbor a medulloblastoma signature by DNA methylation profiling. Cancers 13(4):706. https://doi.org/10.3390/cancers13040706

Uppal DK, Madan R, Chatterjee D, Mohindra S, Bhatia V, Goyal S (2021) Pineal anlage tumor: a case report and clinico-pathological review. Clin Neurol Neurosurg 206:106629. https://doi.org/10.1016/j.clineuro.2021.106629

Scherpelz KP, Crotty EE, Paulson VA, Lockwood CM, Leary S, Ellenbogen RG, Lee A, Ermoian RP, Vitanza NA, Cole BL (2022) Two cases of pineal anlage tumor with molecular analysis. Pediatr Blood Cancer 69(4):e29596. https://doi.org/10.1002/pbc.29596

Berns S, Pearl G (2006) Review of pineal anlage tumor with divergent histology. Arch Pathol Lab Med 130(8):1233–1235. https://doi.org/10.5858/2006-130-1233-ROPATW

Liu A, Li BK, Pfaff E, Gudenas B, Vasiljevic A, Orr BA, Dufour C, Snuderl M, Karajannis MA, Rosenblum MK, Hwang EI, Ng HK, Hansford JR, Szathmari A, Faure-Conter C, Merchant TE, Levine M, Bouvier N, von Hoff K, Mynarek M, Huang A (2021) Clinical and molecular heterogeneity of pineal parenchymal tumors: a consensus study. Acta Neuropathol 141(5):771–785. https://doi.org/10.1007/s00401-021-02284-5

Tripathy R, Leca I, van Dijk T, Weiss J, van Bon BW, Sergaki MC, Gstrein T, Breuss M, Tian G, Bahi-Buisson N, Paciorkowski AR, Pagnamenta AT, Wenninger-Weinzierl A, Martinez-Reza MF, Landler L, Lise S, Taylor JC, Terrone G, Vitiello G, Del Giudice E, Keays DA (2018) Mutations in MAST1 cause mega-corpus-callosum syndrome with cerebellar hypoplasia and cortical malformations. Neuron 100(6):1354-1368.e5. https://doi.org/10.1016/j.neuron.2018.10.044

Jin L, Chun J, Pan C, Li D, Lin R, Alesi GN, Wang X, Kang HB, Song L, Wang D, Zhang G, Fan J, Boggon TJ, Zhou L, Kowalski J, Qu CK, Steuer CE, Chen GZ, Saba NF, Boise LH, Kang S (2018) MAST1 drives cisplatin resistance in human cancers by rewiring cRaf-independent MEK activation. Cancer Cell 34(2):315-330.e7. https://doi.org/10.1016/j.ccell.2018.06.012
Acknowledgements
We thank Dr. Yun Peng and other medical colleagues at Beijing Children's Hospital, Capital Medical University for the radiomic data and suggestions which they gave to us.
Ethics declarations
Ethics approval
This is a case report and literature review, and this study did not involve any human or animal. Approval for this study was obtained from the ethics committee of Beijing Children's Hospital, Capital Medical University (Date.20220328/No.[2022]-E-074-R).
Consent to participate
Informed consent was taken from the parents.
Consent for publication
The authors affirmed that informed consent for data was provided by the participants mentioned above.
Conflict of interest
The authors declare no competing interests.
Additional information
Publisher's Note
Springer Nature remains neutral with regard to jurisdictional claims in published maps and institutional affiliations.
Rights and permissions
Springer Nature or its licensor (e.g. a society or other partner) holds exclusive rights to this article under a publishing agreement with the author(s) or other rightsholder(s); author self-archiving of the accepted manuscript version of this article is solely governed by the terms of such publishing agreement and applicable law.
About this article
Cite this article
Ying, Z., Ge, M., Yang, W. et al. Pineal anlage tumor: a case report and the literature review. Childs Nerv Syst 39, 353–358 (2023). https://doi.org/10.1007/s00381-022-05763-6
Received:

Accepted:

Published:

Issue Date:

DOI: https://doi.org/10.1007/s00381-022-05763-6
Keywords
Pineal anlage tumor

Pineoblatoma

MAST1

DNA methylation profiling

Myogenic marker