Abstract
Brain imaging plays a key role in accurately identifying abusive head trauma (AHT). An exact and rapid diagnosis is needed due to the extreme severity of AHT, since there is a risk of neurological sequelae and potentially fatal recurrence. Several medical specialists will work collaboratively to detect and confirm abuse in children: the radiologist has a leading role in this approach. This article describes the most common neuro-imaging patterns of AHT, including extra axial, intra axial, bony, and ligamentous lesions, with a special focus on the dating issue and the differential diagnosis.
This is a preview of subscription content,
to check access.
Access this article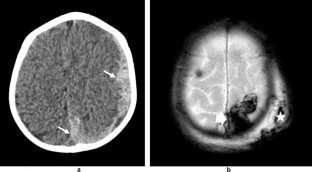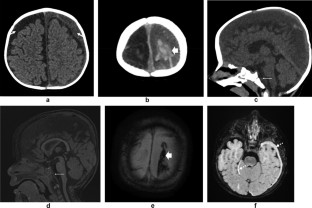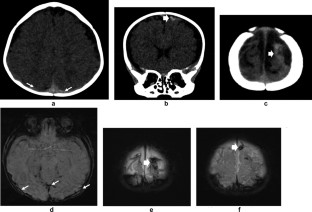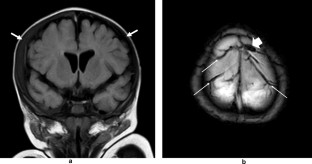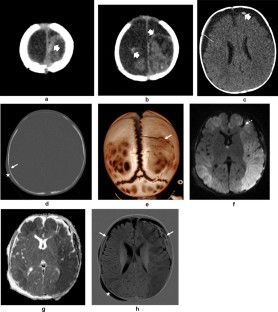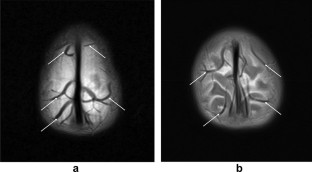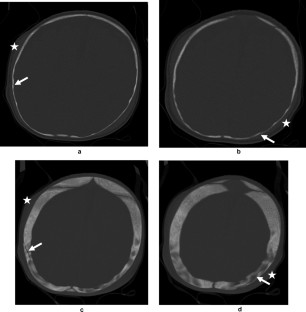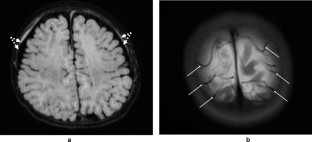 Availability of data and material
Not applicable: no datasets were generated during this study.
References
Adamsbaum C, Méjean N, Merzoug V, Rey-Salmon C (2010) How to explore and report children with suspected non-accidental trauma. Pediatr Radiol 40:932–938

Choudhary AK et al (2018) Consensus statement on abusive head trauma in infants and young children. Pediatr Radiol 48:1048–1065

Blangis F et al (2021) Variations in guidelines for diagnosis of child physical abuse in high-income countries: a systematic review. JAMA Netw Open 4:e2129068

Gunda D, Cornwell BO, Dahmoush HM, Jazbeh S, Alleman AM (2019) Pediatric central nervous system imaging of nonaccidental trauma: beyond subdural hematomas. Radiographics 39:213–228

Fanconi M, Lips U (2010) Shaken baby syndrome in Switzerland: results of a prospective follow-up study, 2002–2007. Eur J Pediatr 169:1023–1028

Silvera VM et al (2014) Retroclival collections associated with abusive head trauma in children. Pediatr Radiol 44:621–631

Adamsbaum C, Rambaud C (2012) Abusive head trauma: don't overlook bridging vein thrombosis. Pediatr Radiol 42:1298–1300

Vilanilam GK et al (2021) Venous injury in pediatric abusive head trauma: a pictorial review. Pediatr Radiol 51:918–926

Hahnemann ML et al (2015) Imaging of bridging vein thrombosis in infants with abusive head trauma: the "Tadpole Sign." Eur Radiol 25:299–305

Ronning MM, Carolan PL, Cutler GJ, Patterson RJ (2018) Parasagittal vertex clots on head CT in infants with subdural hemorrhage as a predictor for abusive head trauma. Pediatr Radiol 48:1915–1923

Zimmerman RA, Bilaniuk LT, Farina L (2007) Non-accidental brain trauma in infants: diffusion imaging, contributions to understanding the injury process. J Neuroradiol 34:109–114

Vázquez E et al (2014) Imaging abusive head trauma: why use both computed tomography and magnetic resonance imaging? Pediatr Radiol 44:589–603

Oates AJ, Sidpra J, Mankad K (2021) Parenchymal brain injuries in abusive head trauma. Pediatr Radiol 51:898–910

Palifka LA, Frasier LD, Metzger RR, Hedlund GL (2016) Parenchymal brain laceration as a predictor of abusive head trauma. Am J Neuroradiol 37:163–168

Kemp AM et al (2008) Patterns of skeletal fractures in child abuse: systematic review. BMJ 337:a1518–a1518

Meservy C, Towbin R, McLaurin R, Myers P, Ball W (1987) Radiographic characteristics of skull fractures resulting from child abuse. Am J Roentgenol 149:173–175

Idriz S, Patel JH, Ameli Renani S, Allan R, Vlahos I (2015) CT of normal developmental and variant anatomy of the pediatric skull: distinguishing trauma from normality. Radiographics 35:1585–1601

Choudhary AK, Ishak R, Zacharia TT, Dias MS (2014) Imaging of spinal injury in abusive head trauma: a retrospective study. Pediatr Radiol 44:1130–1140

Haq I, Jayappa S, Desai SK, Ramakrishnaiah R, Choudhary AK (2021) Spinal ligamentous injury in abusive head trauma: a pictorial review. Pediatr Radiol 51:971–979

Garcia-Pires F, Jayappa S, Desai S, Ramakrishnaiah RH, Choudhary AK (2021) Spinal subdural hemorrhage in abusive head trauma: a pictorial review. Pediatr Radiol 51:980–990

Kadom N et al (2014) Usefulness of MRI detection of cervical spine and brain injuries in the evaluation of abusive head trauma. Pediatr Radiol 44:839–848

Wittschieber D, Karger B, Pfeiffer H, Hahnemann ML (2018) Understanding subdural collections in pediatric abusive head trauma. Am J Neuroradiol ajnr;ajnr.A5855v1. https://doi.org/10.3174/ajnr.A5855

Dias MS, Thamburaj K (2021) Neuroradiologic timing of intracranial hemorrhage in abusive head trauma. Pediatr Radiol 51:911–917

Girard N, Brunel H, Dory-Lautrec P, Chabrol B (2016) Neuroimaging differential diagnoses to abusive head trauma. Pediatr Radiol 46:603–614

Bartoli M et al (2022) Is bridging vein rupture/thrombosis associated with subdural hematoma at birth? Pediatr Radiol. https://doi.org/10.1007/s00247-021-05255-w
Ethics declarations
Informed consent
The authors declare that this review does not contain any personal information that could lead to the identification of the patients.
Consent for publication
The authors give consent for publication upon acceptance.
Conflict of interest
The authors have no competing interests to declare that are relevant to the content of this article. Prof. Catherine Adamsbaum is judicial expert in the Court of Appeal of Paris and in the Supreme Court. Experts in France are independent.
Additional information
Publisher's Note
Springer Nature remains neutral with regard to jurisdictional claims in published maps and institutional affiliations.
Rights and permissions
Springer Nature or its licensor holds exclusive rights to this article under a publishing agreement with the author(s) or other rightsholder(s); author self-archiving of the accepted manuscript version of this article is solely governed by the terms of such publishing agreement and applicable law.
About this article
Cite this article
Mannes, I., Drissi, C. & Adamsbaum, C. Imaging findings in abusive head trauma (AHT). Childs Nerv Syst 38, 2325–2334 (2022). https://doi.org/10.1007/s00381-022-05672-8
Received:

Accepted:

Published:

Issue Date:

DOI: https://doi.org/10.1007/s00381-022-05672-8
Keywords