Abstract
Introduction
Abusive head injuries is a major cause of severe morbidity and the main cause of mortality by head trauma in infants.
Material and methods
Based on published data and their own clinical and medicolegal practice, the authors review briefly the historical roots and emergence of the concept of abusive head injuries (AHI), until the present scientific understanding of shaken baby syndrome (SBS) and Silverman syndrome. They then discuss the present epidemic of denialism and how this challenge to science should be seen as a stimulus to increase research and improve the accuracy of diagnosis and medical practice.
Results
The denial of SBS is especially damaging because it undermines the possibilities of prevention and reparation for victims. The authors expand on AHI being part of a wider context of domestic violence and the prevention of child abuse being part of a broad and long-term endeavor to defend civilization values.
Conclusions
Prevention of AHI is a major challenge for the future. In the fields of science and prevention of child abuse, the input of pediatric neurosurgeons should not be underestimated.
This is a preview of subscription content,
to check access.
Access this article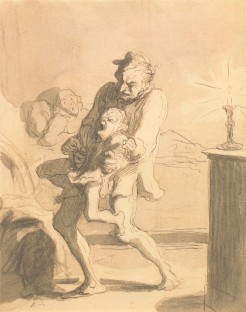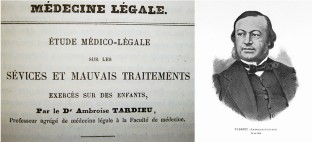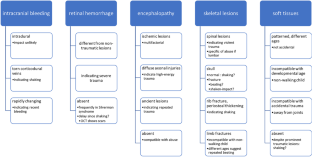 Similar content being viewed by others
Availability of data and materials
We the authors commit ourselves to provide all data upon request.
References
Vinchon M (2006) Honoré Daumier and child abuse. Childs Nerv Syst 22:635. https://doi.org/10.1007/s00381-006-0109-4

Roche AJ, Fortin G, Labbé J, Brown J, Chadwick D (2005) The work of Ambroise Tardieu: the first definitive description of child abuse. Child Abuse Negl 29(4):325–334. https://doi.org/10.1016/j.chiabu.2004.04.007 (Epub 2005 Apr 26 PMID: 15917075)

Kempe CH, Silverman FN, Steele BF, Droegmueller W, Silver HK (1962) The battered-child syndrome. JAMA 7(181):17–24. https://doi.org/10.1001/jama.1962.03050270019004 (PMID: 14455086)

Caffey J (1972) On the theory and practice of shaking infants. Its potential residual effects of permanent brain damage and mental retardation. Am J Dis Child 124(2):161–169. https://doi.org/10.1001/archpedi.1972.02110140011001 (PMID: 4559532)

Duhaime AC, Gennarelli TA, Thibault LE, Bruce DA, Margulies SS, Wiser R (1987) The shaken baby syndrome. A clinical, pathological, and biomechanical study. J Neurosurg 66(3):409–4. https://doi.org/10.3171/jns.1987.66.3.0409 (PMID: 3819836)

Vinchon M, de Foort-Dhellemmes S, Desurmont M, Delestret I (2010) Confessed abuse versus witnessed accidents in infants: comparison of clinical, radiological, and ophthalmological data in corroborated cases. Childs Nerv Syst 26(5):637–645. https://doi.org/10.1007/s00381-009-1048-7 (Epub 2009 Nov 28 PMID: 19946688)

Adamsbaum C, Rambaud C (2012) Abusive head trauma: don't overlook bridging vein thrombosis. Pediatr Radiol 42(11):1298–1300. https://doi.org/10.1007/s00247-012-2434-y (Epub 2012 Aug 12 PMID: 22885602)

Rambaud C (2015) Bridging veins and autopsy findings in abusive head trauma. Pediatr Radiol 45(8):1126–1131. https://doi.org/10.1007/s00247-015-3285-0 (Epub 2015 Feb 20 PMID: 25698365)

Adamsbaum C, Grabar S, Mejean N, Rey-Salmon C (2010) Abusive head trauma: judicial admissions highlight violent and repetitive shaking. Pediatrics 126(3):546–555. https://doi.org/10.1542/peds.2009-3647 (Epub 2010 Aug 9 PMID: 20696720)

Finnie JW, Blumbergs PC, Manavis J, Turner RJ, Helps S, Vink R, Byard RW, Chidlow G, Sandoz B, Dutschke J, Anderson RW (2012) Neuropathological changes in a lamb model of non-accidental head injury (the shaken baby syndrome). J Clin Neurosci 19(8):1159–1164. https://doi.org/10.1016/j.jocn.2011.12.019 (Epub 2012 Jun 15 PMID: 22705132)

Roth S, Raul JS, Ludes B, Willinger R (2007) Finite element analysis of impact and shaking inflicted to a child. Int J Legal Med 121(3):223–228. https://doi.org/10.1007/s00414-006-0129-3 (Epub 2006 Nov 8 PMID: 17091312)

Boos SC, Wang M, Karst WA et al (2022) Traumatic head injury and the diagnosis of abuse: a cluster analysis. Pediatrics 149(1):e2021051742

Fox news: mother whose child was abused… https://www.fox7austin.com/news/mother-whose-child-was-abused-by-mckinney-daycare-worker-wants-more-access-to-surveillance-video-for-parents last consulted on July 20th, 2022

Barr RG, Barr M, Rajabali F, Humphreys C, Pike I, Brant R, Hlady J, Colbourne M, Fujiwara T, Singhal A (2018) Eight-year outcome of implementation of abusive head trauma prevention. Child Abuse Negl 84:106–114. https://doi.org/10.1016/j.chiabu.2018.07.004 (Epub 2018 Aug 1 PMID: 30077049)

Fujiwara T (2015) Effectiveness of public health practices against shaken baby syndrome/abusive head trauma in Japan. Public Health 129(5):475–482. https://doi.org/10.1016/j.puhe.2015.01.018 (Epub 2015 Mar 3 PMID: 25744111)

Vinchon M, Noulé N, Karnoub MA (2022) The legal challenges to the diagnosis of shaken baby syndrome or how to counter 12 common fake news. Childs Nerv Syst 38(1):133–145. https://doi.org/10.1007/s00381-021-05357-8 (Epub 2021 Sep 25 PMID: 34564748)

Lynøe N, Elinder G, Hallberg B, Rosén M, Sundgren P, Eriksson A (2017) Insufficient evidence for 'shaken baby syndrome' - a systematic review. Acta Paediatr 106:1021–1027. https://doi.org/10.1111/apa.13760 (Epub 2017 Mar 1 PMID: 28130787)

Dias MS, Smith K, DeGuehery K, Mazur P, Li V, Shaffer ML (2005) Preventing abusive head trauma among infants and young children: a hospital-based, parent education program. Pediatrics 115(4):e470–e477

Zolotor AJ, Runyan DK, Shanahan M, Durrance CP, Nocera M, Sullivan K et al (2015) Effectiveness of a statewide abusive head trauma prevention program in North Carolina. JAMA Pediatr 169(12):1126–1131

Peterson C, Xu L, Florence C, Parks SE, Miller TR, Barr RG et al (2014) The medical cost of abusive head trauma in the United States. Pediatrics 134(1):91–99

Miller TR, Steinbeigle R, Lawrence BA, Peterson C, Florence C, Barr M et al (2018) Lifetime cost of abusive head trauma at Ages 0–4, USA. Prev Sci 19(6):695–704

Tursz A, Cook JM (2014) Epidemiological data on shaken baby syndrome in France using judicial sources. Pediatr Radiol 44(Suppl 4):S641–S646

Vinchon M (2017) Shaken baby syndrome: what certainty do we have? Childs Nerv Syst 33(10):1727–1733. https://doi.org/10.1007/s00381-017-3517-8 (Epub 2017 Sep 6 PMID: 29149395)

Theodore AD, Chang JJ, Runyan DK, Hunter WM, Bangdiwala SI, Agans R (2005) Epidemiologic features of the physical and sexual maltreatment of children in the Carolinas. Pediatrics 115(3):e331–e337

Glasser M, Kolvin I, Campbell D, Glasser A, Leitch I, Farrelly S (2001) Cycle of child sexual abuse: links between being a victim and becoming a perpetrator. Br J Psychiatry 179:482–494; discussion 495-7. https://doi.org/10.1192/bjp.179.6.482 (PMID: 11731348)

Lang K, Liel C, Lux U, Kindler H, Vierhaus M, Eickhorst A (2022) Child abuse potential in young German parents: predictors, associations with self-reported maltreatment and intervention use. Child Psychiatry Hum Dev 53(3):569–581. https://doi.org/10.1007/s10578-021-01157-y (Epub 2021 Mar 17. PMID: 33730359; PMCID: PMC9107397)

National interministerial observatory for road security [Observatoire national interministériel de la sécurité routière], 2022 https://www.onisr.securite-routiere.gouv.fr/outils-statistiques/series-statistiques, last consulted on August 9th, 2022

Clément ME, Chamberland C, Bouchard C (2016) Prevalence, co-occurrence and decennial trends of family violence toward children in the general population. Can J Public Health 106(7 Suppl 2):eS31–eS37. https://doi.org/10.17269/cjph.106.4839 (PMID: 26978698; PMCID: PMC6972253)
Ethics declarations
Competing interests
The authors declare no competing interests.
Ethics approval and consent to participate
Not applicable.
Consent for publication
Not applicable.
Conflict of interest
The authors declare no competing interests.
Additional information
Publisher's Note
Springer Nature remains neutral with regard to jurisdictional claims in published maps and institutional affiliations.
Rights and permissions
Springer Nature or its licensor (e.g. a society or other partner) holds exclusive rights to this article under a publishing agreement with the author(s) or other rightsholder(s); author self-archiving of the accepted manuscript version of this article is solely governed by the terms of such publishing agreement and applicable law.
About this article
Cite this article
Vinchon, M., Di Rocco, F. Abusive head injuries in infants: from founders to denialism and beyond. Childs Nerv Syst 38, 2275–2280 (2022). https://doi.org/10.1007/s00381-022-05671-9
Received:

Accepted:

Published:

Issue Date:

DOI: https://doi.org/10.1007/s00381-022-05671-9
Keywords