Abstract
Background and purpose
Pediatric neurosurgeons are at the forefront of the clinical management of abusive head injuries (AHI) all over the world. However, the discrepancies regarding medical practice and legal requirements in different centers have not been assessed before.
Material and methods
We decided to perform an online survey among members of the International Society for Pediatric Neurosurgery (ISPN) regarding their activity, their usual clinical practice regarding the medical and legal management of AHI, and their involvement in judiciary proceedings, research, and prevention campaigns.
Results
Ninety members of the ISPN participated in the survey, representing 26% of the registered members. Most responders were senior pediatric neurosurgeons practicing in a university hospital. Their responses show great homogeneity regarding surgical, intensive care, and legal management. We also noted the widespread use of invasive intracranial pressure monitoring and decompressive craniotomy. By contrast, the responses show great disparity regarding the circuit of patients. This disparity may be an obstacle to the collection of data and clinical research, as well as for the involvement of neurosurgeons in multidisciplinary evaluation. A minority of neurosurgeons were engaged in research and actions of prevention.
Conclusion
Pediatric neurosurgeons play a pivotal role in the diagnosis and medical management of AHI. Because of their proficiency in head trauma and cerebrospinal fluid disorders, it is desirable that they become more implicated in multidisciplinary meetings, medical expertise, and scientific research, as well as actions of prevention.
Access options
Buy single article
Instant access to the full article PDF.
USD 39.95
Price excludes VAT (USA)
Tax calculation will be finalised during checkout.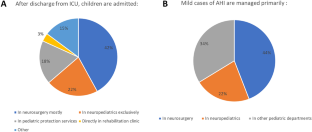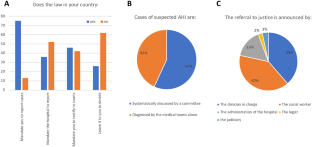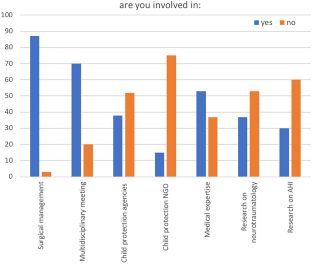 Availability of data and material
We the authors commit ourselves to provide all data of the survey upon request. Data and material are stored.
References
Laurent-Vannier A, Nathanson M, Quiriau F, Briand-Huchet E, Cook J, Billette de Villemeur T, Chazal J, Christophe C, Defoort-Dhellemmes S, Fortin G, Rambaud C, Raul JS, Rey-Salmon C, Sottet F, Vieux E, Vinchon M, Willinger R, French Society of Physical Medicine and Rehabilitation; French National Authority for Health (2011) A public hearing. "Shaken baby syndrome: guidelines on establishing a robust diagnosis and the procedures to be adopted by healthcare and social services staff". Scoping report. Ann Phys Rehabil Med 54(9–10):533–99. English, French. https://doi.org/10.1016/j.rehab.2011.10.003. Epub 2011 Nov 3. PMID: 22118913

Duhaime AC, Gennarelli TA, Thibault LE, Bruce DA, Margulies SS, Wiser R (1987) The shaken baby syndrome. A clinical, pathological, and biomechanical study. J Neurosurg 66(3):409–415. https://doi.org/10.3171/jns.1987.66.3.0409. PMID: 3819836

Raul JS, Roth S, Ludes B, Willinger R (2008) Influence of the benign enlargement of the subarachnoid space on the bridging veins strain during a shaking event: a finite element study. Int J Legal Med 122(4):337–340. https://doi.org/10.1007/s00414-008-0242-6. Epub 2008 May 21 PMID: 18493785

Vinchon M, de Foort-Dhellemmes S, Desurmont M, Delestret I (2010) Confessed abuse versus witnessed accidents in infants: comparison of clinical, radiological, and ophthalmological data in corroborated cases. Childs Nerv Syst 26(5):637–645. https://doi.org/10.1007/s00381-009-1048-7. Epub 2009 Nov 28 PMID: 19946688

Dias MS, Cappos KM, Rottmund CM, Reed ME, Smith KM, deGuehery KA, Wang M (2021) Preventing abusive head trauma: can educating parents reduce the incidence? Pediatr Radiol 51(6):1093–1096. https://doi.org/10.1007/s00247-020-04819-6. Epub 2021 May 17 PMID: 33999251

Barr RG, Barr M, Rajabali F, Humphreys C, Pike I, Brant R, Hlady J, Colbourne M, Fujiwara T, Singhal A (2018) Eight-year outcome of implementation of abusive head trauma prevention. Child Abuse Negl 84:106–114. https://doi.org/10.1016/j.chiabu.2018.07.004. Epub 2018 Aug 1 PMID: 30077049

Cho DY, Wang YC, Chi CS (1995) Decompressive craniotomy for acute shaken/impact baby syndrome. Pediatr Neurosurg 23(4):192–198. https://doi.org/10.1159/000120958. PMID: 8835209

Manfiotto M, Beccaria K, Rolland A, Paternoster G, Plas B, Boetto S, Vinchon M, Mottolese C, Beuriat PA, Szathmari A, Di Rocco F, Scavarda D, Seigneuret E, Wrobleski I, Klein O, Joud A, Gimbert E, Jecko V, Vignes JR, Roujeau T, Dupont A, Zerah M, Lonjon M (2019) Decompressive craniectomy in children with severe traumatic brain injury: a multicenter retrospective study and literature review. World Neurosurg 129:e56–e62. https://doi.org/10.1016/j.wneu.2019.04.215. Epub 2019 May 1 PMID: 31054345

Theodore AD, Chang JJ, Runyan DK, Hunter WM, Bangdiwala SI, Agans R (2005) Epidemiologic features of the physical and sexual maltreatment of children in the Carolinas. Pediatrics 115(3):e331–e337

Owaidah SF, Alharaz RI, Aljubran SH, Almuhanna ZY, Menezes RG (2022) Factors affecting reporting of suspected child maltreatment in Saudi Arabia. J Forensic Leg Med 89:102371. https://doi.org/10.1016/j.jflm.2022.102371. Epub 2022 May 11 PMID: 35640498

Fujiwara T, Nagase H, Okuyama M, Hoshino T, Aoki K, Nagashima T, Nakamura H (2010) Validity of caregivers' reports on head trauma due to falls in young children aged less than 2 years. Clin Med Insights Pediatr 7(4):11–18. https://doi.org/10.4137/cmped.s4624. PMID:23761991; PMCID:PMC3667039
Ethics declarations
Ethics approval and consent to participate
Not applicable.
Consent for publication
We the authors give consent for publication and will transfer the copyright upon acceptance.
Conflict of interest
We the authors declare having no conflict of interest.
Disclaimer
This is an anonymous survey.
Additional information
Publisher's Note
Springer Nature remains neutral with regard to jurisdictional claims in published maps and institutional affiliations.
Rights and permissions
Springer Nature or its licensor holds exclusive rights to this article under a publishing agreement with the author(s) or other rightsholder(s); author self-archiving of the accepted manuscript version of this article is solely governed by the terms of such publishing agreement and applicable law.
About this article
Cite this article
Vinchon, M., Di Rocco, F. The role of the pediatric neurosurgeon in abusive head injuries: a survey of members of the International Society for Pediatric Neurosurgery. Childs Nerv Syst 38, 2289–2294 (2022). https://doi.org/10.1007/s00381-022-05650-0
Received:

Accepted:

Published:

Issue Date:

DOI: https://doi.org/10.1007/s00381-022-05650-0
Keywords