Abstract
Background and purpose
Abusive head injuries (AHI), and in particular shaken baby syndrome (SBS), are common causes of mortality and morbidity in infants. Although SBS is a well-established entity, based on clinical experience and experimental data, and confirmed by the perpetrators' confessions, a growing number of publications challenge the diagnostic criteria, and even the validity of the perpetrators' confession. We decided to study AHI in infants and compare cases with and without confession.
Material and methods
We collected prospectively all cases of infantile traumatic head injuries hospitalized in our institution between 2001 and 2021. From this database, we selected victims of AHI, comparing cases for which the perpetrator confessed during police inquiry ("confession" group) versus cases without confession ("denial" group).
Results
We studied 350 cases of AHI in infants; 137 of these (39.1%) were confessed. We found no statistically significant difference between the two groups regarding the child's previous history, as well as the personality and previous history of the caretakers. However, the "confession" group showed significantly more severe clinical presentation, cerebral lesions, retinal hemorrhages, and a more pejorative outcome.
Conclusions
We conclude that the diagnosis of AHI was confirmed by the confession in a large number of cases, indicating that the diagnostic criteria of AHI are robust. We also found that denial, although possibly sincere, was likely ill-founded, and that the perpetrators' decision to confess or deny was markedly influenced by the severity of the inflicted lesions.
Access options
Buy single article
Instant access to the full article PDF.
USD 39.95
Price excludes VAT (USA)
Tax calculation will be finalised during checkout.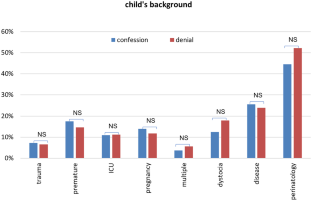 Data availability
Data and material are stored and will be made available upon request.
References
Vinchon M (2006) Honoré Daumier and child abuse. Childs Nerv Syst 22:635. https://doi.org/10.1007/s00381-006-0109-4

Kempe HC, Silverman FN, Brandt F (1985) Steele BF, Droegemueller W, Silver HK: The battered-child syndrome Landmark article 1962 Journal of the American Medical Association. Child Abuse Negl 9(2):143–154 (PMID: 3891032)

Caffey J (1972) On the theory and practice of shaking infants. Its potential residual effects of permanent brain damage and mental retardation. Am J Dis Child. 124(2):161–169. https://doi.org/10.1001/archpedi.1972.02110140011001. PMID: 4559532

Duhaime AC, Christian CW (2019) Abusive head trauma: evidence, obfuscation, and informed management. J Neurosurg Pediatr 1; 24(5):481–488. https://doi.org/10.3171/2019.7.PEDS18394. PMID: 31675688

Finnie JW, Blumbergs PC, Manavis J, Turner RJ, Helps S, Vink R, Byard RW, Chidlow G, Sandoz B, Dutschke J, Anderson RW (2012) Neuropathological changes in a lamb model of non-accidental head injury (the shaken baby syndrome). J Clin Neurosci 19:1159–1164. https://doi.org/10.1016/j.jocn.2011.12.019 (Epub 2012 Jun 15 PMID: 22705132)

Roth S, Raul JS, Ludes B, Willinger R (2007) Finite element analysis of impact and shaking inflicted to a child. Int J Legal Med 121(3):223–228. https://doi.org/10.1007/s00414-006-0129-3 (Epub 2006 Nov 8 PMID: 17091312)

Adamsbaum C, Grabar S, Mejean N, Rey-Salmon C (2010) Abusive head trauma: judicial admissions highlight violent and repetitive shaking. Pediatrics 126:546–555. https://doi.org/10.1542/peds.2009-3647 (Epub 2010 Aug 9 PMID: 20696720)

Vinchon M, de Foort-Dhellemmes S, Desurmont M, Delestret I (2010) Confessed abuse versus witnessed accidents in infants: comparison of clinical, radiological, and ophthalmological data in corroborated cases. Childs Nerv Syst 26:637–645. https://doi.org/10.1007/s00381-009-1048-7 (Epub 2009 Nov 28 PMID: 19946688)

Laurent-Vannier A, Nathanson M, Quiriau F, Briand-Huchet E, Cook J, Billette de Villemeur T, Chazal J, Christophe C, Defoort-Dhellemmes S, Fortin G, Rambaud C, Raul JS, Rey-Salmon C, Sottet F, Vieux E, Vinchon M, Willinger R (2011) French Society of Physical Medicine and Rehabilitation; French National Authority for Health. A public hearing. "Shaken baby syndrome: guidelines on establishing a robust diagnosis and the procedures to be adopted by healthcare and social services staff". Scoping report. Ann Phys Rehabil Med 54: 533–599. English, French. https://doi.org/10.1016/j.rehab.2011.10.003. Epub 2011 Nov 3. PMID: 22118913

Geddes JF, Tasker RC, Hackshaw AK, Nickols CD, Adams GG, Whitwell HL (2003) Scheimberg I (2003) Dural haemorrhage in non-traumatic infant deaths: does it explain the bleeding in "shaken baby syndrome"? Neuropathol Appl Neurobiol 29(1):14–22. https://doi.org/10.1046/j.1365-2990.2003.00434.x.Erratum.In:NeuropatholApplNeurobiol29:322 (PMID: 12581336)

Scheller J, Wester K (2021) Is external hydrocephalus a possible differential diagnosis when child abuse is suspected? Acta Neurochir (Wien). https://doi.org/10.1007/s00701-021-04786-3. Epub ahead of print. PMID: 33710381

Talbert DG (2009) Shaken baby syndrome: does it exist? Med Hypotheses 72:131–134. https://doi.org/10.1016/j.mehy.2008.09.038 (Epub 2008 Nov 13 PMID: 19013026)

Spence SA, Kaylor-Hughes CJ, Brook ML, Lankappa ST, Wilkinson ID (2008) "Munchausen's syndrome by proxy" or a "miscarriage of justice"? An initial application of functional neuroimaging to the question of guilt versus innocence. Eur Psychiatry 23:309–314. https://doi.org/10.1016/j.eurpsy.2007.09.001 (Epub 2007 Oct 29 PMID: 18029153)

Wester K (2019) Two infant boys misdiagnosed as "shaken baby" and their twin sisters: a cautionary tale Pediatr Neurol 97(3):11 https://doi.org/10.1016/j.pediatrneurol.2019.02.024 Epub 2019 Mar 11 PMID: 31147228

Lynøe N, Elinder G, Hallberg B, Rosén M, Sundgren P, Eriksson A (2017) Insufficient evidence for "shaken baby syndrome" - a systematic review. Acta Paediatr 106:1021–1027. https://doi.org/10.1111/apa.13760 (Epub 2017 Mar 1 PMID: 28130787)

Leestma JE (2006) Shaken baby syndrome: do confessions by alleged perpetrators validate the concept? J Am Phys Surg 11:14–16

Vandevoorde J (2013) Mise en évidence de trois états psychologiques pré-passage à l'acte chez 32 patients hospitalisés pour tentative de suicide [Revealing three psychological states before an acting out in 32 patients hospitalized for suicide attempt]. Encephale 39: 265–270. French. https://doi.org/10.1016/j.encep.2013.03.001. Epub 2013 Apr 12. PMID: 23587627

Bagdasarov Z, Connelly S, Johnson JF (2019) Denial and empathy: partners in employee trust repair? Front Psychol 10:19. https://doi.org/10.3389/fpsyg.2019.00019.PMID:30723440;PMCID:PMC6349725

Vinchon M, Defoort-Dhellemmes S, Desurmont M, Dhellemmes P (2005) Accidental and nonaccidental head injuries in infants: a prospective study. J Neurosurg 102(4 Suppl):380–384. https://doi.org/10.3171/ped.2005.102.4.0380 (PMID: 15926388)

Maguire SA, Kemp AM, Lumb RC, Farewell DM (2011) Estimating the probability of abusive head trauma: a pooled analysis. Pediatrics 128e 550–564. https://doi.org/10.1542/peds.2010-2949. Epub 2011 Aug 15. PMID: 21844052

Nuño M, Pelissier L, Varshneya K, Adamo MA, Drazin D (2015) Outcomes and factors associated with infant abusive head trauma in the US. J Neurosurg Pediatr 16:515–522. https://doi.org/10.3171/2015.3.PEDS14544 (Epub 2015 Jul 31 PMID: 26230462)
Ethics declarations
Ethics approval and consent to participate
We the authors give our consent for the publication and will transfer copyright upon acceptance.
Conflict of interest
We the authors declare no funding, no conflicts of interest, and no competing interests.
Additional information
Publisher's Note
Springer Nature remains neutral with regard to jurisdictional claims in published maps and institutional affiliations.
This article has been retracted. Please see the retraction notice for more detail: https://doi.org/10.1007/s00381-023-05889-1"
Rights and permissions
Springer Nature or its licensor (e.g. a society or other partner) holds exclusive rights to this article under a publishing agreement with the author(s) or other rightsholder(s); author self-archiving of the accepted manuscript version of this article is solely governed by the terms of such publishing agreement and applicable law.
About this article
Cite this article
Vinchon, M., Karnoub, MA., Noulé, N. et al. RETRACTED ARTICLE: Confessed versus denied inflicted head injuries in infants: similarities and differences. Childs Nerv Syst 38, 147–152 (2022). https://doi.org/10.1007/s00381-021-05381-8
Received:

Accepted:

Published:

Issue Date:

DOI: https://doi.org/10.1007/s00381-021-05381-8
Keywords