Abstract
Purpose
Our goals are (1) to report a consecutive prospective series of children who had posterior circulation stroke caused by vertebral artery dissection at the V3 segment; (2) to describe a configuration of the vertebral artery that may predispose to rotational compression; and (3) to recommend a new protocol for evaluation and treatment of vertebral artery dissection at V3.
Methods
All children diagnosed with vertebral artery dissection at the V3 segment from September 2014 to July 2020 at our institution were included in the study. Demographic, clinical, surgical, and radiological data were collected.
Results
Sixteen children were found to have dissection at a specific segment of the vertebral artery. Fourteen patients were male. Eleven were found to have compression on rotation during a provocative angiogram. All eleven underwent C1C2 posterior fusion as part of their treatment. Their mean age was 6.44 years (range 18 months–15 years). Mean blood loss was 57.7 mL. One minor complication occurred: a superficial wound infection treated with oral antibiotics only. There were no vascular or neurologic injuries. There have been no recurrent ischemic events after diagnosis and/or treatment. Mean follow-up was 33.3 months (range 2–59 months). We designed a new protocol to manage V3 dissections in children.
Conclusion
Posterior C1C2 fusion is a safe and effective option for treatment of dynamic compression in vertebral artery dissection in children. Institution of and compliance with a strict diagnostic and treatment protocol for V3 segment dissections seem to prevent recurrent stroke.
Access options
Buy single article
Instant access to the full article PDF.
US$ 39.95
Tax calculation will be finalised during checkout.
Subscribe to journal
Immediate online access to all issues from 2019. Subscription will auto renew annually.
US$ 119
Tax calculation will be finalised during checkout.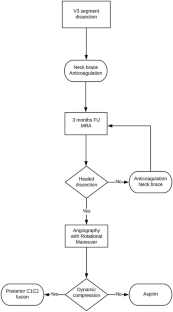 Data Availability
Pertinent data is shown in Table 1; full data is available upon request.
References
1.

Fink M, Slavova N, Grunt S, Perret E, Regényi M, Steinlin M, Bigi S (2019) Posterior arterial ischemic stroke in childhood: clinical features and neuroimaging characteristics. Stroke 50:2329–2335

2.

Nash M, Rafay MF (2019) Craniocervical arterial dissection in children: pathophysiology and management. Pediatr Neurol 95:9–18

3.

Roach ES, Golomb MR, Adams R, Biller J, Daniels S, deVeber G, Ferriero D, Jones BV, Kirkham FJ, Scott RM, Smith ER (2008) Management of stroke in infants and children: a scientific statement from a special writing group of the American Heart Association Stroke Council and the Council on Cardiovascular Disease in the Young. Stroke 39:2644–2691

4.

Lu DC, Zador Z, Mummaneni PV, Lawton MT (2010) Rotational vertebral artery occlusion-series of 9 cases. Neurosurgery 67:1066–1072

5.

Lu DC, Gupta N, Mummaneni PV (2009) Minimally invasive decompression of a suboccipital osseous prominence causing rotational vertebral artery occlusion. Case report. J Neurosurg Pediatr 4:191–195

6.

Cornelius JF, George B, N'dri Oka D, Spiriev T, Steiger HJ, Hanggi D (2012) Bow-hunter's syndrome caused by dynamic vertebral artery stenosis at the cranio-cervical junction: a management algorithm based on a systematic review and a clinical series. Neurosurg Rev 35:127–135

7.

Vilela MD, Goodkin R, Lundin DA, Newell DW (2005) Rotational vertebrobasilar ischemia: hemodynamic assessment and surgical treatment. Neurosurgery 56:35–36

8.

Greiner HM, Abruzzo TA, Kabbouche M, Leach JL, Zuccarello M (2010) Rotational vertebral artery occlusion in a child with multiple strokes: a case-based update. Childs Nerv Syst 26:1669–1674

9.

Sedney CL, Rosen CL (2011) Cervical abnormalities causing vertebral artery dissection in children. J Neurosurg Pediatr 7:272–275

10.

Shetty SR, Shankaraiah BA, Hegde T, Nagarajaiah RK (2012) Bow hunter's stroke – a rare presentation of CV junction anomaly: case report. Neurol India 60:520–521

11.

Anene-Maidoh TI, Vega RA, Fautheree GL, Reavey-Cantwell JF (2013) An unusual case of pediatric bow hunter's stroke. Surg Neurol Int 4:148

12.

Kageyama H, Yoshimura S, Iida T, Shirakawa M, Uchida K, Tomogane Y, Miyaji Y (2016) Juvenile cerebral infarction caused by bow hunter's syndrome during sport: two case reports. Neurol Med Chir (Tokyo) 56:580–583

13.

Blount TJ, Larsen PD, Thorell WE (2016) Occipital bony abnormality and multiple strokes in a pediatric patient: case report and review of the current literature. Child Neurol Open 3:1–4

14.

Rollins N, Braga B, Hogge A, Beavers S, Dowling M (2017) Dynamic arterial compression in pediatric vertebral arterial dissection. Stroke 48:1070–1073

15.

DeVela G, Taylor M, Zhang B, Linscott LL, Chen AM, Karami KB, Furthmiller A, Leach JL, Vadivelu S, Abruzzo T (2018) Quantitative arterial tortuosity suggests arteriopathy in children with cryptogenic stroke. Stroke 49:1011–1014

16.

Cohen NT, Harrar DB, Diab YA, Pearl MS, Murnick JG (2020) Atlanto-occipital ligament calcification: a novel imaging finding in pediatric rotational vertebral artery occlusion. Pediatr Radiol 50:137–141

17.

Golomb MR, Ducis KA, Martinez ML (2020) Bow hunter's syndrome in children: a review of the literature and presentation of a new case in a 12-year-old girl [published online June 8, 2020]. J Child Neurol. https://doi.org/10.1177/0883073820927108

18.

Fox CK, Fullerton HJ, Hetts SW, Halbach VV, Auguste KI, Lawton MT, Gupta N (2020) Single center series of boys with recurrent strokes and rotational vertebral arteriopathy [published online July 20, 2020]. Neurology. https://doi.org/10.1212/WNL.0000000000010416

19.

Ford FR (1952) Syncope, vertigo and disturbances of vision resulting from intermittent obstruction of the vertebral arteries due to defect in the odontoid proces and excessive mobility of the second cervical vertebra. Bull Johns Hopkins Hosp 91(3):168–173

20.

Ghanim MT, Bergmann S, Turner RD, Eskandari R, Mahajerin A (2020) Recurrent stroke in a child with atlantoaxial instability following chiropractic manipulation. J Pediatr Hematol Oncol 42(6):e518–e520

21.

Dickman CA, Sonntag VK, Papadopoulos SM, Hadley MN (1991) The interspinous method of posterior atlantoaxial arthrodesis. J Neurosurg 74:190–198

22.

Matsuyama T, Morimoto T, Sakaki T (1997) Comparison of C1-2 posterior fusion and decompression of the vertebral artery in the treatment of bow hunter's stroke. J Neurosurg 86:619–623

23.

Duval EL, Van Coster R, Verstraeten K (1998) Acute traumatic stroke: a case of bow hunter's stroke in a child. Eur J Emerg Med 5:259–263

24.

Missori P, Marruzzo D, Peschillo S, Domenicucci M (2014) Clinical remarks on acute post-traumatic atlanto-axial rotatory subluxation in pediatric-aged patients. World Neurosurg 82(5):e645–e648

25.

Uohara MY, Beslow LA, Billinghurst L, Jones BM, Kessler SK, Licht DJ, Ichord RN (2017) Incidence of recurrence in posterior circulation childhood arterial ischemic stroke. JAMA Neurol 74:316–323

26.

Chough CK, Cheng BC, Welch WC, Park CK (2010) Bow hunter's stroke caused by a severe vacet hypertrophy of C1-2. J Korean Neurosurg Soc 47:134–136

27.

Patankar AP (2019) Vertebro-basilar stroke due to Bow-Hunter syndrome: an unusual presentation of rotatory atlanto-axial subluxation in a fourteen year old [published online September 22, 2019]. Br J Neurosurg. https://doi.org/10.1080/02688697.2019.1668538

28.

Abd el-Bary TH, Dujovny M, Ausman JI (1995) Microsurgical anatomy of the atlantal part of the vertebral artery. Surg Neurol 44:391–392

29.

Castillo C, Vinas FC, Gutikhonda M, Diaz FG (1998) Microsurgical anatomy of the suboccipital segment of the vertebral artery. Neurol Res 20:201–208

30.

Morris SA, Orbach DB, Geva T, Singh MN, Gauvreau K, Lacro RV (2011) Increased vertebral artery tortuosity index is associated with adverse outcomes in children and young adults with connective tissue disorders. Circulation 124:388–396
Acknowledgments
We would like to thank Ms. Suzanne Truex, medical illustrator, for the drawings and figures, and Ms. Rayna Ross, program coordinator, for the tables and paper formatting.
Ethics declarations
Conflict of interest
We have no conflicts of interest to report.
Ethics approval
The study was conducted in compliance with HIPAA and approved by the institutional review board.
Consent to participate
Not applicable
Consent for publication
Not applicable
Code availability
Not applicable
Additional information
Publisher's note
Springer Nature remains neutral with regard to jurisdictional claims in published maps and institutional affiliations.
A portion of this study was presented as an oral presentation at 2019 AANS Annual Scientific Meeting in San Diego, CA, USA, April 2019.
About this article
Cite this article
Braga, B.P., Sillero, R., Pereira, R.M. et al. Dynamic compression in vertebral artery dissection in children: apropos of a new protocol. Childs Nerv Syst (2020). https://doi.org/10.1007/s00381-020-04956-1
Received:

Accepted:

Published:
Keywords
Bow hunter syndrome

Vertebral artery dissection

C1C2 fusion

Dynamic arterial compression

Posterior circulation stroke