Abstract
Fetus in fetu (FIF) is an extremely rare anomaly. It is predominantly seen retroperitoneally in 80% of cases but can present at atypical sites like the skull, sacrum, scrotum and the mouth. We reported a rare case of intracranial parasitic fetus. We described the prenatal and postnatal MRI findings of the case. There was no obvious spinal signal on the imaging findings at 35 weeks of gestation. However, the postnatal MRI revealed spinal column signal at 5 months and 11 days.
Access options
Buy single article
Instant access to the full article PDF.
USD 39.95
Price excludes VAT (USA)
Tax calculation will be finalised during checkout.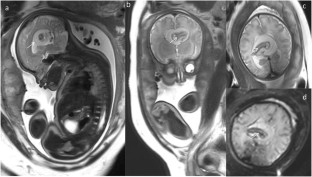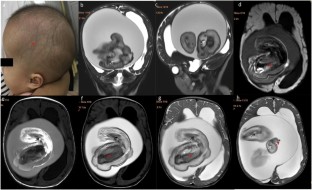 References
Majhi AK, Saha K, Karmakar M, Karmakar KS, Sen A, Das S (2007) Fetus in fetu--a mystery in medicine. Sci World J 7:252–257. https://doi.org/10.1100/tsw.2007.56

Spencer R (2001) Parasitic conjoined twins: external, internal (fetuses in fetu and teratomas), and detached (Acardiacs). Clin Anat 14:428–444. https://doi.org/10.1002/ca.1079

Gangopadhyay AN, Srivastava A, Srivastava P, Gupta DK, Sharma SP, Kumar V (2010) Twin fetus-in-fetu in a child: a case report and review of the literature. J Med Case Rep 4:96. https://doi.org/10.1186/1752-1947-4-96

Morgani SM, Brickman JM (2014) The molecular underpinnings of totipotency. Philos Trans R Soc Lond Ser B Biol Sci 369(1657):20130549. https://doi.org/10.1098/rstb.2013.0549

Traisrisilp K, Srisupundit K, Suwansirikul S, Norasetthada T, Kosarat S, Tongsong T (2018) Intracranial fetus-in-fetu with numerous fully developed organs. J Clin Ultrasound 46(7):487–493. https://doi.org/10.1002/jcu.22566

McNamara HC, Kane SC, Craig JM, Short RV, Umstad MP (2016) A review of the mechanisms and evidence for typical and atypical twinning. Am J Obstet Gynecol 214(2):172–191. https://doi.org/10.1016/j.ajog.2015.10.930

Hadhri R, Bellalah A (2019) Fœtus in fœtu de siège rétropéritonéal. Pan Afr Med J 34:78. https://doi.org/10.11604/pamj.2019.34.78.15938 eCollection 2019

Goyal RB, Gupta R, Prabhakar G, Dagla R (2014) Fetus in fetu: report of two cases. APSP J Case Rep 5(3):28 eCollection 2014 Sep

Willis RA (1935) The structure of teratomata. J Pathol Bacteriol 40:1–36

Basu A, Jagdish S, Iyengar KR, Basu D (2006) Fetus in fetu or differentiated teratomas? Indian J Pathol Microbiol 49(4):563–365

Ruffo G, Meglio LD, Meglio LD, Sica C, Resta A, Cicatiello R (2019) Fetus-in-fetu: two case reports. J Matern Fetal Neonatal Med 32(17):2812–2819. https://doi.org/10.1080/14767058.2018.1449207

Ji Y, Chen SY, Zhong L, Jiang XP, Jin S, Kong FT, Wang Q, Li CH, Xiang B (2014) Fetus in fetu: two case reports and literature review. BMC Pediatr 14:88. https://doi.org/10.1186/1471-2431-14-88

Sinha S, Sarin YK, Khurana N (2012) Prenatally diagnosed retroperitoneal fetus-in-fetu with ipsilateral testicular atrophy: a case report. J Neonatal Surg 1(3):41 eCollection Jul-Sep2012

Huddle LN, Fuller C, Powell T, Hiemenga JA, Yan J, Deuell B, Lyders EM, Bodurtha JN, Papenhausen PR, Cook OKJ, Pandya A, Jaworski M, Tye GW, Ritter AM (2012) Intraventricular twin fetuses in fetu. J Neurosurg Pediatr 9(1):17–23. https://doi.org/10.3171/2011.10.PEDS11196

Maryńczak L, Adamek D, Drabik G, Kwiatkowski S, Sucharska IH, Lauterbach JL (2014) Fetus in fetu: a medical curiosity-considerations based upon an intracranially located case. Childs Nerv Syst 30(2):357–360. https://doi.org/10.1007/s00381-013-2191-8

Wang L, Long L, Zhou QC, Zeng S (2019) Prenatal diagnosis of a "living" oropharyngeal fetus in fetu: a case report. BMC Pregnancy Childbirth 19(1):453. https://doi.org/10.1186/s12884-019-2612-0

Borges E, Lim-Dunham JE, Vade A (2005) Fetus in fetu appearing as a prenatal neck mass. J Ultrasound Med 24(9):1313–1316. https://doi.org/10.7863/jum.2005.24.9.1313

Reddy RK, Kannaiyan L, Srirampur S, Malleboyina R, Irfan GM, Sharab H, Kannepalli S (2012) Thoracic fetus in fetu. J Indian Assoc Pediatr Surg 17(4):178–179. https://doi.org/10.4103/0971-9261.102344

Peng B, Li D (2012) Fetus in fetu in the back. BMJ Case Rep 2012:bcr0320126150. https://doi.org/10.1136/bcr.03.2012.6150

Cingel V, Durdik S, Babala J, Polak S, Varga I (2012) Fetus in fetu from newborn's mediastinum: case report and a review of literature. Surg Radiol Anat 34(3):197–202. https://doi.org/10.1007/s00276-011 -0868-9

Aoki K, Matsumoto Y, Hamazaki M, Sano M, Fukumoto K, Fukaya T, Kuroda K, Tsutsumi R (2004) MRI reveals fetus in fetu in the mediastinum. Pediatr Radiol 34(12):1017–1019. https://doi.org/10.1007/s00247-004-1295-4

Sahlu A, Mesfin B, Tirsit A, Debebe T, Wester K (2016) Parasitic twin--a supernumerary limb associated with spinal malformations. A Case Report. Acta Neurochir 158(3):611–614. https://doi.org/10.1007/s00701-016-2710-y

Denney JM, Stanley C, Armstrong LA, Marshall J, Settle B, Chad Haldeman-Englert C (2017) Fetus in Fetu in Lieu of a Sacrococcygeal Teratoma: A Case Illuminating the Utility of Serial Prenatal Sonographic Examinations in Diagnosis. J Ultrasound Med 36:453–455. https://doi.org/10.7863/ultra.16.02040.

Ji Y, Song B, Chen SY, Jiang XP, Yang G, Gao X, Xiang B (2015) Fetus in fetu in the scrotal sac: case report and literature review. Medicine (Baltimore) 94(32):e1322. https://doi.org/10.1097/MD.0000000000001322

Surana A, Aggarwal A, Krishnan V, Malik A, Misra RN (2020) Intracranial fetus in fetu-a pediatric rarity. World Neurosurg 139:286–288. https://doi.org/10.1016/j.wneu. 2020.03.156

Sitharama SA, Jindal B, Vuriti MK, Naredi BK, Krishnamurthy S, Subramania DB (2017) Fetus in fetu: case report and brief review of literature on embryologic origin, clinical presentation, imaging and differential diagnosis. Pol J Radiol 82:46–49. https://doi.org/10.12659/PJR.899956 eCollection 2017

Parashari UC, Luthra G, Khanduri S, Bhadury S, Upadhyay D (2011) Diagnostic dilemma in a neglected case of fetus-in-fetu solved with magnetic resonance imaging and MDCT--a case report and review of literature. J Radiol Case Rep 5(10):29–37. https://doi.org/10.3941/jrcr.v5i10.833
Acknowledgments
We thank our colleagues from the departments of obstetrics and pediatric surgery for their advice and support.
Ethics declarations
Conflict interest
The author does not have any possible conflicts of interest.
Additional information
Publisher's note
Springer Nature remains neutral with regard to jurisdictional claims in published maps and institutional affiliations.
About this article
Cite this article
Zhu, K. Prenatal and postnatal MRI imaging findings of intracranial parasitic fetus: a case report. Childs Nerv Syst 37, 1803–1806 (2021). https://doi.org/10.1007/s00381-020-04891-1
Received:

Accepted:

Published:

Issue Date:

DOI: https://doi.org/10.1007/s00381-020-04891-1
Keywords
Fetus in fetu

Intracranial mass

Intratumoral mass