Abstract
Background
The most common primary CNS tumor in children is the medulloblastoma, which generally occurs in the posterior fossa and can spread through the CNS and spinal cord. Although the recurrence of renal cell carcinoma as a secondary tumor to neuroblastoma has been reported with successful anti-neoplastic treatment, the rare occurrence of a child who initially had medulloblastoma and then developed translocation renal cell carcinoma has never been reported before.
Case presentation
We report the case of a 12-year-old boy who initially presented with complaints of vomiting and headache. An MRI head confirmed the presence of 4 × 4 × 3 cm lesion which was resected completely and histopathology report confirmed the diagnosis of medulloblastoma Grade IV. Four years later, the child came for a follow-up visit and during routine screening, a CT scan showed heterogeneous lesion arising from the lower pole calyx of right kidney. The patient was referred to pediatric surgery for right radical nephrectomy involving the right adrenal gland. The histopathology report was consistent with the diagnosis of translocation renal cell carcinoma.
Conclusion
Central nervous system (CNS) tumors remain the leading cause of death among pediatric neoplasms. We advise genetic testing of index cases and the establishment of an international tumor registry for a challenging disease.
This is a preview of subscription content, log in to check access.
Access options
Buy single article
Instant access to the full article PDF.
US$ 39.95
Tax calculation will be finalised during checkout.
Subscribe to journal
Immediate online access to all issues from 2019. Subscription will auto renew annually.
US$ 199
Tax calculation will be finalised during checkout.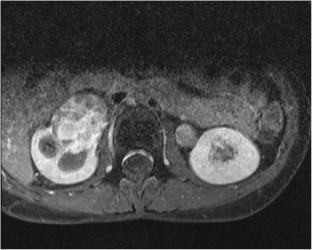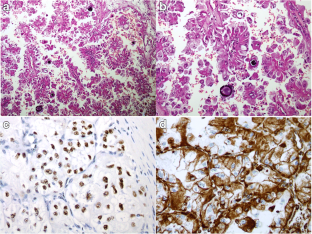 References
1.

Nakano I, Kornblum HI (2006) Brain tumor stem cells. Pediatr Res 59(S4):54R

2.

He HL, Lee YE, Chen HJ, Hsu CT, Huang YY, Chang IW (2014) Secondary oligodendroglioma after postoperative irradiation for medulloblastoma: a case report and review of the literature. Int J Clin Exp Pathol 7(4):1796–1799

3.

Al-Mashaikhi N, Yang J, Terry J, Barr R (2015) Renal cell carcinoma with XP 11.2 translocation as a second tumor in a long-term survivor of advanced neuroblastoma. Pediatr Hematol Oncol 32(3):215–222

4.

Kume H, Teramoto S, Kitamura T (2009) Metachronous bilateral renal cell carcinoma with an interval of more than 10 years. Int Urol Nephrol 41(4):843–846

5.

Medeiros LJ, Palmedo G, Krigman HR, Kovacs G, Beckwith JB (1999) Oncocytoid renal cell carcinoma after neuroblastoma: a report of four cases of a distinct clinicopathologic entity. Am J Surg Pathol 23(7):772–780

6.

Sasayama T, Nishihara M, Tanaka K, Mizukawa K, Ehara K, Kanomata N, Kohmura E (2008) Two metachronous tumors induced by radiation therapy: case report and review of the literature. J Neuro-Oncol 88(3):315–320

7.

Packer RJ, Zhou T, Holmes E, Vezina G, Gajjar A (2012) Survival and secondary tumors in children with medulloblastoma receiving radiotherapy and adjuvant chemotherapy: results of Children's Oncology Group trial A9961. Neuro-Oncology 15(1):97–103

8.

Lee CY, Chen YW, Lee YY, Chang FC, Chen HH, Lin SC, Ho DM, Huang MC, Yen SH, Wong TT, Liang ML (2018) Irradiation-induced secondary tumors following pediatric central nervous system tumors: experiences of a single institute in Taiwan (1975-2013). Int J Radiat Oncol Biol Phys 101(5):1243–1252
Ethics declarations
Conflict of interest
The authors declare that they have no conflict of interest.
Additional information
Publisher's note
Springer Nature remains neutral with regard to jurisdictional claims in published maps and institutional affiliations.
About this article
Cite this article
Sajid, M.I., Saleem, A., Arshad, M. et al. Metachronous translocation renal cell carcinoma in a child with successfully treated medulloblastoma. Childs Nerv Syst 36, 861–864 (2020). https://doi.org/10.1007/s00381-019-04447-y
Received:

Accepted:

Published:

Issue Date:
Keywords
Medulloblastoma

Renal Cell Carcinoma

Nephrectomy

Secondary Tumor