Abstract
Purpose
This study aimed to develop a novel approach to assess the severity of skull dysmorphology in infants with isolated sagittal synostosis (ISS) and its relationship with the surgical results.
Methods
We divided 66 infants with ISS into three groups by combining the scaphocephalic (SSI-A) and platycephalic (VLI) indices as descriptors of the relation between length, width, and height. We evaluated each skull for morphology as hyperdolichocephalic (< 66%) versus dolichocephalic (66–77%) and as hyperplatycephalic (< 78%) versus platycephalic skull (78–85%). A score system was developed as follows: 2 points for values < 66% and < 78% and 1 point for values between 66 and 77% and 78 and 85% in SSI-A and VLI, respectively. The overall score was calculated and it was used to classify our patients on a 4-point ordinal scale, according to the severity of head shape (2 = mild, 3 = moderate, 4 = severe).
Results
Thirty-two infants resulted in mild group, 17 in moderate group, and 17 in severe group. SSI-A and VLI were reduced according to the severity of ISS. We demonstrated a positive correlation between SSA-A and VLI in mild subgroup of patients while we found a negative correlation between SSA-A and VLI in moderate and in severe subgroups. Moreover, a positive correlation was found between severe subgroup and Sloan III class of surgical results.
Conclusion
This study describes a simple tool to better classify infants with ISS, considering the three-dimensional morphology of the skull, because it evaluates both the dolichocephalic and platycephalic component.
This is a preview of subscription content, log in to check access.
Access options
Buy single article
Instant access to the full article PDF.
US$ 39.95
Tax calculation will be finalised during checkout.
Subscribe to journal
Immediate online access to all issues from 2019. Subscription will auto renew annually.
US$ 199
Tax calculation will be finalised during checkout.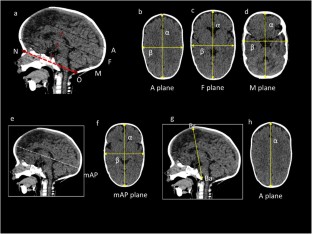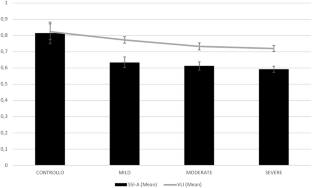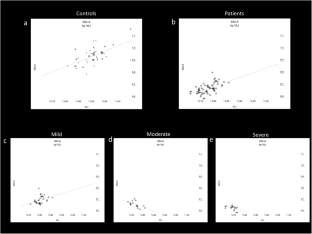 References
1.

Chummun S, McLean NR, Flapper WJ, David DJ (2016) The management of nonsyndromic, isolated sagittal synostosis. J Craniofac Surg 27(2):299–304. https://doi.org/10.1097/SCS.0000000000002363

2.

Hunter AG, Rudd NL (1976) Craniosynostosis. I. Sagittal synostosis: its genetics and associated clinical findings in 214 patients who lacked involvement of the coronal suture(s). Teratology 14(2):185–193. https://doi.org/10.1002/tera.1420140209

3.

Wilkie AO, Wall SA (1996) Craniosynostosis: novel insights into pathogenesis and treatment. Curr Opin Neurol 9(2):146–152

4.

Fearon JA, McLaughlin EB, Kolar JC (2006) Sagittal craniosynostosis: surgical outcomes and long-term growth. Plast Reconstr Surg 117(2):532–541. https://doi.org/10.1097/01.prs.0000200774.31311.09

5.

Schmelzer RE, Perlyn CA, Kane AA, Pilgram TK, Govier D, Marsh JL (2007) Identifying reproducible patterns of calvarial dysmorphology in nonsyndromic sagittal craniosynostosis may affect operative intervention and outcomes assessment. Plast Reconstr Surg 119(5):1546–1552. https://doi.org/10.1097/01.prs.0000256067.42651.30

6.

Ruiz-Correa S, Sze RW, Starr JR, Lin HT, Speltz ML, Cunningham ML, Hing AV (2006) New scaphocephaly severity indices of sagittal craniosynostosis: a comparative study with cranial index quantifications. Cleft Palate Craniofac J 43(2):211–221. https://doi.org/10.1597/04-208.1

7.

Fearon JA, Ditthakasem K, Herbert M, Kolar J (2017) An appraisal of the cephalic index in sagittal craniosynostosis, and the unseen third dimension. Plast Reconstr Surg 140(1):138–145. https://doi.org/10.1097/PRS.0000000000003422

8.

Fearon JA (2014) Evidence-based medicine: craniosynostosis. Plast Reconstr Surg 133(5):1261–1275. https://doi.org/10.1097/PRS.0000000000000093

9.

Lee SS, Duncan CC, Knoll BI, Persing JA (2010) Intracranial compartment volume changes in sagittal craniosynostosis patients: influence of comprehensive cranioplasty. Plast Reconstr Surg 126(1):187–196. https://doi.org/10.1097/PRS.0b013e3181dab5be

10.

Heller JB, Heller MM, Knoll B, Gabbay JS, Duncan C, Persing JA (2008) Intracranial volume and cephalic index outcomes for total calvarial reconstruction among nonsyndromic sagittal synostosis patients. Plast Reconstr Surg 121(1):187–195. https://doi.org/10.1097/01.prs.0000293762.71115.c5

11.

Anderson PJ, Netherway DJ, McGlaughlin K, David DJ (2007) Intracranial volume measurement of sagittal craniosynostosis. J Clin Neurosci 14(5):455–458. https://doi.org/10.1016/j.jocn.2006.07.001

12.

Netherway DJ, Abbott AH, Anderson PJ, David DJ (2005) Intracranial volume in patients with nonsyndromal craniosynostosis. J Neurosurg 103(2 Suppl):137–141. https://doi.org/10.3171/ped.2005.103.2.0137

13.

Fischer S, Maltese G, Tarnow P, Wikberg E, Bernhardt P, Tovetjarn R, Kolby L (2015) Intracranial volume is normal in infants with sagittal synostosis. J Plast Surg Hand Surg 49(1):62–64. https://doi.org/10.3109/2000656X.2014.971804

14.

Haas LL (1952) Roentgenological skull measurements and their diagnostic applications. Am J Roentgenol Radium Therapy, Nucl Med 67(2):197–209

15.

Bendon CL, Sheerin FB, Wall SA, Johnson D (2014) The relationship between scaphocephaly at the skull vault and skull base in sagittal synostosis. J Craniomaxillofac Surg 42(3):245–249. https://doi.org/10.1016/j.jcms.2013.05.009

16.

Sloan GM, Wells KC, Raffel C, McComb JG (1997) Surgical treatment of craniosynostosis: outcome analysis of 250 consecutive patients. Pediatrics 100(1):E2

17.

Dvoracek LA, Skolnick GB, Nguyen DC, Naidoo SD, Smyth MD, Woo AS, Patel KB (2015) Comparison of traditional versus normative cephalic index in patients with sagittal synostosis: measure of scaphocephaly and postoperative outcome. Plast Reconstr Surg 136(3):541–548. https://doi.org/10.1097/PRS.0000000000001505

18.

Ruiz-Correa S, Starr JR, Lin HJ, Kapp-Simon KA, Cunningham ML, Speltz ML (2007) Severity of skull malformation is unrelated to presurgery neurobehavioral status of infants with sagittal synostosis. Cleft Palate Craniofac J 44(5):548–554. https://doi.org/10.1597/06-190.1

19.

Ruiz-Correa S, Gatica-Perez D, Lin HJ, Shapiro LG, Sze RW (2008) A Bayesian hierarchical model for classifying craniofacial malformations from CT imaging. Conf Proc IEEE Eng Med Biol Soc 2008:4063–4069. https://doi.org/10.1109/IEMBS.2008.4650102
Ethics declarations
Conflict of interest
Rosalinda Calandrelli declares that she has no conflict of interest.
Fabio Pilato declares that he has no conflict of interest.
Luca Massimi declares that he has no conflict of interest.
Marco Panfili declares that he has no conflict of interest.
Concezio Di Rocco declares that he has no conflict of interest.
Cesare Colosimo declares that he is scientific consultant for Bracco Diagnostics Inc. and Bayer HealthCare.
Research involving human participants
Ethical approval: We declare that all procedures performed in studies involving human participants were in accordance with the ethical standards of the institutional and/or national research committee and with the 1964 Helsinki declaration and its later amendments or comparable ethical standards. For this type of study, formal consent is not required.
Informed consent
Informed consent was obtained from all individual participants included in the study.
Additional information
Publisher's note
Springer Nature remains neutral with regard to jurisdictional claims in published maps and institutional affiliations.
About this article
Cite this article
Calandrelli, R., Pilato, F., Massimi, L. et al. The unseen third dimension: a novel approach for assessing head shape severity in infants with isolated sagittal synostosis. Childs Nerv Syst 35, 1351–1356 (2019). https://doi.org/10.1007/s00381-019-04246-5
Received:

Accepted:

Published:

Issue Date:
Keywords
Isolated sagittal synostosis

Scaphocephalic index

Platycephalic index

Computer tomography

Skull morphology