Abstract
Purpose
Selective dorsal rhizotomy (SDR) is a surgical treatment for spasticity, primarily in cerebral palsy (CP). There is a growing trend for patients to seek medical information from their peers on social media platforms. This study qualitatively and quantitatively assessed the use of social media as an information-sharing and support-seeking tool by patients and caregivers.
Methods
A search was performed on Facebook, Twitter, and YouTube. Public information was quantitatively assessed by category, users, year of creation, and country of origin. Representative samples of comments and posts were then qualitatively assessed by thematic analysis.
Results
One hundred eighty-five Facebook groups and pages, 97 YouTube videos, and 14 Twitter accounts were identified, based in 13 countries. SDR and CP groups had a mean membership of 3063 and 2339, respectively; SDR and CP pages had a mean number of "likes" of 1650 and 10,711, respectively. Total YouTube video views were 593,135 (mean 6115). Total Twitter followers were 62,609 (mean 2160). Qualitative analysis identified seven categories of comments: emotional support and forming connections (22.34%), sharing information and advice (15.96%), appreciation and successes (31.91%), challenges and difficulties (8.51%), advertising/offering services (4.79%), inequities and access (4.79%), and social media as a second opinion (11.7%).
Conclusions
This study outlines the use of social media platforms in the distribution of information regarding SDR. We highlight the importance placed by patients and caregivers on the advice of their peers. The current report should inform healthcare providers' interactions with patients with respect to information seeking and provision of support.
This is a preview of subscription content, log in to check access.
Access options
Buy single article
Instant access to the full article PDF.
US$ 39.95
Price includes VAT for USA
Subscribe to journal
Immediate online access to all issues from 2019. Subscription will auto renew annually.
US$ 199
This is the net price. Taxes to be calculated in checkout.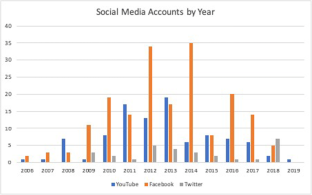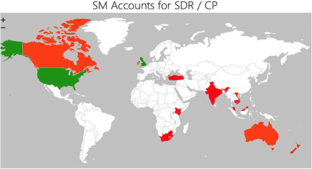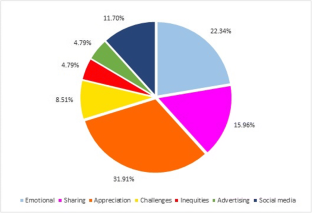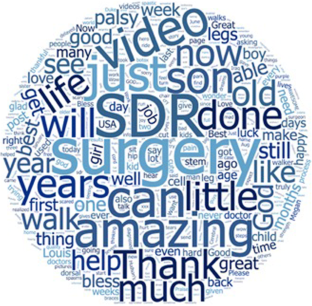 References
1.

Aquilina K, Graham D, Wimalasundera N (2015) Selective dorsal rhizotomy: an old treatment re-emerging. Arch Dis Child 100:798–802

2.

Langerak NG, Lamberts RP, Fieggen G, Peter JC, Peacock WJ, Vaughan CL (2007) Selective dorsal rhizotomy: long-term experience from Cape Town. Child's Nerv Sys 23:1003–1006

3.

Statista (Germany): Most popular social networks worldwide as of January 2019, ranked by number of active users (in millions) Hamburg, Germany: The Statistics Portal, 2019 (https://www.statista.com/statistics/272014/global-social-networks-ranked-by-number-of-users/) Accessed 20 Mar 2019

4.

Markham MJ, Gentile D, Graham DL (2017) Social media for networking, professional development, and patient engagement. Am Soc Clin Oncol Educ Book 37:782–787

5.

Pershad Y, Hangge PT, Albadawi H, Oklu R (2018) Social medicine: Twitter in healthcare. J Clin Med 7(6):121

6.

Smailhodzic E, Hooijsma W, Boonstra A, Langley DJ (2016) Social media use in healthcare: a systematic review of effects on patients and on their relationship with healthcare professionals. BMC Health Serv Res 16:442

7.

Zhao Y, Zhang J (2017) Consumer health information seeking in social media – a literature review. Health Info Libr J 34(4):268–283

8.

Alotaibi NM, Badhiwala JH, Nassiri F, Guha D, Ibrahim GM, Shamji MF, Lozano AM (2016) The current use of social media in neurosurgery. World Neurosurg 88:619–624, 624.el-624.e7

9.

Alotaibi NM, Samuel N, Wang J, Ahuja CS, Guha D, Ibrahim GM, Schweizer TA, Saposnik G, Loch Macdonald R (2017) The use of social media communications in brain aneurysms and subarachnoid haemorrhage: a mixed-method analysis. World Neurosurg 98:456–462

10.

Elkarim GA, Alotaibi NM, Samuel N, Wang S, Ibrahim GM, Fallah A, Weil AG, Kulkarni AV (2017) Social media networking in pediatric hydrocephalus: a point-prevalence analysis of utilization. J Neurosurg Pediatr 20:119–124

11.

Meng Y, Elkaim L, Wang J, Liu J, Alotaibi NM, Ibrahim GM, Fallah A, Weil AG, Valiante TA, Lozano AM, Rutka JT (2017) Social media in epilepsy: a quantitative and qualitative analysis. Epilepsy Behav 71(Pt A):79–84

12.

Harris T (2015) Grounded theory. Nurs Stand 29(35):32–39

13.

Palinkas LA, Horwitz SM, Green CA, Wisdom JP, Duan N, Hoagwood K (2015) Purposeful sampling for qualitative data collection and analysis in mixed method implementation research. Adm Policy Ment Health 42(5):533–544

14.

Gage-Bouchard EA, LaValley S, Mollica M, Beaupin LK (2017) Cancer communication on social media: examining how cancer caregivers use Facebook for cancer-related communication. Cancer Nurs 40(4):332–338

15.

DeHoff BA, Staten LK, Rodgers RC, Denne SC (2016) The role of online social support in supporting and educating parents of young childrenwith special healthcare needs in the United States: a scoping review. J Med Internet Res 18(12):e333

16.

Hunt D, Koteyko N, Gunter B (2015) UK policy on social networking sites and online health: from informed patient to informed consumer? Digit Health 22(1):2055207615592513
Ethics declarations
Conflict of interest
The authors report no conflict of interest concerning the materials or methods used in this study or the findings specified in this paper.
Additional information
Publisher's note
Springer Nature remains neutral with regard to jurisdictional claims in published maps and institutional affiliations.
About this article
Cite this article
Canty, M.J., Breitbart, S., Siegel, L. et al. The role of social media in selective dorsal rhizotomy for children: information sharing and social support. Childs Nerv Syst 35, 2179–2185 (2019). https://doi.org/10.1007/s00381-019-04197-x
Received:

Accepted:

Published:

Issue Date:
Keywords
Social media

Selective dorsal rhizotomy

Cerebral palsy