Abstract
Background
Postnatal growth of neurocranium is prevalently completed in the first years of life, thus deeply affecting the clinical presentation and surgical management of pediatric neurosurgical conditions involving the skull. This paper aims to review the pertinent literature on the normal growth of neurocranium and critically discuss the surgical implications of this factor in cranial repair.
Methods
A search of the electronic database of Pubmed was performed, using the key word "neurocranium growth", thus obtaining 217 results. Forty-six papers dealing with this topic in humans, limited to the English language, were selected. After excluding a few papers dealing with viscerocranium growth or pathological conditions not related to normal neurocranium growth 18 papers were finally included into the present review.
Results and conclusions
The skull growth is very rapid in the first 2 years of life and approximates the adult volume by 7 years of age, with minimal further growth later on, which is warranted by the remodeling of the cranial bones. This factor affects the outcome of cranioplasty. Thus, it is essential to consider age in the planning phase of cranial repair, choice of the material, and critical comparison of results of different cranioplasty solutions.
This is a preview of subscription content, log in to check access.
Access options
Buy single article
Instant access to the full article PDF.
US$ 39.95
Price includes VAT for USA
Subscribe to journal
Immediate online access to all issues from 2019. Subscription will auto renew annually.
US$ 199
This is the net price. Taxes to be calculated in checkout.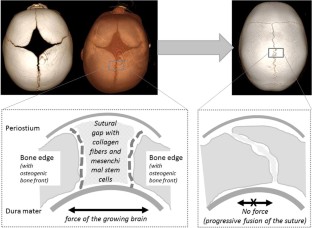 References
1.

Abbott AH, Netherway DJ, Niemann DB, Clark B, Yamamoto M, Cole J, Hanieh A, Moore MH, David DJ (2000) CT-determined intracranial volume for a normal population. J Craniofac Surg 11(3):211–223

2.

Bowers CA, Riva-Cambrin J, Hertzler DA, Walker ML (2013) Risk factors and rates of bone flap resorption in pediatric patients after decompressive craniectomy for traumatic brain injury. J Neurosurg Pediatr 11(5):526–532

3.

Breisch E, Haas EA, Masoumi H, Chadwick AE, Krous HF (2010) A morphometric analysis of the infant calvarium and dura. Forensic Sci Med Pathol 6(4):249–254

4.

De Bonis P, Frassanito P, Mangiola A, Nucci CG, Anile C, Pompucci A (2012) Cranial repair: how complicated is filling a "hole". J Neurotrauma 29(6):1071–1076

5.

Dekaban AS (1977) Tables of cranial and orbital measurements, cranial volume, and derived indexes in males and females from 7 days to 20 years of age. Ann Neurol 2(6):485–491

6.

Di Rocco C, Frassamito P, Pelo S, Tamburrini G (2015) Syndromic craniosynostosis. Pediatr. Neurosurg. Tricks of the Trade Enlow DH (1979) facial growth and development. Int J Oral Myol 5(4):7–10

7.

Farkas LG, Posnick JC, Hreczko TM (1992) Anthropometric growth study of the head. Cleft Palate Craniofac J 29(4):303–308

8.

Fong KD, Warren SM, Loboa EG, Henderson JH, Fang TD, Cowan CM, Carter DR, Longaker MT (2003) Mechanical strain affects dura mater biological processes: implications for immature calvarial healing. Plast Reconstr Surg 112(5):1312–1327

9.

Frassanito P, Massimi L, Caldarelli M, Tamburrini G, Di Rocco C (2012) Complications of delayed cranial repair after decompressive craniectomy in children less than 1 year old. Acta Neurochir 154(5):927–933

10.

Frassanito P, Tamburrini G, Massimi L, Peraio S, Caldarelli M, Di Rocco C (2017) Problems of reconstructive cranioplasty after traumatic brain injury in children. Childs Nerv Syst 33(10):1759–1768

11.

Frassanito P, Massimi L, Tamburrini G, Bianchi F, Nataloni A, Canella V, Caldarelli M (2018) Custom-made hydroxyapatite for cranial repair in a specific pediatric age group (7-13 years old): a multicenter post-marketing surveillance study. Childs Nerv Syst 34:2283–2289. https://doi.org/10.1007/s00381-018-3905-8

12.

Grant GA, Jolley M, Ellenbogen RG, Roberts TS, Gruss JR, Loeser JD (2004) Failure of autologous bone-assisted cranioplasty following decompressive craniectomy in children and adolescents. J Neurosurg 100(2 Suppl Pediatrics):163–168

13.

Imai K, Tajima S (1991) The growth patterns of normal skull by using CT scans and their clinical applications for preoperative planning and postoperative follow-up in craniofacial surgery. Eur J Plast Surg 14(2):80-84

14.

Kabbani H, Raghuveer TS (2004) Craniosynostosis. Am Fam Physician 69(12):2863–2870

15.

Kamdar MR, Gomez RA, Ascherman JA (2009) Intracranial volumes in a large series of healthy children. Plast Reconstr Surg 124(6):2072–2075

16.

Kamochi H, Sunaga A, Chi D, Asahi R, Nakagawa S, Mori M, Uda H, Sarukawa S, Sugawara Y, Yoshimura K (2017) Growth curves for intracranial volume in normal Asian children fortify management of craniosynostosis. J Craniomaxillofac Surg 45(11):1842–1845

17.

Lichtenberg R (1960) Radiographie du crane de 226 enfants normaux de la naissance à 8 ans: Impressions digitiformes, capacité, angles et indices. Thesis, University of Paris.

18.

Manjunath KY (2002) Estimation of cranial volume-an overview of methodologies. J Anat Soc India 51(1):85-91

19.

Martin KD, Franz B, Kirsch M, Polanski W, von der Hagen M, Schackert G, Sobottka SB (2014) Autologous bone flap cranioplasty following decompressive craniectomy is combined with a high complication rate in pediatric traumatic brain injury patients. Acta Neurochir 156(4):813–824

20.

McAllister A, Leach J, West H, Jones B, Zhang B, Serai S (2017) Quantitative synthetic MRI in children: normative intracranial tissue segmentation values during development. AJNR Am J Neuroradiol 38(12):2364–2372

21.

Meyer-Marcotty P, Böhm H, Linz C, Kochel J, Stellzig-Eisenhauer A, Schweitzer T (2014) Three-dimensional analysis of cranial growth from 6 to 12 months of age. Eur J Orthod 36(5):489–496

22.

Rocque BG, Agee BS, Thompson EM, Piedra M, Baird LC, Selden NR, Greene S, Deibert CP, Hankinson TC, Lew SM, Iskandar BJ, Bragg TM, Frim D, Grant G, Gupta N, Auguste KI, Nikas DC, Vassilyadi M, Muh CR, Wetjen NM, Lam SK (2018) Complications following pediatric cranioplasty after decompressive craniectomy: a multicenter retrospective study. J Neurosurg Pediatr 22(3):225–232

23.

Sahin B, Acer N, Sonmez OF, Emirzeoglu M, Basaloglu H, Uzun A, Bilgic S (2007) Comparison of four methods for the estimation of intracranial volume: a gold standard study. Clin Anat 20(7):766–773

24.

Sgouros S, Goldin JH, Hockley AD, Wake MJ, Natarajan K (1999) Intracranial volume change in childhood. J Neurosurg 91(4):610–616

25.

Tubbs RS, Bosmia AN, Cohen-Gadol AA (2012) The human calvaria: a review of embryology, anatomy, pathology, and molecular development. Childs Nerv Syst 28(1):23–31

26.

Kuczmarski RJ, Ogden CL, Guo SS, Grummer-Strawn LM, Flegal KM, Mei Z, Wei R, Curtin LR, Roche AF, & Johnson CL (2002) 2000 CDC growth charts for the United States: methods and development. Vital Health Stat 11(246):1-190

27.

Williams PL, Warwick R (1980) Gray's anatomy, 36th British edn. W.B. Saunders Co/Churchill Livingstone, Philadelphia

28.

Williams L, Fan K, Bentley R (2016) Titanium cranioplasty in children and adolescents. J Craniomaxillofac Surg 44(7):789–794
Ethics declarations
Conflict of interest
The authors have no funding or conflict of interest to disclose.
Additional information
Publisher's note
Springer Nature remains neutral with regard to jurisdictional claims in published maps and institutional affiliations.
About this article
Cite this article
Frassanito, P., Bianchi, F., Pennisi, G. et al. The growth of the neurocranium: literature review and implications in cranial repair. Childs Nerv Syst 35, 1459–1465 (2019). https://doi.org/10.1007/s00381-019-04193-1
Received:

Accepted:

Published:

Issue Date:
Keywords
Cranial growth

Cranial repair

Cranioplasty

Neurocranium

Precision medicine

Skull growth