Abstract
Introduction
Pediatric pituitary adenomas are rare lesions. Incidence is reported between 1 and 10% of all childhood brain tumors and between 3 and 6% of all surgically treated adenomas. Although pituitary adenomas present with symptoms of hormone hypersecretion or neurological disruptions secondary to mass effect, they are almost constantly benign. Characteristics of patients may vary in different studies according to age, gender, size of adenoma, hormonal activity, and recurrence rates.
Methods
Data on consecutive pediatric patients who were operated for pituitary adenoma with endoscopic endonasal transsphenoidal surgery (EETS) and transsphenoidal microsurgery (TMS) in the Department of Neurosurgery, Istanbul University Cerrahpasa Medical Faculty, Istanbul, Turkey, in the Neurosurgical Unit of the San Matteo Hospital, Pavia, Italy, and in the Division of Neurological Surgery Department of Biotechnology and Life Sciences, University of Insubria-Varese, ASST Sette Laghi, Ospedale di Circolo e Fondazione Macchi, Varese, Italy, between July 1997 and May 2018, were analyzed. Twenty-seven patients (11 males and 16 females), who were 18 years old or younger at the time of surgery, were included in the study. Medical records, images, and operative notes of patients were retrospectively reviewed.
Results
There were 16 females (59.3%) and 11 males (40.7%). Mean age was 15.3 ± 3.3 (4–18). Thirty-two surgical procedures were performed for 27 patients (6 children required second operation). Thirteen patients (48.14%) had Cushing's disease (CD), 5 patients (18.5%) had growth hormone (GH)-secreting adenoma, 5 patients (18.5%) had prolactinoma, and 4 patients (14.8%) had non-functional adenoma. Twenty-two patients (81.4%) met remission criteria, and 5 patients (18.5%) did not meet remission criteria. Four patients met remission criteria after the second operation.
Conclusion
Transsphenoidal approach affords effective release of mass effect and not only restoration but also perpetuation of normal endocrine functions in the majority of pediatric pituitary adenoma patients. Satisfactory results are reported with both EETS and TMS in the literature. Despite the technical difficulties in pediatric age, transsphenoidal resection of adenoma is still the mainstay treatment that provides cure in pediatric patients.
This is a preview of subscription content, log in to check access.
Access options
Buy single article
Instant access to the full article PDF.
US$ 39.95
Tax calculation will be finalised during checkout.
Subscribe to journal
Immediate online access to all issues from 2019. Subscription will auto renew annually.
US$ 199
Tax calculation will be finalised during checkout.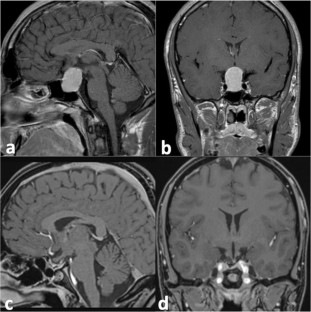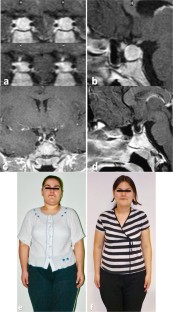 References
1.

Keil MF, Stratakis CA (2008) Pituitary tumors in childhood: update of diagnosis, treatment and molecular genetics. Expert Rev Neurother 8(4):563–574. https://doi.org/10.1586/14737175.8.4.563

2.

Webb C, Prayson RA (2008) Pediatric pituitary adenomas. Arch Pathol Lab Med 132(1):77–80. https://doi.org/10.1043/1543-2165(2008)132[77:PPA]2.0.CO;2

3.

Guaraldi F, Storr HL, Ghizzoni L, Ghigo E, Savage MO (2014) Paediatric pituitary adenomas: a decade of change. Horm Res Paediatr 81(3):145–155. https://doi.org/10.1159/000357673

4.

Locatelli D, Massimi L, Rigante M, Custodi V, Paludetti G, Castelnuovo P, Di Rocco C (2010) Endoscopic endonasal transsphenoidal surgery for sellar tumors in children. Int J Pediatr Otorhinolaryngol 74(11):1298–1302. https://doi.org/10.1016/j.ijporl.2010.08.009

5.

Jiao W, Huang Y, Sun W, Lei T (2017) Microscopic transnasal transsphenoidal surgery for pediatric pituitary adenomas. J Craniofac Surg 28(4):1010–1012. https://doi.org/10.1097/SCS.0000000000003632

6.

Kunwar S, Wilson CB (1999) Pediatric pituitary adenomas. J Clin Endocrinol Metab 84(12):4385–4389. https://doi.org/10.1210/jcem.84.12.6240

7.

Jackman S, Diamond F (2013) Pituitary adenomas in childhood and adolescence. Pediatr Endocrinol Revi: PER 10(4):450–459

8.

Biller BM, Grossman AB, Stewart PM, Melmed S, Bertagna X, Bertherat J, Buchfelder M, Colao A, Hermus AR, Hofland LJ, Klibanski A, Lacroix A, Lindsay JR, Newell-Price J, Nieman LK, Petersenn S, Sonino N, Stalla GK, Swearingen B, Vance ML, Wass JA, Boscaro M (2008) Treatment of adrenocorticotropin-dependent Cushing's syndrome: a consensus statement. J Clin Endocrinol Metab 93(7):2454–2462. https://doi.org/10.1210/jc.2007-2734

9.

Personnier C, Cazabat L, Bertherat J, Gaillard S, Souberbielle JC, Habrand JL, Dufour C, Clauser E, SainteRose C, Polak M (2011) Clinical features and treatment of pediatric somatotropinoma: case study of an aggressive tumor due to a new AIP mutation and extensive literature review. Horm Res Paediatr 75(6):392–402. https://doi.org/10.1159/000327831

10.

Chivukula S, Koutourousiou M, Snyderman CH, Fernandez-Miranda JC, Gardner PA, Tyler-Kabara EC (2013) Endoscopic endonasal skull base surgery in the pediatric population. J Neurosurg Pediatr 11(3):227–241. https://doi.org/10.3171/2012.10.PEDS12160

11.

Massimi L, Rigante M, D'Angelo L, Paternoster G, Leonardi P, Paludetti G, Di Rocco C (2011) Quality of postoperative course in children: endoscopic endonasal surgery versus sublabial microsurgery. Acta Neurochir 153(4):843–849. https://doi.org/10.1007/s00701-010-0929-6

12.

Ciccarelli A, Daly AF, Beckers A (2005) The epidemiology of prolactinomas. Pituitary 8(1):3–6. https://doi.org/10.1007/s11102-005-5079-0

13.

Eren E, Yapici S, Cakir ED, Ceylan LA, Saglam H, Tarim O (2011) Clinical course of hyperprolactinemia in children and adolescents: a review of 21 cases. J Clin Res Pediatr Endocrinol 3(2):65–69. https://doi.org/10.4274/jcrpe.v3i2.14

14.

Melmed S, Casanueva FF, Hoffman AR, Kleinberg DL, Montori VM, Schlechte JA, Wass JA, Endocrine S (2011) Diagnosis and treatment of hyperprolactinemia: an Endocrine Society clinical practice guideline. J Clin Endocrinol Metab 96(2):273–288. https://doi.org/10.1210/jc.2010-1692

15.

Storr HL, Alexandraki KI, Martin L, Isidori AM, Kaltsas GA, Monson JP, Besser GM, Matson M, Evanson J, Afshar F, Sabin I, Savage MO, Grossman AB (2011) Comparisons in the epidemiology, diagnostic features and cure rate by transsphenoidal surgery between paediatric and adult-onset Cushing's disease. Eur J Endocrinol 164(5):667–674. https://doi.org/10.1530/EJE-10-1120

16.

Batista DL, Riar J, Keil M, Stratakis CA (2007) Diagnostic tests for children who are referred for the investigation of Cushing syndrome. Pediatrics 120(3):e575–e586. https://doi.org/10.1542/peds.2006-2402

17.

Magiakou MA, Mastorakos G, Oldfield EH, Gomez MT, Doppman JL, Cutler GB Jr, Nieman LK, Chrousos GP (1994) Cushing's syndrome in children and adolescents. Presentation, diagnosis, and therapy. N Engl J Med 331(10):629–636. https://doi.org/10.1056/NEJM199409083311002

18.

Pandey P, Ojha BK, Mahapatra AK (2005) Pediatric pituitary adenoma: a series of 42 patients. J Clin Neurosci 12(2):124–127. https://doi.org/10.1016/j.jocn.2004.10.003

19.

Growth Hormone Research S, Pituitary S (2004) Biochemical assessment and long-term monitoring in patients with acromegaly: statement from a joint consensus conference of the Growth Hormone Research Society and the Pituitary Society. J Clin Endocrinol Metab 89(7):3099–3102. https://doi.org/10.1210/jc.2003-031138

20.

Yamaguchi-Okada M, Inoshita N, Nishioka H, Fukuhara N, Yamada S (2012) Clinicopathological analysis of nonfunctioning pituitary adenomas in patients younger than 25 years of age. J Neurosurg Pediatr 9(5):511–516. https://doi.org/10.3171/2012.1.PEDS11330

21.

Chao CC, Lin CJ (2014) Pituitary apoplexy in a teenager--case report. Pediatr Neurol 50(6):648–651. https://doi.org/10.1016/j.pediatrneurol.2014.02.004
Ethics declarations
Conflict of interest
The authors declare that they have no conflict of interest.
Additional information
Publisher's note
Springer Nature remains neutral with regard to jurisdictional claims in published maps and institutional affiliations.
About this article
Cite this article
Locatelli, D., Veiceschi, P., Castelnuovo, P. et al. Transsphenoidal surgery for pituitary adenomas in pediatric patients: a multicentric retrospective study. Childs Nerv Syst 35, 2119–2126 (2019). https://doi.org/10.1007/s00381-019-04179-z
Received:

Accepted:

Published:

Issue Date:
Keywords
Pediatric pituitary adenomas

Endoscopic endonasal transsphenoidal surgery

Transsphenoidal microsurgery

Remission

Outcome

Skull base