Abstract
Introduction
Cranioplasty aims at restoring the physiological integrity and volume of the skull. Any disproportion between the intracranial content and the volume of the container may favor the occurrence of complications. A classification of volume mismatches is proposed. A negative mismatch, consisting of intracranial content minor to skull volume, is well represented by the sinking flap. On the other side, a positive mismatch, consisting of intracranial content higher than skull volume, usually depends on CSF collection or hydrocephalus once the brain edema is regressed. Though, in children, this condition may result from physiological brain growth after decompressive craniectomy. Treatment algorithm based on this classification is presented.
Illustrative case
A 1-year-old boy with a severe traumatic brain injury underwent right decompressive craniectomy, evacuation of subdural hematoma, and dural expansion at another institution. After failure of autologous bone-assisted cranioplasty for infection, a helmet was recommended in order to postpone the cranial repair. Patient was admitted to our institution 3 years later. CT scan showed brain herniation through the cranial defect, associated to a condition of acquired craniocerebral disproportion, due to the condition of "open skull". Augmented hydroxyapatite cranioplasty (CustomBone, Finceramica, Faenza, Italy) was performed in order to manage this rare condition of positive volume mismatch. Subsequent course was uneventful and no complication was recorded at 30-month follow-up.
Conclusions
This illustrative case highlights the possible occurrence of a positive structural mismatch between the skull and the intracranial content after decompressive craniectomy, thus configuring a condition of acquired craniocerebral disproportion, aside of other brain or CSF complications. We firstly recognize this condition in the literature and propose it as a possible factor affecting the outcome of cranioplasty in infants and young children.
This is a preview of subscription content, log in to check access.
Access options
Buy single article
Instant access to the full article PDF.
US$ 39.95
Price includes VAT for USA
Subscribe to journal
Immediate online access to all issues from 2019. Subscription will auto renew annually.
US$ 199
This is the net price. Taxes to be calculated in checkout.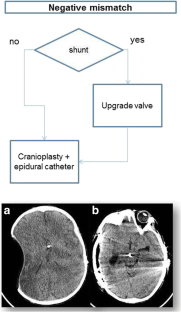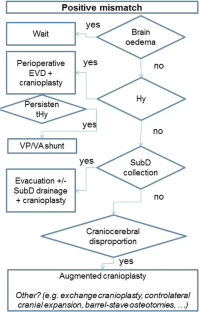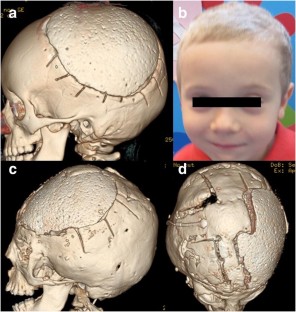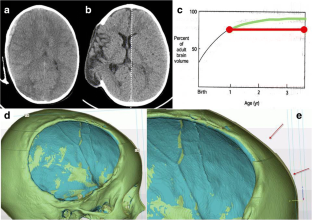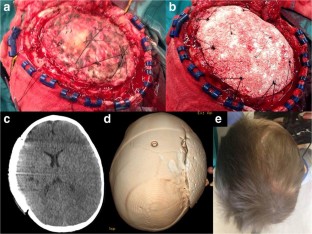 References
1.

Robles LA, Cuevas-Solórzano A (2018) Massive brain swelling and death after cranioplasty: a systematic review. World Neurosurg 111:99–108. https://doi.org/10.1016/j.wneu.2017.12.061

2.

Van Roost D, Thees C, Brenke C, Oppel F, Winkler PA, Schramm J (2003) Pseudohypoxic brain swelling: a newly defined complication after uneventful brain surgery, probably related to suction drainage. Neurosurgery 53:1315–1326 discussion 1326-1327

3.

Yu KKH, Ghosh K (2016) Letter to the editor: sudden death following cranioplasty: vacuum suction to blame? J Neurosurg 125:1610–1612. https://doi.org/10.3171/2016.4.JNS16977

4.

Frassanito P, Massimi L, Caldarelli M, Tamburrini G, Di Rocco C (2014) Bone flap resorption in infants. J Neurosurg Pediatr 13(2):243–244. https://doi.org/10.3171/2013.6.PEDS13312

5.

Frassanito P, Tamburrini G, Massimi L, Peraio S, Caldarelli M, Di Rocco C (2017) Problems of reconstructive cranioplasty after traumatic brain injury in children. Childs Nerv Syst ChNS Off J Int Soc Pediatr Neurosurg 33:1759–1768. https://doi.org/10.1007/s00381-017-3541-8

6.

Rocque BG, Agee BS, Thompson EM, Piedra M, Baird LC, Selden NR, Greene S, Deibert CP, Hankinson TC, Lew SM, Iskandar BJ, Bragg TM, Frim D, Grant G, Gupta N, Auguste KI, Nikas DC, Vassilyadi M, Muh CR, Wetjen NM, Lam SK (2018) Complications following pediatric cranioplasty after decompressive craniectomy: a multicenter retrospective study. J Neurosurg Pediatr 22(3):225–232. https://doi.org/10.3171/2018.3.PEDS17234

7.

Di Rocco C, Frassanito P (2015) Craniocerebral disproportion as a late complication. In: Di Rocco C, Turgut M, Jallo G, Martinez-Lage JF (eds) Complications of CSF shunting in hydrocephalus. Springer, Cham, pp 233–246
Acknowledgments
The authors kindly thank Dr. Angelo Nataloni and his staff (Finceramica, Faenza, Italy) for their precious cooperation in the planning phase of the present cranioplasty and the elaboration of radiological images overlapping the CT scans of the illustrative case.
Ethics declarations
Conflict of interest
The authors declare that they have no conflict of interest.
Additional information
Publisher's note
Springer Nature remains neutral with regard to jurisdictional claims in published maps and institutional affiliations.
About this article
Cite this article
Frassanito, P., Bianchi, F., Stifano, V. et al. Craniocerebral disproportion after decompressive craniectomy in infants: The hidden enemy of cranial repair?. Childs Nerv Syst 35, 1467–1471 (2019). https://doi.org/10.1007/s00381-019-04166-4
Received:

Accepted:

Published:

Issue Date:
Keywords
Cranial growth

Cranial repair

Cranioplasty

Craniocerebral disproportion

Pediatric head injury

Personalized medicine