Abstract
Purpose
E-bikes are being used increasingly by all age groups. Children riding e-bikes often do not use safety equipment such as helmets, and are at increased risk for injuries requiring neurosurgery. The most common type of injury among pediatric e-bikers is head and neck trauma. We describe our experience treating cranial injuries.
Methods
Data regarding children (< 18 years old) with e-bike-related cranial injuries were collected retrospectively from two tertiary centers.
Results
Twenty patients were included. Seventeen were e-bike users, and three were hit as pedestrians. The average age at admission was 11.3 ± 4.85 (range 1.5–17) years old. All 17 e-bike users did not wear a helmet. Seventeen of the 20 (85%) suffered from skull fractures (70% involving the frontal bone), nine involving more than one region. Six patients (30%) had intracerebral contusions, 3 (15%) an epidural hematoma, and 6 (30%) a subdural hematoma. Three patients (15%) underwent surgery, two of them for depressed skull fracture reduction, and one for insertion of intracranial pressure monitor. One patient died (5%); 1 (5%) had a Glasgow Outcome Scale (GOS) of 3, 5 (25%) had a GOS of 2, and 13 (65%) were discharged without any neurological deficit (GOS 1).
Conclusion
E-bikes may inflict various cranial injuries, including fractures and intracranial bleeds, and may lead to significant morbidity and mortality. Education of children to use protective gear, wide exposure of younger adolescents to traffic laws, and limiting the use of e-bikes to older children, are all necessary actions.
Access options
Buy single article
Instant access to the full article PDF.
US$ 39.95
Tax calculation will be finalised during checkout.
Subscribe to journal
Immediate online access to all issues from 2019. Subscription will auto renew annually.
US$ 119
Tax calculation will be finalised during checkout.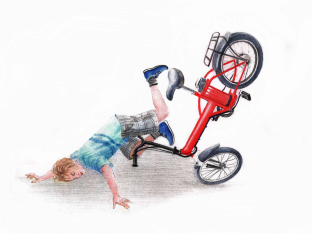 References
1.

de Geus B, Kempenaers F, Lataire P, Meeusen R (2013) Influence of electrically assisted cycling on physiological parameters in untrained subjects. Eur J Sport Sci 13:290–294

2.

Du W, Yang J, Powis B, Zheng X, Ozanne-Smith J, Bilston L, He J, Ma T, Wang X, Wu M (2014) Epidemiological profile of hospitalised injuries among electric bicycle riders admitted to a rural hospital in Suzhou: a cross-sectional study. Inj Prev 20:128–133

3.

Feng Z, Raghuwanshi RP, Xu Z, Huang D, Zhang C, Jin T (2010) Electric-bicycle-related injury: a rising traffic injury burden in China. Inj Prev 16:417–419

4.

Ganti L, Bodhit AN, Daneshvar Y, Patel PS, Pulvino C, Hatchitt K, Hoelle RM, Peters KR, Kuchibhotla S, Lottenberg L, Gabrielli A, Mazzuoccolo A, Elie-Turenne MC, Falgiani T, Maerz PW, Kharod SM, Conroy LM, Khalid HM, Tyndall JA (2013) Impact of helmet use in traumatic brain injuries associated with recreational vehicles. Adv Prev Med 2013:450195

5.

Gross I, Weiss DJ, Eliasi E, Bala M, Hashavya S (2018) E-bike-related trauma in children and adults. J Emerg Med 54:793–798

6.

Hermon K, Capua T, Glatstein M, Scolnik D, Tavor O, Rimon A (2018) Pediatric electric bicycle injuries: the experience of a large urban tertiary care pediatric hospital. Pediatr Emerg Care:1

7.

Hoj TH, Bramwell JJ, Lister C, Grant E, Crookston BT, Hall C, West JH (2018) Increasing active transportation through e-bike use: pilot study comparing the health benefits, attitudes, and beliefs surrounding e-bikes and conventional bikes. JMIR Public Health Surveill 4:e10461

8.

Langford BC, Chen J, Cherry CR (2015) Risky riding: naturalistic methods comparing safety behavior from conventional bicycle riders and electric bike riders. Accid Anal Prev 82:220–226

9.

Liu BC, Ivers R, Norton R, Boufous S, Blows S, Lo SK (2008) Helmets for preventing injury in motorcycle riders. Cochrane Database Syst Rev Cd004333

10.

Olivier J, Creighton P (2017) Bicycle injuries and helmet use: a systematic review and meta-analysis. Int J Epidemiol 46:372

11.

Papoutsi S, Martinolli L, Braun CT, Exadaktylos AK (2014) E-bike injuries: experience from an urban emergency department-a retrospective study from Switzerland. Emerg Med Int 2014:850236

12.

Schepers JP, Fishman E, den Hertog P, Wolt KK, Schwab AL (2014) The safety of electrically assisted bicycles compared to classic bicycles. Accid Anal Prev 73:174–180

13.

Tenenbaum S, Weltsch D, Bariteau JT, Givon A, Peleg K, Thein R (2017) Orthopaedic injuries among electric bicycle users. Injury 48:2140–2144

14.

Theurel J, Theurel A, Lepers R (2012) Physiological and cognitive responses when riding an electrically assisted bicycle versus a classical bicycle. Ergonomics 55:773–781

15.

Weber T, Scaramuzza G, Schmitt KU (2014) Evaluation of e-bike accidents in Switzerland. Accid Anal Prev 73:47–52
Acknowledgments
We thank Mrs. Adina Sherer for editorial assistance. We would like to thank Ksenia A. Ermolenko and Yaroslava A. Kozyreva for the drawing in this article.
Ethics declarations
Conflict of interest
The authors declare that they have no conflict of interest.
Additional information
Publisher's note
Springer Nature remains neutral with regard to jurisdictional claims in published maps and institutional affiliations.
About this article
Cite this article
Karepov, Y., Kozyrev, D.A., Benifla, M. et al. E-bike-related cranial injuries in pediatric population. Childs Nerv Syst 35, 1393–1396 (2019). https://doi.org/10.1007/s00381-019-04146-8
Received:

Accepted:

Published:

Issue Date:
Keywords
E-bikes

Neurosurgery

Head injury

Helmet

Children