Abstract
Background
Cerebral edema peaks 36–72 h after moderate traumatic brain injury but thought to be uncommon after mild traumatic brain injury. Post-traumatic headache can develop 48–72 h post-injury, perhaps reflecting the developing cerebral edema. Pseudotumor cerebri can result from various causes, including cerebral edema, and is characterized by increased intracranial pressure, headache, visual, and other common symptoms. Our objective was to report a phenotypically identifiable post-traumatic headache subtype.
Case series presentation
This case series of six pediatric patients with post-traumatic pseudotumor cerebri was assessed at 48–120 h post-primary injury with new or a change in symptoms such as headache, vision, auditory, balance, and cognition. Clinical findings included slight fever, neck/head pain, papilledema or cranial nerve deficit (6th), and lack of coordination. Elevated cerebral spinal fluid pressure was documented by lumbar puncture, with no infection. Symptoms improved with treatment specific to post-traumatic headache subtype (lumbar puncture, topiramate, or acetazolamide).
Conclusions
Recognition of specific post-traumatic headache subtypes after mild traumatic brain injury will expedite treatment intervention to lower intracranial pressure and resolve symptoms.
This is a preview of subscription content, log in to check access.
Access options
Buy single article
Instant access to the full article PDF.
US$ 39.95
Price includes VAT for USA
Subscribe to journal
Immediate online access to all issues from 2019. Subscription will auto renew annually.
US$ 199
This is the net price. Taxes to be calculated in checkout.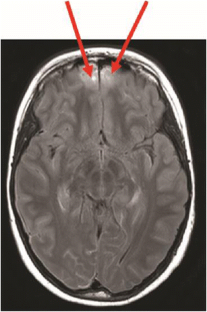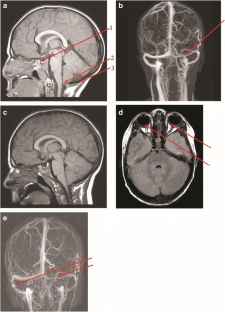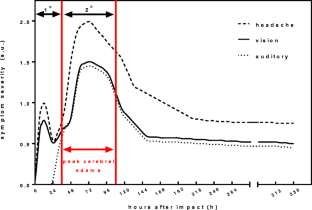 Availability of data and materials
Data supporting the conclusions of this article are included within the article.
Abbreviations
BMI :

body mass index

CBF :

cerebral blood flow

CE :

cerebral edema

CNS :

central nervous system

CSF :

cerebral spinal fluid

CT :

computed tomography

ICP :

intracranial pressure

IIH :

idiopathic intracranial hypertension

MRI :

magnetic resonance imaging

MRV :

magnetic resonance venography

mTBI :

mild traumatic brain injury

PCS :

post-concussion symptom

PTC :

pseudotumor cerebri

PTPTC :

post-traumatic pseudotumor cerebri

PTH :

post-traumatic headache
References
1.

Aylward SC, Waslo CS, Au JN, Tanne E (2016) Manifestations of pediatric intracranial hypertension from the intracranial hypertension registry. Pediatr Neurol 61:76–82. https://doi.org/10.1016/j.pediatrneurol.2016.04.007

2.

Claassen J, Carhuapoma JR, Kreiter KT, Du EY, Connolly ES, Mayer SA (2002) Global cerebral edema after subarachnoid hemorrhage: frequency, predictors, and impact on outcome. Stroke 33(5):1225–1232. https://doi.org/10.1161/01.STR.0000015624.29071.1F

3.

Defrin R (2014) Chronic post-traumatic headache: clinical findings and possible mechanisms. J Man Manip Ther 22(1):36–44. https://doi.org/10.1179/2042618613Y.0000000053

4.

Faul MXL, Wald MM, Coronado VG (2010) Traumatic brain injury in the United States: emergency department visits, hospitalizations and deaths 2002–2006. Centers for Disease Control and Prevention, National Center for Injury Prevention and Control, Atlanta

5.

Galetta SL, Balcer LJ (2013) All choked up about the pseudotumor cerebri syndrome. Neurology 81(13):1112–1113. https://doi.org/10.1212/WNL.0b013e3182a55ff7

6.

Greenberg JK, Stoev IT, Park TS, Smyth MD, Leonard JR, Leonard JC, Pineda JA, Limbrick DD (2014) Management of children with mild traumatic brain injury and intracranial hemorrhage. J Trauma Acute Care Surg 76(4):1089–1095. https://doi.org/10.1097/TA.0000000000000155

7.

Headache Classification Committee of the International Headache Society (IHS) (2013) The International Classification of Headache Disorders, 3rd edition (beta version). Cephalalgia 33:629–808

8.

Ivkovic M, Reiss-Zimmermann M, Katzen H, Preuss M, Kovanlikaya I, Heier L, Alperin N, Hoffmann KT, Relkin N (2015) MRI assessment of the effects of acetazolamide and external lumbar drainage in idiopathic normal pressure hydrocephalus. Fluid Barrier CNS 12(1):9–12. https://doi.org/10.1186/s12987-015-0004-z

9.

Karadas O, Gul HL, Ozturk B, Eroglu E, Demirkaya S (2014) The effects of topiramate therapy on cerebral metabolism in migraine with aura patients. Turk Neurosurg 24(5):704–709. https://doi.org/10.5137/1019-5149.JTN.9059-13.1

10.

Kruschitz R, Wallner-Liebmann SJ, Hamlin MJ, Moser M, Ludvik B, Schnedl WJ, Tafeit E (2013) Detecting body fat-a weighty problem BMI versus subcutaneous fat patterns in athletes and non-athletes. PLoS One 8(8):e72002. https://doi.org/10.1371/journal.pone.0072002

11.

Krymchantowski AV, Jevoux CC (2011) Topiramate vs divalproex sodium in the preventive treatment of migraine: a prospective "real-world" study. Headache 51(4):554–558. https://doi.org/10.1111/j.1526-4610.2011.01868.x

12.

Lew HL, Lin PH, Fuh JL, Wang SJ, Clark DJ, Walker WC (2006) Characteristics and treatment of headache after traumatic brain injury: a focused review. Am J Phys Med Rehabil/Assoc Acad Phys 85(7):619–627. https://doi.org/10.1097/01.phm.0000223235.09931.c0

13.

Lucas S, Hoffman JM, Bell KR, Walker W, Dikmen S (2012) Characterization of headache after traumatic brain injury. Cephalalgia 32(8):600–606. https://doi.org/10.1177/0333102412445224

14.

Markey KA, Mollan SP, Jensen RH, Sinclair AJ (2016) Understanding idiopathic intracranial hypertension: mechanisms, management, and future directions. Lancet Neurol 15(1):78–91. https://doi.org/10.1016/S1474-4422(15)00298-7

15.

Piovesan EJ, Lange MC, Piovesan Ldo R, de Almeida SM, Kowacs PA, Werneck LC (2002) Long-term evolution of papilledema in idiopathic intracranial hypertension: observations concerning two cases. Arq Neuropsiquiatr 60(2B):453–457. https://doi.org/10.1590/S0004-282X2002000300021

16.

Saadoun S, Papadopoulos MC (2010) Aquaporin-4 in brain and spinal cord oedema. Neuroscience 168(4):1036–1046. https://doi.org/10.1016/j.neuroscience.2009.08.019

17.

Shah LM, McLean LA, Heilbrun ME, Salzman KL (2013) Intracranial hypotension: improved MRI detection with diagnostic intracranial angles. AJR Am J Roentgenol 200(2):400–407. https://doi.org/10.2214/AJR.12.8611

18.

Silberstein SD, Lipton RB, Dodlick DJ (eds) (2001) Wolff's headache and other head pain. Oxford University Press, New York

19.

Stiebel-Kalish H, Eyal S, Steiner I (2013) The role of aquaporin-1 in idiopathic and drug-induced intracranial hypertension. Med Hypotheses 81(6):1059–1062. https://doi.org/10.1016/j.mehy.2013.10.002

20.

Theeler BJ, Flynn FG, Erickson JC (2010) Headaches after concussion in US soldiers returning from Iraq or Afghanistan. Headache 50(8):1262–1272. https://doi.org/10.1111/j.1526-4610.2010.01700.x

21.

Wall M, McDermott MP, Kieburtz KD, Corbett JJ, Feldon SE, Friedman DI, Katz DM, Keltner JL, Schron EB, Kupersmith MJ, Committee NIIHSGW (2014) Effect of acetazolamide on visual function in patients with idiopathic intracranial hypertension and mild visual loss: the idiopathic intracranial hypertension treatment trial. JAMA 311(16):1641–1651. https://doi.org/10.1001/jama.2014.3312

22.

Watanabe TK, Bell KR, Walker WC, Schomer K (2012) Systematic review of interventions for post-traumatic headache. PM R: J Inj Funct Rehabil 4(2):129–140. https://doi.org/10.1016/j.pmrj.2011.06.003
Funding
This study was not funded by any public, commercial, or not-for-profit entity.
Ethics declarations
Ethics approval and consent to participate
Research described in this case series involving human subjects and data was performed in accordance with the Declaration of Helsinki. This study was reviewed and approved by the University of Texas Southwestern Medical Center Institutional Review Board (STU 092016-046). Consent for the publication of each of the cases and any additional related information, including case details and images, was taken from all the patients/parents of the minors involved in the study.
Conflict of interest
Authors have no financial or non-financial competing interests to report.
About this article
Cite this article
Sabo, T., Supnet, C. & Purkayastha, S. Secondary intracranial hypertension (pseudotumor cerebri) presenting as post-traumatic headache in mild traumatic brain injury: a case series. Childs Nerv Syst 34, 681–690 (2018). https://doi.org/10.1007/s00381-017-3681-x
Received:

Accepted:

Published:

Issue Date:
Keywords
Idiopathic intracranial hypertension

Post-traumatic headache

Acetazolamide

Intracranial pressure

Pseudotumor cerebri

Concussion