Can fetus feel pain in the second trimester? Lessons learned from a sentinel event
Dear Editor:
Current references fail to prove fetal perception of pain before the third trimester and little or no evidence addresses the effectiveness of direct fetal anesthetic or analgesic techniques [1]. However, mortality related to fetal procedures remains over 10–20% [2].
Open fetal surgery (OFS) remains a major procedure for mother and fetus. In such cases, fetus anesthesia/analgesia can be provided by different routes but, in our opinion, direct administration is mandatory [3].
A 24-week fetus undergoing OFS for MMR under a specific protocol [
4
] for anesthesia and management was designed by our group: rapid sequence induction and placental support with sevoflurane, remifentanil, and phenylephrine. Intramuscular (IM) vecuronium (0.2 μg/kg), atropine (0.01 mg/kg), and fentanyl (10–20 μg/kg) are directly administered to the fetus (Fig. 
1
).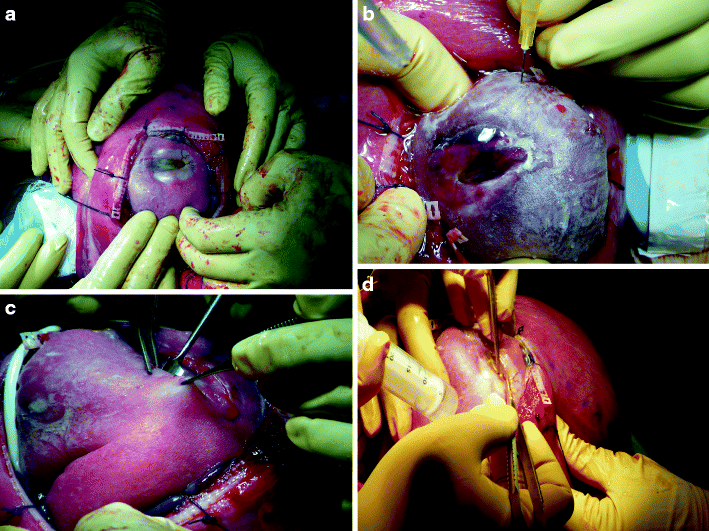 After 4 min of exposure, it developed fetal bradycardia, evident in continuous ultrasonographic heart monitoring. Immediate evaluation confirmed trans-placental flow maintenance and discarded cord compressions, massive loss of amniotic fluid or maternal systemic alterations, but we identified a protocol transgression: fetus anesthesia was not being delivered. Immediately, IM epinephrine was administered together with pre-planned anesthesia and surgical procedure was temporarily stopped. After recovery, completion of the untethering and spinal reconstruction was possible and the postoperative period was uneventful.
We retrospectively analyzed our series (11 cases of MMR by OFS). Only the fetus described in this case did not receive parenteral anesthesia and showed signs of stress response to pain. We had no intrauterine or immediate fetal loss for extreme prematurity.
The issue whether fetuses are capable of feeling pain, or not, is still controversial [1].
Pain is composed of two parts: a physiologic reaction towards a noxious stimulus, nociception or stress response, and an emotional negative perception. Autonomic effects can be suppressed by the administration of analgesics.
The fetal stress response to noxious stimulation that we observed in this case does not prove that the fetus has a conscious perception of pain. However, it is very unlikely that there may be pain perception without a stress response, as it is often used as a surrogate indicator for pain [1]. The immature pain system is capable of mounting behavioral responses to painful stimuli, as seen by the movements of the fetus away from the stimulus during minimal invasive fetal procedures (MIFP). Even if the sensory cortex itself is not fully developed, other structures in the developing brain can act as surrogates for it. Neurons of the subplate zone are particularly susceptible to preterm injuries, and this zone is active in the second-trimester human fetus. As a consequence, fetus may still be able to process the information from nociceptive stimuli and model the developing nervous system in response to pain [1].
One of the key aspects of anesthesia in open fetal procedures is to promote uterine relaxation, maintaining both maternal and fetal circulation stable and, once surgery is completed, to offer perfect analgesic to avoid the contractions due to pain, thus finally reducing the preterm delivery [4]. In this scenario, noxius stimulus may probably be high enough to activate the subplate zone or other active pathways. In fact, mortality and fetal loss is over 20% in non-anesthetized fetuses.
This case of fetal pain response with bradycardia led us to consider that the fetus was not adequately anesthetized and to present the hypothesis that fetus under the second trimester of pregnancy may indeed feel pain.
Notes
Funding
This study was funded by departmental resources.
Compliance with ethical standards
Ethics
Neurosurgical Program for OPS was approved by Local (Hospital) and (Regional) Andalusian Health System Ethical Committees in August 2007.
Disclosures
No conflict of interest.
Copyright information
© Springer-Verlag GmbH Germany, part of Springer Nature 2017