Abstract
Introduction
Benign extracerebral fluid collection (bECFC) can be complicated by subdural hematoma (SDH) or subdural fluid collection (SDFC). The etiology, natural history, and management strategy for SDH/SDFC in bECFC are not fully understood. We retrospectively reviewed the cases of bECFC patients complicated with SDH/SDFC and tried (1) to confirm the fact that bECFC children are vulnerable to SDH/SDFC, (2) to investigate the clinical significance of 'trauma history' witnessed by a caregiver, and (3) to determine optimal management for them.
Method
Among 213 bECFC patients identified from January 2000 to August 2015, 20 patients (male:female = 14:6; median age, 6.5 months; range 1–16 months) complicated by SDH/SDFC documented with brain imaging were evaluated for their clinical manifestations, radiologic features, and management outcomes. The median follow-up period was 9.5 months. They were divided into two groups (traumatic group versus non-traumatic group) according to whether objective radiologic evidence of head injury was present or not, and the two groups were analyzed for any clinical differences between them. We also evaluated the clinical significance of witnessed traumatic events by caregivers as an additional independent variable in the analysis.
Results
The incidence of SDH/SDFC in bECFC patients was 9.4% (20/213) in our data. In a comparative analysis, the traumatic group is more likely to have 'acute' stage SDH, whereas the non-traumatic group is more likely to have 'chronic' stage SDH. The trauma history witnessed by caregivers did not show clinical significance in the data analysis when included as an independent variable. The prognosis of SDH/SDFC in bECFC patients was favorable without surgery in most of patients regardless of whether the patient has evidence of head trauma or not.
Conclusion
Benign ECFC is vulnerable to SDH/SDFC development. For the bECFC patients complicated by SDH/SDFC, the trauma history witnessed by a caregiver did not show any clinical significance. A 'wait and watch' strategy is sufficient for the management of SDH/SDFC in bECFC patients.
This is a preview of subscription content, log in to check access.
Access options
Buy single article
Instant access to the full article PDF.
US$ 39.95
Price includes VAT for USA
Subscribe to journal
Immediate online access to all issues from 2019. Subscription will auto renew annually.
US$ 199
This is the net price. Taxes to be calculated in checkout.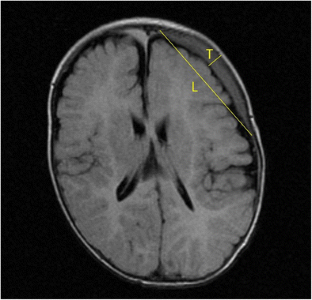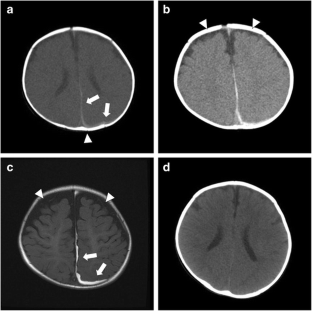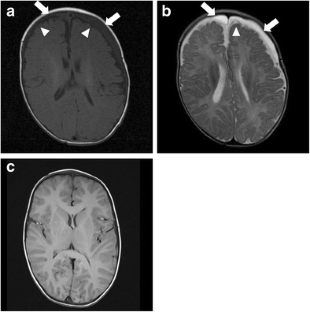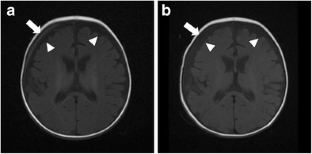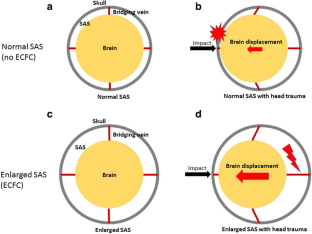 References
1.

Azais M, Echenne B (1992) Idiopathic pericerebral swelling (external hydrocephalus) of infants. Ann Pediatr (Paris) 39:550–558

2.

Bode H, Strassburg HM (1987) Craniocerebral dysproportion—a contribution to the significance of extracerebral fluid collections in infancy. Klin Padiatr 199:399–402

3.

Ghosh PS, Ghosh D (2011) Subdural hematoma in infants without accidental or nonaccidental injury: benign external hydrocephalus, a risk factor. Clin Pediatr 50:897–903

4.

Hellbusch LC (2007) Benign extracerebral fluid collections in infancy: clinical presentation and long-term follow-up. J Neurosurg 107:119–125

5.

Hobbs C, Childs AM, Wynne J, Livingston J, Seal A (2005) Subdural haematoma and effusion in infancy: an epidemiological study. Arch Dis Child 90:952–955

6.

Ikeda A, Sato O, Tsugane R, Shibuya N, Yamamoto I, Shimoda M (1987) Infantile acute subdural hematoma. Childs Nerv Syst 3:19–22

7.

Kapila A, Trice J, Spies WG, Siegel BA, Gado MH (1982) Enlarged cerebrospinal fluid spaces in infants with subdural hematomas. Radiology 142:669–672

8.

McNeely PD, Atkinson JD, Saigal G, O'Gorman AM, Farmer JP (2006) Subdural hematomas in infants with benign enlargement of the subarachnoid spaces are not pathognomonic for child abuse. Am J Neuroradiol 27:1725–1728

9.

Ment LR, Duncan CC, Geehr R (1981) Benign enlargement of the subarachnoid spaces in the infant. J Neurosurg 54:504–508

10.

Mori K, Sakamoto T, Nishimura K, Fujiwara K (1993) Subarachnoid fluid collection in infants complicated by subdural hematoma. Childs Nerv Syst 9:282–284

11.

Nishimura K, Mori K, Sakamoto T, Fujiwara K (1996) Management of subarachnoid fluid collection in infants based on a long-term follow-up study. Acta Neurochir 138:179–184

12.

Odita JC (1992) The widened frontal subarachnoid space—a CT comparative-study between macrocephalic, microcephalic, and normocephalic infants and children. Child Nerv Syst 8:36–39

13.

Papasian NC, Frim DM (2000) A theoretical model of benign external hydrocephalus that predicts a predisposition towards extra-axial hemorrhage after minor head trauma. Pediatr Neurosurg 33:188–193

14.

Ravid S, Maytal J (2003) External hydrocephalus: a probable cause for subdural hematoma in infancy. Pediatr Neurol 28:139–141

15.

Vinchon M (2010) Subdural hematoma in infants: can it occur spontaneously? Data from a prospective series and critical review of the literature. Reply. Childs Nerv Syst 26:1485–1485

16.

Yew AY, Maher CO, Muraszko KM, Garton HJ (2011) Long-term health status in benign external hydrocephalus. Pediatr Neurosurg 47:1–6
Funding
This research was supported by the Basic Science Research Program through the National Research Foundation of Korea(NRF) funded by the Ministry of Education (2015R1D1A1A01059605).
Ethics declarations
Conflict of interest
The authors declare that they have no conflict of interest.
Electronic supplementary material
About this article
Cite this article
Lee, H.C., Chong, S., Lee, J.Y. et al. Benign extracerebral fluid collection complicated by subdural hematoma and fluid collection: clinical characteristics and management. Childs Nerv Syst 34, 235–245 (2018). https://doi.org/10.1007/s00381-017-3583-y
Received:

Accepted:

Published:

Issue Date:
Keywords
Benign extracerebral fluid collection in infancy

Subdural hematoma

Subdural fluid collection

Trauma history