Abstract
Background
The management of concomitant scoliosis and tethered cord syndrome in the non-spina bifida pediatric population is challenging. In the present study, we evaluate the efficacy of different treatment modalities and propose a treatment plan for the management of affected patients.
Methods
A systematic literature review was conducted by querying the MEDLINE, PubMed, Cochrane, EMBASE, Scopus, and Web of Science databases for papers published between January 1996 and June 2016 and reporting on concomitant scoliosis and tethered cord. We excluded animal studies, non-English papers as well as papers reporting on patients with multiple concomitant intraspinal anomalies such as spina bifida.
Results
Out of 1993 articles, only 13 met our inclusion criteria. These 13 articles described six main management approaches: Observation, cord untethering only, cord untethering followed by deformity correction, simultaneous cord untethering and deformity correction, and deformity correction without untethering. Selection of the best approach is a function of the patient's symptomatology and Cobb angle.
Conclusion
We propose treatment plan for the management of patients with concomitant tethered cord syndrome and spinal deformity. Asymptomatic patients can be followed conservatively and managed as scoliosis patients with no need for untethering. Surgical management in a staged fashion seems appropriate in symptomatic patients with a Cobb angle less than 35°. In these patients, deformity can improve following untethering, thus sparing the patient the risks of surgical correction of scoliosis. Staged or non-staged cord untethering and curve correction seem to be adequate in symptomatic patients with Cobb angle >35° as these patients are likely to require both untethering and deformity correction.
Access options
Buy single article
Instant access to the full article PDF.
USD 39.95
Price excludes VAT (USA)
Tax calculation will be finalised during checkout.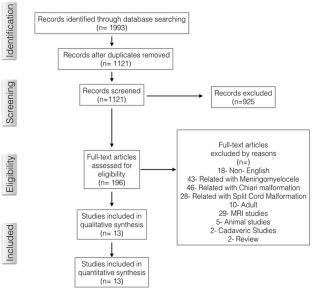 References
Lew SM, Kothbauer KF (2007) Tethered cord syndrome: an updated review. Pediatr Neurosurg 43:236–248

Hoffman HJ, Hendrick EB, Humphreys RP (1976) The tethered spinal cord: its protean manifestations, diagnosis and surgical correction. Childs Brain 2:145–155

Hamzaoglu A, Özturk C, Tezer M, Aydogan M, Sarıer M, Talu U (2007) Simultaneous surgical treatment in congenital scoliosis and/or kyphosis associated with Intraspinal abnormalities. Spine (Phila Pa 1976) 32:2880–2884

Ramirez N, Johnston CE, Browne RH (1997) The prevalence of back pain in children who have idiopathic scoliosis. J Bone Joint Surg Am 79:364–368

Tadmor R, Ravid M, Findler G, Sahar A (1985) Importance of early radiologic diagnosis of congenital anomalies of the spine. Surg Neurol 23:493–501

Bernard TN Jr, Burke SW, Johnston CE 3rd, Roberts JM (1985) Congenital spine deformities. A review of 47 cases. Orthopedics 8:777–783

Bode H, Sauer M, Strassburg HM, Gilsbach HJ (1985) The tethered cord syndrome. Klin Padiatr 197:409–414

Giles LG (1991) Review of tethered cord syndrome with a radiological and anatomical study: case report. Surg Radiol Anat 13:339–343

Kothbauer K, Seiler RW (1997) Tethered spinal cord syndrome in adults. Nervenarzt 68:285–291

Wu L, Qiu Y, Wang B, Yu Y, Zhu ZZ (2006) Spinal cord abnormality and its clinical significance in "idiopathic" left thoracic scoliosis. Zhonghua Wai Ke Za Zhi 44:1657–1659

Wu L, Qiu Y, Wang B, Zhu ZZ, Ma WW (2010) The left thoracic curve pattern: a strong predictor for neural axis abnormalities in patients with "idiopathic" scoliosis. Spine (Phila Pa 1976) 35:182–185

Chern JJ, Dauser RC, Whitehead WE, Curry DJ, Luerssen TG, Jea A (2011) The effect of tethered cord release on coronal spinal balance in tight filum terminale. Spine (Phila Pa 1976) 36:E944–E949

Kulwin CG, Patel NB, Ackerman LL, Smith JL, Boaz JC, Fulkerson DH (2013) Radiographic and clinical outcome of syringomyelia in patients treated for tethered cord syndrome without other significant imaging abnormalities. J Neurosurg Pediatr 11:307–312

Barutçuoglu M, Selçuki M, Umur A, Mete M, Gurgen S, Selçuki D (2016) Scoliosis may be the first symptom of the tethered spinal cord. Indian J Orthop 50:80–86

Ayvaz M, Alanay A, Yazici M, Acaroglu E, Akalan N, Aksoy C (2007) Safety and efficacy of posterior instrumentation for patients with congenital scoliosis and spinal dysraphism. J Pediatr Orthop 27:380–386

Zhang ZX, Feng DX, Li P, Zhou HZ, Liu TJ, Hui H, Hao D-J (2014) Surgical treatment of scoliosis associated with syringomyelia with no or minor neurologic symptom. Eur Spine J 24:1555–1559

Huang JH, Yang WZ, Shen C, Chang MS, Li H, Luo ZJ, Tao HR (2015) Surgical treatment of congenital scoliosis associated with tethered cord by thoracic spine-shortening osteotomy without cord detethering. Spine (Phila Pa 1976) 40:E1103–E1109

Matsumoto M, Watanabe K, Tsuji T, Ishii K, Takaishi H, Nakamura M, Toyama Y, Chiba K (2009) Progressive kyphoscoliosis associated with tethered cord treated by posterior vertebral column resection: a case report. Spine (Phila Pa 1976) 34:E965–E968

Tao HR, Yang TL, Chang MS, Li H, Zhang DW, Fan HB, Shen C, Luo ZJ (2015) Successful treatment of a patient with congenital kyphoscoliosis associated with tethered cord. J Neurosurg Spine 22:64–69

Samdani AF, Asghar J, Pahys J, D'Andrea L, Betz RR (2007) Concurrent spinal cord untethering and scoliosis correction: case report. Spine (Phila Pa 1976) 32:E832–E836

Mehta VA, Gottfried ON, McGirt MJ, Gokaslan ZL, Ahn ES, Jallo GI (2011) Safety and efficacy of concurrent pediatric spinal cord untethering and deformity correction. J Spinal Disord Tech 24:401–405

Oda JE, Shah SA, Mackenzie WG, Akbarnia BA, Yazici M (2012) Concurrent tethered cord release and growing-rod implantation—is it safe? Global Spine J 2:207–212

Mooney JF, Glazier SS, Barfield WR (2012) Concurrent orthopedic and neurosurgical procedures in pediatric patients with spinal deformity. J Pediatr Orthop B 21:602–605
Ethics declarations
Conflict of interest
On behalf of all authors, the corresponding author states that there is no conflict of interest.
About this article
Cite this article
Yaltırık, K., El Tecle, N.E., Pierson, M.J. et al. Management of concomitant scoliosis and tethered cord syndrome in non-spina bifida pediatric population. Childs Nerv Syst 33, 1899–1903 (2017). https://doi.org/10.1007/s00381-017-3504-0
Received:

Accepted:

Published:

Issue Date:

DOI: https://doi.org/10.1007/s00381-017-3504-0
Keywords