Abstract
Background
The INI1/SMARCB1 gene protein product has been implicated in the direct pathogenesis of schwannomas from patients with one form of schwannomatosis [SWNTS1; MIM # 162091] showing a mosaic pattern of loss of protein expression by immunohistochemistry [93% in familial vs. 55% in sporadic cases].
Aim of study
To verify whether such INI1/SMARCB1 mosaic pattern could be extended to all schwannomas arising in the sporadic and familial schwannomatoses [i.e. to SMARCB1-related (SWNTS1) or LZTR1-related (SWNTS2) schwannomatosis or to SMARCB1/LZTR1-negative schwannomatosis] and whether it could be involved in classical NF2 or solitary peripheral schwannomas
Methods
We blindly analysed schwannoma samples obtained from a total of 22 patients including (a) 2 patients (2 males; aged 38 and 55 years) affected by non-familial SMARCB1-associated schwannomatosis (SWTNS1); (b) 1 patient (1 female; aged 33 years) affected by familial schwannomatosis (SWTNS1/ SMARCB1 germ line mutations); (c) 5 patients (3 males, 2 females; aged 33 to 35 years) affected by non-familial (sporadic) LZTR1-associated schwannomatosis (SWNTS2); (d) 3 patients (3 males; aged 35 to 47 years) affected by familial schwannomatosis (SWTNS2/ LZTR1 germ line mutations); (e) 2 patients (1 male, 1 female; aged 63 and 49 years, respectively) affected by non-familial schwannomatosis (SWTNS, negative for SMARCB1, LZTR1 and NF2 gene mutations); (f) 4 patients (3 males, 1 females; aged 15 to 24 years) affected by classical NF2 (NF2: harbouring NF2 germ line mutations; and (g) 5 patients (3 males, 2 females; aged 33 to 68 years) who had solitary schwannomas. [follow-up = 15–30 years; negative for constitutional/somatic mutation analysis for the SMARCB1, LZTR1 and NF2 genes] were (blindly) analyzed. The INI1/SMARCB1 immunostaining pattern was regarded as (1) diffuse positive nuclear staining [= retained expression] or (2) mosaic pattern [mixed positive/negative nuclei = loss of expression in a subset of tumour cells].
Results
All solitary peripheral schwannomas and NF2-associated vestibular schwannomas showed diffuse nuclear INI1/SMARCB1 staining in 97–100% of neoplastic cells; schwannomas obtained from all cases of non-familial and familial schwannomatosis and NF2-associated non-vestibular schwannomas showed a mosaic pattern ranging from 10 to 70% of INI1/SMARCB1-positive expression. We did not record a complete lack of nuclear staining.
Conclusions
The present data suggests that (a) mosaic loss of immunohistochemical INI1/SMARCB1 expression, despite the interlesional variability, is a reliable marker of schwannomatosis regardless of the involved gene and it might help in the differential diagnosis of schwannomatosis vs. solitary schwannomas and (b) INI1/SMARCB1 expression is not useful in the differential with mosaic NF2, since NF2-associated peripheral schwannomas show the same immunohistochemical pattern.
This is a preview of subscription content, log in to check access.
Access options
Buy single article
Instant access to the full article PDF.
US$ 39.95
Price includes VAT for USA
Subscribe to journal
Immediate online access to all issues from 2019. Subscription will auto renew annually.
US$ 199
This is the net price. Taxes to be calculated in checkout.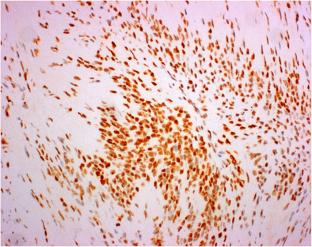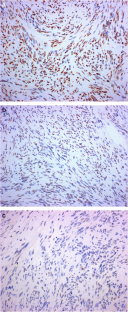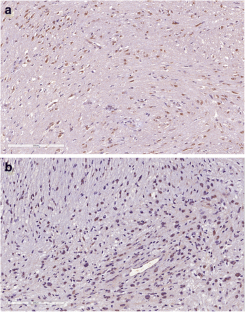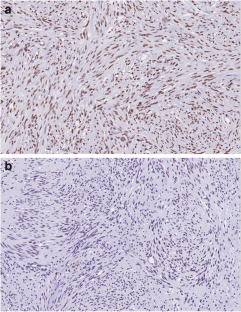 References
1.

Ruggieri M (1999) The different forms of neurofibromatosis. Childs Nerv Syst 15:295–308

2.

Huson SM, Acosta MT, Belzberg AJ et al (2011) Back to the future: proceedings from the 2010 NF Conference. Am J Med Genet A 155:307–321

3.

Kalamarides M, Acosta MT, Babovic-Vuksanovic D et al (2012) Neurofibromatosis 2011: a report of the Children's Tumor Foundation annual meeting. Acta Neuropathol 123:369–380

4.

Plotkin SR, Blakeley JO, Evans DG et al (2013) Update from the 2011 International Schwannomatosis Workshop: from genetics to diagnostic criteria. Am J Med Genet A 161:405–416

5.

Ruggieri M, Praticò AD, Muglia M, Maiolino L, Magro G, Evans DG (2015) Biochemical insights into merlin/NF2 pathophysiology and biologically targeted therapies in childhood NF2 and related forms. J Pediatr Biochem 05:120–130

6.

Evans DG (2009) Neurofibromatosis type 2 (NF2): a clinical and molecular review. Orphanet J Rare Dis 4:16

7.

Ruggieri M, Praticò AD, Evans DG (2015) Diagnosis, management, and new therapeutic options in childhood neurofibromatosis type 2 and related forms. Semin Pediatr Neurol 22:240–258

8.

MacCollin M, Woodfin W, Kronn D et al (1996) Schwannomatosis: a clinical and pathologic study. Neurology 46:1072–1079

9.

MacCollin M, Chiocca EA, Evans DG et al (2005) Diagnostic criteria for schwannomatosis. Neurology 64:1838–1845

10.

Baser ME, Friedman JM, Evans DG (2006) Increasing the specificity of diagnostic criteria for schwannomatosis. Neurology 66:730–732

11.

Merker VL, Esparza S, Smith MJ et al (2012) Clinical features of schwannomatosis: a retrospective analysis of 87 patients. Oncologist 17:1317–1322

12.

Seppälä MT, Sainio MA, Haltia MJ et al (1998) Multiple schwannomas: schwannomatosis or neurofibromatosis type 2? J Neurosurg 89:36–41

13.

Smith MJ, Kulkarni A, Rustad C et al (2012) Vestibular schwannomas occur in schwannomatosis and should not be considered an exclusion criterion for clinical diagnosis. Am J Med Genet A 158A:215–219

14.

Ruggieri M, Polizzi A (2000) Segmental neurofibromatosis. J Neurosurg 93:530–532

15.

Ruggieri M (2001) Mosaic (segmental) neurofibromatosis type 1 (NF1) and type 2 (NF2)—no longer neurofibromatosis type 5. Am J Med Genet 101:178–180

16.

Ruggieri M, Huson SM (2001) The clinical and diagnostic implications of mosaicism in the neurofibromatoses. Neurology 56:1433–1443

17.

Ruggieri M, Pavone P, Polizzi A, et al (2004) Ophthalmological manifestations in segmental (localised) neurofirbomatosis type 1 (NF1). Br J Ophthalmol 88:1429–1433

18.

Stahn V, Nagel I, Fischer-Huchzermeyer S, et al (2016) Molecular Analysis of Hybrid Neurofibroma/Schwannoma Identifies Common Monosomy 22 and α-T-Catenin/CTNNA3 as a Novel Candidate Tumor Suppressor. Am J Pathol 186:3285–3296

19.

Smith MJ, Bowers NL, Bulman M, et al (2017) Revisiting neurofibromatosis type 2 diagnostic criteria to exclude LZTR1-related schwannomatosis. Neurology 88:87–92

20.

Castellanos E, Bielsa I, Carrato C, et al (2015) Segmental neurofibromatosis type 2: discriminating two hit from four hit in a patient presenting multiple schwannomas confined to one limb. MC Med Genomics 8:2

21.

Ruggieri M, Praticò AD (2015) Mosaic neurocutaneous disorders and their causes. Semin Pediatr Neurol 22:207–233

22.

Hulsebos TJ, Plomp AS, Wolterman RA, et al (2007) Germline mutation of INI1/SMARCB1 in familial schwannomatosis. Am J Hum Genet 80:805–810

23.

Sestini R, Bacci C, Provenzano A, et al (2008) Evidence of a four-hit mechanism involving SMARCB1 and NF2 in schwannomatosis-associated schwannomas. Hum Mutat 29:227–231. 

24.

Hadfield KD, Newman WG, Bowers NL, et al (2008) Molecular characterisation of SMARCB1 and NF2 in familial and sporadic schwannomatosis. J Med Genet  45:332–339

25.

Piotrowski A, Xie J, Liu YF, et al (2014) Germline loss-of-function mutations in LZTR1 predispose to an inherited disorder of multiple schwannomas. Nat Genet 46:182–187

26.

Paganini I, Chang VY, Capone GL, et al (2015) Expanding the mutational spectrum of LZTR1 in schwannomatosis. Eur J Hum Genet 23:963–68

27.

Smith MJ, Isidor B, Beetz C, et al (2015) Mutations in LZTR1 add to the complex heterogeneity of schwannomatosis. Neurology  84:141–147

28.

Rousseau G, Noguchi T, Bourdon V, et al (2011) SMARCB1/INI1/SMARCB1 germline mutations contribute to 10% of sporadic schwannomatosis. BMC Neurol 11:9.

29.

Sigauke E, Rakheja D, Maddox DL et al (2006) Absence of expression of SMARCB1/INI1/SMARCB1 in malignant rhabdoid tumors of the central nervous system, kidneys and soft tissue: an immunohistochemical study with implications for diagnosis. Mod Pathol 19:717–725

30.

Eaton KW, Tooke LS, Wainwright LM, et al (2011) Spectrum of SMARCB1/INI1/SMARCB1 mutations in familial and sporadic rhabdoid tumors. Pediatr Blood Cancer 56:7–15 

31.

Brennan PM, Barlow A, Geraghty A, et al (2011) Multiple schwannomatosis caused by the recently described INI1/SMARCB1 gene-molecular pathology, and implications for prognosis. Br J Neurosurg 25:330–332

32.

Patil S, Perry A, MacCollin M, et al (2008) Immunohistochemical analysis supports a role for INI1/SMARCB1/SMARCB1 in hereditary forms of schwannomas, but not in solitary, sporadic schwannomas. Brain Pathol 18:517–519

33.

Ruggieri M, Iannetti P, Polizzi A et al (2005) Earliest clinical manifestations and natural history of neurofibromatosis type 2 in childhood: a study of 24 patients. Neuropediatrics 36:21–34

34.

Ruggieri M, Gabriele AL, Polizzi A et al (2013) Natural history of neurofibromatosis type 2 with onset before the age of 1 year. Neurogenetics 14:89–98

35

Ardern-Holmes S, Fisher G, North K (2016) Neurofibromatosis Type 2: Presentation, Major Complications, and Management, With a Focus on the Pediatric Age Group. J Child Neurol. doi:10.1177/0883073816666736

36

Gonzalvo A, Fowler A, Cook RJ et al (2011) Schwannomatosis, sporadic schwannomatosis, and familial schwannomatosis: a surgical series with long-term follow-up. Clinical article J Neurosurg 114:756–762

37

Ruggieri M, Praticò AD, Serra A et al (2016) Childhood neurofibromatosis type 2 (NF2) and related disorders: from bench to bedside and biologically targeted therapies. Acta Otorhinolaryngol Ital 36:345–367
Ethics declarations
Written informed consent was obtained from parents or guardians of all recruited individuals. The study was approved by the Ethical Committee [Catania 1], located at the University Hospital (AOU) "Policlinico-Vittorio Emanuele" in Catania, Italy.
Conflict of interest
On behalf of all authors, the corresponding author states that there is no conflict of interest.
About this article
Cite this article
Caltabiano, R., Magro, G., Polizzi, A. et al. A mosaic pattern of INI1/SMARCB1 protein expression distinguishes Schwannomatosis and NF2-associated peripheral schwannomas from solitary peripheral schwannomas and NF2-associated vestibular schwannomas. Childs Nerv Syst 33, 933–940 (2017). https://doi.org/10.1007/s00381-017-3340-2
Received:

Accepted:

Published:

Issue Date:
Keywords
Schwannomatosis

SWNTS

Neurofibromatosis type 2

NF2

SMARCB1

LZTR1

INI1

Mosaicism

Neurofibromatosis

Histology

Immunohistochemistry