Abstract
Purpose
Alcohol consumption in pregnancy may cause fetal alcohol syndrome (FAS) in the infant. This study aims to investigate prenatal alcohol exposure related neuroapoptosis on the cerebral cortex tissues of newborn rats and possible neuroprotective effects of betaine, folic acid, and combined therapy.
Methods
Pregnant rats were divided into five experimental groups: control, ethanol, ethanol + betaine, ethanol + folic acid, and ethanol + betaine + folic acid combined therapy groups. We measured cytochrome c release, caspase-3, calpain and cathepsin B and L. enzyme activities. In order to observe apoptotic cells in the early stages, TUNEL method was chosen together with histologic methods such as assessing the diameters of the apoptotic cells, their distribution in unit volume and volume proportion of cortical intact neuron nuclei.
Results
Calpain, caspase-3 activities, and cytochrome c levels were significantly increased in alcohol group while cathepsin B and L. activities were also found to be elevated albeit not statistically significant. These increases were significantly reversed by folic acid and betaine + folic acid treatments. While ethanol increased the number of apoptotic cells, this increase was prevented in ethanol + betaine and ethanol + betaine + folic acid groups. Morphometric examination showed that the mean diameter of apoptotic cells was increased with ethanol administration while this increase was reduced by betaine and betaine + folic acid treatments.
Conclusion
We observed that ethanol is capable of triggering apoptotic cell death in the newborn rat brains. Furthermore, folic acid, betaine, and combined therapy of these supplements may reduce neuroapoptosis related to prenatal alcohol consumption, and might be effective on preventing fetal alcohol syndrome in infants.
This is a preview of subscription content,
to check access.
Access this article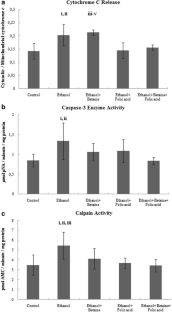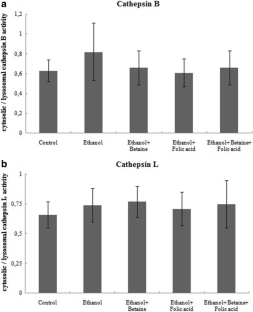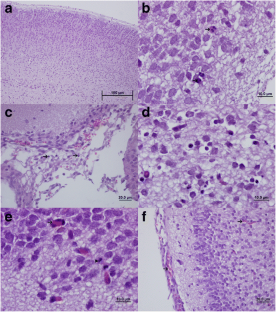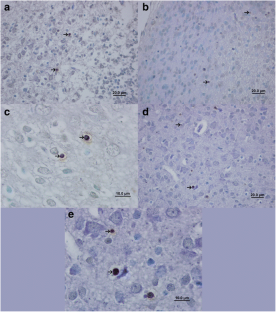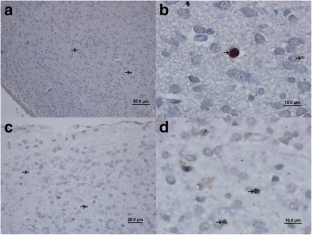 References
Stratton KHC, Battaglia F (1996) Fetal ethanol syndrome: diagnosis, epidemiology, prevention and treatment. National Academy Press, Washington DC

Ikonomidou C, Bittigau P, Ishimaru MJ, Wozniak DF, Koch C, Genz K, Price MT, Stefovska V, Horster F, Tenkova T, Dikranian K, Olney JW (2000) Ethanol-induced apoptotic neurodegeneration and fetal alcohol syndrome. Science 287:1056–1060

Jiang Q, Hu Y, Wu P, Cheng X, Li M, Yu D, Deng J (2007) Prenatal alcohol exposure and the neuroapoptosis with long-term effect in visual cortex of mice. Alcohol Alcohol 42:285–290

Craig SA (2004) Betaine in human nutrition. Am J Clin Nutr 80:539–549

Horio M, Ito A, Matsuoka Y, Moriyama T, Orita Y, Takenaka M, Imai E (2001) Apoptosis induced by hypertonicity in Madin Darley canine kidney cells: protective effect of betaine. Nephrol Dial Transplant 16:483–490

Galan AI, Munoz ME, Jimenez R (1999) S-adenosylmethionine protects against cyclosporin A-induced alterations in rat liver plasma membrane fluidity and functions. J Pharmacol Exp Ther 290:774–781

Bailey LB, Rampersaud GC, Kauwell GP (2003) Folic acid supplements and fortification affect the risk for neural tube defects, vascular disease and cancer: evolving science. J Nutr 133:1961S–1968S

Tjiattas L, Ortiz DO, Dhivant S, Mitton K, Rogers E, Shea TB (2004) Folate deficiency and homocysteine induce toxicity in cultured dorsal root ganglion neurons via cytosolic calcium accumulation. Aging Cell 3:71–76

Uzbay IT, Kayaalp SO (1995) A modified liquid diet of chronic ethanol administration: validation by ethanol withdrawal syndrome in rats. Pharmacol Res 31:37–42

Olney JW, Ishimaru MJ, Bittigau P, Ikonomidou C (2000) Ethanol-induced apoptotic neurodegeneration in the developing brain. Apoptosis 5:515–521

Kharbanda KK, Mailliard ME, Baldwin CR, Beckenhauer HC, Sorrell MF, Tuma DJ (2007) Betaine attenuates alcoholic steatosis by restoring phosphatidylcholine generation via the phosphatidylethanolamine methyltransferase pathway. J Hepatol 46:314–321

Xu Y, Li Y, Tang Y, Wang J, Shen X, Long Z, Zheng X (2006) The maternal combined supplementation of folic acid and vitamin B(12) suppresses ethanol-induced developmental toxicity in mouse fetuses. Reprod Toxicol 22:56–61

Soeda J, Miyagawa S, Sano K, Masumoto J, Taniguchi S, Kawasaki S (2001) Cytochrome c release into cytosol with subsequent caspase activation during warm ischemia in rat liver. Am J Physiol Gastrointest Liver Physiol 281:G1115–G1123

Grunnet LG, Aikin R, Tonnesen MF, Paraskevas S, Blaabjerg L, Storling J, Rosenberg L, Billestrup N, Maysinger D, Mandrup-Poulsen T (2009) Proinflammatory cytokines activate the intrinsic apoptotic pathway in beta-cells. Diabetes 58:1807–1815

Zovein A, Flowers-Ziegler J, Thamotharan S, Shin D, Sankar R, Nguyen K, Gambhir S, Devaskar SU (2004) Postnatal hypoxic-ischemic brain injury alters mechanisms mediating neuronal glucose transport. Am J Physiol Regul Integr Comp Physiol 286:R273–R282

McDonald MC, Mota-Filipe H, Paul A, Cuzzocrea S, Abdelrahman M, Harwood S, Plevin R, Chatterjee PK, Yaqoob MM, Thiemermann C (2001) Calpain inhibitor I reduces the activation of nuclear factor-kappaB and organ injury/dysfunction in hemorrhagic shock. FASEB J 15:171–186

Islekel H, Islekel S, Guner G, Ozdamar N (1999) Evaluation of lipid peroxidation, cathepsin L and acid phosphatase activities in experimental brain ischemia-reperfusion. Brain Res 843:18–24

Kirschke H, Wood L, Roisen FJ, Bird JW (1983) Activity of lysosomal cysteine proteinase during differentiation of rat skeletal muscle. Biochem J 214:871–877

Bradford MM (1976) A rapid and sensitive method for the quantitation of microgram quantities of protein utilizing the principle of protein-dye binding. Anal Biochem 72:248–254

Kaufmann W, Bolon B, Bradley A, Butt M, Czasch S, Garman RH, George C, Groters S, Krinke G, Little P, McKay J, Narama I, Rao D, Shibutani M, Sills R (2012) Proliferative and nonproliferative lesions of the rat and mouse central and peripheral nervous systems. Toxicol Pathol 40:87S–157S

Bedi KS, Thomas YM, Davies CA, Dobbing J (1980) Synapse-to-neuron ratios of the frontal and cerebellar cortex of 30-day-old and adult rats undernourished during early postnatal life. J Comp Neurol 193:49–56

Underwood EE (1970) Quantitative Stereology. Addison-Wesley, Massachusetts

Weibel ER (1969) Stereological principles for morphometry in electron microscopic cytology. Int Rev Cytol 26:235–302

Miller MW (2006) Brain development: normal processes and the effects of alcohol and nicotine. Oxford University Press, New York

Green DR, Reed JC (1998) Mitochondria and apoptosis. Science 281:1309–1312

Young C, Roth KA, Klocke BJ, West T, Holtzman DM, Labruyere J, Qin YQ, Dikranian K, Olney JW (2005) Role of caspase-3 in ethanol-induced developmental neurodegeneration. Neurobiol Dis 20:608–614

Hoek JB, Cahill A, Pastorino JG (2002) Alcohol and mitochondria: a dysfunctional relationship. Gastroenterology 122:2049–2063

Rajgopal Y, Vemuri MC (2002) Calpain activation and alpha-spectrin cleavage in rat brain by ethanol. Neurosci Lett 321:187–191

Kar P, Samanta K, Shaikh S, Chowdhury A, Chakraborti T, Chakraborti S (2010) Mitochondrial calpain system: an overview. Arch Biochem Biophys 495:1–7

Repnik U, Turk B (2010) Lysosomal-mitochondrial cross-talk during cell death. Mitochondrion 10:662–669

Sari Y (2009) Activity-dependent neuroprotective protein-derived peptide, NAP, preventing alcohol-induced apoptosis in fetal brain of C57BL/6 mouse. Neuroscience 158:1426–1435

Kusat Ol K, Kanbak G, Oglakci Ilhan A, Burukoglu D, Yucel F (2016) The investigation of the prenatal and postnatal alcohol exposure-induced neurodegeneration in rat brain: protection by betaine and/or omega-3. Childs Nerv Syst 32:467–474

Downing C, Johnson TE, Larson C, Leakey TI, Siegfried RN, Rafferty TM, Cooney CA (2011) Subtle decreases in DNA methylation and gene expression at the mouse Igf2 locus following prenatal alcohol exposure: effects of a methyl-supplemented diet. Alcohol 45:65–71

Zhang X, Chen S, Li L, Wang Q, Le W (2008) Folic acid protects motor neurons against the increased homocysteine, inflammation and apoptosis in SOD1 G93A transgenic mice. Neuropharmacology 54:1112–1119

Ganesan BRR, Anandan R, Dhandapani N (2007) Biochemical studies on the protective effect of on mitochondrial function in experimentally induced myocardial infarction in rats. J Health Sci 53:671–681

Sogut I, Kanbak G (2010) In vitro effects of ethanol with aspirin on rat brain synaptosomes: the potential protective role of betaine. Int J Neurosci 120:774–783

Zhao M, Antunes F, Eaton JW, Brunk UT (2003) Lysosomal enzymes promote mitochondrial oxidant production, cytochrome c release and apoptosis. Eur J Biochem 270:3778–3786

Yamashima T (2000) Implication of cysteine proteases calpain, cathepsin and caspase in ischemic neuronal death of primates. Prog Neurobiol 62:273–295

Kharbanda KK, McVicker DL, Zetterman RK, Donohue TM Jr (1995) Ethanol consumption reduces the proteolytic capacity and protease activities of hepatic lysosomes. Biochim Biophys Acta 1245:421–429

David P, Subramaniam K (2009) The effects of prenatal alcohol exposure on the morphological characteristics of spinal motoneurons. Birth Defects Res A Clin Mol Teratol 85:791–799

Petronini PG, De Angelis EM, Borghetti P, Borghetti AF, Wheeler KP (1992) Modulation by betaine of cellular responses to osmotic stress. Biochem J 282(Pt 1):69–73

Tran TD, Kelly SJ (2003) Critical periods for ethanol-induced cell loss in the hippocampal formation. Neurotoxicol Teratol 25:519–528

Wang L, Wu L, Wang X, Deng J, Ma Z, Fan W, He W (2015) Prenatal alcohol exposure inducing the apoptosis of mossy cells in hippocampus of SMS2−/− mice. Environ Toxicol Pharmacol 40:975–982

Kharbanda KK, Rogers DD 2nd, Mailliard ME, Siford GL, Barak AJ, Beckenhauer HC, Sorrell MF, Tuma DJ (2005) Role of elevated S-adenosylhomocysteine in rat hepatocyte apoptosis: protection by betaine. Biochem Pharmacol 70:1883–1890

Huang RF, Yaong HC, Chen SC, Lu YF (2004) In vitro folate supplementation alleviates oxidative stress, mitochondria-associated death signalling and apoptosis induced by 7-ketocholesterol. Br J Nutr 92:887–894

Cao DZ, Sun WH, Ou XL, Yu Q, Yu T, Zhang YZ, Wu ZY, Xue QP, Cheng YL (2005) Effects of folic acid on epithelial apoptosis and expression of bcl-2 and p53 in premalignant gastric lesions. World J Gastroenterol 11:1571–1576

Warren MA, Bedi KS (1990) Synapse-to-neuron ratios in rat cerebellar cortex following lengthy periods of undernutrition. J Anat 170:173–182
Acknowledgements
This work was supported by TUBITAK 109S510 project.
Ethics declarations
Conflict of interest
The authors declare that there are no conflicts of interest.
About this article
Cite this article
Sogut, I., Uysal, O., Oglakci, A. et al. Prenatal alcohol–induced neuroapoptosis in rat brain cerebral cortex: protective effect of folic acid and betaine. Childs Nerv Syst 33, 407–417 (2017). https://doi.org/10.1007/s00381-016-3309-6
Received:

Accepted:

Published:

Issue Date:

DOI: https://doi.org/10.1007/s00381-016-3309-6
Keywords