Abstract
Background
Thalamic gliomas are rare. The natural history is unpredictable, and the optimal management of these tumors in children is poorly defined. The aim was to identify outcomes, prognostic factors, and response to various modalities of treatment in a relatively large population of pediatric thalamic tumors from many centers within a fairly homogeneous health care system.
Methods
We performed a Canadian multicenter retrospective review of pediatric thalamic tumors presenting during the MRI era (1989–2012). Radiology and pathology were reviewed by central independent reviewers. Paraffin shavings for RNA extraction were taken and tested for fusion events involving KIAA1549:BRAF. Tumors were classified as unilateral or bithalamic based on their origin on imaging. Univariate and multivariate analyses on factors influencing survival were performed.
Results
Seventy-two thalamic tumors were identified from 11 institutions. Females represented 53 % of the study population, and the mean age at presentation was 8.9 years. Sixty-two tumors were unilateral and 10 bithalamic. Unilateral tumors had a greater propensity to grow inferiorly towards the brainstem. These tumors were predominantly low grade in comparison to bithalamic tumors which were high-grade astrocytomas. The 5-year overall survival was 61 ± 13 % for unithalamic tumors compared to 37 ± 32 % for bithalamic tumors (p = 0.097). Multivariate analysis indicated tumor grade as the only significant prognostic factor for unithalamic tumors. Six unilateral tumors, all low grade, were BRAF fusion positive.
Conclusion
Unilateral and bilateral thalamic tumors behave differently. Surgical resection is an appropriate treatment option in unilateral tumors, most of which are low grade, but outcome is not related to extent of resection (EOR). Bilateral thalamic tumors have a poorer prognosis, but the occasional patient does remarkably well. The efficacy of chemotherapy and radiotherapy has not been clearly demonstrated. Novel therapeutic approaches are required to improve the prognosis for malignant unilateral thalamic tumors and bilateral thalamic tumors.
Access options
Buy single article
Instant access to the full article PDF.
USD 39.95
Price excludes VAT (USA)
Tax calculation will be finalised during checkout.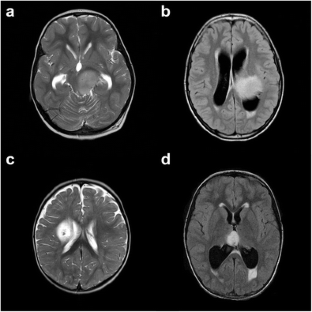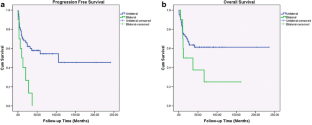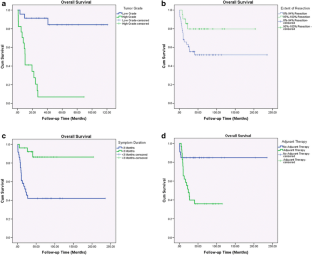 References
Colosimo C, di Lella GM, Tartaglione T, Riccardi R (2002) Neuroimaging of thalamic tumors in children. Childs Nerv Syst 18:426–439

Cuccia V, Monges J (1997) Thalamic tumors in children. Childs Nerv Syst 13:514–520, discussion 521

Di Rocco C, Iannelli A (2002) Bilateral thalamic tumors in children. Childs Nerv Syst 18:440–444

Fernandez C, Maues de Paula A, Colin C, Quilichini B, Bouvier-Labit C, Girard N, Scavarda D, Lena G, Figarella-Branger D (2006) Thalamic gliomas in children: an extensive clinical, neuroradiological and pathological study of 14 cases. Childs Nerv Syst 22:1603–1610

Puget S, Crimmins DW, Garnett MR, Grill J, Oliveira R, Boddaert N, Wray A, Lelouch-Tubiana A, Roujeau T, Di Rocco F, Zerah M, Sainte-Rose C (2007) Thalamic tumors in children: a reappraisal. J Neurosurg 106:354–362

Baroncini M, Vinchon M, Mineo JF, Pichon F, Francke JP, Dhellemmes P (2007) Surgical resection of thalamic tumors in children: approaches and clinical results. Childs Nerv Syst 23:753–760

Kramm CM, Butenhoff S, Rausche U, Warmuth-Metz M, Kortmann RD, Pietsch T, Gnekow A, Jorch N, Janssen G, Berthold F, Wolff JE (2011) Thalamic high-grade gliomas in children: a distinct clinical subset? Neuro Oncol 13:680–689

Bilginer B, Narin F, Isikay I, Oguz KK, Soylemezoglu F, Akalan N (2014) Thalamic tumors in children. Childs Nerv Syst

Menon G, Nair S, Sudhir J, Rao BR, Krishnakumar K (2010) Bilateral thalamic lesions. Br J Neurosurg 24:566–571

Martinez-Lage JF, Perez-Espejo MA, Esteban JA, Poza M (2002) Thalamic tumors: clinical presentation. Childs Nerv Syst 18:405–411

Moshel YA, Link MJ, Kelly PJ (2007) Stereotactic volumetric resection of thalamic pilocytic astrocytomas. Neurosurgery 61:66–75, discussion 75

Sai Kiran NA, Thakar S, Dadlani R, Mohan D, Furtado SV, Ghosal N, Aryan S, Hegde AS (2013) Surgical management of thalamic gliomas: case selection, technical considerations, and review of literature. Neurosurg Rev 36:383–393

Eisenstat DD, Pollack IF, Demers A, Sapp MV, Lambert P, Weisfeld-Adams JD, Burger PC, Gilles F, Davis RL, Packer R, Boyett JM, Finlay JL (2015) Impact of tumor location and pathological discordance on survival of children with midline high-grade gliomas treated on Children's Cancer Group high-grade glioma study CCG-945. J Neurooncol 121:573–581

Fouladi M, Hunt DL, Pollack IF, Dueckers G, Burger PC, Becker LE, Yates AJ, Gilles FH, Davis RL, Boyett JM, Finlay JL (2003) Outcome of children with centrally reviewed low-grade gliomas treated with chemotherapy with or without radiotherapy on Children's Cancer Group high-grade glioma study CCG-945. Cancer 98:1243–1252

Gilles FH, Tavare CJ, Becker LE, Burger PC, Yates AJ, Pollack IF, Finlay JL (2008) Pathologist interobserver variability of histologic features in childhood brain tumors: results from the CCG-945 study. Pediatr Dev Pathol 11:108–117

Pollack IF, Boyett JM, Yates AJ, Burger PC, Gilles FH, Davis RL, Finlay JL (2003) The influence of central review on outcome associations in childhood malignant gliomas: results from the CCG-945 experience. Neuro Oncol 5:197–207

Albright AL (2004) Feasibility and advisability of resections of thalamic tumors in pediatric patients. J Neurosurg 100:468–472

de Fatima Vasco Aragao M, Law M, Batista de Almeida D, Fatterpekar G, Delman B, Bader AS, Pelaez M, Fowkes M, Vieira de Mello R, Moraes Valenca M (2014) Comparison of perfusion, diffusion, and MR spectroscopy between low-grade enhancing pilocytic astrocytomas and high-grade astrocytomas. AJNR Am J Neuroradiol 35:1495–1502

Davies NP, Wilson M, Harris LM, Natarajan K, Lateef S, Macpherson L, Sgouros S, Grundy RG, Arvanitis TN, Peet AC (2008) Identification and characterisation of childhood cerebellar tumours by in vivo proton MRS. NMR Biomed 21:908–918

Mabray MC, Barajas RF Jr, Cha S (2015) Modern brain tumor imaging. Brain Tumor Res Treat 3:8–23

Messing-Junger AM, Floeth FW, Pauleit D, Reifenberger G, Willing R, Gartner J, Coenen HH, Langen KJ (2002) Multimodal target point assessment for stereotactic biopsy in children with diffuse bithalamic astrocytomas. Childs Nerv Syst 18:445–449

Souweidane MM, Hoffman HJ (1996) Current treatment of thalamic gliomas in children. J Neurooncol 28:157–166

Ozek MM, Ture U (2002) Surgical approach to thalamic tumors. Childs Nerv Syst 18:450–456

Steiger HJ, Gotz C, Schmid-Elsaesser R, Stummer W (2000) Thalamic astrocytomas: surgical anatomy and results of a pilot series using maximum microsurgical removal. Acta Neurochir (Wien) 142:1327–1336, discussion 1336–1327

Broadway SJ, Ogg RJ, Scoggins MA, Sanford R, Patay Z, Boop FA (2011) Surgical management of tumors producing the thalamopeduncular syndrome of childhood. J Neurosurg Pediatr 7:589–595

Law N, Bouffet E, Laughlin S, Laperriere N, Briere ME, Strother D, McConnell D, Hukin J, Fryer C, Rockel C, Dickson J, Mabbott D (2011) Cerebello-thalamo-cerebral connections in pediatric brain tumor patients: impact on working memory. Neuroimage 56:2238–2248

Moshel YA, Elliott RE, Monoky DJ, Wisoff JH (2009) Role of diffusion tensor imaging in resection of thalamic juvenile pilocytic astrocytoma. J Neurosurg Pediatr 4:495–505

Reardon DA, Gajjar A, Sanford RA, Heideman RL, Walter AW, Thompson SJ, Merchant TE, Li H, Jenkins JJ, Langston J, Boyett JM, Kun LE (1998) Bithalamic involvement predicts poor outcome among children with thalamic glial tumors. Pediatr Neurosurg 29:29–35

Khanna PC, Iyer RS, Chaturvedi A, Thapa MM, Ishak GE, Shaw DW (2011) Imaging bithalamic pathology in the pediatric brain: demystifying a diagnostic conundrum. AJR Am J Roentgenol 197:1449–1459

Hargrave D, Bartels U, Bouffet E (2006) Diffuse brainstem glioma in children: critical review of clinical trials. Lancet Oncol 7:241–248

Jansen MH, Veldhuijzen van Zanten SE, Sanchez Aliaga E, Heymans MW, Warmuth-Metz M, Hargrave D, van der Hoeven EJ, Gidding CE, de Bont ES, Eshghi OS, Reddingius R, Peeters CM, Schouten-van Meeteren AY, Gooskens RH, Granzen B, Paardekooper GM, Janssens GO, Noske DP, Barkhof F, Kramm CM, Vandertop WP, Kaspers GJ, van Vuurden DG (2015) Survival prediction model of children with diffuse intrinsic pontine glioma based on clinical and radiological criteria. Neuro Oncol 17:160–166

Vallero SG, Bertin D, Basso ME, Pittana LS, Mussano A, Fagioli F (2014) Diffuse intrinsic pontine glioma in children and adolescents: a single-center experience. Childs Nerv Syst 30:1061–1066

Wang ZJ, Rao L, Bhambhani K, Miller K, Poulik J, Altinok D, Sood S (2015) Diffuse intrinsic pontine glioma biopsy: a single institution experience. Pediatr Blood Cancer 62:163–165
Ethics declarations
Funding
Financial support was provided by the following organizations:
C17 Research Network in partnership with the Childhood Cancer Canada Foundation and the Coast-to-Coast Against Cancer Foundation.

Brain Tumor Foundation of Canada
Conflict of interest
The authors have nothing to disclose.
About this article
Cite this article
Steinbok, P., Gopalakrishnan, C.V., Hengel, A.R. et al. Pediatric thalamic tumors in the MRI era: a Canadian perspective. Childs Nerv Syst 32, 269–280 (2016). https://doi.org/10.1007/s00381-015-2968-z
Received:

Accepted:

Published:

Issue Date:

DOI: https://doi.org/10.1007/s00381-015-2968-z
Keywords