Abstract
Objective
Several techniques to remodel the posterior calvarium in order to increase intracranial volume (ICV) and to improve cosmetic appearance are reported. This study presents the results of meander technique in patients with brachycephaly and posterior plagiocephaly.
Methods
During December 2011 and July 2013, a total of 12 children (median age: 15 months) underwent posterior cranial vault remodeling by the meander technique (brachycephaly, n = 6; posterior plagiocephaly, n = 6). The available pre- and postoperative MRIs were assessed with regard to ICV, cranial index (CI) and asymmetry index (AI) as well as the position of the cerebellar tonsils.
Results
No intra- or postoperative complications were observed. Blood transfusions were necessary in nine of 12 patients. A significant increase of the ICV from 1,178.4 ± 134.5 to 1,293.0 ± 137.5 cm3 (p < 0.05) is demonstrated. In the patients with brachycephaly the CI was significantly improved from 0.97 ± 0.12 to 0.89 ± 0.12 postoperatively (p < 0.05). The AI in patients with posterior plagiocephaly was significantly ameliorated from 0.83 ± 0.04 to 0.92 ± 0.02 postoperatively (p < 0.05). There was a significant effect on cerebellar tonsil position in relation to foramen magnum level for patients with brachycephaly (right tonsil: 11.9 ± 9.2 to 7.0 ± 9.1 mm, p < 0.05; left: 10.8 ± 9.5 to 9.7 ± 10.6 mm; p < 0.05) as well as in posterior plagiocephaly for the ipsilateral tonsil (3.2 ± 3.5 to 1.6 ± 3.5 mm; p < 0.01).
Conclusion
The presented surgical technique is considered to be safe. The technique is capable to significantly increase ICV and improve cosmetic appearance of the remodeled calvarium. Further evidence that posterior cranial vault remodeling influences the position of the cerebellar tonsils is added by the results of the study.
Access options
Buy single article
Instant access to the full article PDF.
US$ 39.95
Tax calculation will be finalised during checkout.
Subscribe to journal
Immediate online access to all issues from 2019. Subscription will auto renew annually.
US$ 119
Tax calculation will be finalised during checkout.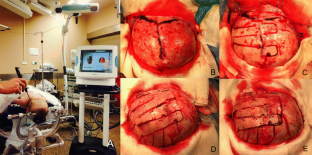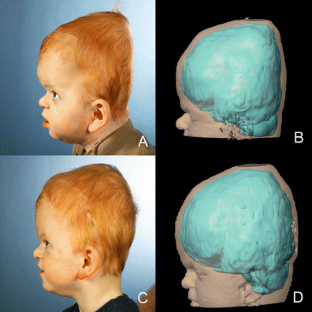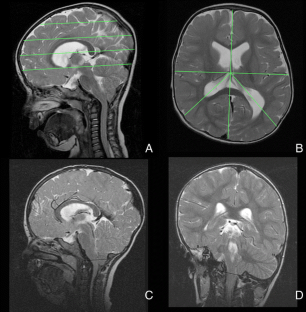 References
1.

Abbott AH, Netherway DJ, Niemann DB, Clark B, Yamamoto M, Cole J, Hanieh A, Moore MH, David DJ (2000) CT-determined intracranial volume for a normal population. J Craniofacial Surg 11(3):211–223

2.

Argenta LC, David LR, Wilson JA, Bell WO (1996) An increase in infant cranial deformity with supine sleeping position. J Craniofacial Surg 7(1):5–11

3.

Arnaud E, Marchac A, Jeblaoui Y, Renier D, Di Rocco F (2012) Spring-assisted posterior skull expansion without osteotomies. Childs Nerv Syst 28(9):1545–1549. doi:10.1007/s00381-012-1843-4

4.

Brain Development Cooperative G (2012) Total and regional brain volumes in a population-based normative sample from 4 to 18 years: the NIH MRI Study of Normal Brain Development. Cereb Cortex 22(1):1–12. doi:10.1093/cercor/bhr018

5.

Choi M, Flores RL, Havlik RJ (2012) Volumetric analysis of anterior versus posterior cranial vault expansion in patients with syndromic craniosynostosis. J Craniofacial Surg 23(2):455–458. doi:10.1097/SCS.0b013e318240ff49

6.

Cinalli G, Chumas P, Arnaud E, Sainte-Rose C, Renier D (1998) Occipital remodeling and suboccipital decompression in severe craniosynostosis associated with tonsillar herniation. Neurosurgery 42(1):66–71, discussion 71–63

7.

Cinalli G, Spennato P, Sainte-Rose C, Arnaud E, Aliberti F, Brunelle F, Cianciulli E, Renier D (2005) Chiari malformation in craniosynostosis. Childs Nerv Syst 21(10):889–901. doi:10.1007/s00381-004-1115-z

8.

Davis C, MacFarlane MR, Wickremesekera A (2010) Occipital expansion without osteotomies in Apert syndrome. Childs Nerv Syst 26(11):1543–1548. doi:10.1007/s00381-010-1144-8

9.

de Jong T, Rijken BF, Lequin MH, van Veelen ML, Mathijssen IM (2012) Brain and ventricular volume in patients with syndromic and complex craniosynostosis. Childs Nerv Syst 28(1):137–140. doi:10.1007/s00381-011-1614-7

10.

Dekaban AS (1977) Tables of cranial and orbital measurements, cranial volume, and derived indexes in males and females from 7 days to 20 years of age. Ann Neurol 2(6):485–491. doi:10.1002/ana.410020607

11.

Deschamps-Braly J, Hettinger P, el Amm C, Denny AD (2011) Volumetric analysis of cranial vault distraction for cephalocranial disproportion. Pediatr Neurosurg 47(6):396–405. doi:10.1159/000337873

12.

Di Rocco F, Marchac A, Duracher C, Perie AC, Vergnaud E, Renier D, Arnaud E (2012) Posterior remodeling flap for posterior plagiocephaly. Childs Nerv Syst 28(9):1395–1397. doi:10.1007/s00381-012-1842-5

13.

Engel M, Castrillon-Oberndorfer G, Hoffmann J, Orakcioglu B, Rohde S, Seeberger R, Freudlsperger C (2012) Chiari malformation in nonsyndromal single craniosynostosis—much ado about nothing? Acta Neurochirurg 154(10):1803–1807. doi:10.1007/s00701-012-1439-5

14.

Goldstein JA, Paliga JT, Wink JD, Low DW, Bartlett SP, Taylor JA (2013) A craniometric analysis of posterior cranial vault distraction osteogenesis. Plastic Reconstr Surg 131(6):1367–1375. doi:10.1097/PRS.0b013e31828bd541

15.

Goodrich JT, Tepper O, Staffenberg DA (2012) Craniosynostosis: posterior two-third cranial vault reconstruction using bioresorbable plates and a PDS suture lattice in sagittal and lambdoid synostosis. Childs Nerv Syst 28(9):1399–1406. doi:10.1007/s00381-012-1767-z

16.

Graham JM Jr, Gomez M, Halberg A, Earl DL, Kreutzman JT, Cui J, Guo X (2005) Management of deformational plagiocephaly: repositioning versus orthotic therapy. J Pediatr 146(2):258–262. doi:10.1016/j.jpeds.2004.10.016

17.

Karppinen A, Koljonen V, Valanne L, Leikola J (2012) Asymmetric laterality of Chiari type I malformation in patients with non-syndromic single-suture craniosynostosis. Acta Neurochirurg 154(11):2103–2107. doi:10.1007/s00701-012-1470-6

18.

Leikola J, Hukki A, Karppinen A, Valanne L, Koljonen V (2012) The evolution of cerebellar tonsillar herniation after cranial vault remodeling surgery. Childs Nerv Syst 28(10):1767–1771. doi:10.1007/s00381-012-1816-7

19.

Levitt MR, Niazi TN, Hopper RA, Ellenbogen RG, Ojemann JG (2012) Resolution of syndromic craniosynostosis-associated Chiari malformation Type I without suboccipital decompression after posterior cranial vault release. J Neurosurg Pediatr 9(2):111–115. doi:10.3171/2011.11.PEDS11268

20.

Lichtenberg R (1960) Radiographie du crane de 226 enfants normaux de la naissance a 8 ans: Impressions digitiformes, capacite, angles et indices. Doctoral En Medecine thesis, University of Paris

21.

Lipira AB, Gordon S, Darvann TA, Hermann NV, Van Pelt AE, Naidoo SD, Govier D, Kane AA (2010) Helmet versus active repositioning for plagiocephaly: a three-dimensional analysis. Pediatrics 126(4):e936–945. doi:10.1542/peds.2009-1249

22.

Netherway DJ, Abbott AH, Anderson PJ, David DJ (2005) Intracranial volume in patients with nonsyndromal craniosynostosis. J Neurosurg 103(2 Suppl):137–141. doi:10.3171/ped.2005.103.2.0137

23.

Nowinski D, Di Rocco F, Renier D, SainteRose C, Leikola J, Arnaud E (2012) Posterior cranial vault expansion in the treatment of craniosynostosis. Comparison of current techniques. Childs Nerv Syst 28(9):1537–1544. doi:10.1007/s00381-012-1809-6

24.

Posnick JC, Armstrong D, Bite U (1995) Crouzon and Apert syndromes: intracranial volume measurements before and after cranio-orbital reshaping in childhood. Plastic Reconstr Surg 96(3):539–548

25.

Posnick JC, Armstrong D, Bite U (1995) Metopic and sagittal synostosis: intracranial volume measurements prior to and after cranio-orbital reshaping in childhood. Plastic Reconstr Surg 96(2):299–309, discussion 310–295

26.

Scott WW, Fearon JA, Swift DM, Sacco DJ (2013) Suboccipital decompression during posterior cranial vault remodeling for selected cases of Chiari malformations associated with craniosynostosis. J Neurosurg Pediatr 12(2):166–170. doi:10.3171/2013.4.PEDS12463

27.

Sgouros S, Hockley AD, Goldin JH, Wake MJ, Natarajan K (1999) Intracranial volume change in craniosynostosis. J Neurosurg 91(4):617–625. doi:10.3171/jns.1999.91.4.0617

28.

Steinbacher DM, Skirpan J, Puchala J, Bartlett SP (2011) Expansion of the posterior cranial vault using distraction osteogenesis. Plastic Reconstr Surg 127(2):792–801. doi:10.1097/PRS.0b013e318200ab83

29.

Tuncbilek G, Alanay Y, Uzun H, Kayikcioglu A, Akarsu NA, Benli K (2010) Intracranial and extracranial malformations in patients with craniofacial anomalies. J Craniofacial Surg 21(5):1460–1464. doi:10.1097/SCS.0b013e3181ebcd27

30.

Turk AE, McCarthy JG, Thorne CH, Wisoff JH (1996) The "back to sleep campaign" and deformational plagiocephaly: is there cause for concern? J Craniofacial Surg 7(1):12–18

31.

Wagner W, Schwandt E, Huthmann A, Vulcu S, Tschan C (2010) Posterior calvarial augmentation in premature craniosynostosis: a technique avoiding foreign implants or free bone flaps. Childs Nerv Syst 26(11):1549–1553. doi:10.1007/s00381-010-1158-2

32.

White N, Evans M, Dover MS, Noons P, Solanki G, Nishikawa H (2009) Posterior calvarial vault expansion using distraction osteogenesis. Childs Nerv Syst 25(2):231–236. doi:10.1007/s00381-008-0758-6
About this article
Cite this article
Schulz, M., Spors, B., Haberl, H. et al. Results of posterior cranial vault remodeling for plagiocephaly and brachycephaly by the meander technique. Childs Nerv Syst 30, 1517–1526 (2014). https://doi.org/10.1007/s00381-014-2462-z
Received:

Accepted:

Published:

Issue Date:
Keywords
Posterior cranial remodelling

Plagiocephaly

Brachycephaly

Cranial expansion