Abstract
Purpose
Percutaneous endoscopic interlaminar discectomy (PEID) is a widely used minimally invasive procedure which shows satisfying outcomes in the adult population. However, pediatric lumbar disc herniations (PLDH) occur in growing spines and are less related to degeneration, which makes them different from the adult disc herniations. This study evaluates the clinical outcomes of PEID in treating PLDH.
Methods
A prospect study was done in the period from June 2010 to December 2012, which included 29 consecutive pediatric patients with a mean age of 16.4 years (range, 13 to 18 years) who underwent PEID for single level lumbar disc herniation. The following measuring tools were used: visual analog scale (VAS) for back and leg pain, Oswestry Disability Index (ODI), and Macnab criteria.
Results
There were no severe complications such as dural tear or nerve root damage found in our study. The mean follow-up period was 19.7 months. The VAS score for leg and back pain decreased dramatically at 1 day postoperatively and kept decreasing until the follow-up visit at 3 months postoperatively, when it became stable at a low level. ODI kept improving until the follow-up visit at 6 months postoperatively when it reached a stable low level. Of the patients, 91 % reported no longer having leg pain and 9 % had occasional leg pain at last follow-up.
Conclusions
PEID shows a satisfying outcome with a minimal rate of complications. It has the advantages of minimal traumatization and scar formation and is a safe and effective treatment for PLDH.
This is a preview of subscription content, log in to check access.
Access options
Buy single article
Instant access to the full article PDF.
US$ 39.95
Price includes VAT for USA
Subscribe to journal
Immediate online access to all issues from 2019. Subscription will auto renew annually.
US$ 199
This is the net price. Taxes to be calculated in checkout.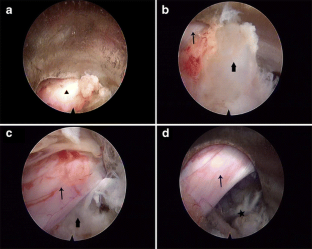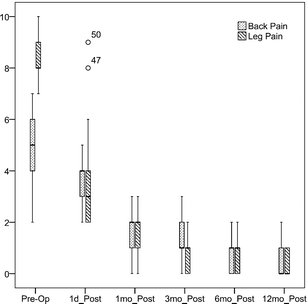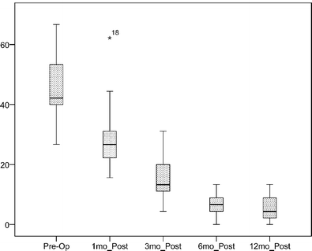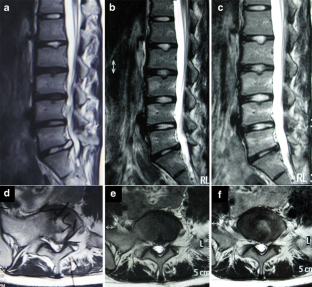 References
1.

Ahn Y, Kim CH, Lee JH, Lee SH, Kim JS (2013) Radiation exposure to the surgeon during percutaneous endoscopic lumbar discectomy: a prospective study. Spine 38(7):617–625. doi:10.1097/BRS.0b013e318275ca58

2.

Aizawa T, Ozawa H, Kusakabe T, Nakamura T, Sekiguchi A, Takahashi A, Sasaji T, Tokunaga S, Chiba T, Morozumi N, Koizumi Y, Itoi E (2012) Reoperation for recurrent lumbar disc herniation: a study over a 20-year period in a Japanese population. J Orthop Sci 17(2):107–113

3.

Choi G, Lee SH, Raiturker PP, Lee S, Chae YS (2006) Percutaneous endoscopic interlaminar discectomy for intracanalicular disc herniations at L5-S1 using a rigid working channel endoscope. Neurosurgery 58 (1 Suppl):ONS59-68; discussion ONS59-68

4.

Fairbank JC, Pynsent PB (2000) The Oswestry Disability Index. Spine 25(22):2940–2952, discussion 2952

5.

Gennuso R, Humphreys RP, Hoffman HJ, Hendrick EB, Drake JM (1992) Lumbar intervertebral disc disease in the pediatric population. Pediatr Neurosurg 18(5–6):282–286

6.

Grobler LJ, Simmons EH, Barrington TW (1979) Intervertebral disc herniation in the adolescent. Spine 4(3):267–278

7.

Haeusler M, Schiess R, Boeni T (2013) Evidence for juvenile disc herniation in a homo erectus boy skeleton. Spine 38(3):E123–E128. doi:10.1097/BRS.0b013e31827cd245

8.

Haidar R, Ghanem I, Saad S, Uthman I (2010) Lumbar disc herniation in young children. Acta Paediatr 99(1):19–23. doi:10.1111/j.1651-2227.2009.01460.x

9.

Hoogland T, Schubert M, Miklitz B, Ramirez A (2006) Transforaminal posterolateral endoscopic discectomy with or without the combination of a low-dose chymopapain: a prospective randomized study in 280 consecutive cases. Spine 31(24):E890–E897. doi:10.1097/01.brs.0000245955.22358.3a

10.

Kim CH, Chung CK (2012) Endoscopic interlaminar lumbar discectomy with splitting of the ligament flavum under visual control. J Spinal Disord Tech 25(4):210–217

11.

Kim JS, Choi G, Lee SH (2011) Percutaneous endoscopic lumbar discectomy via contralateral approach: a technical case report. Spine 36(17):E1173–E1178. doi:10.1097/BRS.0b013e3182264458

12.

Kwon DW, Kim KH, Park JY, Chin DK, Kim KS, Cho YE, Kuh SU (2013) Clinical outcomes and considerations of the lumbar interbody fusion technique for lumbar disk disease in adolescents. Child's Nerv Syst ChNS Off J Int Soc Pediatr Neurosurg 29(8):1339–1344. doi:10.1007/s00381-013-2088-6

13.

Lavelle WF, Bianco A, Mason R, Betz RR, Albanese SA (2011) Pediatric disk herniation. J Am Acad Orthop Surg 19(11):649–656

14.

Matsui HKH, Kawaguchi Y, Tsuji H (1995) Physiological changes of nerve root during posterior lumbar discectomy. Spine 20:654–659

15.

Matsui H, Ohmori K, Kanamori M, Ishihara H, Tsuji H (1998) Significance of sciatic scoliotic list in operated patients with lumbar disc herniation. Spine 23(3):338–342

16.

Nellensteijn J, Ostelo R, Bartels R, Peul W, van Royen B, van Tulder M (2010) Transforaminal endoscopic surgery for symptomatic lumbar disc herniations: a systematic review of the literature. Eur Spine J 19(2):181–204

17.

Ozgen S, Konya D, Toktas OZ, Dagcinar A, Ozek MM (2007) Lumbar disc herniation in adolescence. Pediatr Neurosurg 43(2):77–81. doi:10.1159/000098377

18.

Parisini P, Di Silvestre M, Greggi T, Miglietta A, Paderni S (2001) Lumbar disc excision in children and adolescents. Spine 26(18):1997–2000

19.

Patel AA, Spiker WR, Daubs M, Brodke D, Cannon-Albright LA (2011) Evidence for an inherited predisposition to lumbar disc disease. J Bone Joint Surg Am 93(3):225–229

20.

Ruetten S, Komp M, Godolias G (2006) A new full-endoscopic technique for the interlaminar operation of lumbar disc herniations using 6-mm endoscopes: prospective 2-year results of 331 patients. Minim Invasive Neurosurg 49(2):80–87

21.

Ruetten S, Komp M, Merk H, Godolias G (2008) Full-endoscopic interlaminar and transforaminal lumbar discectomy versus conventional microsurgical technique: a prospective, randomized, controlled study. Spine 33(9):931–939

22.

Ruetten S, Komp M, Merk H, Godolias G (2009) Recurrent lumbar disc herniation after conventional discectomy: a prospective, randomized study comparing full-endoscopic interlaminar and transforaminal versus microsurgical revision. J Spinal Disord Tech 22(2):122–129

23.

Ruetten S, Komp M, Merk H, Godolias G (2009) Surgical treatment for lumbar lateral recess stenosis with the full-endoscopic interlaminar approach versus conventional microsurgical technique: a prospective, randomized, controlled study. J Neurosurg Spine 10(5):476–485

24.

Slotkin JR, Mislow JM, Day AL, Proctor MR (2007) Pediatric disk disease. Neurosurg Clin N Am 18(4):659–667. doi:10.1016/j.nec.2007.08.001

25.

Wahren H (1945) Herniated nucleus pulposus in a child of twelve years. Acta Orthop Scand 16(1):40–42

26.

Yeung AT, Tsou PM (2002) Posterolateral endoscopic excision for lumbar disc herniation: surgical technique, outcome, and complications in 307 consecutive cases. Spine 27(7):722–731

27.

Yorimitsu E, Chiba K, Toyama Y, Hirabayashi K (2001) Long-term outcomes of standard discectomy for lumbar disc herniation: a follow-up study of more than 10 years. Spine 26(6):652–657
Acknowledgments
The authors thank the Special Scientific Research Project of Health Industry (201002018): Early Intervention, Standard Diagnosis and Treatment of Chronic Spinal Degenerative Diseases and Deformities for the financial supporting.
Conflict of interest
None.
About this article
Cite this article
Wang, X., Zeng, J., Nie, H. et al. Percutaneous endoscopic interlaminar discectomy for pediatric lumbar disc herniation. Childs Nerv Syst 30, 897–902 (2014). https://doi.org/10.1007/s00381-013-2320-4
Received:

Accepted:

Published:

Issue Date:
Keywords
Lumbar disc herniation

Pediatric

Treatment

Percutaneous

Endoscopic interlaminar discectomy