Abstract
Objective
External beam radiotherapy (EBRT) is frequently used to improve disease control for pediatric brain tumor patients. However, to facilitate the radiotherapy (RT) procedure, "forced" type interventions including conscious sedation or general anesthesia are frequently used to manage patients' fear and anxiety. The aim of this study was to investigate the effects of therapeutic play (TP) in reducing anxiety for pediatric brain tumor patients treated by EBRT.
Methods
Between April 1st and September 30th, 2009, 19 young brain tumor patients, aged 3–15 years and recommended for RT, were recruited: ten to a control group and nine to the study intervention group. The study group was introduced with TP during EBRT. The Beck Youth Anxiety Inventory and the Faces Anxiety Scale were used to evaluate patients' psychological levels of anxiety. The heart rate variability and salivary cortisol concentrations were used to indicate the patients' physical levels of anxiety. Both the psychological and physiological tests were administered to all subjects before and after the RT procedure.
Results
The study group had significantly lower anxiety scores and expressed fewer negative emotions than did the control group before EBRT.
Conclusions
TP can not only improve the quality of medical services but can also reduce costs and staffing demands. In addition, it can help lower young patients' anxiety and fear during medical procedures. As a result, it further decreases the potential negative impacts of hospitalization on these young patients.
Access options
Buy single article
Instant access to the full article PDF.
USD 39.95
Price excludes VAT (USA)
Tax calculation will be finalised during checkout.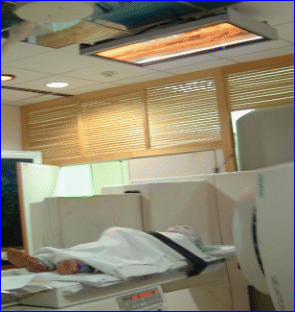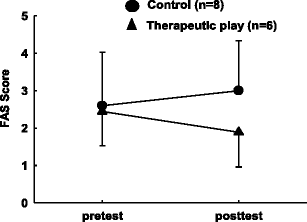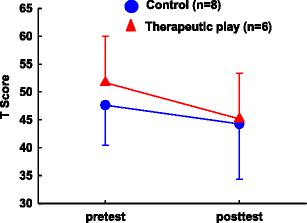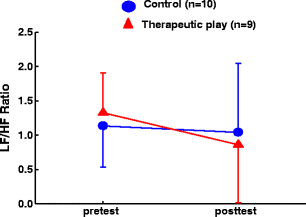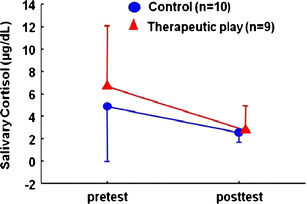 References
Beck JS, Beck AT, Jolly J, Steer RA (2005) Beck youth inventories for children and adolescents, 2nd edn. Harcourt Assessment, San Antonio

Bratton CS, Ray D, Rhine T, Jones L (2005) The efficacy of play therapy with children: a meta-analytic review of treatment outcomes. Prof Psychol Res Proj 36(4):376–390

Buchanan H, Niven N (2002) Validation of a facial image scale to assess child dental anxiety. Int J Paediatr Dent 12:47–52

Chang YH, Chiu CC, Chen YH (2000) Measurement of heart rate variability as an interactive determinant of the autonomic nervous system: correlation with Chinese medical constitution. Mid Taiwan J Med 5(3):167–172

Chen YW, Chiang IT, Chu YC, Liang LL, Luo SL, Chen LM, Tsai YL, Lin TH, Yen SH, Wong TT (2007) Using recreation therapy to reduce the necessity of sedation/anesthesia during radiotherapy for pediatric patients with brain tumors. Neuro Oncol 9(2):181

Chiang IT, Chen YW, Yen SH, Wong TT, Hsu YF, Liang LL, Lo HL, Chen LM, Tsai YL, Lin TH (2007) Using the situationally modified social rank theory on decreasing learned helplessness in hospitalized children with brain tumor. Neuro Oncol 9(2):171–172

Chiang IT, Kao ML, Chou YC, Li YF, Chen KC, Chen SR (2008) Embracing complexity in oncological nursing care: using child-centered leisure interventions to enrich primary caregivers' experience of inpatient services. Neuro Oncol 10(3):455–456

Chiang IT, Yen SH, Wong TT, Chu YC (2008) Development of therapeutic recreation interventions on reducing anesthesia/sedation requirement during radiotherapy for toddlers and young children with brain tumor. Neuro Oncol 10(3):455

Ekman P, Friesen WV (1975) Unmasking the face: a guide to recognizing emotions from facial clues. Prentice-Hall, Englewood Cliffs

Fortney JT, Halperin EC, Hertz CM, Schulman SR (1999) Anesthesia for pediatric external beam radiation therapy. Int J Radiat Oncol Biol Phys 44(3):587–591

Gariepy N, Howe N (2003) The therapeutic power of play: examining the play of young children with leukaemia. Child Care Health Dev 29(6):523–537

Haeberli S, Grotzer MA, Niggli FK, Landolt MA, Linsenmeier C, Ammann RA, Bodmer N (2008) A psychoeducational intervention reduces the need for anesthesia during radiotherapy for young childhood cancer patients. Radiat Oncol 3(17):1–6

Hanrahan K, McCarthy A, Kleiber C, Lutgendorf S, Tsalikian E (2006) Strategies for salivary cortisol collection and analysis in research with children. Appl Nurs Res 19(2):95–101

Klosky JL, Tyc VL, Srivastava DK, Tong X, Kronenberg M, Booker ZJ, Armendi AJ, Thomas E, Merchant TE (2004) Brief report: evaluation of an interactive intervention designed to reduce pediatric distress during radiation therapy procedures. J Pediatr Psychol 29(8):621–626

Kuntz N, Adams JA, Zahr L, Killen R, Cameron K, Wasson H (1996) Therapeutic play and bone marrow transplantation. J Pediatr Oncol Nurs 11(6):359–367

Li HCW, Lopez V (2008) Effectiveness and appropriateness of therapeutic play intervention in preparing children for surgery: a randomized controlled trial study. J Spec Pediatr Nurs 13(2):63–73

Li HCW, Lopez V, Lee TLI (2007) Effects of preoperative therapeutic play on outcomes of school-age children undergoing day surgery. Res Nurs Health 30:320–332

McKinley S, Coote K, Stein-Parbury J (2003) Development and testing of a faces scale for the assessment of anxiety in critically ill patients. J Adv Nurs 41:73–79

Pressdee D, May L, Eastman E, Griert D (1997) The use of play therapy in the preparation of children undergoing MR imaging. Clin Radiol 52:945–947

Slifer KG, Buckholtz JD, Cataldo MD (1994) Behavioral training of motion controlling young children undergoing radiation treatment without sedation. J Pediatr Oncol Nurs 11(2):55–63

Slifer KJ, Cataldo MF, Cataldo MD, Llorente AM, Gerson AC (1993) Behavior analysis of motion control for pediatric neuroimaging. J Appl Behav Anal 26(4):469–470

Slifer KJ, Cataldo MF, Cataldo MD, Llorente AM, Gerson AC (1996) A video system to help children cooperative with motion control for radiation therapy without sedation. J Pediatr Oncol Nurs 13(2):91–97

Tsai WC (2001) Psychosocial issues of childhood cancer. Formos J Med 5(4):440–443
Acknowledgments
The authors are grateful for the financial support received for this study via grant nos.: V95A-118, VGH97B1-006, VGH100B1-022, and VGH102B008; NSC94-2516-S-154-001; DOH100-TD-C-111-007 (Department of Health, R.O.C.); and the Charity Foundation of JUT Land Development Group, Taiwan
Conflict of interest
The authors have no conflicts of interest to disclose.
About this article
Cite this article
Tsai, YL., Tsai, SC., Yen, SH. et al. Efficacy of therapeutic play for pediatric brain tumor patients during external beam radiotherapy. Childs Nerv Syst 29, 1123–1129 (2013). https://doi.org/10.1007/s00381-013-2099-3
Received:

Accepted:

Published:

Issue Date:

DOI: https://doi.org/10.1007/s00381-013-2099-3
Keywords
Radiotherapy

Anxiety

Sedation

Therapeutic play

Quality of life

Brain tumor