Abstract
Background
Ventriculoperitoneal shunt (VPS) surgery is the most common procedure performed for the treatment of hydrocephalus. Erosive bladder perforation by a peritoneal catheter is an extremely rare complication of VPS. Only ten cases involving the normal (non-augmented) urinary bladder have been reported so far.
Case
We report a case of erosive bladder perforation, intra-corporeal knot formation, and perurethral extrusion of the distal end of VPS. This is the second only case report so far in the world literature showing triad of uncommon VPS complications in a single patient.
Conclusion
Prompt management could avoid further complications. Patient's parents should be aware about this rare complication, so that they can seek timely medical help.
Access options
Buy single article
Instant access to the full article PDF.
USD 39.95
Price excludes VAT (USA)
Tax calculation will be finalised during checkout.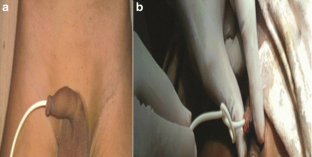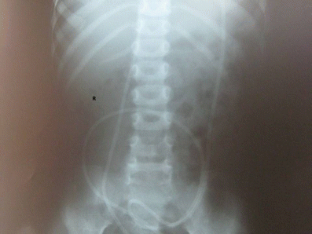 References
Barker GM, Läckgren G, Stenberg A, Arnell K (2006) Distal shunt obstruction in children with myelomeningocele after bladder perforation. J Urol 176:1726–8

Binning MJ, Ragel BT, Walker ML, Kestle JRW (2006) Retained peritoneal shunt tubing causing hematuria: case illustration. J Neurosurg 104:434

Boch AL, Hermelin E, Sainte-Rose C, Sgouros S (1998) Mechanical dysfunction of ventriculoperitoneal shunts caused by calcification of the silicone rubber catheter. J Neurosurg 88:975–82

Chen TH, Lin MS, Kung WM, Hung KS, Chiang YH, Chen CH (2011) Combined ventriculoperitoneal shunt blockage, viscus perforation with migration into urethra, presenting with repeated UTI. Ann R Coll Surg Engl 93:151–153

Couldwell WT, LeMay DR, McComb JG (1996) Experience with use of extended length peritoneal shunt catheters. J Neurosurg 85:425–7

de Aguiar GB, Mizrahi C, Aquino JH, Tavares CM, Telles C, Nigri F, Acioly MA (2011) Urethral extrusion of a peritoneal catheter in a patient with a neobladder: a rare complication of shunt insertion. Neuropediatrics 42:124–127

de Aquino HB, Carelli EF, Borges Neto AG, Pereira CU et al (2006) Nonfunctional abdominal complications of the distal catheter on the treatment of hydrocephalus: an inflammatory hypothesis? Experience with six cases. Childs Nerv Syst 22:1225–1230

De Jong L, Van Der Aa F, De Ridder D, Van Calenbergh F (2011) Extrusion of a ventriculoperitoneal shunt catheter through an appendicovesicostomy. Br J Neurosurg 25:115–6

Dominguez CJ, Tyagi A, Hall G, Timothy J, Chumas PD (2000) Sub-galeal coiling of the proximal and distal components of a ventriculo-peritoneal shunt. An unusual complication and proposed mechanism. Childs Nerv Syst 16:493–5

Eichel L, Allende R, Mevorach RA, Hulbert WC, Rabinowitz R (2002) Bladder calculus formation and urinary retention secondary to perforation of a normal bladder by a ventriculoperitoneal shunt. Urology 60:344

Grosfeld JL, Cooney DR, Smith J, Campbell RL (1974) Intra-abdominal complications following ventriculoperitoneal shunt procedures. Pediatrics 54:791–796

Mevorach RA, Hulbert WC, Merguerian PA, Rabinowitz R (1992) Perforation and intravesical erosion of a ventriculoperitoneal shunt in a child with an augmentation cystoplasty. J Urol 147:433–434

Mihajlović M, Tasić G, Raičević M, Mrdak M, Petrović B, Radlović V (2012) Asymptomatic perforation of large bowel and urinary bladder as a complication of ventriculoperitoneal shunt: report of two cases. Srp Arh Celok Lek 140:211–215

Murthy KVR, Reddy SJ, Prasad DVSRK (2009) Perforation of the distal end of the ventriculoperitoneal shunt into the bladder with calculus formation. Pediatric Neurosurgery 45:53–55

Pohlman GD, Wilcox DT, Hankinson TC (2011) Erosive bladder perforation as a complication of ventriculoperitoneal shunt with extrusion from the urethral meatus: case report and literature review. Pediatr Neurosurg 47:223–226

Prasad VS, Krishna AM, Gupta PK (1995) Extrusion of peritoneal catheter of ventriculoperitoneal shunt through the urethra. Br J Neurosurg 9:209–210

Surchev J, Georgiev K, Enchev Y, Avramov R (2002) Extremely rare complications in cerebrospinal fluid shunt operations. J Neurosurg Sci 46:100–103

Trojanowski T (2009) Hydrocephalus in adults (including normal pressure hydrocephalus syndrome). In: Sindou M (ed) Practical handbook of neurosurgery: rom leading neurosurgeons. Springer, Vienna, pp 429–440

Yerkes EB, Rink RC, Cain MP, Leurssen TG, Casale AJ (2001) Shunt infection and malfunction after augmentation cystoplasty. J Urol 165:2262–2264
About this article
Cite this article
Kataria, R., Sinha, V.D., Chopra, S. et al. Urinary bladder perforation, intra-corporeal knotting, and per-urethral extrusion of ventriculoperitoneal shunt in a single patient: case report and review of literature. Childs Nerv Syst 29, 693–697 (2013). https://doi.org/10.1007/s00381-012-1995-2
Received:

Accepted:

Published:

Issue Date:

DOI: https://doi.org/10.1007/s00381-012-1995-2
Keywords
Ventriculoperitoneal shunt

Complications

Per-urethral extrusion

Hydrocephalus