Abstract
Backgound
Intracranial cerebral aneurysms in the pediatric population are infrequent, and those occurring in infants less than 1 year old are extremely rare. Of intracranial aneurysms in children, dissecting aneurysms are the most common type seen. While spontaneous dissecting aneurysms usually present with ischemia, hemorrhage can also occur.
Methods
A retrospective review of our patients revealed that from July 1, 2007 to June 30, 2012, four infants were treated for ruptured distal dissecting intracranial aneurysms at Texas Children's Hospital. Mycotic aneurysms and collagen vascular disorder were excluded in all four cases. All patients presented in our series presented with subarachnoid hemorrhage, and three had intraventricular hemorrhage. All patients underwent conventional catheter angiography for diagnosis. All patients in this series were managed in the acute or subacute period with surgical or endovascular trapping without distal bypass procedures. All four patients tolerated sacrifice of the parent vessels feeding these distal aneurysms well.
Case report and review of literature
We describe the presentation and management of these rare cases and then review the current literature on the management of these dissecting aneurysms in infants.
Access options
Buy single article
Instant access to the full article PDF.
US$ 39.95
Tax calculation will be finalised during checkout.
Subscribe to journal
Immediate online access to all issues from 2019. Subscription will auto renew annually.
US$ 119
Tax calculation will be finalised during checkout.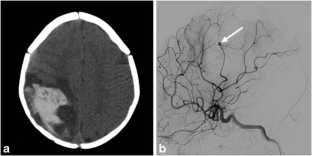 References
1.

Anson JA, Lawton MT, Spetzler RF (1996) Characteristics and surgical treatment of dolichoectatic and fusiform aneurysms. J Neurosurg 84:185–193

2.

Biffl WL, Moore EE, Offner PJ, Burch JM (2001) Blunt carotid and vertebral arterial injuries. World J Surg 25:1036–1043

3.

Brandt T, Hausser I, Orberk E, Grau A, Hartschuh W, Anton-Lamprecht I, Hacke W (1998) Ultrastructural connective tissue abnormalities in patients with spontaneous cervicocerebral artery dissections. Ann Neurol 44:281–285

4.

Brandt T, Orberk E, Weber R, Werner I, Busse O, Müller BT, Wigger F, Grau A, Grond-Ginsbach C, Hausser I (2001) Pathogenesis of cervical artery dissections: association with connective tissue abnormalities. Neurology 57:24–30

5.

Buckingham MJ, Crone KR, Ball WS, Tomsick TA, Berger TS, Tew JM (1988) Traumatic intracranial aneurysms in childhood: two cases and a review of the literature. Neurosurgery 22:398–408

6.

Day AL, Gaposchkin CG, Yu CJ, Rivet DJ, Dacey RG (2003) Spontaneous fusiform middle cerebral artery aneurysms: characteristics and a proposed mechanism of formation. J Neurosurg 99:228–240

7.

Fleischer AS, Patton JM, Tindall GT (1975) Cerebral aneurysms of traumatic origin. Surg Neurol 4:233–239

8.

Han MH, Sung MW, Chang KH, Min YG, Han DH, Han MC (1994) Traumatic pseudoaneurysm of the intracavernous ICA presenting with massive epistaxis: imaging diagnosis and endovascular treatment. Laryngoscope 104:370–377

9.

Hoit DA, Schirmer CM, Weller SJ, Lisbon A, Edlow JA, Malek AM (2008) Angiographic detection of carotid and vertebral arterial injury in the high-energy blunt trauma patient. J Spinal Disord Tech 21:259–266

10.

Huang J, Mcgirt MJ, Gailloud P, Tamargo RJ (2005) Intracranial aneurysms in the pediatric population: case series and literature review. Surg Neurol 63:424–432, discussion 432–423

11.

Isono M, Abe T, Goda M, Ishii K, Kobayashi H (2002) Middle cerebral artery dissecting aneurysm causing intracerebral hemorrhage 4 years after the non-hemorrhagic onset: a case report. Surg Neurol 57:346–349, discussion 349–350

12.

Krishna H, Wani AA, Behari S, Banerji D, Chhabra DK, Jain VK (2005) Intracranial aneurysms in patients 18 years of age or under, are they different from aneurysms in adult population? Acta Neurochir (Wien) 147:469–476, discussion 476

13.

Larson PS, Reisner A, Morassutti DJ, Abdulhadi B, Harpring JE (2000) Traumatic intracranial aneurysms. Neurosurg Focus 8:e4

14.

Lasjaunias P, Wuppalapati S, Alvarez H, Rodesch G, Ozanne A (2005) Intracranial aneurysms in children aged under 15 years: review of 59 consecutive children with 75 aneurysms. Childs Nerv Syst 21:437–450

15.

Locksley HB (1966) Natural history of subarachnoid hemorrhage, intracranial aneurysms and arteriovenous malformations. J Neurosurg 25:219–239, Section V, Part I

16.

Malhotra AK, Camacho M, Ivatury RR, Davis IC, Komorowski DJ, Leung DA, Grizzard JD, Aboutanos MB, Duane TM, Cockrell C, Wolfe LG, Borchers CT, Martin NR (2007) Computed tomographic angiography for the diagnosis of blunt carotid/vertebral artery injury: a note of caution. Ann Surg 246:632–642, discussion 642–633

17.

Maroun F, Squarey K, Jacob J, Murray G, Cramer B, Barron J, Weir B (2003) Rupture of middle cerebral artery aneurysm in a neonate: case report and review of the literature. Surg Neurol 59:114–119

18.

Martin JJ, Hausser I, Lyrer P, Busse O, Schwarz R, Schneider R, Brandt T, Kloss M, Schwaninger M, Engelter S, Grond-Ginsbach C (2006) Familial cervical artery dissections: clinical, morphologic, and genetic studies. Stroke J Cereb Circ 37:2924–2929

19.

Martin NA (1998) The combination of endovascular and surgical techniques for the treatment of intracranial aneurysms. Neurosurg Clin N Am 9:897

20.

Oelerich M, Stögbauer F, Kurlemann G, Schul C, Schuierer G (1999) Craniocervical artery dissection: MR imaging and MR angiographic findings. Eur Radiol 9:1385–1391

21.

Ohkuma H, Suzuki S, Shimamura N, Nakano T (2003) Dissecting aneurysms of the middle cerebral artery: neuroradiological and clinical features. Neuroradiology 45:143–148

22.

Ostergaard JR, Voldby B (1983) Intracranial arterial aneurysms in children and adolescents. J Neurosurg 58:832–837

23.

Pasqualin A, Mazza C, Cavazzani P, Scienza R, DaPian R (1986) Intracranial aneurysms and subarachnoid hemorrhage in children and adolescents. Childs Nerv Syst 2:185–190

24.

Patel AN, Richardson AE (1971) Ruptured intracranial aneurysms in the first two decades of life. A study of 58 patients. J Neurosurg 35:571–576

25.

Peron S, Jimenez-Roldán L, Cicuendez M, Millán JM, Ricoy JR, Lobato RD, Alday R, Alén JF, Lagares A (2010) Ruptured dissecting cerebral aneurysms in young people: report of three cases. Acta Neurochir (Wien) 152:1511–1517

26.

Proust F, Toussaint P, Garniéri J, Hannequin D, Legars D, Houtteville JP, Fréger P (2001) Pediatric cerebral aneurysms. J Neurosurg 94:733–739

27.

Robertson WC, Given CA (2006) Spontaneous intracranial arterial dissection in the young: diagnosis by CT angiography. BMC Neurol 6:16

28.

Sasaki O, Koike T, Tanaka R, Ogawa H (1991) Subarachnoid hemorrhage from a dissecting aneurysm of the middle cerebral artery. Case report. J Neurosurg 74:504–507

29.

Storrs BB, Humphreys RP, Hendrick EB, Hoffman HJ (1982) Intracranial aneurysms in the pediatric age-group. Childs Brain 9:358–361

30.

Tekkok IH (2005) Aneurysmal subarachnoid haemorrhage in the first year of life. Childs Nerv Syst 21:347–348, author reply 349
About this article
Cite this article
Rao, V.Y., Shah, K.B., Bollo, R.J. et al. Management of ruptured dissecting intracranial aneurysms in infants: report of four cases and review of the literature. Childs Nerv Syst 29, 685–691 (2013). https://doi.org/10.1007/s00381-012-1924-4
Received:

Accepted:

Published:

Issue Date:
Keywords
Dissecting aneurysm

Intracranial dissection

Subarachnoid hemorrhage

Pediatric aneurysm