Abstract
Purpose
Despite a decreasing incidence, intraventricular hemorrhage (IVH) remains a point of major concern in neonatology due to its association to adverse neurodevelopmental outcome (NDO). Aim of this study was to compare outcome of preterm infants with different grades of IVH born below 32 weeks of gestational age (GA) with outcome of controls without IVH and to especially evaluate the influence of low grade IVH on NDO.
Methods
Four hundred seventy-one preterm infants with a GA below 32 weeks were admitted to our neonatal intensive care unit between 1994 and 2005 and included into analysis.
Results
IVH patients showed significantly lower mean psychomotor and mental developmental indices and a significantly higher percentage of cerebral palsy and visual impairment. Results of IVH patients born below 28 weeks of GA were significantly worse than results of IVH patients born at or above 28 weeks of GA. In all parameters, an increase of abnormal results with increasing grade of IVH could be observed; even patients with low-grade IVH (grades I and II) showed higher percentages of impairment compared to controls without any IVH.
Conclusion
Even low-grade IVH has an significant impact on neurodevelopmental outcome of preterm patients and gestational age influences the impact of intraventricular hemorrhage on neurodevelopmental outcome.
Access options
Buy single article
Instant access to the full article PDF.
USD 39.95
Price excludes VAT (USA)
Tax calculation will be finalised during checkout.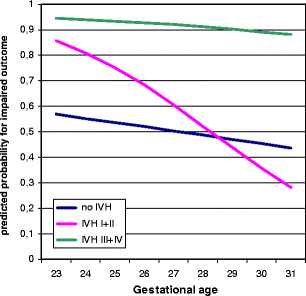 References
Bayley N (1993) Bayley Scales of Infant Development II. Psychological Corp, San Antonio, TX

Beery KE, Buktenica NA, Beery NA (2004) Manual 5th edition for assessment of visual-motor integration; MHS. Ontario, Canada

Brouwer A, Groenendaal F, van Haastert IL, Rademaker K, Hanlo P, de Vries L (2008) Neurodevelopmental outcome of preterm infants with severe intraventricular hemorrhage and therapy for post-hemorrhagic ventricular dilatation. J Pediatr 152(5):648–654

De Vries LS, Eken P, Dubowith LMS (1992) The spectrum of leucomalacia using cranial ultrasound. Behav Brain Res 49:1–6

De Vries LS, Rademaker KJ, Groenendaal F, Eken P, van Haastert IC, Vandertop WP, Gooskens R, Meiners LC (1998) Correlation between neonatal cranial ultrasound, MRI in infancy and neurodevelopmental outcome in infants with a large intraventricular haemorrhage with or without unilateral parenchymal involvement. Neuropediatrics 29(4):180–188

Harvey EM, Dobson V, Luna B, Scher MS (1997) Grating acuity and visual-field development in children with intraventricular hemorrhage. Dev Med Child Neurol 39(5):305–312

Hintz SR, Kendrick DE, Vohr BR, Poole WK, Higgins RD (2005) Changes in neurodevelopmental outcomes at 18 to 22 months' corrected age among infants of less than 25 weeks' gestational age born in 1993–1999. Pediatr 115:1645–1651

Jakobi P, Weissman A, Zimmer EZ, Blazer S (1992) Survival and long-term morbidity in preterm infants with and without a clinical diagnosis of periventricular, intraventricular hemorrhage. Eur J Obstet Gynecol Reprod Biol 46(2–3):73–77

Konstantopoulos N, Henneberger S, Genzel-Boroviczeny O (2007) Entwicklungsprognose sehr kleiner Frühgeborener. Paediat Prax 70:373–383

Linder N, Haskin O, Levit O, Klinger G, Prince T, Naor N, Turner P, Karmazyn B, Sirota L (2003) Risk factors for intraventricular hemorrhage in very low birth weight premature infants: a retrospective case–control study. J Pediatr 111:e590–e595

Maitre NL, Marshall DD, Price WA, Slaughter JC, O'Shea TM, Maxfield C, Goldstein RF (2009) Neurodevelopmental outcome of infants with unilateral or bilateral periventricular hemorrhagic infarction. Pediatr 124:e1153–e1160

Mancini MC, Barbosa NE, Banwart D, Silveira S, Guerpelli JL, Leone CR (1999) Intraventricular hemorrhage in very low birth weight infants: associated risk factors and outcome in the neonatal period. Rev Hosp Clin Fac Med Sao Paulo 54(5):151–154

Melchers P (1991) Manual for Kaufmann assessment battery for children. Swets & Zeitlinger, Frankfurt/Main

Obladen M, Metze B, Henrich W, Atkas A, Czernik C, Schulz-Baldes A (2008) Interdisciplinary surveillance of intraventricular haemorrhage associated conditions in infants <1000g. Acta Paediatr 97(6):731–737

Patra K, Wilson-Costello D, Taylor HG, Mercuri-Minich N, Hack M (2006) Grades I–II intraventricular hemorrhage in extremely low birth weight infants: effects on neurodevelopment. J Pediatr 149(2):169–173

Papile LN, Burnstein J, Burnstein R, Koffler H (1978) Incidence and evolution of subependymal and intraventricular hemorrhage: a study of infants with birthweight less than 1500g. J Pediatr 92:529–534

Roze E, Van Braeckel KNJA, van der Veere CN, Maathuis CGB, Martijn A, Bos AF (2009) Functional outcome at school age of preterm infants with periventricular hemorrhagic infarction. Pediatr 123(6):1493–1500

Sherlock RL, Anderson PJ, Doyle LW (2005) Neurodevelopmental sequelae of intraventricular haemorrhage at 8 years of age in a regional cohort of ELBW/very preterm infants. Early Hum Dev 81(11):909–916

Stewart AL, Thorburn RJ, Hope PL, Goldsmith M, Lipscomb AP, Reynolds EO (1983) Ultrasound appearance of the brain in very preterm infants and neurodevelopmental outcome at 18 months of age. Arch Dis Child 58:598–604

Vasileiadis GT, Gelman N, Han VK, Williams LA, Mann R, Bureau Y, Thompson RT (2004) Uncomplicated intraventricular hemorrhage is followed by reduced cortical volume at near term age. Pediatr 114(3):e367–e372

Vohr B, Allan WC, Scott DT, Katz KH, Schneider KC, Makuch RW, Ment LR (1999) Early-onset intraventricular hemorrhage in preterm neonates: incidence of neurodevelopmental handicap. Semin Perinatol 23(3):212–217

Vohr BR, Allan WC, Westerveld M, Schneider KC, Katz KH, Makuch RW, Ment LR (2003) School- age outcomes of very low birth weight infants in the indomethacin intraventricular hemorrhage prevention trial. J Pediatr 111:e 340–e 346

Vollmer B, Roth S, Riley K, Sellwood MW, Baudin J, Neville BG, Wyatt JS (2006) Neurodevelopmental outcome of preterm infants with ventricular dilatation with and without associated haemorrhage. Dev Med Child Neurol 48(5):348–352
About this article
Cite this article
Klebermass-Schrehof, K., Czaba, C., Olischar, M. et al. Impact of low-grade intraventricular hemorrhage on long-term neurodevelopmental outcome in preterm infants. Childs Nerv Syst 28, 2085–2092 (2012). https://doi.org/10.1007/s00381-012-1897-3
Received:

Accepted:

Published:

Issue Date:

DOI: https://doi.org/10.1007/s00381-012-1897-3
Keywords