Abstract
Background
Inevitable deterioration due to mechanical tethering is perceived as the natural history for complex congenital spinal lipomas of the conus medullaris region, even if asymptomatic at presentation. The conventional wisdom that prophylactic surgical untethering improves outcome has been challenged recently [1, 2]. This study examines the natural history of asymptomatic un-operated children with lumbosacral lipomas (LSL) and investigates whether predictive factors herald deterioration.
Methodology
Over the past decade, children presenting with complex LSL to a single clinician at Great Ormond Street Hospital (GOSH), London, UK have undergone a thorough assessment focusing on neurological and urological evaluation and MRI of the lumbosacral spine. For children deemed to be asymptomatic, conservative management has been adopted with close periodic surveillance of neurological and urological function, thus avoiding untethering surgery unless symptomatic deterioration occurs. A retrospective review identified this cohort of children asymptomatic of their LSL and their progress closely recorded.
Discussion
This study suggests that the natural history of this subgroup of dysraphic patients may be more benign than hitherto considered. Conservative management with adoption of a novel surveillance policy and timely intervention only in the presence of symptomatic deterioration resulted in 71 % of this series remaining clinically asymptomatic at mean follow up period of 5.9 years (range, 1.0–19.3 years). At 10 years, the cumulative risk of deterioration determined by the Kaplan–Meier method was 40 %. Children aged <2 years, female, with presence of a transitional type of LSL and associated syrinx were independently associated with a higher risk of deterioration.
Access options
Buy single article
Instant access to the full article PDF.
USD 39.95
Price excludes VAT (USA)
Tax calculation will be finalised during checkout.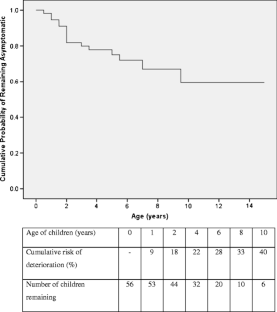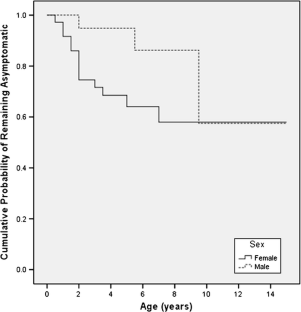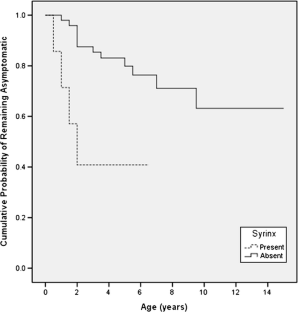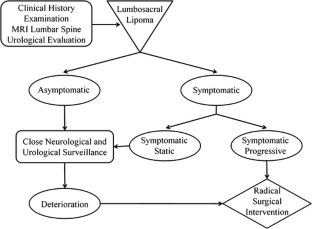 References
Kulkarni AV, Pierre-Kahn A, Zerah M (2004) Conservative management of asymptomatic spinal lipomas of the conus. Neurosurgery 54:868–875

Pierre-Kahn A, Zerah M, Renier D, Cinalli G, Sainte-Rose C, Lellouch-Tubiana A, Brunelle F, Le Merrer M, Giudicelli Y, Pichon J, Kleinknecht B, Nataf F (1997) Congenital lumbosacral lipomas. Childs Nerv Syst 13:298–334

Finn MA, Walker ML (2007) Spinal lipomas: clinical spectrum, embryology, and treatment. Neurosurg Focus 23:E10

Chapman PH (1982) Congenital intraspinal lipomas: anatomic considerations and surgical treatment. Childs Brain 9:37–47

Pang D, Zovickian J, Oviedo A (2010) Long-term outcome of total and near-total resection of spinal cord lipomas and radical reconstruction of the neural placode, part II. Neurosurgery 66:253–273

Gourineni P, Dias L, Blanco R, Muppavarapu S (2009) Orthopaedic deformities associated with lumbosacral spinal lipomas. J Pediatr Orthop 29:932–936

Kang JK, Lee KS, Jeun SS, Lee IW, Kim MC (2003) Role of surgery for maintaining urological function and prevention of retethering in the treatment of lipomeningomyelocele: experience recorded in 75 lipomeningomyelocele patients. Childs Nerv Syst 19:23–29

Hirsch JF, Pierre-Kahn A (1988) Lumbosacral lipomas with spina bifida. Childs Nerv Syst 4:354–360

Tani S, Yamada S, Knighton RS (1987) Extensibility of the lumbar and sacral cord. Pathophysiology of the tethered spinal cord in cats. J Neurosurg 66:116–123

Hoffman HJ, Taecholarn C, Hendrick EB, Humphreys RP (1985) Management of lipomyelomeningoceles. Experience at the Hospital for Sick Children, Toronto J. Neurosurg 62:1–8

La Marca F, Grant JA, Tomita T, McLone DG (1997) Spinal lipomas in children: outcome of 270 procedures. Pediatr Neurosurg 26:8–16

McLone DG, Naidich TP (1986) Laser resection of fifty spinal lipomas. Neurosurgery 18:611–615

Xenos C, Sgouros S, Walsh R, Hockley A (2000) Spinal lipomas in children. Pediatr Neurosurg 32:295–307

Beaumont A, Muszynski CA, Kaufman BA (2007) Clinical significance of terminal syringomyelia in association with pediatric tethered cord syndrome. Pediatr Neurosurg 43:216–221

Erkan K, Unal F, Kiris T (1999) Terminal syringomyelia in association with the tethered cord syndrome. Neurosurgery 45:1351–1559

Jamil M, Bannister CM (1992) A report of children with spinal dysraphism managed conservatively. Eur J Pediatr Surg 2(Suppl 1):26–28

Colak A, Pollack IF, Albright AL (1998) Recurrent tethering: a common long-term problem after lipomyelomeningocele repair. Pediatr Neurosurg 29:184–190

Pang D, Zovickian J, Oviedo A (2009) Long-term outcome of total and near-total resection of spinal cord lipomas and radical reconstruction of the neural placode. Neurosurgery 65:511–529

Atala A, Bauer SB, Dyro FM, Shefner J, Shillito J, Sathi S, Scott M (1992) Bladder functional changes resulting from lipomyelomeningocele repair. J Urol 148:592–594

Dorward NL, Scatliff JH, Hayward RD (2002) Congenital lumbosacral lipomas: pitfalls in analysing the results of prophylactic surgery. Childs Nerv Syst 18:326–332

Arai H, Sato K, Okuda O, Miyajima M, Hishii M, Nakanishi H, Ishii H (2001) Surgical experience of 120 patients with lumbosacral lipomas. Acta Neurochir (Wien) 143:857–864

Cochrane DD, Finley C, Kestle J, Steinbok P (2000) The patterns of late deterioration in patients with transitional lipomyelomeningocele. Eur J Pediatr Surg 10(Suppl 1):13–17

Iskandar BJ, Oakes WJ, McLaughlin C, Osumi AK, Tien RD (1994) Terminal syringohydromyelia and occult spinal dysraphism. J Neurosurg 81:513–519

Gupta RK, Sharma A, Jena A, Tyagi G, Prakash B, Khushu S (1990) Magnetic resonance evaluation of spinal dysraphism in children. Childs Nerv Syst 6:161–165

Taviere V, Brunelle F, Baraton J, Temam M, Pierre-Kahn A, Lallemand D (1989) MRI study of lumbosacral lipoma in children. Pediatr Radiol 19:316–320
About this article
Cite this article
Wykes, V., Desai, D. & Thompson, D.N.P. Asymptomatic lumbosacral lipomas—a natural history study. Childs Nerv Syst 28, 1731–1739 (2012). https://doi.org/10.1007/s00381-012-1775-z
Received:

Accepted:

Published:

Issue Date:

DOI: https://doi.org/10.1007/s00381-012-1775-z
Keywords
Lumbosacral lipoma

Conus medullaris

Spinal dysraphism

Spinal untethering