Abstract
Purpose
Infants with deformational plagiocephaly (DP) have been shown to exhibit developmental delays relative to unaffected infants. Although the mechanisms accounting for these delays are unknown, one hypothesis focuses on underlying differences in brain development. In this study, we used MRI to examine brain volume and shape in infants with and without DP.
Methods
Participants included 20 infants with DP (mean age = 7.9 months, SD = 1.2; n = 12 male) and 21 controls (mean age = 7.9 months, SD = 1.3; n = 11 male). Measures included volumes of the total brain and cerebellum; midsagittal areas of the corpus callosum and cerebellar vermis; and linear distance measures used to quantify the shape of selected brain structures. We also evaluated the association between shape measures and developmental scores on the Bayley Scales of Infant and Toddler Development-III (BSID-III).
Results
Brain volume did not distinguish cases and controls (p = .214–.976). However, cases exhibited greater asymmetry and flattening of the posterior brain (p < .001–.002) and cerebellar vermis (p = .035), shortening of the corpus callosum (p = .012), and differences in the orientation of the corpus callosum (p = .005). Asymmetry and flattening of brain structures were associated with worse developmental outcomes on the BSID-III.
Conclusions
Infants with DP show differences in brain shape, consistent with the skull deformity characteristic of this condition, and shape measures were associated with infant development. Longitudinal studies, beginning in the neonatal period, are needed to clarify whether developmental effects precede or follow brain deformation.
This is a preview of subscription content, log in to check access.
Access options
Buy single article
Instant access to the full article PDF.
US$ 39.95
Tax calculation will be finalised during checkout.
Subscribe to journal
Immediate online access to all issues from 2019. Subscription will auto renew annually.
US$ 199
Tax calculation will be finalised during checkout.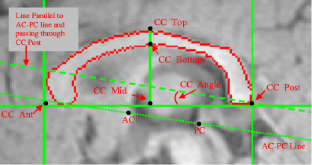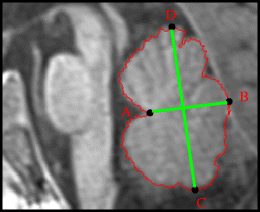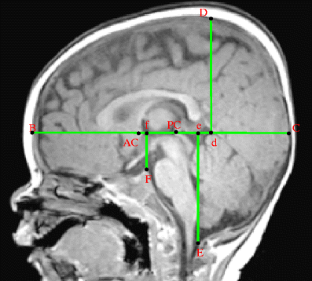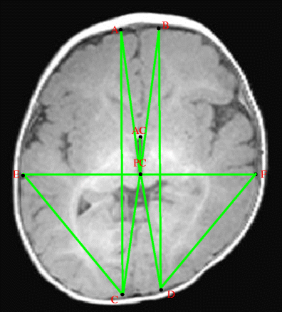 References
1.

Aitken LA, Lindan CE, Sidney S, Gupta N, Barkovich AJ, Sorel M, Wu YW (2009) Chiari type I malformation in a pediatric population. Pediatr Neurol 40:449–454

2.

Aldridge K, Kane AA, Marsh JL, Panchal J, Boyadjiev SA, Yan P et al (2005) Brain morphology in nonsyndromic unicoronal craniosynostosis. Anat Rec A Discov Mol Cell Evol Biol 285:690–698

3.

Aldridge K, Marsh JL, Govier D, Richtsmeier JT (2002) Central nervous system phenotypes in craniosynostosis. J Anat 201:31–39

4.

Atmosukarto I, Shapiro L, Starr JR, Heike C, Collett BR, Cunningham ML et al (2010) Three-dimensional head shape quantification for infants with and without deformational plagiocephaly. Cleft Palate-Craniofac J 47:368–377

5.

Aylward EH, Minshew NJ, Field K, Sparks BF, Singh N (2002) Effects of age on brain volume and head circumference in autism. Neurology 59:175–183

6.

Aylward EH, Reiss A (1991) Area and volume measurement of posterior fossa structures in MRI. J Psychiatr Res 25:159–168

7.

Bayley N (2006) Bayley Scales of Infant and Toddler Development, 3rd edn. Harcourt, San Antonio

8.

Bialocerkowski AE, Vladusic SL, Wei Ng C (2008) Prevalence, risk factors, and natural history of positional plagiocephaly: a systematic review. Dev Med Child Neurol 50:577–586

9.

Bookstein FL, Connor PD, Huggins JE, Barr HM, Pimentel KD, Streissguth AP (2007) Many infants prenatally exposed to high levels of alcohol show one particular anomaly of the corpus callosum. Alcohol Clin Exp Res 31:868–879

10.

Buchanan RW, Vladar K, Barta PE, Pearlson GD (1998) Structural evaluation of the prefrontal cortex in schizophrenia. Am J Psychiatry 155:1049–1055

11.

Collett B, Breiger D, King D, Cunningham M, Speltz M (2005) Neurodevelopmental implications of "deformational" plagiocephaly. J Dev Behav Pediatr 26:379–389

12.

Collett BR, Starr JR, Cunningham ML, Kartin D, Speltz ML (2011) Development in toddlers with and without deformational plagiocephaly. Arch Pediatr Adolesc Med 165:653–658

13.

Fowler EA, Becker DB, Pilgram TK, Noetzel M, Epstein J, Kane AA (2008) Neurologic findings in infants with deformational plagiocephaly. J Child Neurol 23:742–747

14.

Hollingshead AB (1975) Four factor index of social status. Yale University, New Haven

15.

Huang MH, Gruss JS, Clarren SK et al (1996) The differential diagnosis of posterior plagiocephaly: true lambdoid synostosis versus positional molding. Plast Reconstr Surg 98:765–774

16.

Hutchison BL, Hutchison LA, Thompson JM, Mitchell EA (2004) Plagiocephaly and brachycephaly in the first two years of life: a prospective cohort study. Pediatrics 114:970–980

17.

Kane AA, Mitchell LE, Craven KP, Marsh JL (1996) Observations on a recent increase in plagiocephaly without synostosis. Pediatrics 97:877–885

18.

Kordestani RK, Patel S, Bard DE, Gurwitch R, Panchal J (2006) Neurodevelopment delays in children with deformational plagiocephaly. Plast Reconstr Surg 117:207–218

19.

Laughlin J, Luerssen TG, Dias MS (2011) Committee on Practice and Ambulatory Medicine. Section on Neurological Surgery. Prevention and management of positional skull deformities in infants. Pediatrics 128:1236–1241

20.

Leijser LM, Srinivasan L, Rutherford MA, Counsell SJ, Allsop JM, Cowan FM (2007) Structural linear measurements in the newborn brain: accuracy of cranial ultrasound compared to MRI. Pediatr Radiol 37:640–648

21.

Leppig KA, Werler MM, Cann CI, Cook CA, Holmes LB (1987) Predictive value of minor anomalies. I. Association with major malformations. J Pediatr 110:531–537

22.

Mackie S, Shaw P, Lenroot R, Pierson R, Greenstein DK, Nugent TF 3rd et al (2007) Cerebellar development and clinical outcome in attention deficit hyperactivity disorder. Am J Psychiatry 164:647–655

23.

McKinney CM, Cunningham ML, Holt VL, Leroux B, Starr JR (2008) Characteristics of 2733 cases diagnosed with deformational plagiocephaly and changes in risk factors over time. Cleft Palate Craniofac J 45:208–216

24.

Mewes AU, Zollei L, Huppi PS, Als H, McAnulty GB, Inder TE et al (2007) Displacement of brain regions in preterm infants with non-synostotic dolichocephaly investigated by MRI. Neuroimage 36:1074–1085

25.

Miller RI, Clarren SK (2000) Long-term developmental outcomes in patients with deformational plagiocephaly. Pediatrics 105:E26

26.

Mulliken JB, Vander Woude DL, Hansen M, LaBrie RA, Scott RM (1999) Analysis of posterior plagiocephaly: deformational versus synostotic. Plast Reconstr Surg 103:371–380

27.

Nicolson RI, Fawcett AJ, Dean P (2001) Developmental dyslexia: the cerebellar deficit hypothesis. Trends Neurosci 24:508–511

28.

Scott JA, Schumann CM, Goodlin-Jones BL, Amaral DG (2009) A comprehensive volumetric analysis of the cerebellum in children and adolescents with autism spectrum disorder. Autism Res 2:246–257

29.

Speltz ML, Collett BR, Stott-Miller M, Starr JR, Heike C, Wolfram-Aduan AM et al (2010) Case–control study of neurodevelopment in deformational plagiocephaly. Pediatrics 125:e537–542

30.

StataCorp (2007) Stata statistical software; release 10

31.

St John D, Mulliken JB, Kaban LB, Padwa BL (2002) Anthropometric analysis of mandibular asymmetry in infants with deformational posterior plagiocephaly. J Oral Maxillofac Surg 60:873–877

32.

von Plessen K, Lundervold A, Duta N, Heiervang E, Klauschen F, Smievoll AI et al (2002) Less developed corpus callosum in dyslexic subjects—a structural MRI study. Neuropsychologia 40:1035–1044
Acknowledgments
This publication was made possible in part by grant number 1 R01 HD046565 from the National Institute of Child Health and Human Development (NICHD) to Dr. Speltz, and grant number 1 UL1 RR025014 from the National Center for Research Resources (NCRR), components of the National Institutes of Health (NIH). Its contents are solely the responsibility of the authors and do not necessarily represent the official view of NICHHD, NCRR, or NIH.
About this article
Cite this article
Collett, B.R., Aylward, E.H., Berg, J. et al. Brain volume and shape in infants with deformational plagiocephaly. Childs Nerv Syst 28, 1083–1090 (2012). https://doi.org/10.1007/s00381-012-1731-y
Received:

Accepted:

Published:

Issue Date:
Keywords
Plagiocephaly

Infant

MRI

Development