Abstract
Introduction
CD133 (PROM1) is a potential marker for cancer stem cells (CSCs), including those found in brain tumors. Recently, medulloblastoma (MB)-derived CD133-positive cells were found to have CSC-like properties and were proposed to be important contributors to tumorigenicity, cancer progression, and chemoradioresistance. However, the biomolecular pathways and therapeutic targets specific to MB-derived CSCs remain unresolved.
Materials and methods
In the present study, we isolated CD133+ cells from MB cell lines and determined that they showed increased tumorigenicity, radioresistance, and higher expression of both embryonic stem cell-related and drug resistance-related genes compared to CD133− cells. Bioinformatics analysis suggested that the STAT3 pathway might be important in MB and CD133+ cells. To evaluate the effects of inhibiting the STAT3 pathway, MB-derived CD133+/− cells were treated with the potent STAT3 inhibitor, cucurbitacin I. Treatment with cucurbitacin I significantly suppressed the CSC-like properties and stemness gene signature of MB-derived CD133+ cells. Furthermore, cucurbitacin I treatment increased the apoptotic sensitivity of MB-derived CD133+ cells to radiation and chemotherapeutic drugs. Notably, cucurbitacin I demonstrated synergistic effects with ionizing radiation to inhibit tumorigenicity in MB-CD133+-inoculated mice.
Results
These results indicate that the STAT3 pathway plays a key role in mediating CSC properties in MB-derived CD133+ cells. Targeting STAT3 with cucurbitacin I may therefore represent a novel therapeutic approach for treating malignant brain tumors.
This is a preview of subscription content, log in to check access.
Access options
Buy single article
Instant access to the full article PDF.
US$ 39.95
Price includes VAT for USA
Subscribe to journal
Immediate online access to all issues from 2019. Subscription will auto renew annually.
US$ 199
This is the net price. Taxes to be calculated in checkout.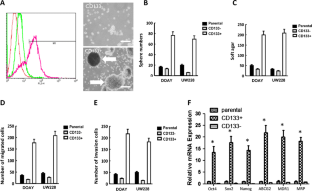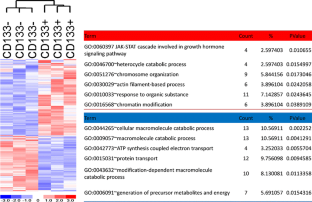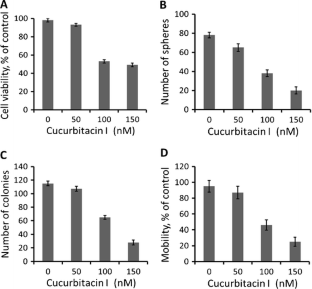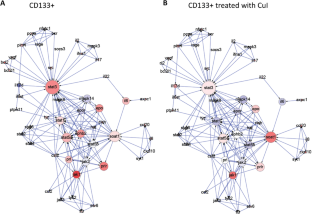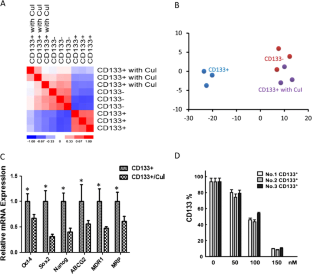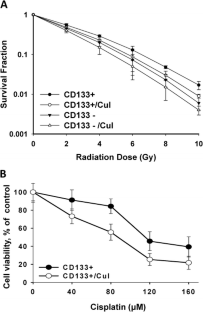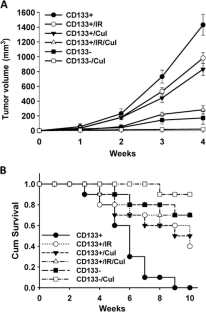 References
1.

Al-Hajj M, Wicha MS, Benito-Hernandez A, Morrison SJ, Clarke MF (2003) Prospective identification of tumorigenic breast cancer cells. Proc Natl Acad Sci USA 100:3983–3988

2.

Altaner C (2008) Glioblastoma and stem cells. Neoplasma 55:369–374

3.

Bao S, Wu Q, McLendon RE, Hao Y, Shi Q, Hjelmeland AB, Dewhirst MW, Bigner DD, Rich JN (2006) Glioma stem cells promote radioresistance by preferential activation of the DNA damage response. Nature 444:756–760

4.

Bhoopathi P, Chetty C, Dontula R, Gujrati M, Dinh DH, Rao JS, Lakka SS (2011) SPARC stimulates neuronal differentiation of medulloblastoma cells via the Notch1/STAT3 pathway. Cancer Res 71:4908–4919

5.

Blaskovich MA, Sun J, Cantor A, Turkson J, Jove R, Sebti SM (2003) Discovery of JSI-124 (cucurbitacin I), a selective Janus kinase/signal transducer and activator of transcription 3 signaling pathway inhibitor with potent antitumor activity against human and murine cancer cells in mice. Cancer Res 63:1270–1279

6.

Bowman T, Garcia R, Turkson J, Jove R (2000) STATs in oncogenesis. Oncogene 19:2474–2488

7.

Brantley EC, Benveniste EN (2008) Signal transducer and activator of transcription-3: a molecular hub for signaling pathways in gliomas. Mol Cancer Res 6:675–684

8.

Bromberg J (2002) Stat proteins and oncogenesis. J Clin Invest 109:1139–1142

9.

Bromberg JF, Wrzeszczynska MH, Devgan G, Zhao Y, Pestell RG, Albanese C, Darnell JE Jr (1999) Stat3 as an oncogene. Cell 98:295–303

10.

Bromberg JF (2001) Activation of STAT proteins and growth control. Bioessays 23:161–169

11.

Chen F, Xu Y, Luo Y, Zheng D, Song Y, Yu K, Li H, Zhang L, Zhong W, Ji Y (2010) Down-regulation of Stat3 decreases invasion activity and induces apoptosis of human glioma cells. J Mol Neurosci 40:353–359

12.

Chiou SH, Kao CL, Chen YW, Chien CS, Hung SC, Lo JF, Chen YJ, Ku HH, Hsu MT, Wong TT (2008) Identification of CD133-positive radioresistant cells in atypical teratoid/rhabdoid tumor. PLoS One 3:e2090

13.

Chiou SH, Chen SJ, Chang YL, Chen YC, Li HY, Chen DT, Wang HH, Chang CM, Chen YJ, Ku HH (2011) MafA promotes the reprogramming of placenta-derived multipotent stem cells into pancreatic islets-like and insulin-positive cells. J Cell Mol Med 15:612–624

14.

Clevenger CV (2004) Roles and regulation of stat family transcription factors in human breast cancer. Am J Pathol 165:1449–1460

15.

Creighton CJ, Li X, Landis M, Dixon JM, Neumeister VM, Sjolund A, Rimm DL, Wong H, Rodriguez A, Herschkowitz JI (2009) Residual breast cancers after conventional therapy display mesenchymal as well as tumor-initiating features. Proc Natl Acad Sci 106:13820

16.

Dingli D, Michor F (2006) Successful therapy must eradicate cancer stem cells. Stem Cells 24:2603–2610

17.

Epling-Burnette PK, Liu JH, Catlett-Falcone R, Turkson J, Oshiro M, Kothapalli R, Li Y, Wang JM, Yang-Yen HF, Karras J, Jove R, Loughran TP Jr (2001) Inhibition of STAT3 signaling leads to apoptosis of leukemic large granular lymphocytes and decreased Mcl-1 expression. J Clin Invest 107:351–362

18.

Eriksson M, Guse K, Bauerschmitz G, Virkkunen P, Tarkkanen M, Tanner M, Hakkarainen T, Kanerva A, Desmond RA, Pesonen S (2007) Oncolytic adenoviruses kill breast cancer initiating CD44+CD24–/low cells. Mol Ther 15:2088–2093

19.

Evans AE, Jenkin RDT, Sposto R, Ortega JA, Wilson CB, Wara W, Ertel IJ, Kramer S, Chang CH, Leikin SL (1990) The treatment of medulloblastoma. J Neurosurg 72:572–582

20.

Fan X, Eberhart CG (2008) Medulloblastoma stem cells. J Clin Oncol 26:2821–2827

21.

Hemmati HD, Nakano I, Lazareff JA, Masterman-Smith M, Geschwind DH, Bronner-Fraser M, Kornblum HI (2003) Cancerous stem cells can arise from pediatric brain tumors. Proc Natl Acad Sci USA 100:15178

22.

Hide T, Takezaki T, Nakamura H, Kuratsu J, Kondo T (2008) Brain tumor stem cells as research and treatment targets. Brain Tumor Pathol 25:67–72

23.

Hope KJ, Jin L, Dick JE (2004) Acute myeloid leukemia originates from a hierarchy of leukemic stem cell classes that differ in self-renewal capacity. Nat Immunol 5:738–743

24.

Iwamaru A, Szymanski S, Iwado E, Aoki H, Yokoyama T, Fokt I, Hess K, Conrad C, Madden T, Sawaya R (2006) A novel inhibitor of the STAT3 pathway induces apoptosis in malignant glioma cells both in vitro and in vivo. Oncogene 26:2435–2444

25.

Jordan CT, Guzman ML, Noble M (2006) Cancer stem cells. N Engl J Med 355:1253–1261

26.

Kao CL, Huang PI, Tsai PH, Tsai ML, Lo JF, Lee YY, Chen YJ, Chen YW, Chiou SH (2009) Resveratrol-induced apoptosis and increased radiosensitivity in CD133-positive cells derived from atypical teratoid/rhabdoid tumor. Int J Radiat Oncol Biol Phys 74:219–228

27.

Knizetova P, Darling JL, Bartek J (2008) Vascular endothelial growth factor in astroglioma stem cell biology and response to therapy. J Cell Mol Med 12:111–125

28.

Konnikova L, Kotecki M, Kruger MM, Cochran BH (2003) Knockdown of STAT3 expression by RNAi induces apoptosis in astrocytoma cells. BMC Cancer 3:23

29.

Li X, Lewis MT, Huang J, Gutierrez C, Osborne CK, Wu MF, Hilsenbeck SG, Pavlick A, Zhang X, Chamness GC, Wong H, Rosen J, Chang JC (2008) Intrinsic resistance of tumorigenic breast cancer cells to chemotherapy. J Natl Cancer Inst 100:672–679

30.

Mulhern RK, Palmer SL, Reddick WE, Glass JO, Kun LE, Taylor J, Langston J, Gajjar A (2001) Risks of young age for selected neurocognitive deficits in medulloblastoma are associated with white matter loss. J Clin Oncol 19:472

31.

Niu G, Wright KL, Ma Y, Wright GM, Huang M, Irby R, Briggs J, Karras J, Cress WD, Pardoll D, Jove R, Chen J, Yu H (2005) Role of Stat3 in regulating p53 expression and function. Mol Cell Biol 25:7432–7440

32.

O'Brien CA, Kreso A, Jamieson CH (2010) Cancer stem cells and self-renewal. Clin Cancer Res 16:3113–3120

33.

Phillips TM, McBride WH, Pajonk F (2006) The response of CD24-/low/CD44+ breast cancer-initiating cells to radiation. J Natl Cancer Inst 98:1777

34.

Rahaman SO, Harbor PC, Chernova O, Barnett GH, Vogelbaum MA, Haque SJ (2002) Inhibition of constitutively active Stat3 suppresses proliferation and induces apoptosis in glioblastoma multiforme cells. Oncogene 21:8404–8413

35.

Reya T, Morrison SJ, Clarke MF, Weissman IL (2001) Stem cells, cancer, and cancer stem cells. Nature 414:105–111

36.

Rich JN (2007) Cancer stem cells in radiation resistance. Cancer Res 67:8980–8984

37.

Rorke LB (1983) The cerebellar medulloblastoma and its relationship to primitive neuroectodermal tumors. J Neuropathol Exp Neurol 42:1

38.

Shi X, Franko B, Frantz C, Amin HM, Lai R (2006) JSI-124 (cucurbitacin I) inhibits Janus kinase-3/signal transducer and activator of transcription-3 signalling, downregulates nucleophosmin-anaplastic lymphoma kinase (ALK), and induces apoptosis in ALK-positive anaplastic large cell lymphoma cells. Br J Haematol 135:26–32

39.

Singh SK, Clarke ID, Terasaki M, Bonn VE, Hawkins C, Squire J, Dirks PB (2003) Identification of a cancer stem cell in human brain tumors. Cancer Res 63:5821–5828

40.

Singh SK, Hawkins C, Clarke ID, Squire JA, Bayani J, Hide T, Henkelman RM, Cusimano MD, Dirks PB (2004) Identification of human brain tumour initiating cells. Nature 432:396–401

41.

Tang C, Chua CL, Ang BT (2007) Insights into the cancer stem cell model of glioma tumorigenesis. Ann Acad Med Singapore 36:352–357

42.

Walker P, Perilongo G, Punt J, Taylor R (2005) Brain and spinal tumors of childhood. 100 Years Ago in the NZMJ 118:1

43.

Wang J, Pham-Mitchell N, Schindler C, Campbell IL (2003) Dysregulated Sonic hedgehog signaling and medulloblastoma consequent to IFN-alpha-stimulated STAT2-independent production of IFN-gamma in the brain. J Clin Invest 112:535–543

44.

Yu H, Jove R (2004) The STATs of cancer—new molecular targets come of age. Nat Rev Cancer 4:97–105

45.

Yu LJ, Wu ML, Li H, Chen XY, Wang Q, Sun Y, Kong QY, Liu J (2008) Inhibition of STAT3 expression and signaling in resveratrol-differentiated medulloblastoma cells. Neoplasia 10:736–744

46.

Zhang X, Zhang J, Wang L, Wei H, Tian Z (2007) Therapeutic effects of STAT3 decoy oligodeoxynucleotide on human lung cancer in xenograft mice. BMC Cancer 7:149
Acknowledgments
This study was supported by research grants from the National Science Council (NSC-98-3111-B-075-001-MY3), the Yen-Tjing-Ling Medical Foundation (98/99/100),Chi Mei Medical Center (CMYM 9801/9901/100001), Taipei City Hospital (98/99/100), and Cheng-Hsin General Hospital (98/99/100).
About this article
Cite this article
Chang, C., Chiang, C., Song, W. et al. Inhibition of phosphorylated STAT3 by cucurbitacin I enhances chemoradiosensitivity in medulloblastoma-derived cancer stem cells. Childs Nerv Syst 28, 363–373 (2012). https://doi.org/10.1007/s00381-011-1672-x
Received:

Accepted:

Published:

Issue Date:
Keywords
Medulloblastoma

Cucurbitacin I

Cancer stem cells

CD133

STAT3

Radioresistance