Abstract
Introduction
Cysticercosis (CC) is the most important of the parasitic diseases of the central nervous system due to its high incidence in the world. CC is the infection with the larval cysts of Taenia solium. It is the most common helminthic infection of the nervous system and is endemic in most underdeveloped countries as well as in industrialized nations. It is estimated that approximately 50,000 people die every year from neurocysticercosis (NCC) worldwide.
Discussion
Humans with CC are incidental intermediate hosts, which replace the pig in the life cycle of the T. solium. Children are more frequently affected by parenchyma infestation of cysticercus, of which the main clinical manifestation is epilepsy. Hydrocephalus is more common in adults and is caused by cerebrospinal fluid blockage by ventricular cysts and inflammatory reactions (ependimitis/arachnoiditis). Treatment should be individualized based on clinical presentation, degree of infestation, location and viability of cysticercus, and host response. Hydrocephalus can be controlled only by removal of obstructive intraventricular cysts or associated with either ventriculoperitoneal shunt or endoscopic third ventriculostomy. The degree of infestation and complications related to the shunt represents the most important prognostic factors in the outcome of NCC.
This is a preview of subscription content, log in to check access.
Access options
Buy single article
Instant access to the full article PDF.
US$ 39.95
Tax calculation will be finalised during checkout.
Subscribe to journal
Immediate online access to all issues from 2019. Subscription will auto renew annually.
US$ 119
Tax calculation will be finalised during checkout.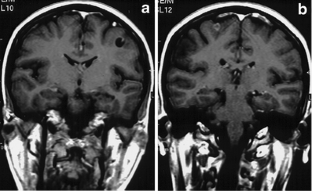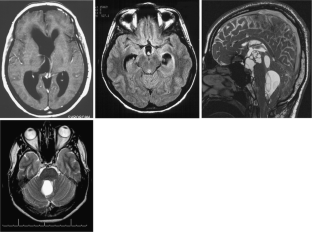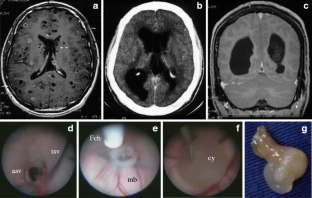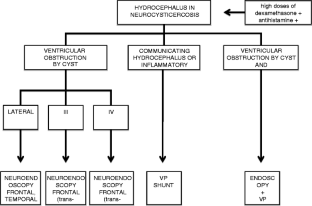 References
1.

Agapejev S (2003) Clinical and epidemiological aspects of neurocysticercosis in Brazil: a critical approach. Arq Neuropsiquiatr 61(3B):822–828

2.

Agapejev S, Da Silva MD, Ueda AK (1996) Severe forms of neurocysticercosis: treatment with albendazole. Arq Neuropsiquiatr 54(1):82–93

3.

Alcala M, Hernandez-Aguilar J, Davila G, Bernal RM (2001) . Neurocysticercosis in children: A study of 100 cases. In Fukuyama Y, Kamoshita S, Otsuka C, Suzuki Y, eds. modern Perspectives of Child Neurology. Published by Japanese Society of Child Neurology p 73-93

4.

Alsina GA, Johnson JP, McBride DQ, Rhoten PR, Mehringer CM, Stokes JK (2002) Spinal neurocysticercosis. Neurosurg Focus 12(6):e8

5.

Amaral L, Maschietto M, Maschietto R, Cury R, Ferreira NF, Mendonca R, Lima SS (2003) Unusual manifestations of neurocysticercosis in MR imaging: analysis of 172 cases. Arq Neuropsiquiatr 61(3A):533–541

6.

Apuzzo ML, Dobkin WR, Zee CS, Chan JC, Giannotta SL, Weiss MH (1984) Surgical considerations in treatment of intraventricular cysticercosis. An analysis of 45 cases. J Neurosurg 60(2):400–407. doi:10.3171/jns.1984.60.2.0400

7.

Bandres JC, White AC Jr, Samo T, Murphy EC, Harris RL (1992) Extraparenchymal neurocysticercosis: report of five cases and review of management. Clin Infect Dis 15(5):799–811

8.

Bergsneider M, Holly LT, Lee JH, King WA, Frazee JG (2000) Endoscopic management of cysticercal cysts within the lateral and third ventricles. J Neurosurg 92(1):14–23. doi:10.3171/jns.2000.92.1.0014

9.

Braga F, Rocha AJ, Gomes HR, Filho GH, Silva CJ, Fonseca RB (2004) Noninvasive MR cisternography with fluid-attenuated inversion recovery and 100% supplemental O(2) in the evaluation of neurocysticercosis. AJNR Am J Neuroradiol 25(2):295–297

10.

Canelas HM (1962) Neurocysticercosis: incidence, diagnosis and clinical forms. Arq Neuropsiquiatr 20:1–16

11.

Cantu C, Barinagarrementeria F (1996) Cerebrovascular complications of neurocysticercosis. Clinical and neuroimaging spectrum. Arch Neurol 53(3):233–239

12.

Cardenas YCJ (1962) Cysticercosis of central nervous system: II. Pathologic and radiologic findings. J Neurosurg 19:635

13.

Carpio A (2002) Neurocysticercosis: an update. Lancet Infect Dis 2(12):751–762

14.

Carpio A, Escobar A, Hauser WA (1998) Cysticercosis and epilepsy: a critical review. Epilepsia 39(10):1025–1040

15.

Chimelli L, Lovalho AF, Takayanagui OM (1998) Neurocysticercosis: contribution of autopsies in the consolidation of mandatory notification in Ribeirao Preto—SP, Brazil. Arq Neuropsiquiatr 56(3B):577–584

16.

Colli BO, Carlotti CG Jr, Assirati JA Jr, Machado HR, Valenca M, Amato MC (2002) Surgical treatment of cerebral cysticercosis: long-term results and prognostic factors. Neurosurg Focus 12(6):e3

17.

Colli BO, Martelli N, Assirati JA Jr, Machado HR, de Vergueiro FS (1986) Results of surgical treatment of neurocysticercosis in 69 cases. J Neurosurg 65(3):309–315. doi:10.3171/jns.1986.65.3.0309

18.

Couldwell WT, Zee CS, Apuzzo ML (1991) Definition of the role of contemporary surgical management in cisternal and parenchymatous cysticercosis cerebri. Neurosurgery 28(2):231–237

19.

Cuetter AC, Andrews RJ (2002) Intraventricular neurocysticercosis: 18 consecutive patients and review of the literature. Neurosurg Focus 12(6):e5

20.

Cuetter AC, Garcia-Bobadilla J, Guerra LG, Martinez FM, Kaim B (1997) Neurocysticercosis: focus on intraventricular disease. Clin Infect Dis 24(2):157–164

21.

Del Brutto OH (1994) Prognostic factors for seizure recurrence after withdrawal of antiepileptic drugs in patients with neurocysticercosis. Neurology 44(9):1706–1709

22.

Del Brutto OH, Campos X, Sanchez J, Mosquera A (1999) Single-day praziquantel versus 1-week albendazole for neurocysticercosis. Neurology 52(5):1079–1081

23.

Del Brutto OH, Rajshekhar V, White AC Jr, Tsang VC, Nash TE, Takayanagui OM, Schantz PM, Evans CA, Flisser A, Correa D, Botero D, Allan JC, Sarti E, Gonzalez AE, Gilman RH, Garcia HH (2001) Proposed diagnostic criteria for neurocysticercosis. Neurology 57(2):177–183

24.

DeGiorgio CM, Houston I, Oviedo S, Sorvillo F (2001) Deaths associated with cysticercosis. Report of three cases and review of the literature. Neurosurg Focus 12(6):e2.

25.

do Amaral LL, Ferreira RM, da Rocha AJ, Ferreira NP (2005) Neurocysticercosis: evaluation with advanced magnetic resonance techniques and atypical forms. Top Magn Reson Imaging 16(2):127–144

26.

Escobar A (1983) the pathology of neuroxysticercosis. In: Palacios EE, Rodrigues-Carbajal J, Taveras JM (eds) Cysticercosi of central nervous system. Thomas, Springfield, p 23

27.

Estanol B, Kleriga E, Loyo M, Mateos H, Lombardo L, Gordon F, Saguchi AF (1983) Mechanisms of hydrocephalus in cerebral cysticercosis: implications for therapy. Neurosurgery 13(2):119–123

28.

Flisser A (1988) Neurocysticercosis in Mexico. Parasitol Today 4(5):131–137

29.

Flisser A, Rodriguez-Canul R, Willingham AL 3rd (2006) Control of the taeniosis/cysticercosis complex: future developments. Vet Parasitol 139(4):283–292. doi:10.1016/j.vetpar.2006.04.019

30.

Flisser A, Sarti E, Lightowlers M, Schantz P (2003) Neurocysticercosis: regional status, epidemiology, impact and control measures in the Americas. Acta Trop 87(1):43–51

31.

Garcia HH (2008) Antiparasitic drugs in neurocysticercosis: albendazole or praziquantel? Expert Rev Anti Infect Ther 6(3):295–298. doi:10.1586/14787210.6.3.295

32.

Garcia HH, Del Brutto OH (2005) Neurocysticercosis: updated concepts about an old disease. Lancet Neurol 4(10):653–661. doi:10.1016/S1474-4422(05)70194-0

33.

Garcia HH, Evans CA, Nash TE, Takayanagui OM, White AC Jr, Botero D, Rajshekhar V, Tsang VC, Schantz PM, Allan JC, Flisser A, Correa D, Sarti E, Friedland JS, Martinez SM, Gonzalez AE, Gilman RH, Del Brutto OH (2002) Current consensus guidelines for treatment of neurocysticercosis. Clin Microbiol Rev 15(4):747–756

34.

Garcia HH, Gilman RH, Horton J, Martinez M, Herrera G, Altamirano J, Cuba JM, Rios-Saavedra N, Verastegui M, Boero J, Gonzalez AE (1997) Albendazole therapy for neurocysticercosis: a prospective double-blind trial comparing 7 versus 14 days of treatment. Cysticercosis Working Group in Peru. Neurology 48(5):1421–1427

35.

Garcia HH, Gonzalez AE, Evans CA, Gilman RH (2003) Taenia solium cysticercosis. Lancet 362(9383):547–556. doi:10.1016/S0140-6736(03)14117-7

36.

Garcia HH, Gonzalez AE, Gilman RH (2003) Diagnosis, treatment and control of Taenia solium cysticercosis. Curr Opin Infect Dis 16(5):411–419. doi:10.1097/01.qco.0000092812.64370.f7

37.

Garg RK, Potluri N, Kar AM, Singh MK, Shukla R, Agrawal A, Verma R (2006) Short course of prednisolone in patients with solitary cysticercus granuloma: a double blind placebo controlled study. J Infect 53(1):65–69. doi:10.1016/j.jinf.2005.09.002

38.

Gekeler F, Eichenlaub S, Mendoza EG, Sotelo J, Hoelscher M, Loscher T (2002) Sensitivity and specificity of ELISA and immunoblot for diagnosing neurocysticercosis. Eur J Clin Microbiol Infect Dis 21(3):227–229. doi:10.1007/s10096-002-0695-3

39.

Gravori T, Steineke T, Bergsneider M (2002) Endoscopic removal of cisternal neurocysticercal cysts. Technical note. Neurosurg Focus 12(6):e7

40.

Husain M, Rastogi M, Jha DK, Husain N, Gupta RK (2007) Endoscopic transaqueductal removal of fourth ventricular neurocysticercosis with an angiographic catheter. Neurosurgery 60(4 Suppl 2):249–253. doi:10.1227/01.NEU.0000255382.72593.81, discussion 254

41.

Itabashi HH (1983) Pathology of CNS cysticercosis. Bull Clin Neurosci 48:6–17

42.

Jayakumar PN, Chandrashekar HS, Srikanth SG, Guruprasad AS, Devi BI, Shankar SK (2004) MRI and in vivo proton MR spectroscopy in a racemose cysticercal cyst of the brain. Neuroradiology 46(1):72–74. doi:10.1007/s00234-003-1108-8

43.

Kalra V, Suri M, Jailkhani BL (1994) A profile of childhood neurocysticercosis. Indian J Pediatr 61(1):33–42

44.

Kelley R, Duong DH, Locke GE (2002) Characteristics of ventricular shunt malfunctions among patients with neurocysticercosis. Neurosurgery 50(4):757–761, discussion 761–752

45.

Ko DY, Chang GY (1998) Albendazole therapy for neurocysticercosis. Neurology 50(3):834–835

46.

Lefevre AB (1966) Clinical study of intracranial tumors in children. Considerations on 127 cases. Rev Hosp Clin Fac Med Sao Paulo 21(1):1–31

47.

Lightowlers MW (2010) Eradication of Taenia solium cysticercosis: a role for vaccination of pigs. Int J Parasitol 40(10):1183–1192. doi:10.1016/j.ijpara.2010.05.001

48.

Lobato RD, Lamas E, Portillo JM, Roger R, Esparza J, Rivas JJ, Munoz MJ (1981) Hydrocephalus in cerebral cysticercosis. Pathogenic and therapeutic considerations. J Neurosurg 55(5):786–793. doi:10.3171/jns.1981.55.5.0786

49.

Lopez-Hernandez A (1983) Clinical manifestations and sequential computed tomography scans of cerebral cysticercosis in childhood. Brain Dev 5(3):269–277

50.

Lucato LT, Guedes MS, Sato JR, Bacheschi LA, Machado LR, Leite CC (2007) The role of conventional MR imaging sequences in the evaluation of neurocysticercosis: impact on characterization of the scolex and lesion burden. AJNR Am J Neuroradiol 28(8):1501–1504. doi:10.3174/ajnr.A0623

51.

Madrazo I, Garcia-Renteria JA, Sandoval M, Lopez Vega FJ (1983) Intraventricular cysticercosis. Neurosurgery 12(2):148–152

52.

Mendes EC, da Silva SS, Fonseca EA, de Souza HR, de Carvalho RW (2005) Human neurocysticercosis in Baixada Fluminense, Rio de Janeiro State, Brazil. Arq Neuropsiquiatr 63(4):1058–1062. doi:/S0004-282X2005000600027

53.

MLG M (1990) Neurocisticercose na infância: aspectos de correlações clinicas e tomográficas (tese de doutorado). Faculdade de Medicina da Universidade de São Paulo, São Paulo

54.

MLG M (1996) Neurocisticercose na infancia. Aspectos terapeuticos. Machado LR, Livramento JA, Spina FN, Nobrega JPS (eds) Neuroinfecção 96 São Paulo: Clinica Neurologica HC/FMUSP:219

55.

Morales NM, Agapejev S, Morales RR, Padula NA, Lima MM (2000) Clinical aspects of neurocysticercosis in children. Pediatr Neurol 22(4):287–291

56.

Neal JH (1995) An endoscopic approach to cysticercosis cysts of the posterior third ventricle. Neurosurgery 36(5):1040–1043

57.

Nicoletti A, Bartoloni A, Sofia V, Bartalesi F, Chavez JR, Osinaga R, Paradisi F, Dumas JL, Tsang VC, Reggio A, Hall AJ (2005) Epilepsy and neurocysticercosis in rural Bolivia: a population-based survey. Epilepsia 46(7):1127–1132. doi:10.1111/j.1528-1167.2005.67804.x

58.

NJ C (1995) Epidemiological status of the taeniasis/cysticercosis in the State of Paraná (south region of Brazil) and the control strategies. Taeniasis/cysticercosis complex: future trends towards its control. PAHO/WHO

59.

Ong S, Talan DA, Moran GJ, Mower W, Newdow M, Tsang VC, Pinner RW (2002) Neurocysticercosis in radiographically imaged seizure patients in U.S. emergency departments. Emerg Infect Dis 8(6):608–613

60.

Pfuetzenreiter MR, de Avila-Pires FD (1999) Clinical manifestations in patients with computerized tomography diagnosis of neurocysticercosis. Arq Neuropsiquiatr 57(3A):653–658

61.

Prabhakaran V, Rajshekhar V, Murrell KD, Oommen A (2004) Taenia solium metacestode glycoproteins as diagnostic antigens for solitary cysticercus granuloma in Indian patients. Trans R Soc Trop Med Hyg 98(8):478–484. doi:10.1016/j.trstmh.2003.12.006

62.

Proano JV, Madrazo I, Avelar F, Lopez-Felix B, Diaz G, Grijalva I (2001) Medical treatment for neurocysticercosis characterized by giant subarachnoid cysts. N Engl J Med 345(12):879–885. doi:10.1056/NEJMoa010212

63.

Proano JV, Madrazo I, Garcia L, Garcia-Torres E, Correa D (1997) Albendazole and praziquantel treatment in neurocysticercosis of the fourth ventricle. J Neurosurg 87(1):29–33. doi:10.3171/jns.1997.87.1.0029

64.

Proano JV, Torres-Corzo J, Rodriguez-Della Vecchia R, Guizar-Sahagun G, Rangel-Castilla L (2009) Intraventricular and subarachnoid basal cisterns neurocysticercosis: a comparative study between traditional treatment versus neuroendoscopic surgery. Childs Nerv Syst 25(11):1467–1475. doi:10.1007/s00381-009-0933-4

65.

Raffin LS, Bacheschi LA, Machado LR, Nobrega JP, Coelho C, Leite CC (2001) Diffusion-weighted MR imaging of cystic lesions of neurocysticercosis: a preliminary study. Arq Neuropsiquiatr 59(4):839–842

66.

Rajshekhar V, Jeyaseelan L (2004) Seizure outcome in patients with a solitary cerebral cysticercus granuloma. Neurology 62(12):2236–2240

67.

Rangel-Castilla L, Serpa JA, Gopinath SP, Graviss EA, Diaz-Marchan P, White AC Jr (2009) Contemporary neurosurgical approaches to neurocysticercosis. Am J Trop Med Hyg 80(3):373–378

68.

Rodriguez-Carbajal J, Boleaga-Duran B, Dorfsman J (1987) The role of computed tomography (CT) in the diagnosis of neurocysticercosis. Childs Nerv Syst 3(4):199–202

69.

Rueda-Franco F (1987) Surgical considerations in neurocysticercosis. Childs Nerv Syst 3(4):212

70.

Salgado P, Rojas R, Sotelo J (1997) Cysticercosis. Clinical classification based on imaging studies. Arch Intern Med 157(17):1991–1997

71.

Schantz PM, Sarti E, Plancarte A, Wilson M, Criales JL, Roberts J, Flisser A (1994) Community-based epidemiological investigations of cysticercosis due to Taenia solium: comparison of serological screening tests and clinical findings in two populations in Mexico. Clin Infect Dis 18(6):879–885

72.

Schantz PM Wilkins PP, Tsang VCW (1998) Immigrants, imaging, and immunoblots: the emergence of neurocysticercosis as a major public health problem. In: Scheld WM, Craig WA, Hughes JM (eds) Emerging infections 2. ASM, Washington, pp. 213–242

73.

Schenone HVF, Rojas A, Ramirez R (1982) Epidemiology of humans cysticercosis in Latin America. In: Flisser A, Willms K, Laclette JP, Larralde C (eds) Cysticercosis: present state of knowledge and perspectives. Academic, New York, pp 25–38

74.

Shandera WX, White AC Jr, Chen JC, Diaz P, Armstrong R (1994) Neurocysticercosis in Houston, Texas. A report of 112 cases. Medicine (Baltimore) 73(1):37–52

75.

Sorvillo FJ, DeGiorgio C, Waterman SH (2007) Deaths from cysticercosis, United States. Emerg Infect Dis 13(2):230–235

76.

Sotelo J (1997) Treatment of brain cysticercosis. Surg Neurol 48(2):110–112

77.

Sotelo J, Del Brutto OH (2000) Brain cysticercosis. Arch Med Res 31(1):3–14

78.

Sotelo J, Marin C (1987) Hydrocephalus secondary to cysticercotic arachnoiditis. A long-term follow-up review of 92 cases. J Neurosurg 66(5):686–689. doi:10.3171/jns.1987.66.5.0686

79.

Sotelo J, Torres B, Rubio-Donnadieu F, Escobedo F, Rodriguez-Carbajal J (1985) Praziquantel in the treatment of neurocysticercosis: long-term follow-up. Neurology 35(5):752–755

80.

Stepien L (1962) Cerebral cysticercosis in Poland. Clinical symptoms and operative results in 132 cases. J Neurosurg 19:505–513. doi:10.3171/jns.1962.19.6.0505

81.

Suastegui Roman RA, Soto-Hernandez JL, Sotelo J (1996) Effects of prednisone on ventriculoperitoneal shunt function in hydrocephalus secondary to cysticercosis: a preliminary study. J Neurosurg 84(4):629–633. doi:10.3171/jns.1996.84.4.0629

82.

Suri A, Goel RK, Ahmad FU, Vellimana AK, Sharma BS, Mahapatra AK (2008) Endoscopic excision of intraventricular neurocysticercosis in children: a series of six cases and review. Childs Nerv Syst 24(2):281–285. doi:10.1007/s00381-007-0462-y

83.

Suri A, Goel RK, Ahmad FU, Vellimana AK, Sharma BS, Mahapatra AK (2008) Transventricular, transaqueductal scope-in-scope endoscopic excision of fourth ventricular neurocysticercosis: a series of 13 cases and a review. J Neurosurg Pediatr 1(1):35–39. doi:10.3171/PED-08/01/035

84.

Takayanagui OM (1990) Neurocysticercosis. I. Clinical and laboratory course of 151 cases. Arq Neuropsiquiatr 48(1):1–10

85.

Takayanagui OM, Castro e Silva AA, Santiago RC, Odashima NS, Terra VC, Takayanagui AM (1996) Compulsory notification of cysticercosis in Ribeirao Preto—SP, Brazil. Arq Neuropsiquiatr 54(4):557–564

86.

Takayanagui OM, Jardim E (1983) Clinical aspects of neurocysticercosis: analysis of 500 cases. Arq Neuropsiquiatr 41(1):50–63

87.

Thussu A, Sehgal S, Sharma M, Lal V, Sawhney IM, Prabhakar S (1997) Comparison of cellular responses in single- and multiple-lesion neurocysticercosis. Ann Trop Med Parasitol 91(6):627–632

88.

Torres-Corzo J, Rodriguez-della Vecchia R, Rangel-Castilla L (2006) Bruns syndrome caused by intraventricular neurocysticercosis treated using flexible endoscopy. J Neurosurg 104(5):746–748. doi:10.3171/jns.2006.104.5.746

89.

Tsang VC, Brand JA, Boyer AE (1989) An enzyme-linked immunoelectrotransfer blot assay and glycoprotein antigens for diagnosing human cysticercosis (Taenia solium). J Infect Dis 159(1):50–59

90.

Wallin MT, Kurtzke JF (2004) Neurocysticercosis in the United States: review of an important emerging infection. Neurology 63(9):1559–1564

91.

White AC Jr (1997) Neurocysticercosis: a major cause of neurological disease worldwide. Clin Infect Dis 24(2):101–113, quiz 114–105

92.

White AC Jr (2000) Neurocysticercosis: updates on epidemiology, pathogenesis, diagnosis, and management. Annu Rev Med 51:187–206. doi:10.1146/annurev.med.51.1.187

93.

Zee CS, Segall HD, Destian S, Ahmadi J, Apuzzo ML (1993) MRI of intraventricular cysticercosis: surgical implications. J Comput Assist Tomogr 17(6):932–939

94.

Zymberg ST, Paiva Neto MA, Gorgulho AA, Cavalheiro S (2003) Endoscopic approach to fourth ventricle cysticercosis. Arq Neuropsiquiatr 61(2A):204–207
Author agreement and exclusive submission
The authors agree with the editorial policies of The Child's Nervous System. They certify that this paper has not been previously published in any form, is not being considered for publication elsewhere, and is therefore submitted exclusively for publication in The Child's Nervous System.
No conflict of interest
Case report without support agency; no special device has been used in this case; no conflict of interest.
Copyright transfer
The authors (Hamilton Matushita, Fernando Gomes Campos Pinto, Daniel Dante Cardeal, Manoel Jacobse Teixeira) transfer the copyrights of this publication: Hydrocephalus in neurocysticercosis for: The Child's Nervous System.
About this article
Cite this article
Matushita, H., Pinto, F.C.G., Cardeal, D.D. et al. Hydrocephalus in neurocysticercosis. Childs Nerv Syst 27, 1709 (2011). https://doi.org/10.1007/s00381-011-1500-3
Received:

Accepted:

Published:
Keywords
Neurocysticercosis

Hydrocephalus

Infection

Arachnoiditis

Ependimitis

Ventriculostomy

Ventriculoperitoneal shunt