Abstract
Introduction
Peripheral sensory neuropathy is known to be associated with several medical conditions; however, it has not been reported in patients with cerebral palsy. Authors have observed pathological changes in the sensory nerve rootlets taken during selective dorsal rhizotomy. This paper reports a possible novel cause of peripheral sensory neuropathy: the chronic afferent excitations from muscle spindles.
Case report
Sensory nerve rootlets on L5 were taken for histological evaluation from two children with cerebral palsy during selective dorsal rhizotomy, performed for their leg spasticities. Rootlets with clonus reaction against intraoperative electrical stimulation show dysmyelination, and in one child, axonal degeneration can also be observed. Rootlets with normal reaction have only minimum changes on their myelin sheath.
Conclusion
As cerebral palsy is a typical upper motor neuron disorder, peripheral sensory neuropathy is unexplained. Since observed neuropathy is mainly on the myelin sheath, the etiology is considered to be the chronic overload of afferent impulses from muscle spindles in the spastic muscle.
Access options
Buy single article
Instant access to the full article PDF.
US$ 39.95
Tax calculation will be finalised during checkout.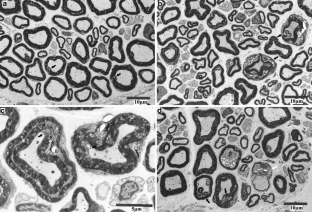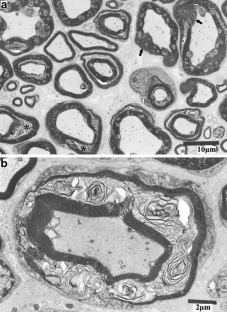 References
1.

Boukhris A, Feki I, Denis E, Miladi MI, Brice A, Mhiri C, Stevanin G (2008) Spastic paraplegia 15: linkage and clinical description of three Tunisian families. Mov Disord 15:429–433

2.

Ceballos D, Cuadras J, Verdú E, Navarro X (1999) Morphometric and ultrastructual changes with a ageing in mouse peripheral nerve. J Anat 195:563–576

3.

Chang KY, Ho ST, Yu HS (1994) Vibration induced neurophysiological and electron microscopical changes in rat peripheral nerves. Occup Environ Med 51:130–135

4.

Fukuhara T, Najm IM, Levin KH, Luciano MG, Brant CL (2000) Nerve rootlets to be sectioned for spasticity resolution in selective dorsal rhizotomy. Surg Neurol 54:126–133

5.

Merrill JE, Scolding NJ (1999) Mechanisms of damage to myelin and oligodendrocytes and their relevance to disease. Neuropathol Appl Neurobiol 25:435–458

6.

Mittal S, Farmer JP, Poulin C, Silver K (2001) Reliability of intraoperative electrophysiological monitoring in selective posterior rhizotomy. J Neurosurg 95:67–75

7.

Steinbok P, Tidemann AJ, Miller S, Mortenson P, Bowen-Roberts T (2009) Electrophysiologically guided versus non-electrophysiologically guided selective dorsal rhizotomy for spastic cerebral palsy: a comparison of outcomes. Childs Nerv Syst 25:1091–1096
About this article
Cite this article
Fukuhara, T., Namba, Y. & Yamadori, I. Peripheral sensory neuropathy observed in children with cerebral palsy: is chronic afferent excitation from muscle spindles a possible cause?. Childs Nerv Syst 26, 751–754 (2010). https://doi.org/10.1007/s00381-010-1122-1
Received:

Accepted:

Published:

Issue Date:
Keywords
Cerebral palsy

Muscle spindle

Neuropathy

Rhizotomy