Abstract
Background
The diagnosis of inflicted head injury (IHI) or accidental trauma (AT) in infants is based on clinical, radiological, and/or ophthalmological findings such as subdural hematoma (SDH), encephalopathy, retinal hemorrhage (RH), and signs of impact. As a consequence, the diagnostic value of these criteria is difficult to assess because of a circularity bias.
Purpose
In order to assess the predictive value of these diagnostic criteria avoiding circularity, we studied prospectively corroborated cases of head injuries in infants, comparing IHI with AT.
Material and methods
We selected 45 cases of confessed IHI and 39 cases of AT having occurred in public places. Patients were systematically evaluated clinically, with computed tomography scanner and ophthalmological evaluation by a trained ophthalmologist. RH was rated as absent, mild, and severe, according to the depth and extent of the RH.
Results
Brain ischemia was found in 26.7% of IHI; the most prominent elements in favor of IHI were SDH, severe RH, and absence of signs of impact; the predictive diagnostic values of these three features were 0.685, 0.961, and 0.830, respectively; however, only severe RH in the absence of ocular impact was specific of IHI. When all three features were combined, the specificity was 100%, but the sensitivity was only 24.4%.
Conclusion
Our study confirms the high diagnostic value of RH, SDH, and signs of impact for the differential diagnosis between AT and IHI. The evaluation of head injuries in infants requires a high level of awareness and thorough and systematic examination by a trained multidisciplinary team.
Access options
Buy single article
Instant access to the full article PDF.
USD 39.95
Price excludes VAT (USA)
Tax calculation will be finalised during checkout.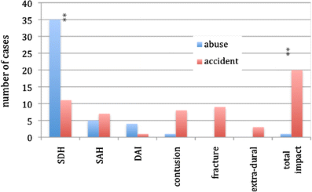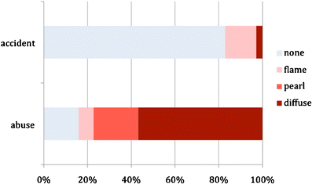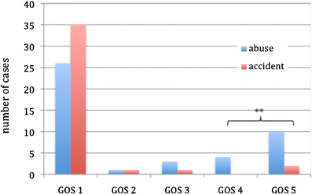 References
Biron D, Shelton D (2005) Perpetrator accounts in infant abusive head trauma brought about by a shaking event. Child Abuse Neglect 29:1347–1358

Christian C, Taylor AA, Hertle RW, Duhaime AC (1999) Retinal hemorrhages caused by accidental household trauma. J Pediatr 135:125–127

Dashti SR, Decker DD, Razzaq A, Cohen AR (1999) Current patterns of inflicted head injury in children. Pediatr Neurosurg 31:302–306

Duhaime AC, Gennarelli TA, Thibault LE, Bruce DA, Margulies SS, Wiser R (1987) The shaken baby syndrome. J Neurosurg 66:409–415

Duhaime AC, Alario AJ, Lewander WJ, Schut L, Sutton LN, Seidl TS, Nudelman S, Budenz D, Hertle R, Tsiarias W, Loporchio S (1992) Head injury in very young children: mechanisms, injury types, and ophthalmologic findings in 100 hospitalized patients younger than 2 years of age. Pediatrics 90:179–185

Ewing-Cobbs L, Kramer L, Prasad M, Canales DN, Louis PT, Fletcher JM, Vollero H, Landry SH, Cheung K (1998) Neuroimaging, physical, and developmental findings after inflicted and noninflicted traumatic brain injury in young children. Pediatrics 102:300–307

Ewing-Cobbs L, Prasad M, Kramer L, Louis PT, Baumgartner J, Fletcher JM, Alpert B (2000) Acute neuroradiological findings in young children with inflicted or noninflicted traumatic brain injury. Child's Nerv Syst 16:25–34

Feldman KW, Bethel R, Shugerman P, Grossman DC, Grady MS, Ellenbogen RC (2001) The cause of infant and toddler subdural hemorrhage: a prospective study. Pediatrics 108:636–646

Gardner HB (2005) A witnessed short fall mimicking presumed shaken baby syndrome (inflicted childhood neurotrauma). Pediatr Neurosurg 43:433–435

Geddes JF, Hackshaw AK, Vowles GH, Whitwell HL (2001) Neuropathology of inflicted head injury in children. I. Patterns of brain damage. Brain 124:1290–1298

Geddes JF, Plunkett J (2004) The evidence base for shaken baby syndrome: we need to question the diagnostic criteria. Brit Med J 328:719–720

Harwood-Nash DC (1992) Abuse to the pediatric central nervous system. Am J Neuroradiol 13:569–575

Jayawant S, Rawlinson A, Gibbon F, Price J, Schulte J, Sharples P, Sibert JR, Kemp AM (1998) Subdural haemorrhages in infants: population based study. Brit Med J 317:1558–1561

Jenny C, Hymel KP, Ritzen A, Reinert SE, Hay TC (1999) Analysis of missed cases of abusive head trauma. JAMA 281:621–626

Johnson DL, Braun D, Friendly D (1993) Accidental head trauma and retinal hemorrhage. Neurosurgery 33:231–234

King WJ, MacKay M, Sirnick A (2003) Shaken baby syndrome in Canada: clinical characteristics and outcomes of hospital cases. Can Med Ass J 168:155–159

Lantz PE, Sinal SH, Stanton CA, Weaver RG (2004) Perimacular retinal folds from childhood head trauma. Brit Med J 328:754–756

Leestma JE (2005) Case analysis of brain-injured admittedly shaken infants: 54 cases 1969–2001. Am J Forensic Med Pathol 26:199–212

Leestma JE (2006) "Shaken baby syndrome": do confessions by alleged perpetrators validate the concept? J Am Phys Surg 11:14–16

Morad Y, Kim YM, Armstrong DC, Huyer D, Mian M, Levine AV (2002) Correlation between retinal abnormalities and intracranial abnormalities in the shaken baby syndrome. Am J Ophthalmol 134:354–359

Morris MW, Smith S, Cressman J, Ancheta J (2000) Evaluation of infants with subdural hematoma who lack external evidence of abuse. Pediatrics 105:549–552

Oehmichen M, Meissner C, Saternus KS (2005) Fall or shaken: traumatic brain injury in children caused by falls or abuse at home—a review on biomechanics and diagnosis. Neuropediatrics 36:240–245

Piatt JH (1999) A pitfall in the diagnosis of child abuse: external hydrocephalus, subdural hematoma, and retinal hemorrhages. Neurosurg Focus 7(4):e4. doi:10.3171/foc.1999.7.4.6

Pierre-Kahn V, Roche O, Dureau P, Uteza Y, Renier D, Pierre-Kahn A, Dufier JL (2003) Ophthalmologic findings in suspected child abuse victims with subdural hematomas. Ophthalmology 110:1718–1723

Plunkett J (2001) Fatal pediatric head injuries caused by short-distance falls. Am J Forensic Med Pathol 22:1–12

Pollanen MS, Smith CR, Chiasson DA, Cairns JT, Young J (2002) Fatal child abuse-maltreatment syndrome. A retrospective study in Ontario, Canada, 1990–1995. Forensic Sci Int 126:101–104

Reece RM, Sege R (2000) Childhood head injuries: accidental or inflicted? Arch Pediatr Adolesc Med 154:11–15

Shah M, Vavilala MS, Feldman KW, Hallam DK (2005) Motor vehicle crash brain injury in infants and toddlers: a suitable model for inflicted head injury? Child Abuse Negl 29:953–967

Squier W (2008) Shaken baby syndrome: the quest for evidence. Dev Med Child Neurol 50:10–14

Starling SP, Holden JR, Jenny C (1995) Abusive head trauma: the relationship of perpetrators to their victims. Pediatrics 95:259–262

Starling SP, Patel S, Burke BL, Sirotnak AP, Stronks S, Rosquist P (2004) Analysis of perpetrator admissions to inflicted traumatic brain injury in children. Arch Pediatr Adolesc Med 158:454–458

Tibbs RE, Haines DE, Parent AD (1998) The child as a projectile. Anat Rec 253:167–175

Tung GA, Kumar M, Richardson RC, Jenny C, Brown WD (2006) Comparison of accidental and nonaccidental head injury in children on noncontrast computed tomography. Pediatrics 118:626–633

Vinchon M, Noulé N, Soto-Ares G, Dhellemmes P (2001) Subduroperitoneal drainage for subdural hematomas in infants: results in 244 cases. J Neurosurg 95:249–255

Vinchon M, Noizet O, Defoort-Dhellemmes S, Soto-Ares G, Dhellemmes P (2002) Infantile subdural hematomas due to traffic accidents. Pediatr Neurosurg 37:245–253

Vinchon M, Noulé N, Jissendi-Tchofo P, Soto-Ares G, Fourier C, Dhellemmes P (2004) Imaging of head injuries in infants: temporal correlates and implications for the diagnosis of child abuse. J Neurosurg 101(1 Suppl):44–52

Vinchon M (2004) Traumatic retinal hemorrhages. Child's Nerv Syst 20:279

Vinchon M, Defoort-Dhellemmes S, Desurmont M, Dhellemmes P (2005) Accidental and nonaccidental head injuries in infants: a prospective study. J Neurosurg (Pediatrics 4) 102:380–384

Wells RG, Vetter C, Laud P (2002) Intracranial hemorrhage in children younger than 3 years. Arch Pediatr Adolesc Med 156:252–257

Williams RA (1991) Injuries in infants and small children resulting from corroborated free falls. J Trauma 31:1350–1352
About this article
Cite this article
Vinchon, M., de Foort-Dhellemmes, S., Desurmont, M. et al. Confessed abuse versus witnessed accidents in infants: comparison of clinical, radiological, and ophthalmological data in corroborated cases. Childs Nerv Syst 26, 637–645 (2010). https://doi.org/10.1007/s00381-009-1048-7
Received:

Published:

Issue Date:

DOI: https://doi.org/10.1007/s00381-009-1048-7
Keywords