Abstract
Introduction
Rasmussen's encephalitis (RE) is one of the important causes of refractory seizure. The most impressive clinical manifestation of RE is epilepsia partialis continua (EPC). Others include progressive hemiparesis and neuropsychological deterioration. Currently, the best approach to RE is hemispherectomy.
Case histories
We describe a patient whose clinical manifestations were compatible with RE; however, the initial brain MRI was interpreted as focal cortical dysplasia over right parietal region.
Discussion
The follow-up brain MRI 1 year later showed diffuse atrophy of the brain with more atrophic change in right hemisphere, and the EPC disappeared after right hemispherectomy.
Access options
Buy single article
Instant access to the full article PDF.
USD 39.95
Price excludes VAT (USA)
Tax calculation will be finalised during checkout.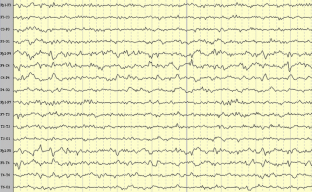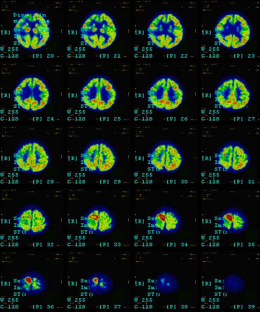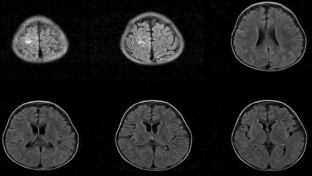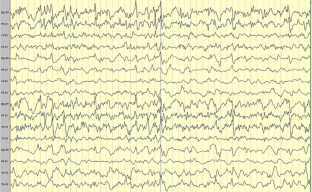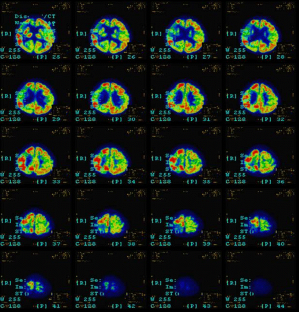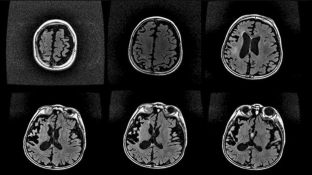 References
Andrews PI, Dichter MA, Berkovic SF, Newton MR, McNamara JO (2001) Plasmapheresis in Rasmussen's encephalitis. Neurology 57:S37–S41

Antel JP, Rasmussen T (1996) Rasmussen's encephalitis and the new hat. Neurology 46:9–11

Chiapparini L, Granata T, Farina L, Ciceri E, Erbetta A, Ragona F, Freri E, Fusco L, Gobbi G, Capovilla G, Tassi L, Giordano L, Viri M, Dalla BB, Spreafico R, Savoiardo M (2003) Diagnostic imaging in 13 cases of Rasmussen's encephalitis: can early MRI suggest the diagnosis? Neuroradiology 45:171–183

Freeman JM (2005) Rasmussen's syndrome: progressive autoimmune multi-focal encephalopathy. Pediatr Neurol 32:295–299

Fusco L, Bertini E, Vigevano F (1992) Epilepsia partialis continua and neuronal migration anomalies. Brain Dev 14:323–328

Granata T, Fusco L, Gobbi G, Freri E, Ragona F, Broggi G, Mantegazza R, Giordano L, Villani F, Capovilla G, Vigevano F, Bernardina BD, Spreafico R, Antozzi C (2003) Experience with immunomodulatory treatments in Rasmussen's encephalitis. Neurology 61:1807–1810

Granata T, Gobbi G, Spreafico R, Vigevano F, Capovilla G, Ragona F, Freri E, Chiapparini L, Bernasconi P, Giordano L, Bertani G, Casazza M, Dalla BB, Fusco L (2003) Rasmussen's encephalitis: early characteristics allow diagnosis. Neurology 60:422–425

Kossoff EH, Vining EP, Pillas DJ, Pyzik PL, Avellino AM, Carson BS, Freeman JM (2003) Hemispherectomy for intractable unihemispheric epilepsy etiology vs outcome. Neurology 61:887–890

Kubota M, Goishi K, Takemura S, Kawai K, Arai N (2008) Early hemispherotomy in a patient with multilobar cortical dysplasia with intractable seizure: clinical–neurophysiological study. Eur J Paediatr Neurol 12:516–520

Ohmori I, Ouchida M, Kobayashi K, Jitsumori Y, Inoue T, Shimizu K, Matsui H, Ohtsuka Y, Maegaki Y (2008) Rasmussen encephalitis associated with SCN 1 A mutation. Epilepsia 49:521–526

Pardo CA, Vining EP, Guo L, Skolasky RL, Carson BS, Freeman JM (2004) The pathology of Rasmussen syndrome: stages of cortical involvement and neuropathological studies in 45 hemispherectomies. Epilepsia 45:516–526

Rasmussen T, Olszewski J, Lloydsmith D (1958) Focal seizures due to chronic localized encephalitis. Neurology 8:435–445

Rasmussen T (1978) Further observations on the syndrome of chronic encephalitis and epilepsy. Appl Neurophysiol 41:1–12

Rogers SW, Andrews PI, Gahring LC, Whisenand T, Cauley K, Crain B, Hughes TE, Heinemann SF, McNamara JO (1994) Autoantibodies to glutamate receptor GluR3 in Rasmussen's encephalitis. Science 265:648–651

Sinha S, Satishchandra P (2007) Epilepsia Partialis Continua over last 14 years: experience from a tertiary care center from south India. Epilepsy Res 74:55–59

Thomas JE, Reagan TJ, Klass DW (1977) Epilepsia partialis continua. A review of 32 cases. Arch Neurol 34:266–275
Conflict of interest
The authors declare that they have no conflict of interest.
About this article
Cite this article
Chiang, KL., Wong, TT., Kwan, SY. et al. Finding on brain MRI mimicking focal cortical dysplasia in early Rasmussen's encephalitis: a case report and review. Childs Nerv Syst 25, 1501–1506 (2009). https://doi.org/10.1007/s00381-009-0905-8
Received:

Published:

Issue Date:

DOI: https://doi.org/10.1007/s00381-009-0905-8
Keywords