Abstract
Object
The vertebral artery is potentially vulnerable during cervical spine surgery. The aim of this study was to evaluate the initial application and validate the clinical utility of multidetector computed tomography angiography (CTA) in demonstrating the vertebral arteries in relation to the cervical spine and associated pathology prior to surgical intervention in children.
Materials and methods
CTA images were obtained in ten children prior to surgery. We retrospectively gathered cases of cervical spine pathology that underwent CT angiography prior to surgery over the course of 2 years. The images were reviewed by two neuroradiologists and discussed with the neurosurgeon.
Results
Ten children were imaged; three children had bone tumours, four had segmentation anomalies, one had achondroplasia, one had heterotopic calcification and one had cord compression post-surgical craniocervical fixation. The vertebral arteries were identified in all children, and the course was visualised in relation to normal and pathological bony anatomy on axial 2D and volume-rendered 3D volume. There were no complications of the procedure and no need for magnetic resonance angiography or catheter angiography in any cases.
Conclusions
The combination of congenital deformity, small size and a recent trend toward instrumentation of the craniocervical junction in the paediatric population mandates accurate knowledge of the vertebral artery relationships to the local neural and bony structures prior to complex surgical interventions. Whilst we do not advocate imaging of the vertebral arteries in all patients requiring cervical spine surgery, this technique has been shown to be a very useful investigation in selected cases.
Access options
Buy single article
Instant access to the full article PDF.
USD 39.95
Price excludes VAT (USA)
Tax calculation will be finalised during checkout.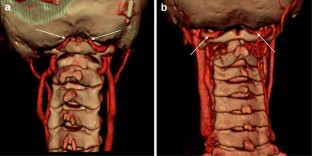 References
Pait T, Killefer J, Arnautovic K (1996) Surgical anatomy of the anterior cervical spine: the disc space, vertebral artery and associated bony structures. Neurosurgery 39:769–776

Gatscher S, Brew S, Banks T, Simcock C, Sullivan Y, Crockett J (2007) Multi-slice spiral CT for paediatric intracranial vascular pathologies. J Neurosurg 107(3 Suppl):203–208

Vertinsky A, Schwartz N, Fischbein N, Rosenberg J, Albers G, Zaharchuk G (2008) Comparison of multidetector CT angiography and MR imaging of cervical artery dissection. AJNR 29:1753–1760

Múnera F, Soto JA, Nunez D (2004) Penetrating injuries of the neck and the increasing role of CTA. Emerg Radiol 10:303–309

Farres M, Grabenwoger E, Magometschnig H, Trattnig S, Heimberger K, Lammer J (1996) Spiral CT angiography: study of stenoses and calcification at the origin of the vertebral artery. Neuroradiology 38:738–743

Golfinos J, Dickman C, Zabramski J, Sonntag V, Spetzler R (1994) Repair of vertebral artery injury during anterior cervical decompression. Spine 19:2552–2556

Smith M, Emery S, Dudley A, Murray K, Leventhal M (1993) Vertebral artery injury during anterior decompression of the spine. J Bone Jt Surg (Br) 75:410–415

Madawi AA, Casey AT, Solanki GA, Tuite G, Veres R, Crockard HA (1997) Radiological and anatomical evaluation of the atlantoaxial transarticular screw fixation technique. J Neurosurg 86(6):961–968

Vaccaro A, Regan J, Crawford A, Benzel E, Anderson D (2004) Complications of pediatric and adult spinal surgery. Informa Health Care, London
About this article
Cite this article
Barker, R., Fareedi, S., Thompson, D. et al. The use of CT angiography in the preoperative planning of cervical spine surgery in children. Childs Nerv Syst 25, 955–959 (2009). https://doi.org/10.1007/s00381-009-0904-9
Received:

Published:

Issue Date:

DOI: https://doi.org/10.1007/s00381-009-0904-9
Keywords
Computed tomography

Vertebral artery

Children